Bimini and Dan O'Neill join LGBTQ eco activists on a mission to heal our ocean
Exclusive: The theme is 'Westwood shipwreck' as Bimini talks green (and blue) issues with BBC wildlife presenter Dan O'Neill and LGBTQ eco activists Dawood Qureshi and Noga Levy-Rapoport.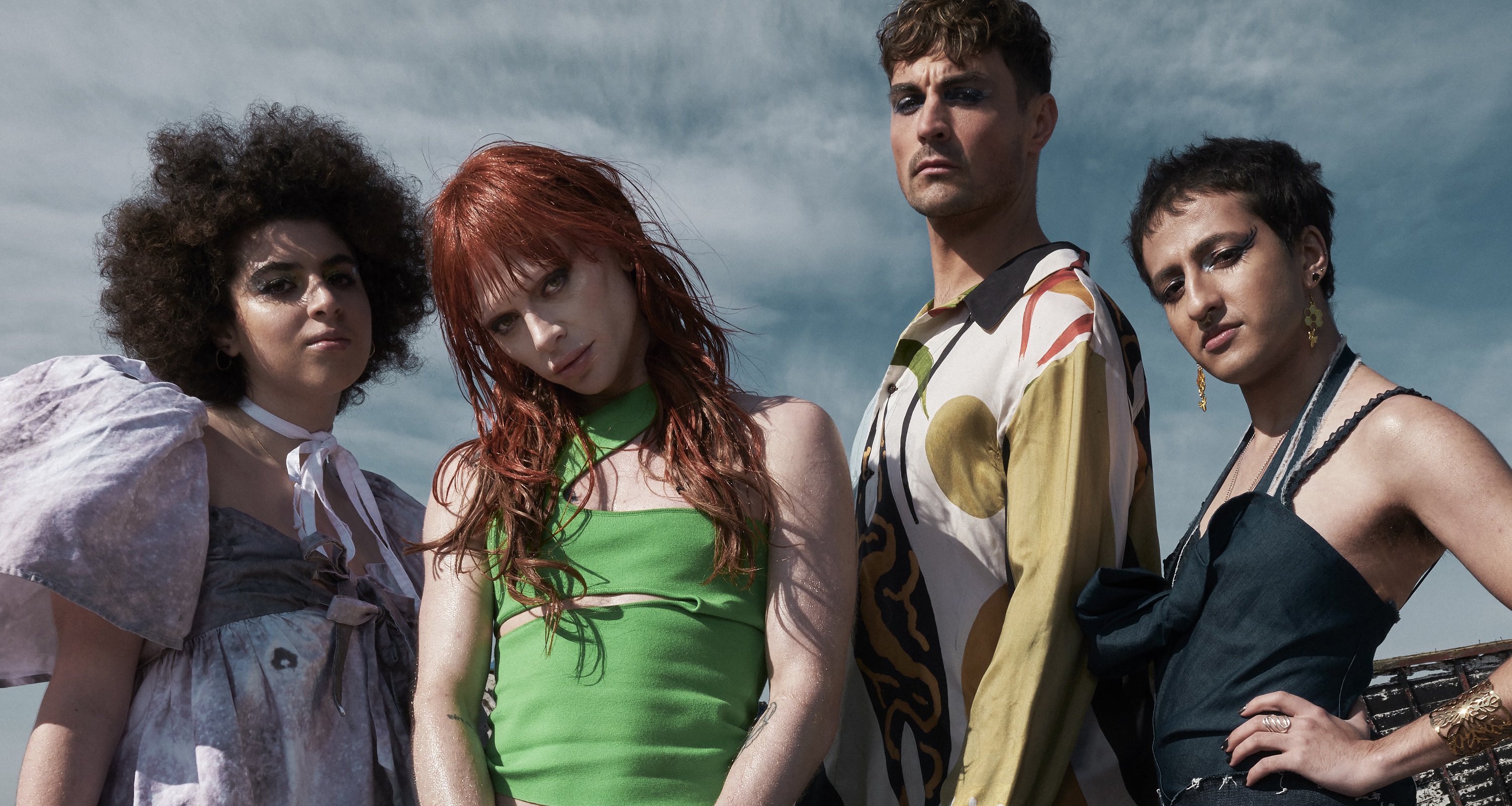 Words: Jamie Tabberer; Photography: Joseph Sinclair
This article appears in the Attitude May/June issue, out now.
Remember when Ariel turns a scruffily iconic look out of some upcycled rope and a sail in The Little Mermaid?
With the help, of course, of her probably gay besties Flounder (a yellow tropical fish), Sebastian (a lobster, not a crab), and Scuttle (possibly a herring gull – an endangered species, FYI). It's a scene that mesmerised already style-conscious baby gays like yours truly in 1989, and is broadly the vibe on today's beachside, ocean awareness-themed Attitude shoot – a look our stylist more coolly describes as 'Westwood shipwreck'.
And who better to serve it than Bimini Bon "I'M VEGAN!" Boulash (they/them). The non-binary powerhouse is known for their daring sense of style and unbridled passion for the natural world – as demonstrated when they dressed on Drag Race UK season two as… an amoeba.
Posing up a storm on Europe's largest shingle beach, Dungeness, the 28-year-old rocks sustainable ensembles by Vivienne Westwood and (they trill in their unmistakable Norfolk drawl) "Stella McCartney, whose mum made great vegan sausages!"
But today is more than a fashion parade. Bimini is joined by BBC wildlife presenter and director Dan O'Neill, who is a driving force behind the Sea Our Future project. Alongside them are two dynamic young LGBTQ+ eco-leaders – wildlife TV researcher and marine biologist Dawood Qureshi and Student Climate Network volunteer Noga Levy-Rapoport. Together they want to draw our attention to the plight of the ocean.
It may be a mysterious, unknowable abyss to most of us, but we need to get acquainted with Earth's water world, and fast, on account of it being responsible for producing 50 per cent of the oxygen on the planet. Its health is fundamental to our existence, but overfishing and pollution are inflicting damage that is not easy to reverse.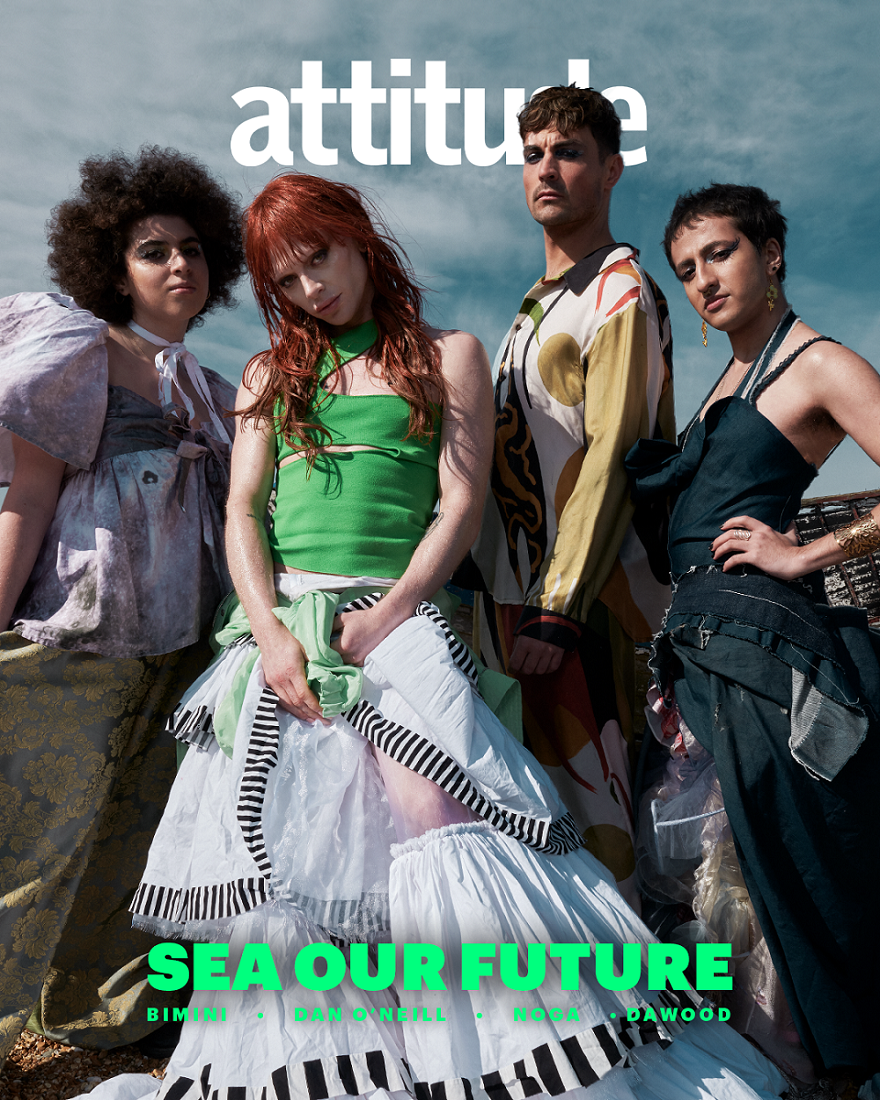 Noga wears top by Florentina Leitner, trousers by Met-Code; Bimini wears top by Stella McCartney, reclaimed fabric skirt by House of Sheldon Hall, belt, vintage; Dawood wears reclaimed denim dress by House of Sheldon Hall, earrings, Dawood's own; Dan wears shirt and trousers by Bethany Williams, boots Dan's own
Helping Bimini and Dan convey this message, 23-year-old Dawood (they/she) is also a journalist and speaker, who somehow finds time to serve as a Bumblebee Conservation Trust ambassador. Dawood hopes the shoot will be inspiring enough that "There'll be better ecologists, marine biologists, scientists, activists because of it."
Dawood, who is Muslim, trans and non-binary, says, "There's a certain kind of person who talks about climate activism and a certain kind who talks about nature and wildlife, it seems." She expands on her point, "On top, there's another who talks about fashion and drag. The whole point of this shoot is literally intersectionality. Marrying different perspectives and pushing forward a message in that creation." They later add, "Even as a trans non-binary person of colour who's going into panels and talking about these things, I don't represent everyone they say I represent. I can't."
"We're not that monolithic," concurs Noga (they/he/she), a 20-year-old Israeli-born British student who is reading history and politics at Warwick and aspires to be an opera singer. Noga, who identifies as a queer Jewish feminist, has played a key role in setting up climate protests. She tells us, "While we were organising the first climate strikes, one of the creative messages we really lent into was: 'As the oceans rise, so do we.' No one has ever changed the world alone, and we're connected and powerful because we're doing this together."
Completing the line-up is Dan (he/him). As a 30-year-old gay man, he made headlines last year after going public about industry pushback over his sexuality. ("It's not right that someone can say: 'You're too gay to be an explorer.'") His career has since skyrocketed: his BBC Earth series Dan O'Neill Investigates is due this year, along with a project for a US platform on 'giant' wildlife. (There's also a professional curveball in the form of a wildlife-inspired music collab with Imogen Heap which he co-created for Audible Original's upcoming Cate Blanchett-hosted Climate of Change podcast.)
He continues to challenge antiquated cis-het explorer stereotypes in a sphere dominated by "ex-army dudes — their whole thing is toxic masculinity vibes. I have that feeling in my mind, still: 'You don't want to go against this.' But there's a fighting energy we, as queers, have had all our lives that makes us brave," he states.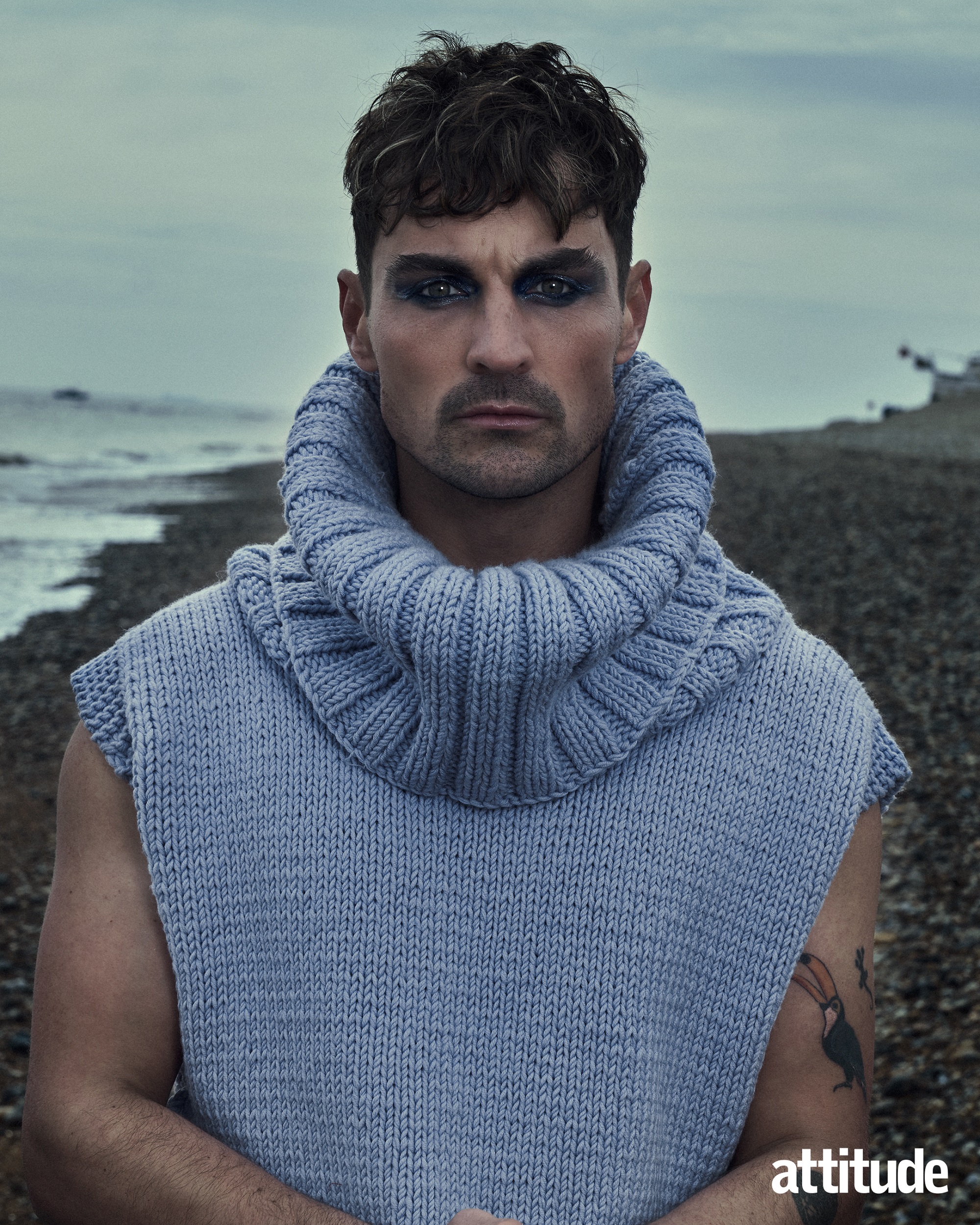 Dan wears handknitted knitwear by Patrick McDowell
Whether searching for snow leopards on the Kyrgyzstan-China border or Goliath bird-eating spiders in Guyana's Northern Amazon Rainforest, Dan's well acquainted with gruelling landscapes – where he is at least suitably attired. In Dungeness, however, he's clad in a fluttery, featherlight silk shirt and trousers that do little to block the biting winds.
Indeed, the barren, weather-beaten backdrop of Dungeness caresses – or, rather, pummels – the south-east coast of Kent. It's a myth that it's Britain's only desert, although it sure looks the part. More than 600 species of alien-looking plants dot the area, alongside abandoned boats and dainty yet stoic Victorian-era fishermen's huts, one of which belonged to late filmmaker and LGBTQ+ activist Derek Jarman.
An unlikely location it may be, but Bimini – a role model in LGBTQ+ activism who is switched on, dialled up and fun – summons innate photoshoot ferocity regardless of the surroundings. ("I always just fuck the camera!" they joke). It soon rubs off on Dan and their co-models: together, they're like a motley crew of mermaids who, having retrieved discarded clothing from the seabed, grew legs, formed a rock band (that I'm calling 'Bimini and the Oceans'), and are now posing for their brutally stark album cover.
It's all about representing the sea, and getting us all on board with its preservation and healing. It's a common misconception that it's self-sustaining enough to withstand human hindrance. Collective action is needed, along with an overhaul of the education system – a message, by the way, that is far more nuanced than 'give up seafood'. But, as someone wanting praise for eating less meat, seafood and dairy in 2022, I figure it's at least worth a conversation.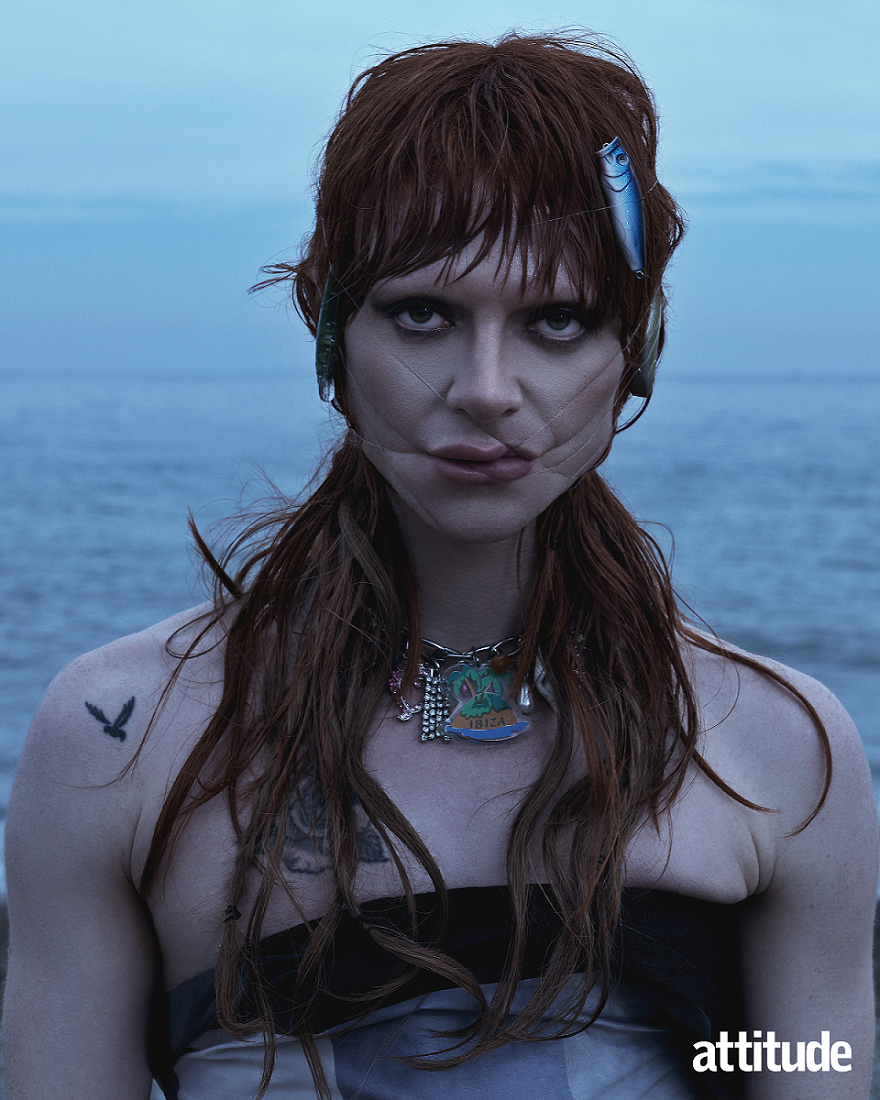 Bimini wears vintage Vivienne Westwood dress by Rellik, necklace by BB Smit
"Cutting down is a way to do it," Bimini tells me, with gravelly enthusiasm. "We're accustomed to having meat three times a day, but when my mum was growing up, they had it twice a week: on a Sunday, and then soup from it the next day. You can cut down, wean yourself off. […] I'd never pressure anyone or tell them what to eat. You learn more from yourself than from being told what to do. People don't like that idea of 'I'm better than you – you should be like this!' It's detrimental to the cause to do that to people. It creates a stereotype of what vegans are."
Besides which, vegan food has never been so widespread – and that includes junk. "I love it," gasps Bim. "When I first went vegan, I was way healthier than I am now, because I was cooking everything fresh. Now, even McDonald's has a vegan burger! It's everywhere. […] There's a fantastic seafood replica at a fish and chip shop in Brighton [Little Jack Fuller's Fish & Chips] called the Bimini Bon Blossom! It's made of banana fritter, I believe, deep fried. It's really good."
Here, Attitude moderates a fascinating discussion between these four probing minds about the state of the sea, refashioning activism to make it accessible and inclusive, and the curious possibility of a 'JK Rowling clownfish'.
How was the shoot?
Bimini: Cold! No, it was really special.
Dawood: When Bimini was walking down the beach in those boots… they're my favourite thing on the planet!
Bimini: It was a choice to wear them on a pebbled beach!
Dan: It's meeting people where they're interested in ocean activism in a completely different way. Increasing people's interest in the ocean, inspiring conversations. And to do it by the sea with a whole bunch of diverse queer people…
Bimini: It's amazing.
Dan: I think you're all fantastic and have followed your work.
Dawood: I've never seen anything like this in my life – my interests in nature, fashion, being queer [in one place]. If I had [seen this] growing up, it would've been so cool.
Noga: There's pressure to be the perfect activist, the ideal changemaker, who's very staunch in their ways, [who] doesn't express themselves creatively. Art, fashion and drag — it's seen as a very different world from change-making, science, climate jargon. That's a failure of the environmentalist movement, not to marry those things together!
Bimini: Creative activism is way important.
Noga: It's crucial, isn't it?
Bimini: Look at ACT UP [AIDS Coalition to Unleash Power], how they got medication, using things to make blood. You need to be radical.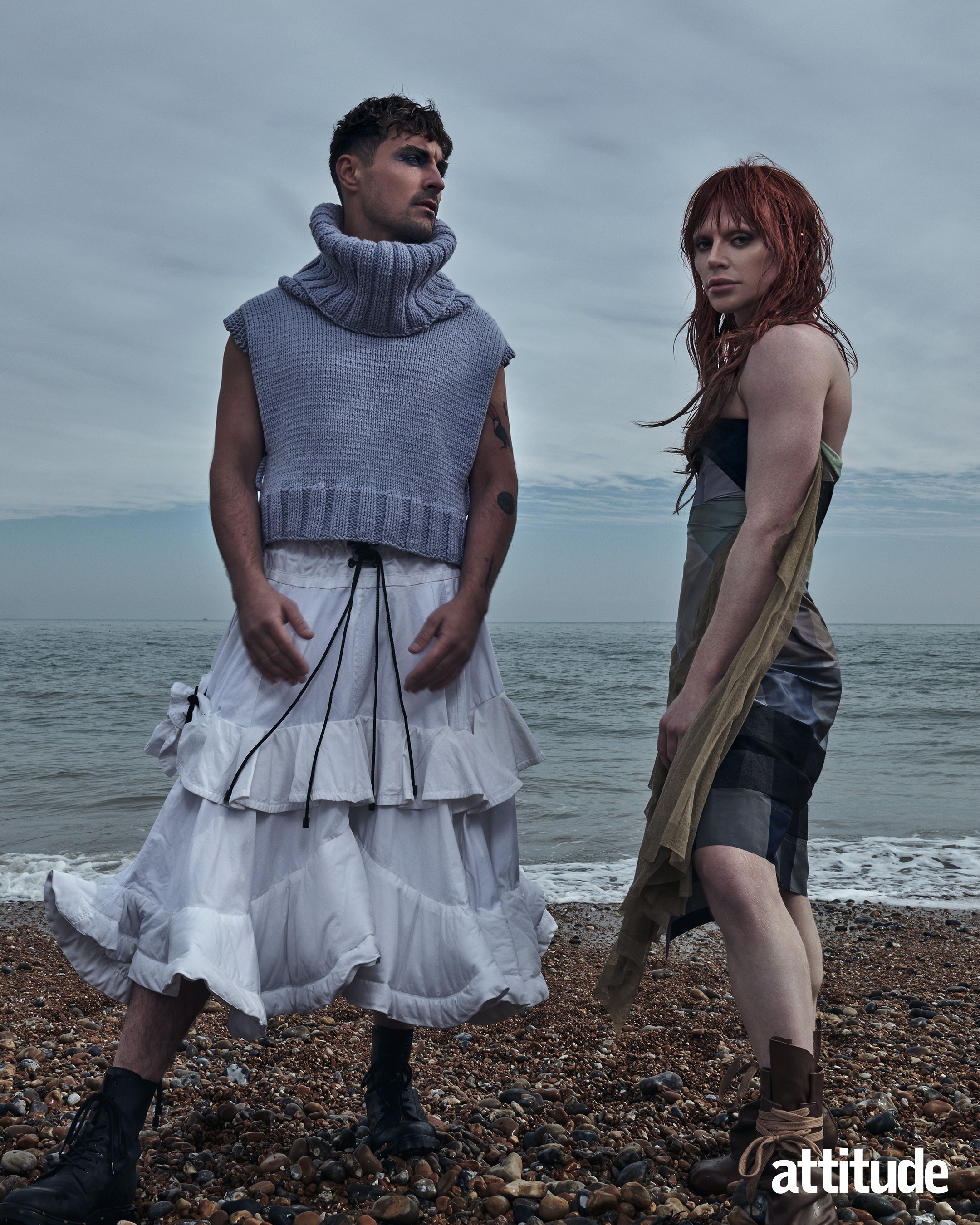 Dan wears handknitted knitwear and skirt by Patrick McDowell, boots, Dan's own; Bimini wears vintage Vivienne Westwood dress and boots by Relli
What are your earliest memories of the ocean?
Bimini: I grew up in a seaside town, two minutes from the beach. We'd always take the dogs down. Also, my mum's a big fan of hot, beach holidays, swimming in the ocean —I am, too. I was conceived on the island of Bimini, in the Bahamas! My parents used to live there.
Dan: My first empowering moment in the ocean was when my parents took me sailing in the Neotropics in Central America.
Dawood: When I was really young, my family and I went to West Wittering Beach and looked at wildlife and nature. I remember it being really lovely. A real momentof euphoria, because of it bringing together my family, and especially my mum and dad, and of it being one of the first times I saw sea anemones and a lot of marine wildlife, which we collected. It meant a lot because I didn't live by the ocean then. Travelling there was a huge thing for us.
Noga: I was born in Tel Aviv, by the beach. I can't remember a time I didn't go to the ocean and didn't feel totally at peace.
Bimini: There's something so calming about water. At one point I was at a crossroads in my life: 'Do I want to do drag or become a diving instructor?'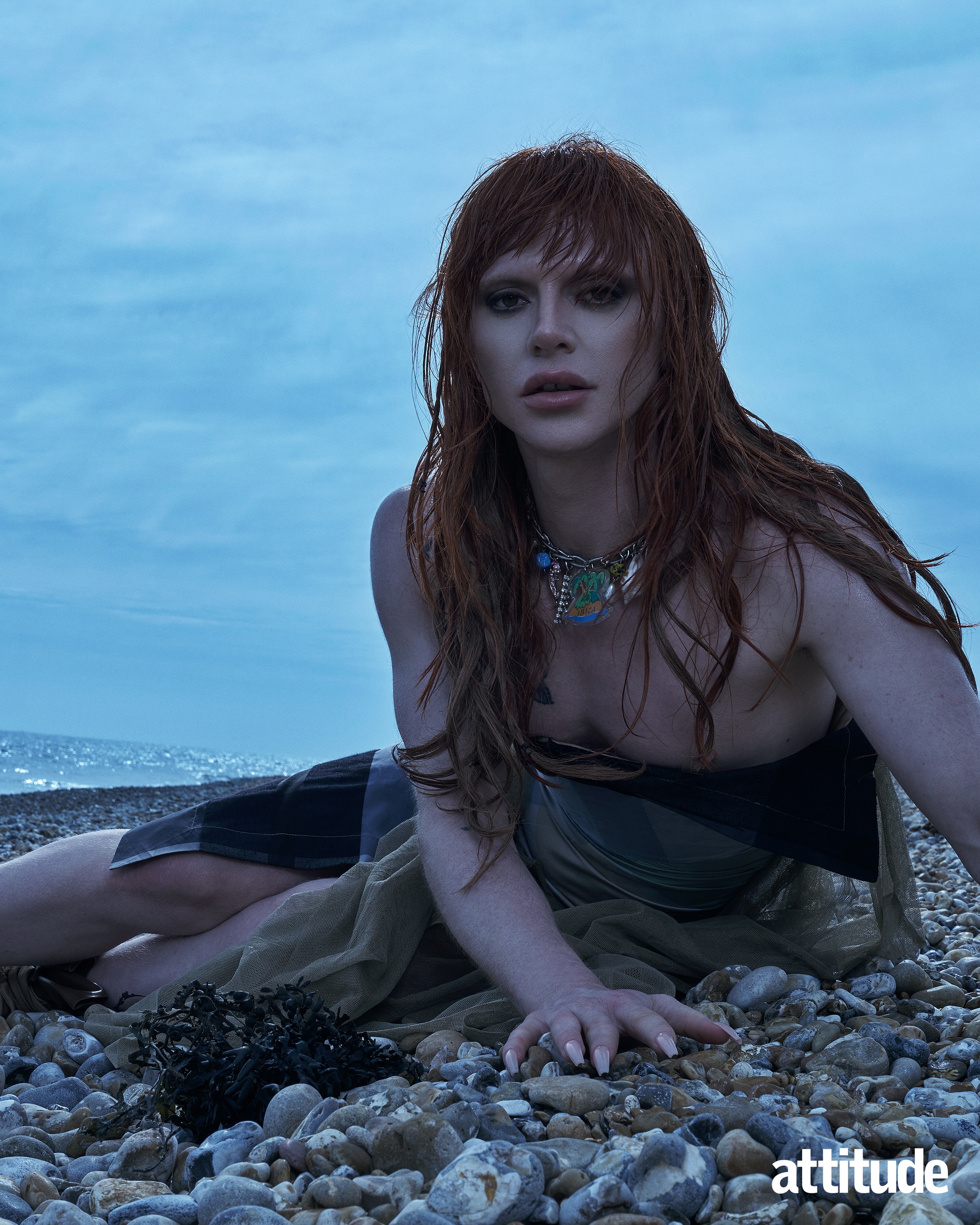 Bimini wears vintage Vivienne Westwood dress and boots by Rellik, necklace, by BB Smith
What can the ocean teach us about sexual and gender diversity? What's your favourite form of sea life that illustrates this?
Bimini:
Dolphins. They're always up for a good time. They use both sides of their brain.
Dan: Nudibranchs.
Dawood: They're beautiful.
Dan: They're the most flamboyant creatures. They're hermaphrodites. They fight to decide which one of them will be 'the inseminator'.
Noga: I still don't know if it's a myth, about the male seahorse carrying the eggs [it's not], but hearing this at five or six years old, about an animal breaking gender norms, I rememberbeing like: 'That's sick!'
Dawood: Clownfish. I love that they change their sex when […] they need to have sex or have babies or whatever. To me that representshow fickle gender is, especially in nature. We're basing our societal gender identities on whether you have a certain feature, and nature's going: 'Actually, this doesn't really matter. What I'm boiling it down to is a higher or lower level of a certain hormone.' It's not something that should be used as an identifier, as it's so easily changed.
Bimini: I wonder if there's a clownfish JK Rowling?
Noga: Refusing to have any children!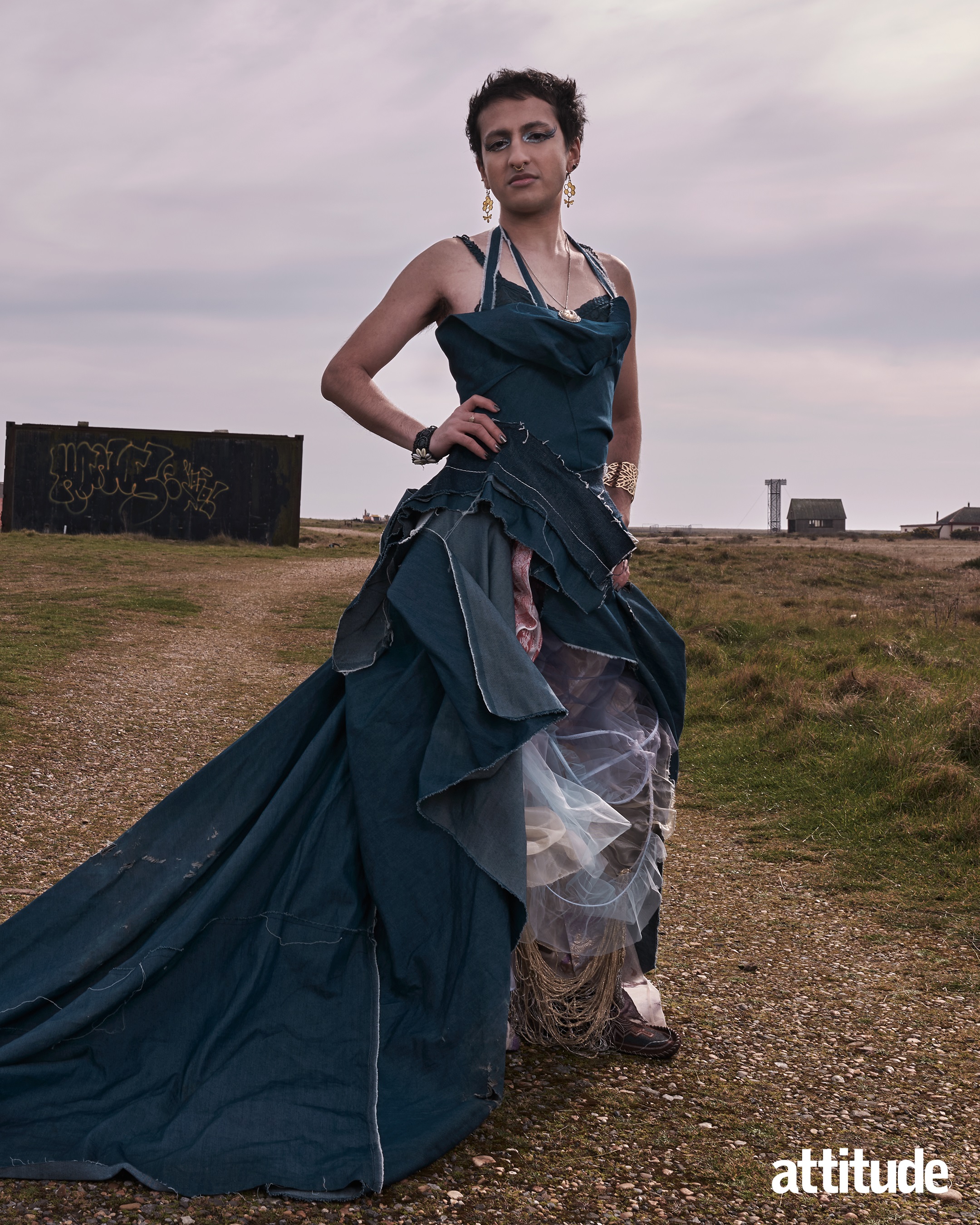 Dawood wears reclaimed denim dress by House of Sheldon Hall, trousers by Kingwen, boots by Double Take of Santa Fe, earrings, Dawood's own
How would you articulate the problem with what we're currently doing to the ocean?
Dan: Our ocean is extremely injured. But it can bounce back.Bimini:We're fucking it up! You're seeing a rapid decline in fish. Oil spills. The ocean being exploited for its resources that aren't going to last forever if we don't act.
Noga: It's crucial to draw attention to who is inflicting damage on our ocean. The destruction of the ocean – not inevitable, and well within our grasp to change – is taking place because of the immense power that a very concentrated amount of fossil fuel companies has, and the corporate hold that has over our political classes, over much of our society, education, infrastructure, transport.
Bimini: There's a real issue with pointing the finger at each other. There's a policing of queerness, too. "You've done something wrong!" We're human, and there's only so much we can do as individuals. We need to come together to point the finger at the higher-up people – the government, the corporates – and say: "No, this isn't OK. You need to make a change."
Dawood: There's a disconnect for people living in cities or without access to the ocean. But there's a growing movement to connect people with things they thought they weren't connected to via making them relatable, fronting them with relatable people with relatable ideas. That's important, because anything negative that happens to the ocean in terms of chemical pollution and the [consequential] decline of species, is the same thing that would happen to our bodies if they were chemically polluted. You have to view the ocean as an extension of yourself. It's something we live, breathe in. It's the lungs of our planet.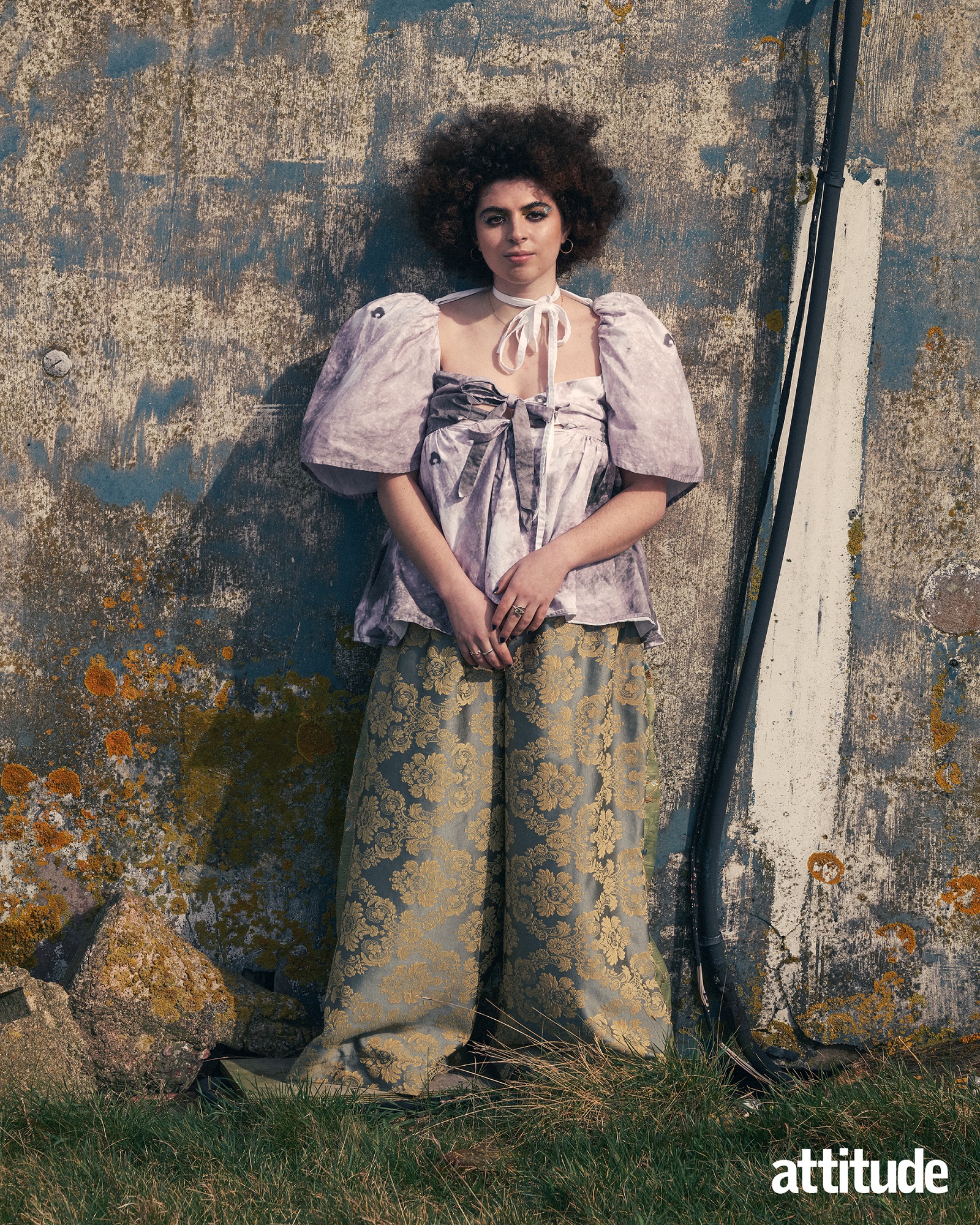 Noga wears top, by Florentina Leitner, trousers, by Met-Code
Where are we at with sustainability in fashion?
Noga: 'Sustainability' can be a slapped-on buzzword. You're seeing a lot of greenwashing going around. Things could go one of two ways. We could fall deeper into fashion brands sucking up the ideas of greenwashing, or we can push forward massively and create immense pressure and redirect the fashion world to pieces that last forever and towards accessibility and affordability. I'm very concerned but err on the side of optimism because I want to. But it requires a lot more pressure.
Dawood: I'd echo that. I acknowledge we're moving in the right direction, but so slowly. We need more voices coming forward, speaking up. It's hard – it's an intrinsic part of our lives. [So] much of our economy is built through consumerism; it's hard to get out of that cycle of buying, buying, buying. Seeing cheap items: 'I've just gotto buy them'. A shake-up needs to happen in terms of how we think about other issues. Homelessness, racism, systemic issues in society. If we look at those, we can also uproot the issues to do with fast fashion and sustainability, as they're so intrinsically linked. The reason fast fashion exists is because of corporate consumerism.
Dan: The amount of water it takes to make one T-shirt in Primark is absolutely insane! We don't need to buy as much as we do. It's not embarrassing to have the same outfit on three days in a row! And the best way to shop is to trade. Just trade clothes!
Dawood: Most of my clothes have been pretty much handed to me by friends!
Bimini: It's hard to know where everything's been sourced. Nobody's perfect, but the best thing to do is aim to be as conscious as you can be. Create something new out of something old. I work with a lot of younger designers at the minute: Central Saint Martins' students, who take it upon themselves to be sustainable and go out and find the fabrics.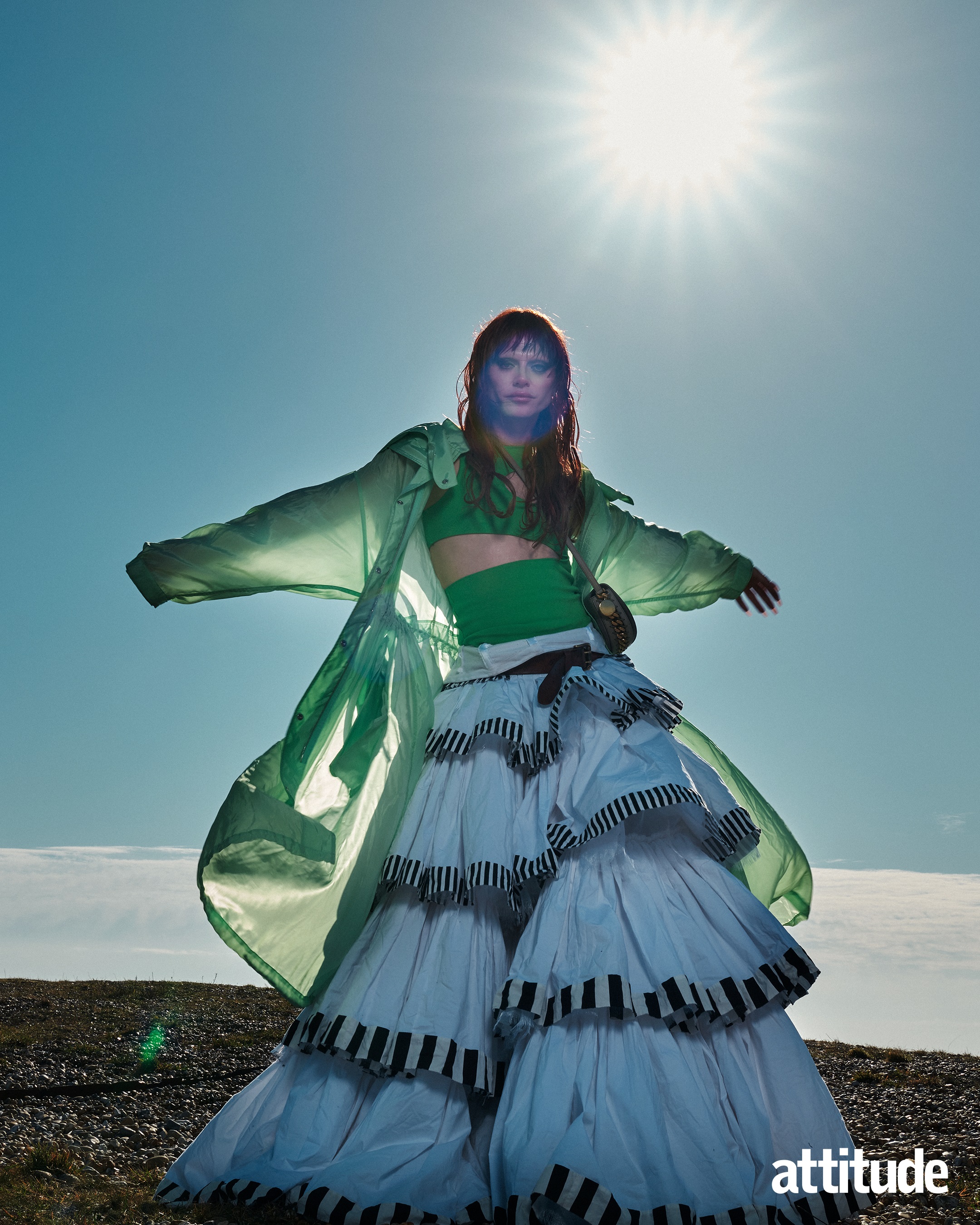 Bimini wears top and coat by Stella McCartney, reclaimed fabric skirt by House of Sheldon Hall, belt, vintage
How have your experiences of being LGBTQ+ and intersectionality made you more passionate about this subject?
Noga: My experiences of intense transphobia and homophobia, against a backdrop of a support network I was incredibly lucky to have,taught me so much about pursuing passion in a social justice space when that passion requires an undoing of an entire system, and remaking and remeasuring for a better future. The mental and emotional strength, the connection of the support network, and the ability to enjoy community and family and chosen family, has been a lifelong journey and lesson I've applied to my work in environmental spaces. The past two years, I've been much more open online, where my persona is predominantly about environmentalism. I've tried to bring a lot more queerness into it, because I'm very aware that a lot of budding environmentalists and social justice activists out there need that motivation, that representation, and reminding that the skills they need to be a part of this space, they've already got from being queer. They've already learned to navigate this world.
Dan: There were a lot of people before me who laid the groundwork for somebody like me to say: 'I want to do this.' I can hack through the jungle and sleep in a hammock for three months and still feel I'm representing myself totally and authentically as when I'm standing on a beach shooting like this and feeling very much part of a community that respects and loves me.
Dawood: It gave me that understanding of flexibility. Which for me completely changed my perception of the planet, the environment, and how we deal with things and how useful it is to not fit in. Being queer has taught me how flexible I can be in my expression; how flexible I can be in what Isay and in how I think about certain concepts. Once you do that, you begin to see how useful other people's [flexibility] is as well. That taught me the power of support networks and people. Also, how to access information and teach it to other people and reach out to different communities. For me, it's been about completely changing my perception ofthings. That's why this queerness is viewed as such a scary thing for a lot of people who conform: it's a complete perception change. And that's scary —to them anyway.
Bimini: We failed as queers at what society wanted of us. But there's an art in failure. The world wasn't made for us, so we've made a path. We're not afraid to mess up or do things differently, because we've already done it —which is why we're so open to it all.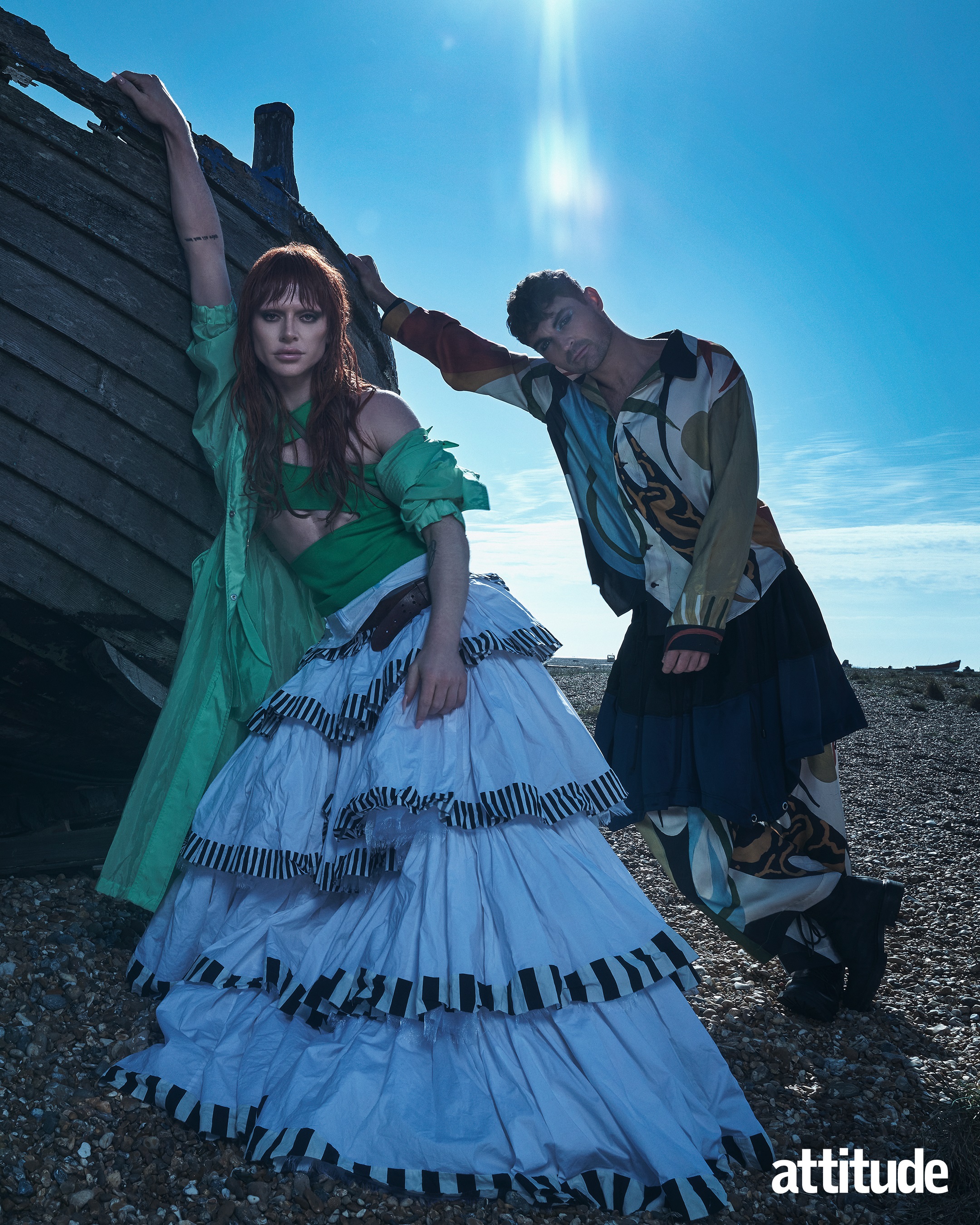 Bimini wears top and coat by Stella McCartney, reclaimed fabric skirt by House of Sheldon Hall, belt, vintage; Dan wears silk shirt and trousers by Bethany Williams, silk skirt by Patrick McDowell, boots, Dan's own
What's your advice to an LGBTQ+ who wants to get involved with helping the ocean but feels intimidated or at a loss as to how to start?
Noga: Never feel you have to ask permission to make a change or defer to authority to do what you feel is right. You have to power through, because society will try to tell you what you're doing is wrong.
Bimini: This applies to life in general. But don't compare yourself to others. Do the best you can and don't see it as 'I'm not good enough because I'm not this or that.' And enjoy it. We're not on this planet for long. Be happy and be authentic. Do what you can and know there's no such thing as perfection.
Dawood: Never forget that you belong here. Queer people are told they don't belong in spaces to do with science, environmentalism, climate change, but the very idea of being queer is to celebrate the flexibilityof existence and of spectrums. That's nature. There aren't any binaries in nature.
What does the ocean mean to you? Join the conversation #SeaOurFuture. This feature is part of a collaborative storytelling project called #SeaOurFuture by Freeborne Impact, On Road Media and On Purpose Group, which aims to bridge the disconnect between people and our ocean.
The Attitude May/June issue is out now.