Attitude Pride Awards: Meet the LGBTQ heroes who've changed our world for the better
Get to know the inspiring individuals being honoured at the 2022 Attitude Pride Awards, in association with Magnum.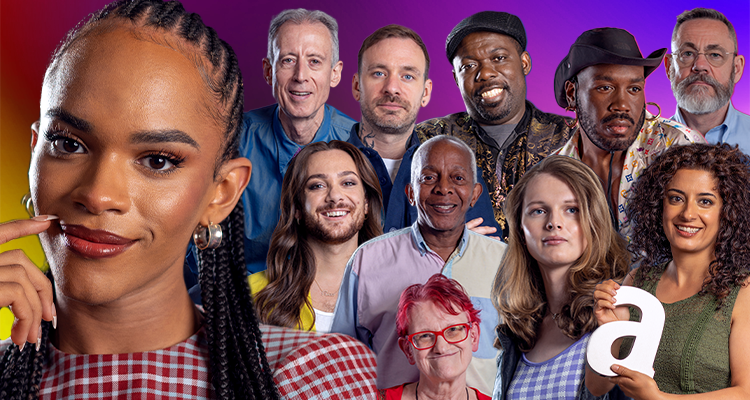 Words: Attitude staff; Image: Markus Bidaux; Design: Jack Pengelly
The Attitude Pride Awards, in association with Magnum allow us the chance to recognise and celebrate the everyday people in the LGBTQ community who wore tirelessly to make things better for all of us.
Be they lone voices speaking out against homophobia, helping LGBTQ people find new homes, or providing representation on the world stage, these people's contributions are helping to make a difference for queer people.
Once again we have chosen to mark 10 people who are doing extraordinary things. You can read more about this year's Attitude Pride Award recipients in the Attitude September/October issue and we'll be shining a spotlight on a different individual over the next 10 days.
YASMIN FINNEY
The social media star and TV sensation is living her best life.
Heartstopper may have only been out on Netflix for a few months but it is already having a sizable impact. Key among that is Yasmin Finney, one of the show's main stars.
The trans actress has taken a leading role in providing much-needed LGBTQ and trans representation in a story that focuses on positive queer stories and is now going on to an even more high-profile role in Doctor Who.
THE GAY LIBERATION FRONT
The organisers of the world's first Pride march look back at the historic event.
While Pride today may be taken for granted today, it wasn't always so. In 1972 Peter Tatchell, Ted Brown, and Nettie Pollard were among the brave and inspiring individuals who helped set up the world's first-ever Pride march. It's estimated around 700 people took part compared to the 30,000 thought to have marched at Pride in London in 2022.
"What a difference 50 years makes," Tatchell remarks. On 1 July 2022, 50 years on, the remaining members of the GLF recreated their historic moment where Tatchell says: "We were cheered and applauded all along the route."
KIDDY SMILE
The DJ and Drag Race France judge pushing for equality through music.
A passion for dance and Grace Jones has inspired DJ Kiddy Smile from the beginning. After dance classes as a kid he danced with George Michael but eventually fell into DJ-ing.
It all comes together in the artist's music which has taken him to new heights. He is now stepping into the mainstream as he is set to appear as a judge on Drag Race France but remains a reluctant role model. "People before me have done the work of pushing the boundaries to be able to do what I can. I need to push it a little further for the younger generation," he tells Attitude.
DAVID STUART
Friends remember the late campaigner and his pioneering work into chemsex.
After his own battle with addiction, David Stuart became one of the foremost voices in research around chemsex and addiction within the queer community. His work has gone on to benefit hundreds of thousands globally.
Sadly, David passed away earlier this year. Sorely missed Attitude wanted to honour the man whose legacy will continue to affect people around the world.
RAINBOW MIGRATION
The charity helping LGBTQ people flee persecution and find new homes.
Rainbow Migration has helped thousands of LGBTQ people since it began in 1993. Since 2003, its primary focus has been on helping queer people escaping persecution in their own country of origin find a new home in the UK.
Leila Zadeh, the charity's executive director, and her team offer free and confidential advice on asylum claims and help people through an infamously cruel and punishing system. The charity has made a difference in so many people's lives, and continues to do so.
RICCARDO SIMONETTI
The TV entertainer and author educating others in the fight against homophobia.
Rivaling Carrie Bradshaw when it comes to tulle, Riccardo Simonetti is fighting homophobia while looking fabulous. The TV host, author, model, and brand ambassador is helping educate other people in the fight through his own self-named initiative.
As the living embodiment of 'being yourself' Riccardo is determined to make sure that future generations have people to look up to based on his own experience where representation was lacking.
NAOMIE PIETER
The founder of Black Pride Netherlands helping ensure safe spaces for Queer People of Colour.
Naomie Pieter has been at the head of efforts to organise and set up groups and spaces to support queer Black people for some time. After Black Queer and Trans Resistance Naomie wanted to do more than sort anti-violence marches and protests wanted to make sure people had spaces to feel safe and in and celebrate one another.
Cue Black Pride Netherlands; born out of protest and partying. She now takes her efforts to Curacao in the Caribbean hoping to replicate her successes and make as many people feel welcome as possible.
STEWART O'CALLAGHAN
The person living with cancer helping support other LGBTQ people with the disease.
Diagnosed with incurable cancer at 29, Stewart O'Callaghan found it hard to access the support they needed. "I wanted to be able to be a queer person at the same time as being a person with cancer, they tell Attitude.
Inspired by their own experience, Stewart set up an organisation to support people with cancer in the LGBTQ+ community and their loved ones – Live Through This. As well as providing peer support, Stewart and the team are also working on improving clinicians understanding of the community and how queer people with cancer can be supported.
EMILY BRIDGES
The cyclist pushing through anti-trans media and for a more inclusive sport.
With multiple national medals to her name, everything was going well for 21-year-old trans cyclist Emily Bridges. Until earlier this year, when she was told she couldn't compete at the National Road Championships, with only three days to go until the event and having previously been told she could.
Emily was then subjected to a wave of ant-trans media coverage and 'debate' over her eligibility to compete in women's racing. After taking time away from social media, she is trying to build some positivity from the ordeal and wants to assure LGBTQ people they are welcome in sport.
THE TERRENCE HIGGINS TRUST
The heroes of the trust that changed the lives of people with HIV and Aids.
Following Terry Higgins' death in 1982 as one of the first people in the UK to die from an Aids-related illness his partner and friends sprang into action. Dr. Rupert Whitaker OBE and Martyn Butler OBE were among those who set up what would become the Terrence Higgins Trust so that no one had to go through Aids alone and to provide educational resources.
40 years on and the charity is a leader in the HIV sector, helping spearhead more and more change and improving treatment for those living with HIV.
The Attitude September/October issue is available to download and order in print now and will be on newsstands from Thursday 4 August.