Luke Evans wants you to know he's never hidden his sexuality
From bullied gay kid in Wales to out and proud Hollywood leading man - Luke Evans is Attitude's Man of the Year, supported by Virgin Atlantic.
By Will Stroude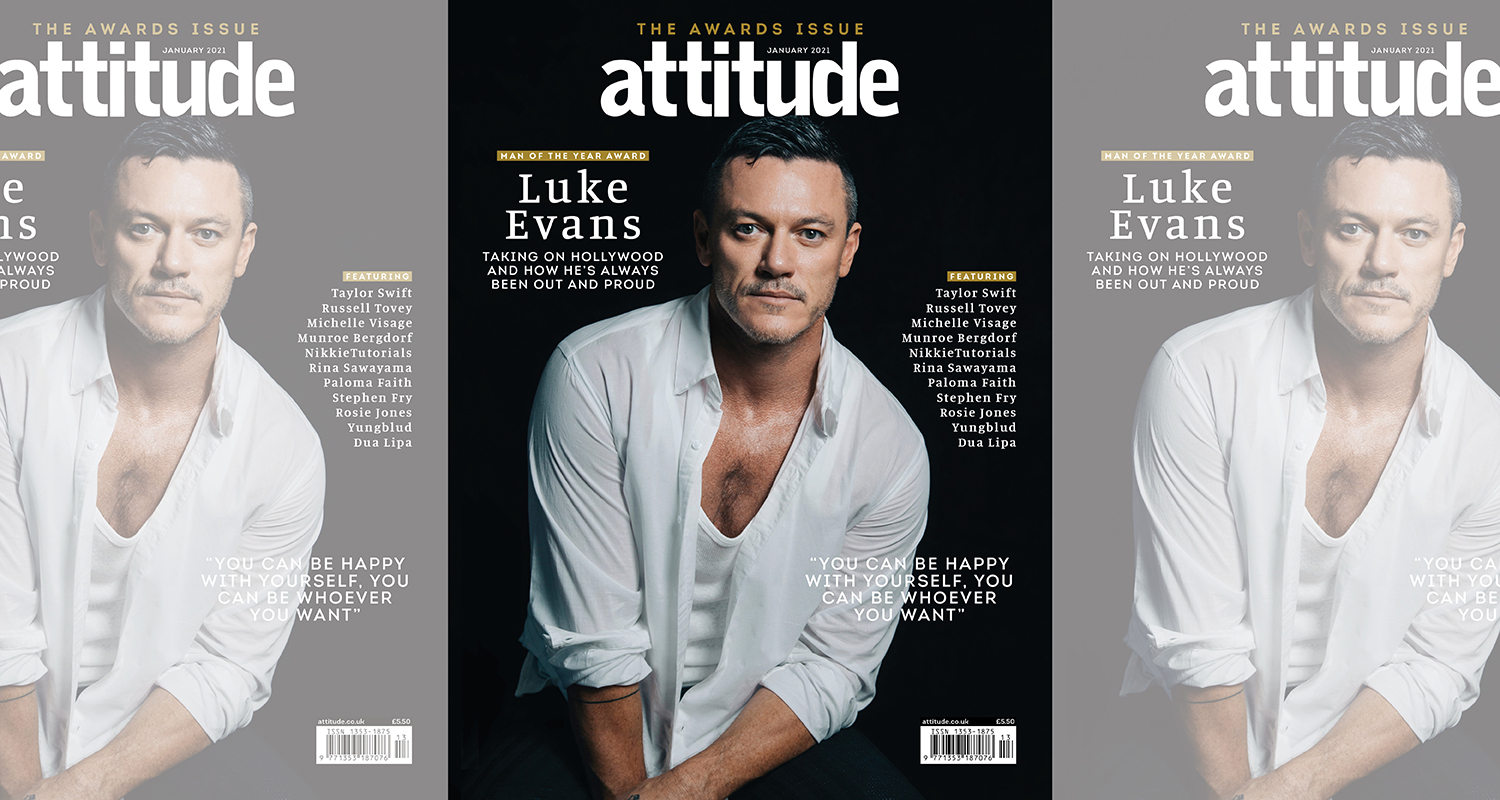 "In a way it sort of feels like the right time for it to happen," Luke Evans says of our interview – the Hollywood star's first with a gay magazine since his profile went global.
"I've talked about being gay many times in other things, but this just feels right, after this year and everything that we've all been through. We've all got a story to tell, and a journey that we've all been on, and we're still here."
In a year which saw him release his debut album and start shooting for his first gay screen role opposite Nicole Kidman and Melissa McCarthy in television's Nine Perfect Strangers, being crowned Attitude Man of the Year, supported by Virgin Atlantic, has given Luke a rare opportunity to pause and reflect on just how much how his life has changed a decade after he first swapped the West End stage for screen roles in The Hobbit and Fast & Furious franchises.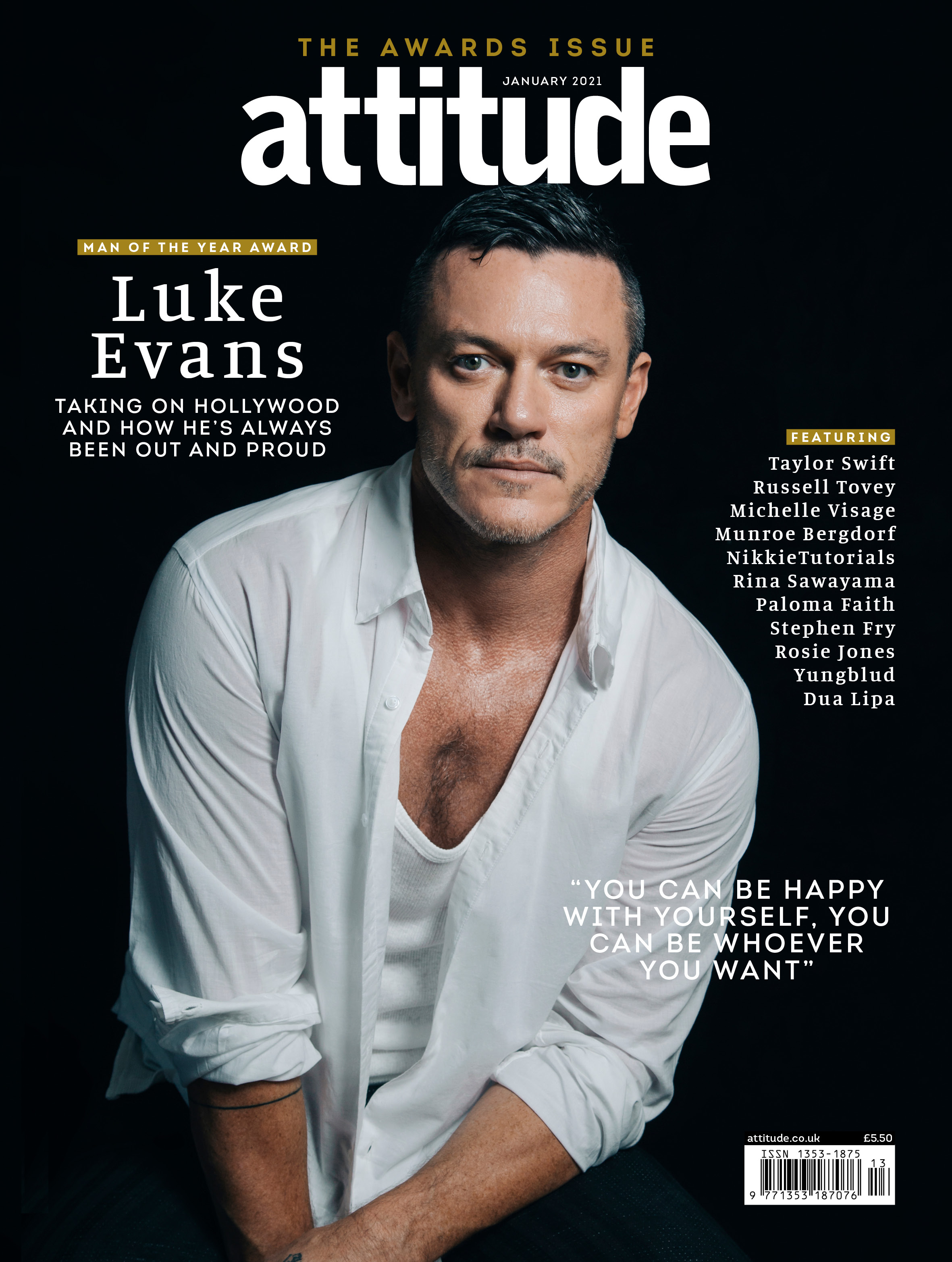 Luke Evans reflects on a decade in Hollywood in the Attitude Awards issue (Photography: Jordan Xinger-Xanger)
If his life today compared to those days as a jobbing stage actor is unimaginably different, it really is a mind-blowing step away from Luke's early years growing up in Wales, which he found difficult at the best of times.
"It wasn't great, I have to say," Luke, 41, says. "I mean, I was a happy kid. I'm quite a positive human being and I made the best of it. But I didn't have a good school life. I was bullied very badly. I was an only child. There were a lot of bullies in my school, and I was an easy target."
He was first aware that he wasn't like other boys from as young as nine years old. "I just knew that I was different. Well, I knew I was different in so many ways because I was brought up as a Jehovah's Witness. I was from a very happy, loving, calm and non-aggressive family.
"So, I was just different from most people in my town and most people in my school. It all scared me too much, really. So I got through school, I struggled through and kept going."
As soon as he was old enough to support himself, Luke decided he needed to leave his hometown and head to the city where he might fit in better. He was just 16 when he made the decision to move to Cardiff.
"I needed to find my identity, and I needed to be independent of my family, find my voice and be a happy, gay teenager. A teenager living on his own," Luke says.
Coming out to his religious parents was another challenge that Luke faced a few years later. "As with a lot of parents, it was difficult for them to understand. And I think the religion is also a difficult thing, with added pressure. But it took time, and it took respect, and patience, and understanding, and acceptance of each other, which doesn't come overnight. It was a very scary thing."
While Luke had been out publicly for his entire career, as his fame snowballed there were rumblings that he was pushing himself back into the closet because of how guarded he was about his private life. For Luke, it was important to keep certain things away from the media and public glare.
"It was the last thing I had, because everything else I've given to the world. My career was public, I was photographed, and all that stuff. My personal life just became the last thing that I had. Also, what was strange was that when people did find out that I was gay, there was a lot of articles and stuff written saying that I was hiding it, and I wasn't."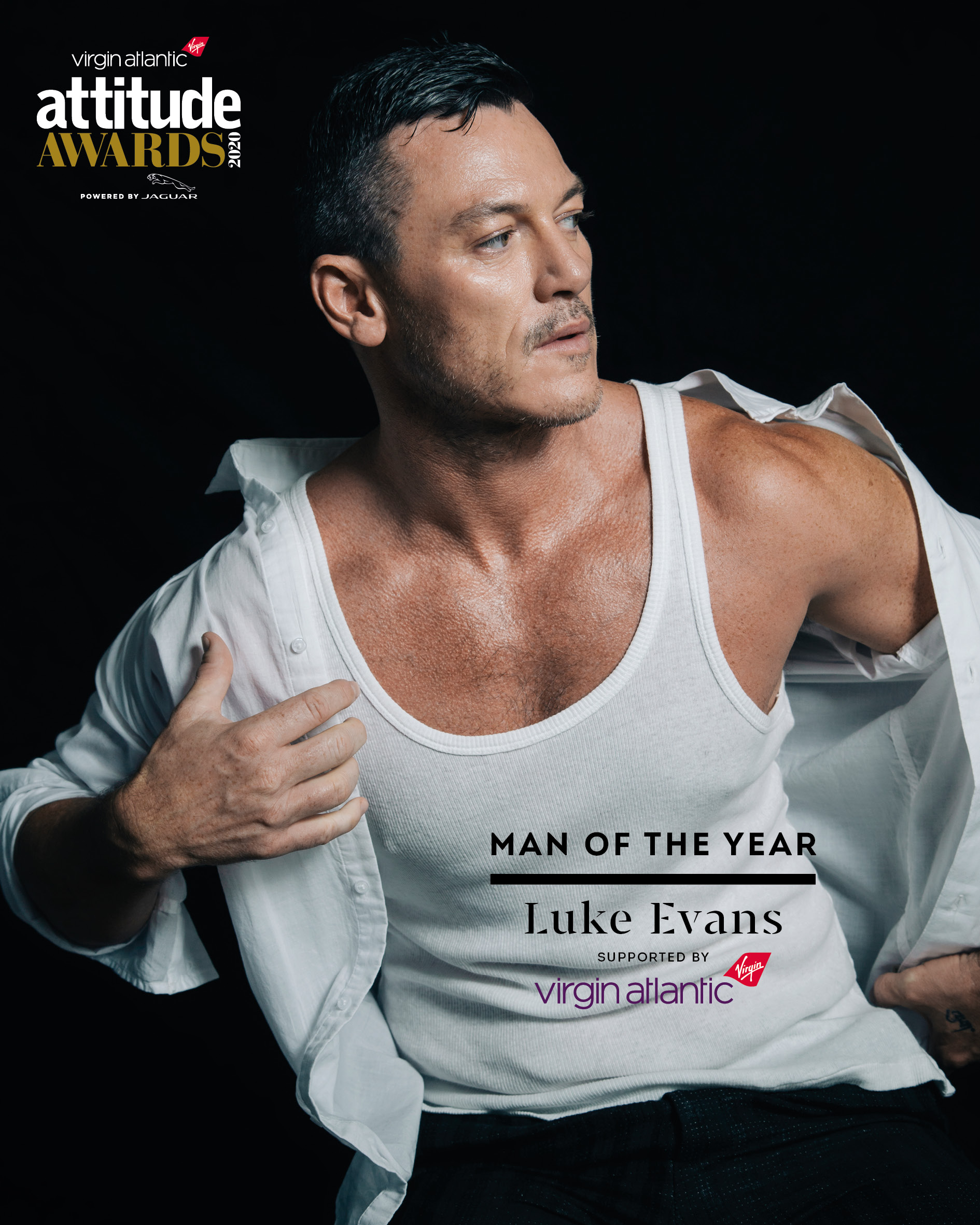 Luke wears tank top by Bassike, shirt by Armani, trousers by Ann Demeulemeester (Photography: Jordan Xinger-Xanger)
He continues: "I just wanted to get online and I wanted to pick up the phone and say, 'Do you realise I left home at 16 because I was gay?' I went into the world as a kid, because I had to. I am proud and happy, and I've lived a very big life that I'm super happy with. And I've never been ashamed. And now all of a sudden I was being treated in this way and it was a scary moment because I was, like, oh God, this is horrible. This is not true. None of this is true."
What is indisputable is that Evans' Hollywood success puts paid to the myth that out gay actors can't be bankable blockbuster leads.
"I hope that I've broken down a lot of barriers, just because I'm trying to represent my community, but I can't represent everybody. And I certainly can't please everybody. I just have to do it my way," reflects Luke.
He adds: "I just try and be authentic, because this is who I am. I am this person. I'm not creating another image so that I can portray one to you."
The Pontypool-born star's work ethic is simple: don't be a dick. "It's really easy to be a wanker. It's a quick choice to just be rude, but it's just easy to be nice. In this industry, you get a lot of smoke blown up your ass, it just happens on a daily basis", he says.
"And you've got to keep reminding yourself who you are, and where you've come from, and just remember that we're all on the same treadmill, we're all owed respect from everybody and that's what you've got to give out."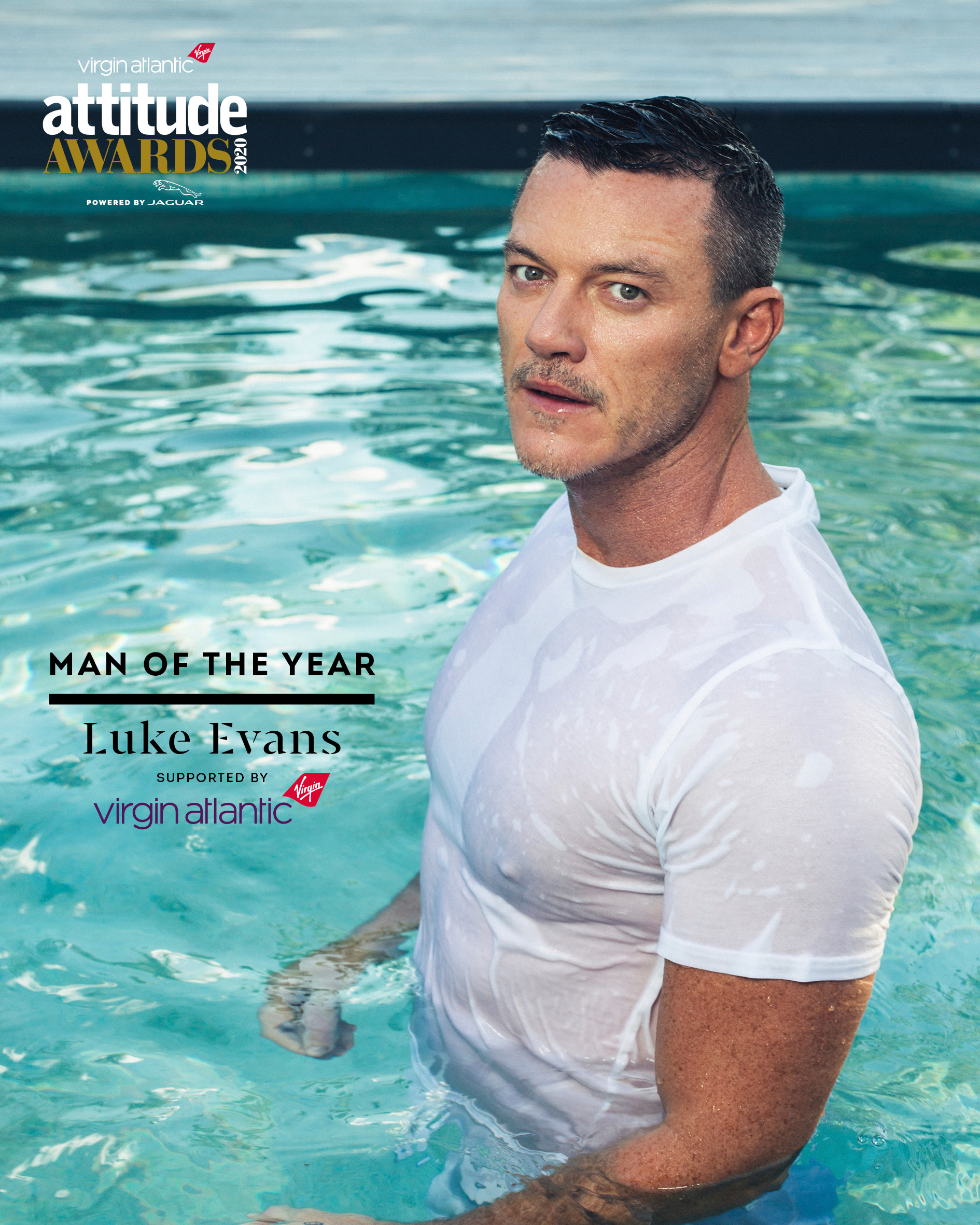 Luke wears top by CDLP (Photography: Jordan Xinger-Xanger)
Aware that it could all come to a sudden end at any moment, Luke makes no assumptions about the 'rat race' that is Hollywood.
"It can really consume you if you allow it to, when it comes to, am I doing the right thing? Am I as successful as I should be? What do people think of me? Are my movies good enough? Am I good enough?" he explains.
"But actually, I'm working and with good people, I'm travelling, and I get to look after my family. That's it. Job done. Everything else is a bonus. That's how I look at it."
As we wrap up our chat, he beams and says he wants to be the role model he didn't have as a young gay kid. "I want that message to relate for the young community who are dealing with so much more shit than we have to deal with," he adds.
"You can be happy with yourself and you can also be whoever you want. You can have any career you want and nothing should dictate what you do because of your sexuality."
Watch the 2020 Virgin Atlantic Attitude Awards, powered by Jaguar on YouTube now.
The Attitude Awards issue featuring all 14 winners is available from 1 December to download and to order globally.
Subscribe in print and get your first three issues for just £3, or digitally for just £1.54 per issue.