Madonna, The Celebration Tour review: Cements M's legacy as the undisputed Queen of Pop
Madonna's impact on popular culture is scattered throughout, writes Joseph Ryan-Hicks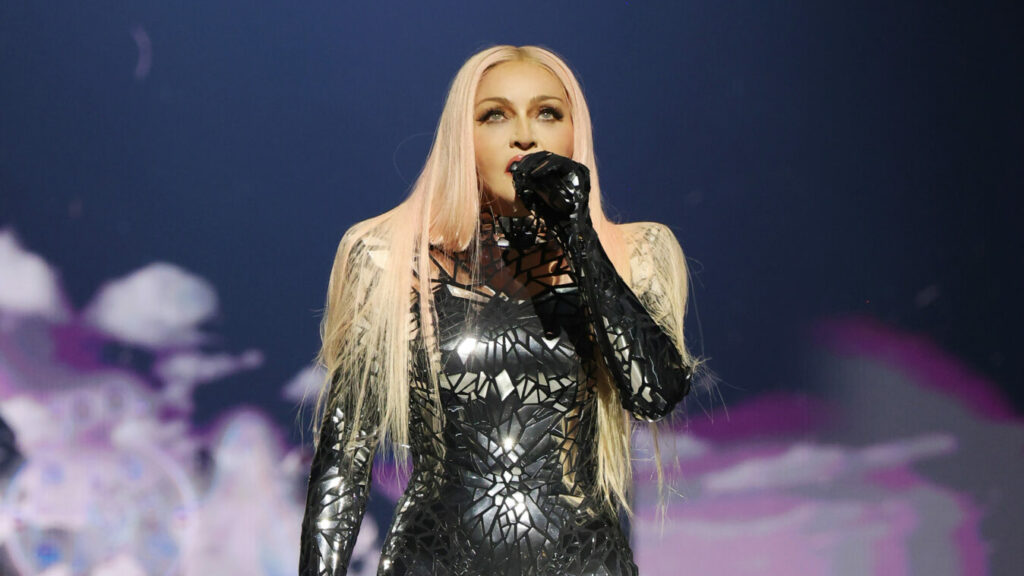 Just four months ago, the possibility of tonight seemed like a pipeline dream for Madonna and her millions of adoring fans. After suffering a severe bacterial infection that left the 65-year-old in ICU, the original opening of her greatest hits tour in North America had to be postponed – the road to recovery seemed long. But there's a reason why, for five decades, the hitmaker has been dubbed the Queen of Pop. Not only has she produced countless hits (she holds the record for most female no. 1 singles in the UK) she is an icon of discipline and resilience. The show must always go on.
After minor technical issues during Saturday's opening night at the O2 Arena, all bumps appeared ironed out for show two. This is one of six (!) dates Madonna is performing at the iconic London venue, a testament to her superstar status and reputation as a dynamic live performer. Opening the set (30 minutes late – more on that later) with Ray of Light's 'Nothing Really Matters' – an unexpected yet electrifying choice of first number – it's immediately evident this is going to be a setlist for casual fans and hardcore devotees alike.
Launching into a rock-heavy version of the singer's second-ever single, 'Burning Up', Madonna proves herself every bit the show woman as she recalls performing in 'filthy' CBGSs in 1970s New York; these nostalgic anecdotes between songs prove highlights from the night. Then, in true punk fashion, she takes a gulp of water and launches it into the crowd. Not many people can say they've been spat on by Madonna. A blessed experience, we're sure.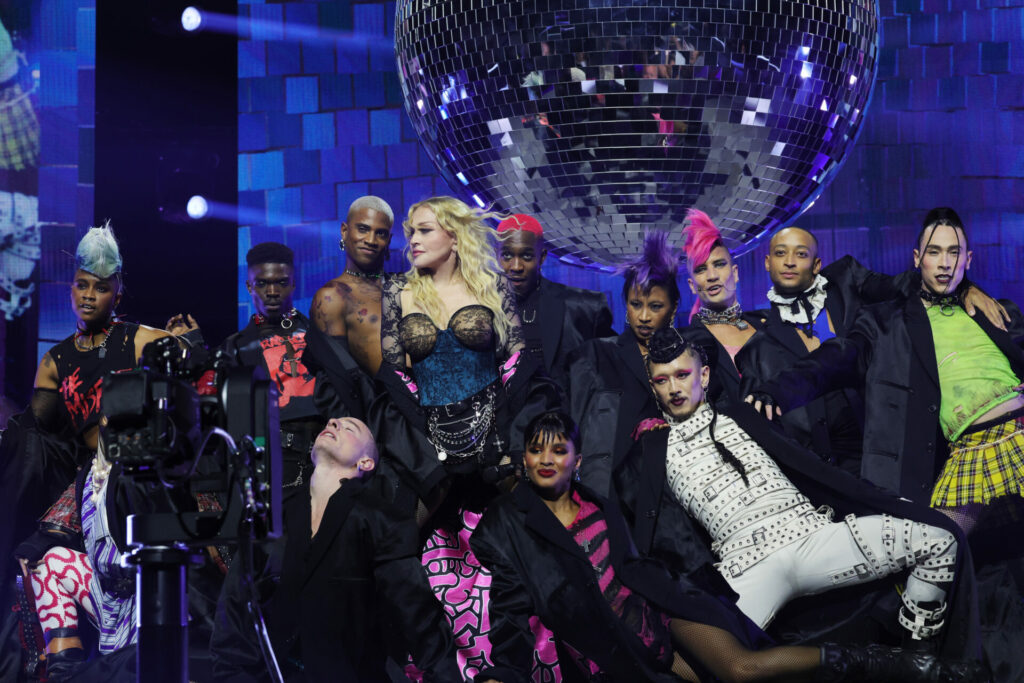 After blasting through early hits 'Open Your Heart' and 'Holiday', M pays tribute to friends lost to the AIDS crisis. 'Live to Tell' takes on a new meaning as she floats through the arena mid-air, passing projections of the many faces lost to the disease. A projection of Freddie Mercury gets a touching round of applause from the audience. It's an emotional break in the otherwise celebratory show, but an important acknowledgement of the people who inspired Madonna in the early days of her career.
Another highlight from the night is the inclusion of Madonna's children. "When my children say, 'Thank you for giving us a better life',' she recalls at one point, 'I say, 'No, you gave me a better life'." Mercy, David and Estere all pop up throughout the show, exuding a confidence far beyond their years. At one point, the youngest of the pack, Estere, vogues the house down for the 20,000-strong crowd, including surprise guest FKA Twigs. It's a marvellous spectacle.
"When my children say, 'Thank you for giving us a better life', I say, 'No, you gave me a better life'," – Madonna
Musical director and collaborator Stuart Price ('Hung Up', 'Sorry') described the 78-date tour to the BBC as a 'documentary through her vast career'. With that in mind, it was worth paying attention for easter eggs and nods to the past in the show's production. Backing dancers and supporting artist, Drag Race's Bob the Drag Queen, adorned various looks from the superstar's past. It was a reminder that Madonna is as much a visual artist as she is a musician.
The timing of a greatest hits tour is very apt in the pop goddesses' career. After a modest response to 2019's Madame X and the album's failure to produce a big international hit single, the last couple of years have seen Madonna finally strike gold on streaming. The likes of 1998's 'Frozen' and the previously unreleased 'Back That Up To The Beat' have gone stratospheric on TikTok and new releases with Drake and Sam Smith respectively have introduced a Gen Z audience to pop's OG provocateur.
This year also saw M release Finally Enough Love, a compilation of the singer's biggest remixes. Rather than regenerating old hits for the new tour, Madonna opts to revisit said remixes – a decision that pays off. Hearing the likes of 'Justify My Love (The Beast Within Mix)' and 'Ray of Light (Sasha Ultra Violet Mix)' live is a thrill, the latter of which was made to be played at arenas of this size.
Sadly, due to a late start and O2 curfews, the five-song-long encore (including 'Like a Virgin', 'Celebration' and 'Music') was cut from proceedings and audiences were rushed out of the arena by security following 'Rain'. It was a shame for those attending night two, and one can only hope the remaining four nights end less abruptly.
'Celebration' is as much about Madonna's unwavering credentials as a live performer as it is her legacy on the generations of young stars that followed her. Her impact on popular culture is scattered throughout, with the inclusion of adoring soundbites from the likes of Britney Spears and Ariana Grande. With that said, the show is a reminder that there is – and only will be – one Madonna. 'Celebration' further cements M's legacy as the undisputed Queen of Pop.