Big Boys creator Jack Rooke: 'I've always felt like gay and straight male relationships are really important'
The comedian and writer on why his new Channel 4 comedy is an "ode to friendship" - and why he wants to see more stories about larger gay guys on screen.
By Will Stroude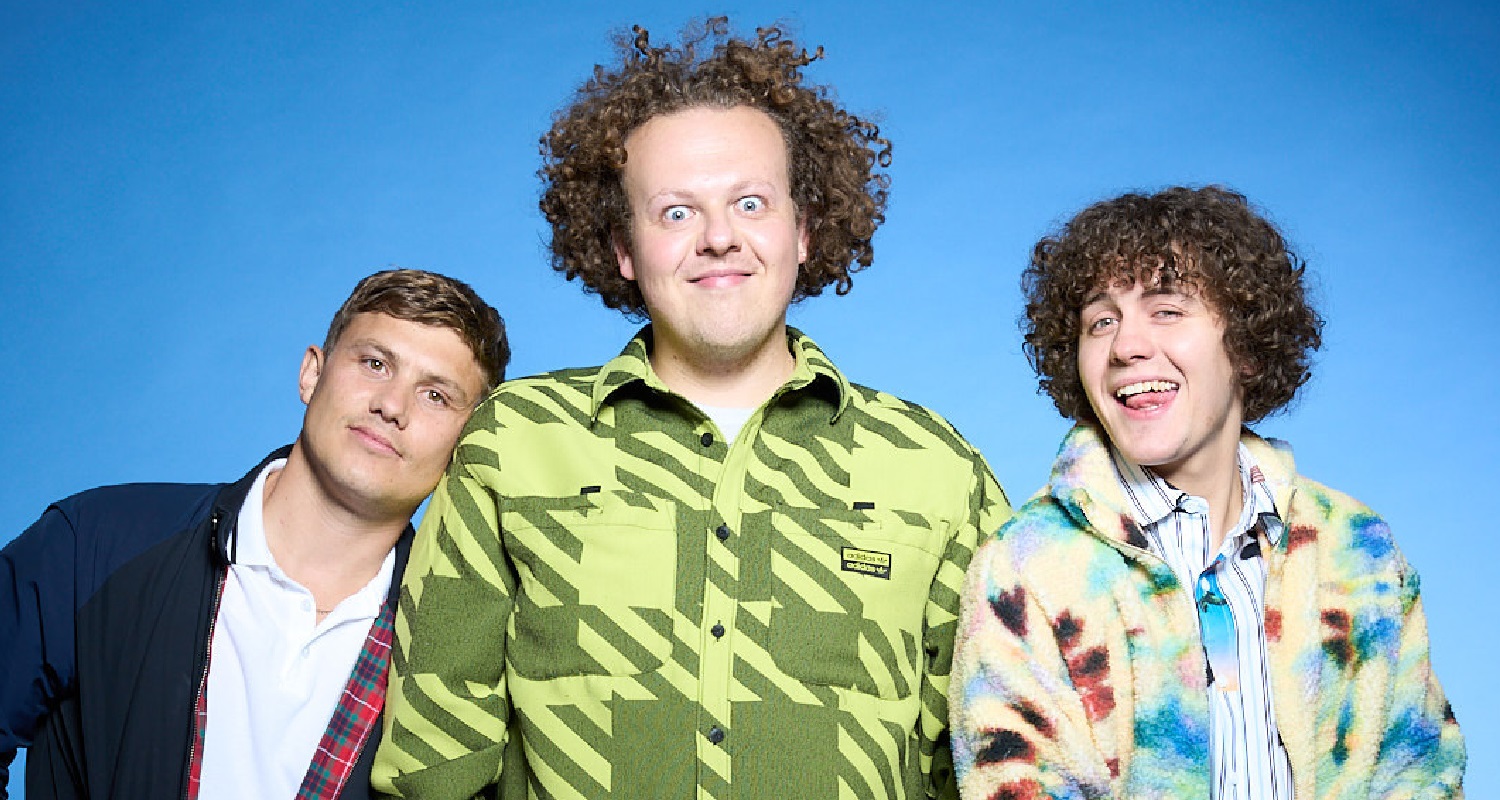 Words: Simon Button; Images: Channel 4
After making his name on the comedy circuit over the last five years, Jack Rooke is set to mark a big career milestone this week as his brand new comedy Big Boys arrives on Channel 4.
The six-part semi-autobiographical series stars Derry Girls actor Dylan Llewellyn as Jack, a closeted university fresher grieving the loss of his father who becomes roomates with Danny (played by Jon Pointing) – a brash and confident straight 'lad' who becomes his friend and mentor.
Ahead of the premiere of Big Boys on Channel 4 this Thursday 26 May at 10pm, we caught up with Jack to find out why he believes championing gay-straight male friendship is so important, why he wants to see Channel 4 kept "exactly how it is" in the face of government privatisation plans, and why he wants to see more LGBTQ stories involving larger gay men on screen…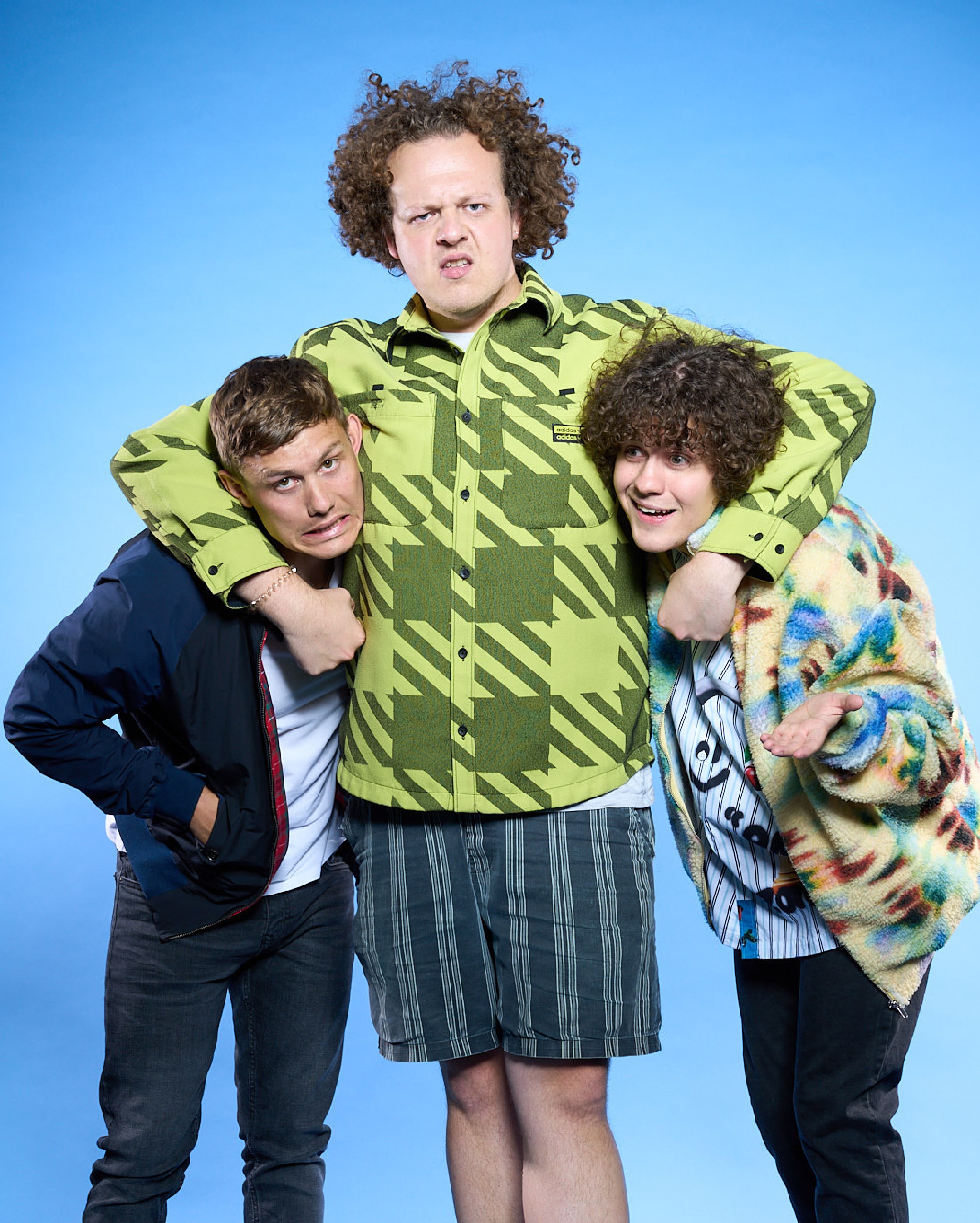 Big Boys, left-right: Jon Pointing, Jack Rooke and Dylan Llewellyn
What inspired you to write Big Boys?
I've been doing Edinburgh Fringe shows for the past six or seven years, doing one-man comedy shows that I suppose explored lots of different things – from grief to mental health to coming out as a young person. It's so fun when you're doing live performing, testing out jokes and getting an immediate audience response but the stuff I was writing had so many characters, with so many places I'd taken the audience to, that it felt like a really natural fit to make a sitcom out of it. I wanted to get some great actors in to embody those people and make it like a proper sort of world, and Channel 4 were so amazing and supportive in cultivating it.
Big-up to Channel 4…
Absolutely. My personal opinion is that we need to keep Channel 4 going exactly how it is. It's a phenomenal channel and I'm especially chuffed to be an LGBTQ writer having something on a channel that has historically backed those stories the most. It has done an amazing job of being really innovative with its queer programming, avoiding tropes and going somewhere new each time. I'm so glad that Big Boys has landed a home there.
What prompted you to include the character of Danny, who is not only the on-screen Jack's university roommate but also turns out to be an ally?
I loved the idea of writing a sitcom about a gay guy and a straight guy who are best mates, who start at very different points and gradually gravitate towards each other.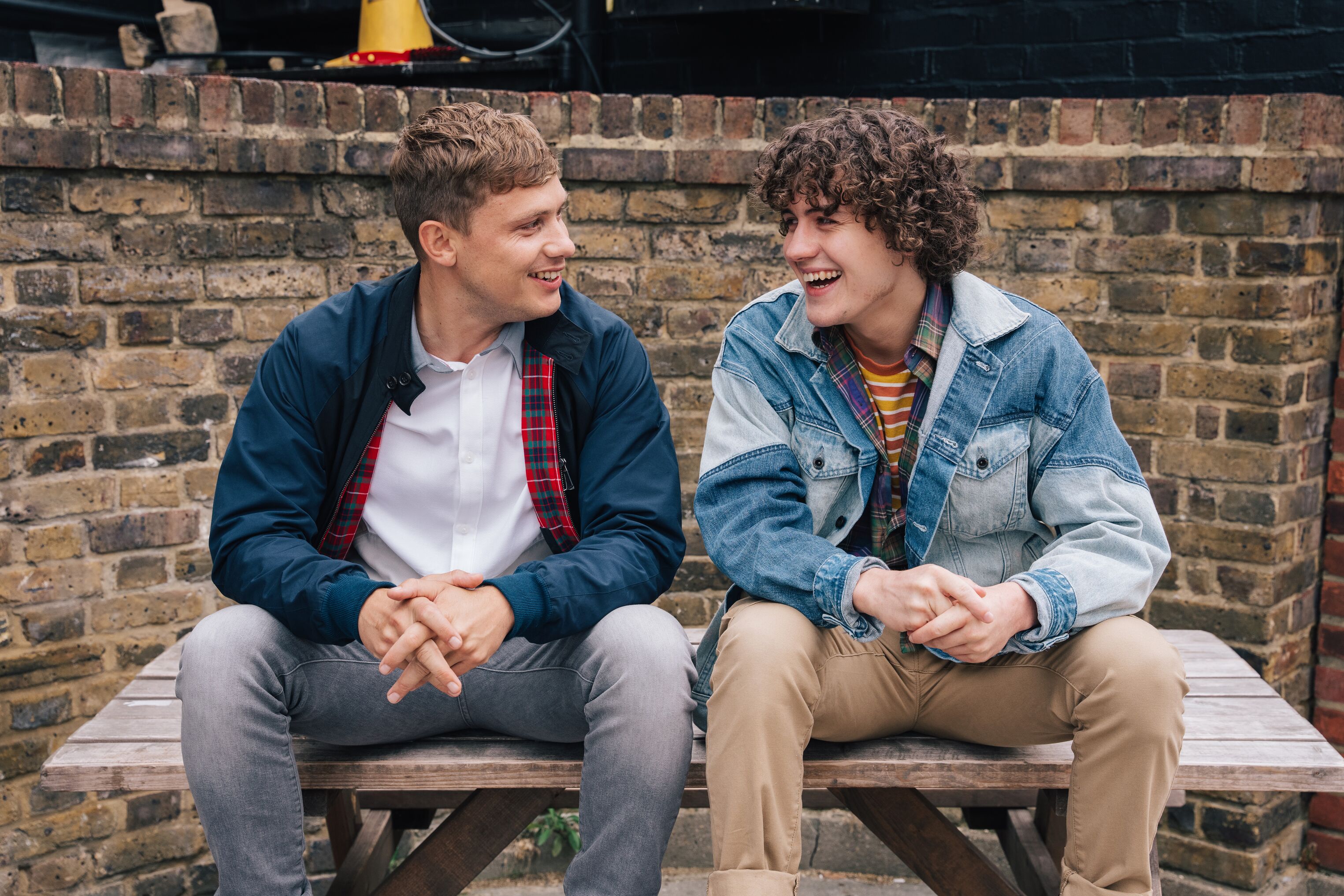 Big Boys' Danny (Jon Pointing, left) and Jack (Dylan Llewellyn).
How much of your own story is in there and how much is dramatic licence?
A lot of it is my story but I've been able to fictionalise stuff for my own sanity. Writing stuff that's autobiographical is a bit self-indulgent and I just have to own that. Then I'm writing characters who I know and love, and a lot of the characters are like two or three people I know rolled into one. I couldn't tell you the percentage because sometimes I watch it and I'm like 'I made that up', then at other times it strikes me how real a moment is or how a line of dialogue can be exactly what was said to me. It's a mishmash really.
Did you ever bash one out to Eric Cantona or drink poppers?
[Laughs] Has anyone not bashed one out to Eric Cantona? If you haven't, give it a go! He's a very good actor and he's always getting nude. I mistakenly went to drink poppers once but thank God I didn't. It's not something I would advise Attitude readers to engage in. As the queer community we have to set the example of not drinking poppers.
Was casting the lovely Dylan Llewellyn as the young you a bit of wish fulfilment on your part?
It's an odd one because I think of him as more vulnerable than me, even though he's bloody gorgeous. He's a very attractive young man but the biggest thing with Dylan is that I thought he'd be able to embody a vulnerable teenager going through that anguish of grief and loss [from losing his father] and that complexity. When Dylan is playing Jack I forget that he's so handsome, then when he's doing a photoshoot I'm like 'Look at this handsome man!'
Our brand new comedy series 'Big Boys' stars Derry Girls' @djllewellyn as a uni fresher trying to find his tribe whilst still finding himself. Written by @jackrooke #BigBoys pic.twitter.com/DoGqJbh9q7

— Channel 4 (@Channel4) May 12, 2022
Have you given the on-screen Jack characteristics and experiences you wish you had?
I've tried to make the on-screen Jack different from me. The Jack you watch on screen is probably not going to grow up and become a comedian. He might become a documentary filmmaker or a journalist, but then I never thought I'd grow up to be a comedian myself. I wanted so desperately to make documentaries, write copy and investigate the world. But I'm a Leo star sign and the horrible show-off in me jumped out and went 'You can perform' despite having no credentials or any acting or drama training. As for Dylan, I wanted him to put his own spin on it. As a person he's so affable, sweet and thoughtful and I think he brings those attributes to Jack in a way that's so nice when he's surrounded by such a lovely ensemble. You've got Yemi, who is the queer Londoner who has done it all and seen it all. Danny has mental health issues but he's still a proud lad's lad. And Corinne is incisive and smart but also really likeable.
Is Danny, played hilariously by Jon Pointing, based on a real person?
He's based on two or three of my friends, one of whom took me to my very first Gay Pride in something like 2014. He loved it, he was in his element, and I've always felt like gay and straight male relationships in particular are really important ones to cultivate. A lot of my straight male friends are the ones who will sometimes bravely stick up for LGBTQ people – especially in the current climate of what's going on with trans issues and stuff. I love when my straight male mates make the effort to understand a bit about queer culture, even if sometimes they get it a bit wrong. That's an important aspect of the friendship at the heart of this show: It's a straight guy who wants to help this little gay kid figure himself out and by proxy this gay kid is really supporting him.
I don't think we've really seen that on TV before…
I don't think I've seen it in that context before and at that age. It's so nice to see and I feel really honoured that Channel 4 have trusted me to write it, and also to still have loads of very queer reference points in there. I wanted it to have stuff about hook-up apps, I wanted it to have stuff about the scary gay clubs as well as going to gay clubs where it's like 'Everyone here is welcome, even straight guys so long as you're on good behaviour'. I love that openness and I hope I've captured a lot of that queer coming-out, coming-of-age experience.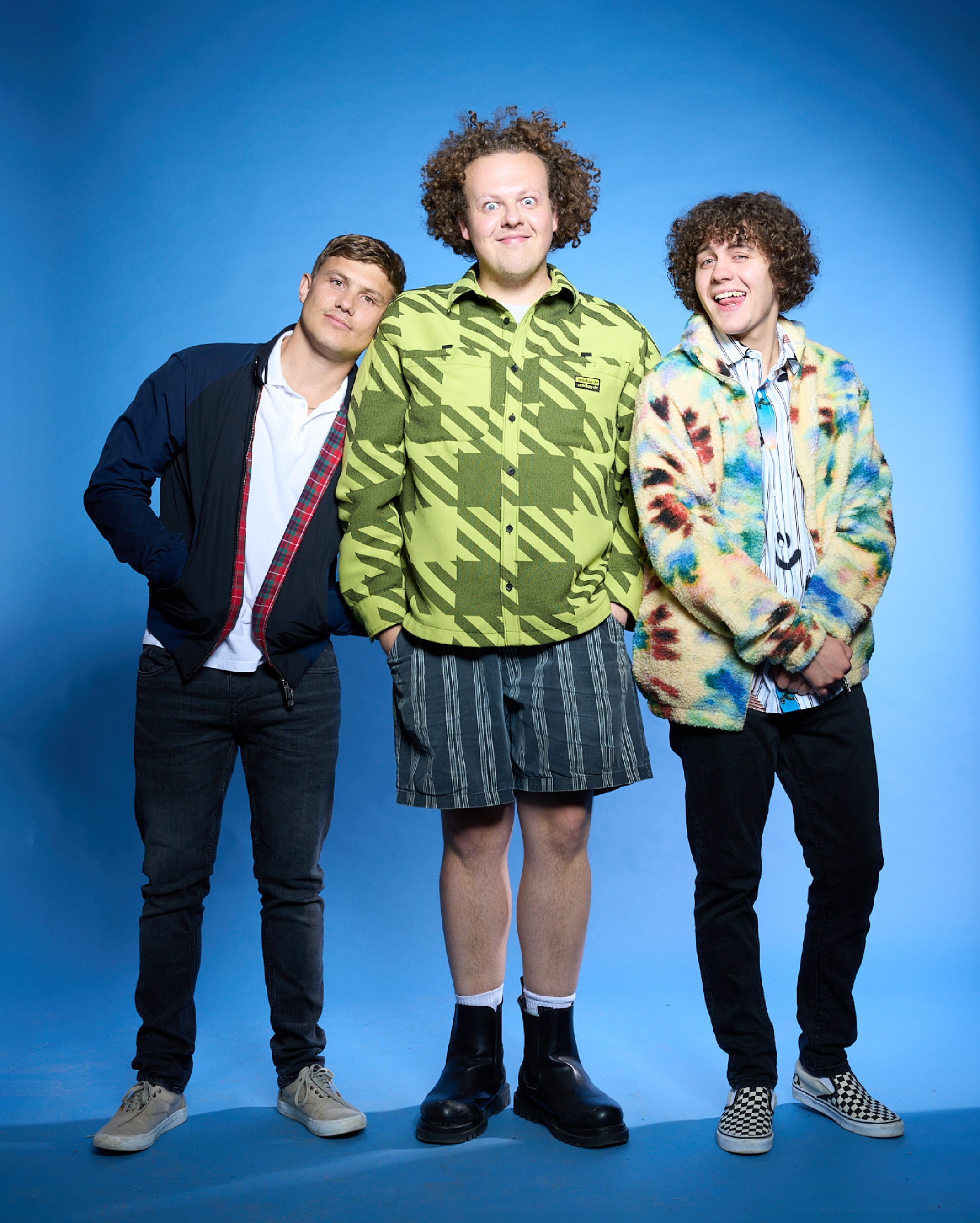 What do you see as the key theme of the show?
Overall it's just an ode to friendship. I know that doesn't sound like a hugely specific or trendy thing to focus on but I feel it's an immensely valid and important thing, especially coming out at the end of a pandemic and still kind of being in it. It's an ode to a group of friends who are going to accept each other's differences in order to support one another in figuring out who they are. I think that's enough of a thing to try and celebrate. I also hope it helps people who have been through grief at a young age, who have been through the instability of losing somebody young and how that affects your understanding of yourself in the world. I hope it's comforting and funny and silly. I always want it to be about silly, fun characters and it can't be too schmaltzy.
Do you think there are enough queer stories being told on TV?
I feel like we've made real progress in terms of there being more queer stories. What I'd like now is for those stories to reach out and have a wider breadth to them. One thing I'd love to say, especially to the gay press, is that I am an 18 and a half stone gay man. I'm a literal big boy and I'm hoping this is the first of many shows I write, and I want to write stories about larger queer people and the not conventionally-sized. That's something I haven't seen. I don't think I've seen many queer stories about people who are my size and how they engage and interact. We're getting better representation, all we need now is more breadth and different types of queer storytelling. What I think has been proved over the last few years is that those stories appeal to everyone. They go across the borders of sexuality, they go across genders, they go across ages. Gay stories aren't niche anymore. They're in the mainstream and they're doing incredibly well.
Big Boys premieres on 26 May at 10pm on Channel 4.