Kurtis Paul: A buyer's checklist for men's bags
By Will Stroude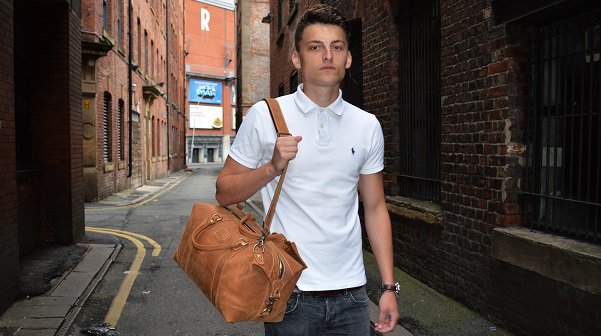 How can you spot a good bag? Why does the price of a bag vary? What style should you chose?
Let's break down the most common considerations when choosing a bag. We're presenting them a section at a time so you can pick and chose which elements are most relevant for you.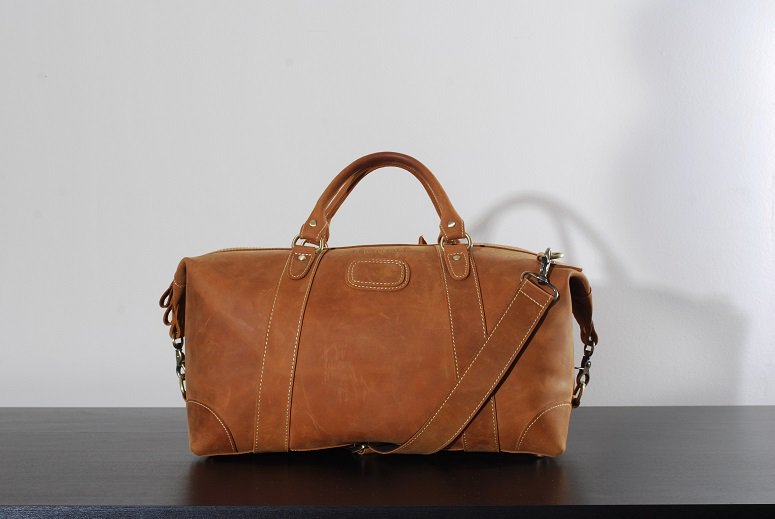 WHAT IS IT MADE FROM?
Men's bags are generally made from one of three materials. Leather, canvas or nylon.
Nylon is the cheapest of the three materials and usually only used in the lower end of the market. Nylon is a synthetic material, a shiny plastic. Its cheap manufacturing cost suits the introductory end of the market.
Canvas is a natural, cotton-based fabric; woven to create a strong, water-resistant material. Canvas is made to different grades (thicknesses). Thicker canvas is generally harder-wearing and has a sturdier, more luxurious feel. Canvas bags usually range from 13oz to 18oz. You will be glad to know that Kurtis Paul canvas bags are made from an extra thick 20oz, ensuring a higher quality feel and a bag that will last longer.
Leather is a popular material choice. This natural animal hide is one of the oldest used materials. A number of manufacturers sell a synthetic alternative, PU leather. Whilst this alternative can initially look just as good as the real thing, it quickly deteriorates and will not age well. Leather is a complex material and cannot be classified as easily as other fabrics but as a rule of thumb stick with either full or top grain.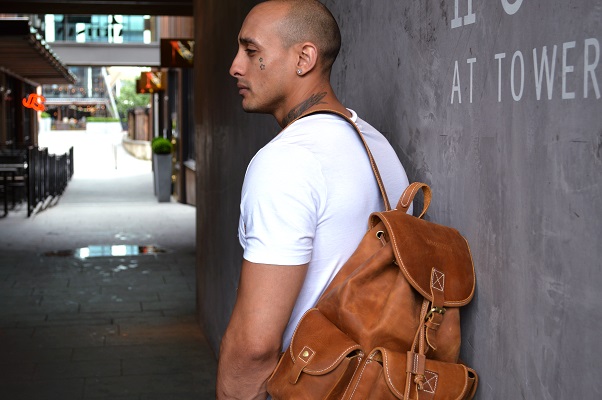 Leathers can be made from a variety of animals, popular choices include lamb, cattle and deer. When it comes to bags the usual choice is cattle. Its fibre structure give the perfect mix of strength and texture. We suggest always asking about the leather before purchasing the bag, it can have a dramatic effect on how satisfied you will be in the long run. It also helps you gauge whether you are buying from someone who knows what they are talking about.
Always choose a fabric to suit your needs (and your bank balance). Nylon bags range from £10 – £30 and best suited to someone looking for a cheap, casual bag. Canvas is a more upmarket, casual fabric, typically ranging from £30 – £80. Canvas is still a casual bag but is of higher quality. Leather is at the top end of the market, ranging anywhere from £70 – £400. Leather is an all-rounder and is well suited for either casual or formal use.
WHAT STYLE TO CHOOSE?
With an ever increasing demand for men's bags, fashion stylists are coming up with more elaborate and outrageous designs. Good news though, stripping back to the basics, bags can be grouped into one of 6 styles.
The Backpack
The Duffle Bag
The Weekender
The Tote Bag
The Messenger Bag / Satchel
Briefcase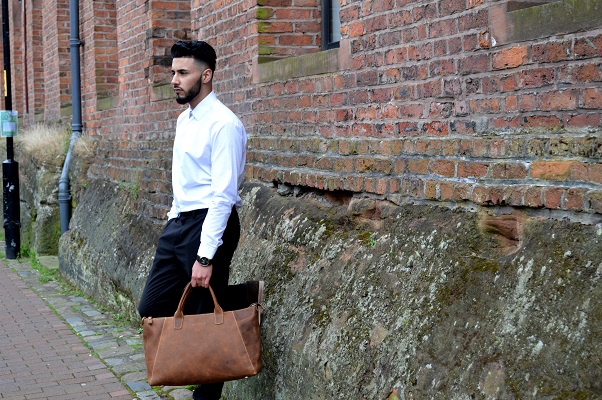 The Backpack – A friendly reminder of the days in school, the backpack is a timeless design. Your days in education may have passed but the backpack is still a great addition to the male wardrobe.
The Duffle Bag – A great all rounder, the duffle is a versatile bag. Usually equipped with both carry and shoulder straps, allowing it to be carried easily. The full length zip gives full access making the duffle a great bag for the gym or short trips away.
The Weekender – Identical in design to the duffle but much bigger in size. The weekender bag is designed to provide enough storage for a 3 night trip.
The Tote Bag – A fashionable variation to the briefcase. The simple tote design ensures it complements business dress codes and doesn't clash with the formal suit. The Tote bag is often termed 'fashion statement of the office', it says your not just another nobody, you intend to stand out.
The Messenger Bag – A single shoulder bag, somewhere in-between a duffle and a tote. This variation is often stereotyped to college students and delivery boys.
The Briefcase – A formal working bag. The briefcase has a long standing history and a well deserved place in the office. Its rigid design and hard outer shell give enhanced protection to its valuable content.
Tip: Consider using a carry sleeve for a minimalist alternative to the briefcase
Choosing your style shouldn't be too difficult, consider the two following questions and you shouldn't go too far wrong.
What style do you like best?
What style fits best with your intended use?
THE FINISHING TOUCHES
This is where most of the price differences lie. The best way to think of this section is with a reference to the motor industry, Fiat charge less than £10,000 for their entry model car whilst Bentley charge nearly 20 times that. Both cars come with wheels, doors and seats so why does the price vary so dramatically? The answer comes down to two things: quality of materials and the finishing touches. The Bentley is made using only the best materials, they are built by hand, checked meticulously and only sold if 100% perfect. The same principles apply to bags. If you want a bag which is built to last you need to chose one which is made using the best materials. This can be difficult to spot, especially if you don't know what you are looking for.
Zips – check the zips are of sufficient size, they take a lot of strain so you need them to be strong enough.
Stitching – take a look at the stitching, the thickness of cotton should look suitable for the bag.
Stress Points – the contents of a bag can be heavy and you want to ensure the bag has been suitably re-enforced.
Feet – chances are your bag will spend a good amount of time on the floor, check if the bag has metal feet. These protect the bottom fabric from the coarse ground.
Lining – not all bags need a lining but for those which do have one ensure if is of sufficient quality.
Metal Work – zips, buckles and other components should be made from metal. Plastic and other materials are usually too fragile.
FURTHER QUESTIONS?
Choosing a bag can be a difficult decision and the fashion experts here at Kurtis Paul are here to help. Should you have any further questions please contact us or comment below.
Check out our blog for more posts like this one.
Did you know that Kurtis Paul is always on the lookout for new talent. Think you have some great fashion tips to share or see yourself as an aspiring model have a look at how you can get involved.
Words by Lloyd Rayner