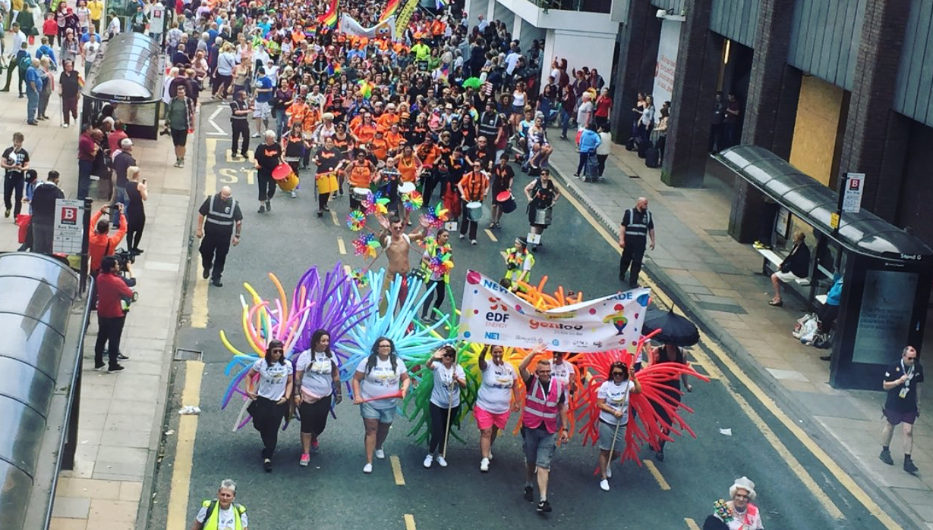 As a record number of people attended Newcastle Pride last weekend (July 15), we thought we would share some of the highlights from the events.
Thanks Newcastle pride… Awesome crowd pic.twitter.com/4Nv0auSyhX

— Jake Quickenden (@JakeQuickenden) July 16, 2016
Jake Quickenden Performed on the main stage.
Newcastle Pride 2016 sponsored by NE1. Record Saturday turnout 12500 on the parade 38000 in the park throughout day pic.twitter.com/SLroAcnfFh

— Northern Pride (@northernprideuk) July 17, 2016
Pride day one roundup: A record breaking turnout and @Official5ive smash it https://t.co/pIgHxZ7UoH#NewcastlePridepic.twitter.com/ns4Y0987BK

— What's On NE (@whatsonne) July 17, 2016
Childhood throwback as Five also performed.
Some well needed sunshine and love! Newcastle pride pic.twitter.com/fGLR6Y0P6w

— charlie bowater (@charliebowater) July 16, 2016
The streets were brightened up with the colourful parade.
Our LGBT Staff Network ready for the Newcastle pride Come join them & @gentoogroup@NewcastleHosps@northernprideukpic.twitter.com/Eq4f12Ccxt

— NEAS (@NEAmbulance) July 15, 2016
The ambulance service were there ready to get involved.
Some of Danny at the Newcastle Pride 2016 last night! pic.twitter.com/qnGOMA9dwr

— Danny Miller Fans (@DannyBMFans) July 17, 2016
Emmerdale
star Danny Miller, whose character Aaron Livesey orms half of popular gay couple 'Robron' along with Ryan Hawley's Robert Sugden, was also on hand to help see in the celebrations.
The weekend started off with a marathon run.
A photo posted by Chris Barlow (@chrissyboyuk) on
With a record 73,000 people turning up to the events, it's no wonder the streets were packed.
We hope everyone had a great time at Newcastle Pride – it certainly looks like it!
Words: Darren Mew
More stories:
Tom Daley reveals how he came out to his mum
Calum McSwiggan ordered to appear before US court over fake hate crime charges