Ron DeSantis promises to fight 'woke ideology' after Florida victory
"Florida is where 'woke' goes to die," DeSantis claimed after his victory.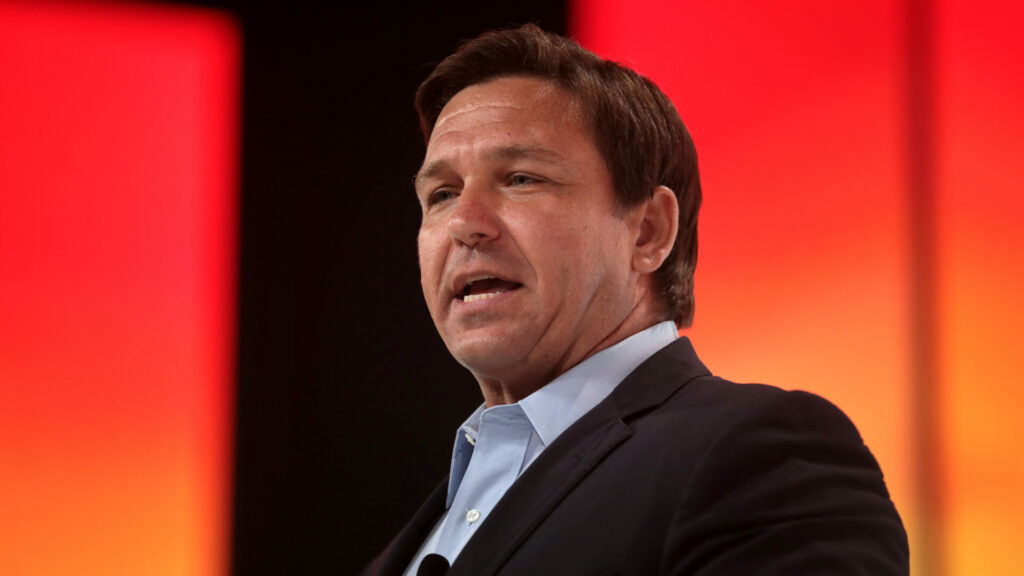 After winning a landslide victory in Tuesday's (8 November) midterm elections in the United States, Florida Governor Ron DeSantis has promises to fight "woke ideology".
With the 44-year-old Republican defeating his Democratic challenger, Charlie Crist, with a 59.4 percent majority many are noting that DeSantis' momentum sets him in good stead for the 2024 run for the White House as 'Trump 2.0'.
However, the former President has warned DeSantis against running. The BBC reports Trump has threatened to release "unflattering information" if he does.
DeSantis on the other hand seems assured in his victory. In a speech on Tuesday night he declared, "freedom is here to stay." He thanked people for their support, with people across Florida and in most demographics coming out to back him, calling it a "win for the ages".
Referencing the shameful 'Don't Say Gay, Don't Say Trans' law (officially the 'Parental Rights in Education' bill) which he is perhaps best known for, he said he had "protected the rights of parents," as well as maintaining law and order.
"We reject 'woke' ideology," he also said to rapturous applause. "We fight the 'woke' in the legislature, we fight the 'woke' in the schools, we fight the 'woke' in the corporations, we will never ever surrender to the 'woke' mob. Florida is where 'woke' goes to die."
He then threatens, "we've got so much more to do and I have only begun to fight."
His win raises serious concerns for the LGBTQ community in Flordia, and possibly the whole of the US if he goes ahead with a 2024 bid.
DeSantis previously represented Florida's 6th district in the U.S. House of Representatives from 2013 to 2018, before being elected as Governor in 2018.
The 'Don't Say Gay, Don't Say Trans' bill states that "classroom instruction by school personnel or third parties on sexual orientation or gender identity may not occur in kindergarten through [third grade]" or "in a manner that is not age appropriate or developmentally appropriate for students in accordance with state standards" in other grades.
Ultimately, this targets LGBTQ+ youth and educators preventing safe and inclusive classrooms which will only further stigmatise and isolate LGBTQ+ youth.
On the first day of Pride month in 2021, DeSantis signed an anti-transgender sports ban (the 'Fairness in Women's Sport Act') into law, preventing trans girls and women in Florida secondary schools and colleges from participating in girls' and women's sports teams.
The 73-page bill, amongst other issues, states that, "maintaining the fairness for women athletic opportunities is an important state interest," and that designating single-sex teams "is necessary to maintain fairness for women's athletic opportunities."
On the topic of sports, DeSantis refused to recognise trans swimmer Lia Thomas as she became the first transgender woman in history to win the United States' highest national college swimming title, the National Collegiate Athletic Association (NCAA), in March of this year.
DeSantis said Thomas' victory "undermined the integrity of the competition," criticising allowing her to compete in the first place.
In July, DeSantis filed a complaint against the restaurant R House in Miami for allowing children to be present at one of the restaurant's drag brunch events. He accused the restaurant of disorderly conduct.
Last year, under DeSantis, Florida's Department of Education removed an anti-bullying portal, including links to LGBTQ advocacy groups, from its website.
Also in 2021, the republican vetoed the targeted funding that supported life-saving LGBTQ+ organisations, which included programs ($150,000 for the Orlando United Assistance Center) benefiting survivors of the 2016 Pulse massacre.
In another slashing of public funding, a year on he vetoed the $500,000 funding assigned by lawmakers to support an Orlando housing program for homeless LGBTQ-plus youth.
Ron DeSantis is not a friend of our community. As the above shows he's made it clear he has no interest in standing up for LGBTQ rights, and actually seems quite interested in rolling them back. His policies, namely the 'Don't Say Gay, Don't Say Trans' has inspired at least a dozen other states to follow in Florida's example and put forward the same legislation. A federal US-wide version has also been pitched by Republicans prior to the midterms.