3 gender-diverse storytellers on how they found their voices through reading and writing
Writers Juliet Jacques and Meg-John Barker and journalist Shivani Dave discuss their careers and Audible's Pride List of Queer Storytelling ("I've already got the rest of this year's reading sorted!" says Shiv.)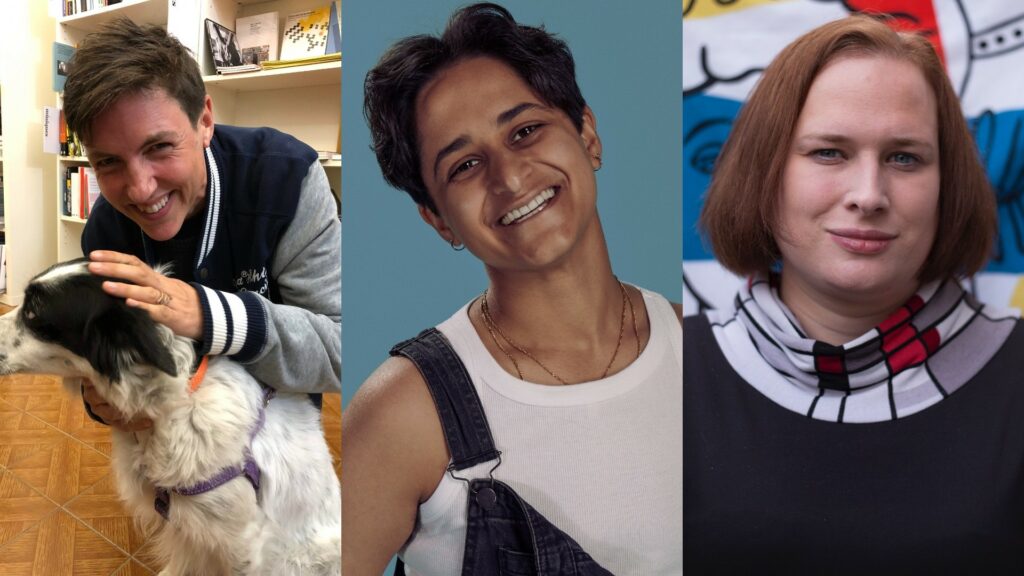 Writer, filmmaker and academic Juliet Jacques (she/her), journalist and broadcaster Shivani 'Shiv' Dave (they/them) and book and zine writer Meg-John 'MJ' Barker (they/them) are three of the most interesting storytellers working today.
They are also all contributors to this month's Pride List of Queer Storytelling reading list: a collaboration between spoken word entertainment providers Audible and non-profit literary LGBTQ organisation Out on the Page. (To check out the full list, click here.)
To celebrate their involvement in the campaign, Attitude caught up with the trio via Zoom this week to discuss the power of sharing ideas, how best to respond to book banning and their advice to aspiring writers.
How did you decide which texts to recommend?
Juliet: I've been writing about trans and nonbinary literature and theory for about 15 years. I often find myself talking about the same people, and wanted to make my list more contemporary. It's a really interesting moment for trans creative writing. There's a very vibrant trans poetry scene in the UK, but there are interesting things happening with literature as well. I think people are feeling that theory and media criticism and political writing has been done. I think trans and nonbinary writers are feeling freer to experiment with form.
So, I chose two recent novels published in the 2020s that I think are doing that so those were LOTE by Shola von Reinhold which is a really interesting piece of speculative fiction looking at how particularly queer and trans people of colour have been historically marginalised. It's a present-day protagonist researching a forgotten war Black poet.
Then Alison Rumfitt's Tell Me I'm Worthless, which I think is great. I don't like genre fiction that much and this is a horror story but it's a brilliant political satire, incredibly funny and there's lots of interesting commentary about queer culture and the horror story that is contemporary Britain.
I did choose something older as well. The play Eva Perón, which was first performed in 1970 and stipulated a drag queen had to play Eva Perón. It's thunderingly unsubtle. A biting satire about gender roles in the Peron regime. Eva Perón is a hysterical, drug-addled hypochondriac. Basically, everyone, particularly her husband, is waiting for her to die so they can start manipulating her public image as she's much more useful dead than alive which caused riots when it was first performed. It's a historical piece of writing that I want people to know more about.
Shiv: I found it really hard as there's so much out there that's so vibrant and different. But I chose books that I had a personal connection to. I picked Juliet's book Trans: A Memoir. I went to school just after Section 28 and even though I didn't experience the same difficulties that people under Section 28 experienced, I still found I couldn't see any queer writing and very little queer media on TV and elsewhere. When I came across Juliet's book in my late teens, I was already thinking about my gender but I had no language for it. It was a book that, even though the experiences are different, I had moments where things clicked. It was a really important thing for me to read. It's the one book I've recommended that, I have a copy, but I never physically have it in my possession as I always give that book out. I thought it was important to talk about transness pre-2018 when the Gender Recognition Act became news to illustrate trans people have always existed and older trans people are part of the narrative and they also get sidelined. It's one of those really important books to me, personally, and trans culture wider – even British culture, understanding the variety of experiences trans people have through Juliet's eyes.
Then I picked A Short History of Queer Women which I came across recently. I really enjoyed the way Kirsty Loehr's writing was unashamed to talk about some of the more dark elements of queer women and queer femininity, but does it in a joyful way. I think it was a really nice juxtaposition: it's a nonfiction book told as a comedy. A lot of the time when we read queer stories it's focused around queer joy, which is great and important to see. But it's also important to know it isn't always rainbows and glitter. I just really enjoyed reading it and had a fun time.
Then I picked Alison Bechdel's Fun House because it is iconic. I tell everybody about the ring of keys! It's such a joyful comic memoir that more people need to read. I wanted to put it out there again, it's a different form which I wanted to highlight. We don't just have literature in a traditional sense, there are lots of creative ways these stories are being told.
MJ: I went for recent ones because I hoped others would nominate classics. I wanted to mix it up: a memoir, a literary one and a more genre one, and authors from different continents.
Memoir-wise I went for Travis Alabanza's None of the Above. I wanted a trans memoir that does something different. Juliet's was the first trans memoir I read that was trying to trouble the standard narrative of trans: you just focus on medical transition. I went with Travis' as that was the most recent one that profoundly questions that trans memoir narrative and tells a really different story. Travis also really tells the story of what it's like being trans in the world right now which I found incredibly moving. I sobbed my way through the chapter where they're talking about being in the media and everyone's talking about you and you don't get to celebrate as you've become this story. That's something that's happened to me. It was big to read that in writing. I know how much courage it must've taken to write. I really like how Travis plays with time travel. They're time travelling back at the end of each chapter to say what they'd like to say now to that comment. I really like the playfulness.
Then I chose Akwaeke Emezi's Freshwater because that's a story of gender diversity where it includes a spiritual and plural understanding of gender diversity. The writer has multiple selves or spirits. I hardly ever see the plurality of gender and the self in literature, apart from mental health memories and that's something that really resonates with me. I have a very plural experience of myself. While Akwaeke is coming from a very different cultural tradition, it felt big for me to read a story of gender plurality and self plurality. It's a beautiful book.
I chose Becky Chambers because she's pretty much my favourite author at the moment. It's genre fiction, sci-fi, but very character driven. Her books are all about queer community, except set on different planets. It's all about gender, sexual and relationship diversity, all the different ways we can do these things [and asks] how can we be kind to each other across differences. The Monk and Robot also has a nonbinary lead character with no fuss, that was really nice.
How would you describe the positive impact of collaborations such as this one between Audible and Out on the Page?
Shiv: It's been great to spotlight queer writers and queer writing. There's something like nearly 150 books recommended throughout his initiative. I've already got the rest of this year's reading sorted! I'm buying the ones I haven't already read. It's a beautiful way to illustrate how much there is out there. As queer people, we can get a little bit caught up in the idea of our narrative being told by people outside our community. It's beautiful to see the diversity and representation of the way we tell our stories all in a place. I hope it's something that can be added to and continues to grow.
Juliet: There's an awful lot of queer writing out there. I think it's great that Audible and Out on the Page have created an extensive and diverse one-stop shop for people to find narratives that might resonate, challenge or interest them. It's a good starting point for that discussion.
MJ: I really like how much it celebrates diverse writing forms. Genres, authors and stories. Seeing these queer lists before, they haven't been anywhere near as wide-ranging as this list. There's more to queer storytelling than just representing LGBT people. It's more about representing the diversity within our communities and stories that challenge these standard narratives we always hear about LGBT people. The ones on the list really challenge these narratives of what it is to be a person, to love, and to have a successful life in all kinds of ways.
How has the writing process aided each of you in your gender journeys? Are the acts of writing and reading helpful in different ways?
Shiv: For sure. I've explained how that's been important to me to feel that I'm not alone and understand some of the language about what I was experiencing. What's great is there are so many different experiences. So Juliet's and my experience may have taken place in different decades and we might have different ways of how experiencing gender and moving through the world, but there's still a lot of crossover in terms of how her writing has been able to allow me to find some of that language and visibility I needed.
I don't call myself a writer but I've written short stories and they're never going to be published… But it's been helpful. I'll be the main character in my own short story and explore my gender and sexuality through that because it feels a little bit removed. It's not just me but something bigger than what I'm experiencing. With words like gender or sexuality, it's always going to be much bigger than one person.
MJ: I'm really lucky in the graphic guides I do it brings the reading and writing together. My job is reading as widely as possible on history, biology, psychology, sociology, and everything about gender and then bringing that together in an accessible way for people. The idea was to make sense of this really complex thing called gender and raise lots of other voices. It's about spotlighting loads of voices, signposting people to other people they can read.
I guess writing [in the] self-help style is very different. It's writing the book I wish the younger version of me had to help them through their gender journey. Like Shiv, I write a lot of fiction that is unpublished that is about myself. Writing these plural aspects of me as different characters. It's a good way of exploring them. I [disregard] that distinction between proper and improper writing. It's all incredibly valuable.
Juliet: I always wanted to write. As a teenager, I wrote a lot of fiction, plays, and screenplays and found I kept wanting to put gender-nonconforming characters into them. At first, they'd be secondary characters and their gender wasn't a big deal. Gradually, they moved to the centre of my narratives. I had the idea of Variations in 2003. I was reading a lot of gay and lesbian fiction – Oscar Wilde and William E. Burrows – and wanted literature in this line, written by, about, and for trans people. That was my motivation. I tried different forms and found myself writing autobiographically and doing a series for the Guardian. I got crafted at telling stories about different aspects of transitioning. For me, working out my gender and writing was a symbiotic process, intertwined in ways that were physiologically quite difficult but creatively and politically rewarding.
Do you read and write every single day or do you have set days?
Juliet: I had a lot of admin jobs for 10 years after I graduated and got into writing around those jobs. I became a full-time writer by doing a PhD and I've been freelancing since then. On days I teach I don't tend to write. Saturday is football day. Sundays I often read but rarely write. This is probably going to sound dishonourable, but journalism is how I make money so I try and treat it like a job and that's what funds my more creative writing. The important part of writing is not writing. It's essential to take time travelling, being with friends, or taking in different types of culture. I spend far more time not writing than writing.
MJ: For me, it's more about the nonfiction-fiction distinction. I notice when I'm writing fiction I really don't want to go into another fictional world if I'm really immersed in my own one. Similarly, if I'm writing nonfiction it's nice to go into fiction. I do a bit of writing and reading most says.
Shiv: I'll read most days but that's not always possible. My closest thing to writing every day is my radio show. If I sat at home and all I did was my show I'd do nothing and I'd have nothing to talk about for the next day.
Could you describe some of the common obstacles faced by gender-diverse writers, and especially intersectionally marginalised writers, and how we might change them?
Juliet: In a time of austerity and the deliberate wrecking of this post-war democratic culture, the avenues for people to develop creatively and get their work to an audience have radically diminished. The government's ongoing assault on arts and humanities subjects and ongoing racism and rising transphobia and homophobia, all of these things present real challenges. There are accessible ways for queer and gender-diverse writers to develop their craft, like Out on the Page, [but] there are lots of socio-economic barriers.
I think in the late 90s and early 2000s there were far more LGBT-specific publishing and cultural institutions. A lot of them vanished. I think in the last five years, the emergence of Cipher Press, who are publishing a lot of interesting and daring literature, and the re-realisation of the need for LGBT publishing and spaces, are positive things and will go some way towards [fighting] the social and economic violence on British culture. That needs to be rebuilt, that's a bigger challenge that comes next.
MJ: To focus on the gender-diverse obstacles and the culture of transphobia, it narrows down to what we're able to say. If we do that, then those reading the books get the sense there are only certain ways to be trans or queer and that there's unsayable stuff. When we're not telling the truth – that struck me about Travis' book, how the world shaped their ways of being trans and restricted them in what felt possible – we need everyone on board to help us shift this toxic culture around gender diversity so it becomes safer for people to tell diverse stories. Then people can find diverse ways through their gender journey that suit them than having to restrict themselves to certain narratives.
Shiv, do you see any similar obstacles in the world of media?
Shiv: Yes, in short. I think a lot of Juliet touches on overlaps in the media, in broadcast and journalism. That's not to say that it's the fault of the people I work with. But it's part of a wider picture of society and what's going on in a general landscape across the UK and globally.
Given what's happening in schools in Florida and Russia, and maybe here in the future, what is be your message to someone wanting to respond in practical ways to things like book banning in schools and libraries?
Juliet: It's easy to feel a lot of despair at the moment. It feels like the forces acting against us are very powerful. It's important to remember that I don't think these forces are actually that big in number, which is why they're so loud and obnoxious. They're very aware that the majority of people under 50 don't feel like them and want a different world. It's also important to remember this stuff has happened in the past. People have found ways to resist it and things have got better again.
Speak up on whatever platforms you have, if you can. I don't like putting pressure on people to speak up per se, but if you feel that's a good way for you to be in the world, do that. You can organise, distribute books, create your own resource centres and community organizing around access to literature. Just because the government says 'you can't do something' doesn't mean you have to completely acquiesce to it. Try to retain hope and a vision of a different world, which is what literature is. Literary principles are something that really can, and should, come into political organising.
MJ: We do need to make room for queer feelings. It's really important to learn from queer history and realise we're not in this particularly desperate place that we've experienced before, we have waves. Creating spaces for people to have queer rage and queer grief and queer fear is important and making a lot of online and offline spaces with access to resources. Queer Circle, they're doing great work at makings sure resources are available to local communities.
Shiv: In the times that we live in, having resources online and offline, like this list, is so important. You can go to the website or search 'queer books to read' and there's so much out there. Historically, that would've been harder to track down. Using the tools at our disposal to benefit us and the younger people in our community is really important. It's important to acknowledge throughout the history of queerness – I'm using queerness as a shorthand for LGBTQIA+ identities – it has always existed and no amount of book banning or censorship has been able to stop that before. It will never be able to, because as a thing, we're bigger than a community in some ways, as an identity we are always going to be there. I think, it terms of practical advice, look back at how people were able to support those when laws similar to this have come into force. Like Section 28, there were lots of teachers very scared, but there were also people out there providing support in the shadows. As Juliet says, but maybe a bit more bluntly, just because the government says you can or can't do something, doesn't mean you should or shouldn't do the thing. In my view it's more important to be on the right side of history than it is to fall into whatever culture war trap the government is setting at the moment. To be explicit about it, if, for example, we get to a stage where in this country it is illegal to provide books to schools that have anything to do with LGBTQIA+ families, it will take a level of courage or bravery to make sure people have access to those resources. But it's important that work is done.
Is there a fictional character who is gender diverse who means a lot to you?
Shiv: A few. I think what I would shout out is a character from Heartstopper. For a lot of people at the moment, with what's going on with trans and nonbinary young people, there's a character who's the first on-screen example I saw of somebody who had non-binary body dysphoria. I'd never seen -that] growing up. This character binds their chest and talks about binding. It's an opportunity to talk about doing that safely which is something I never had access to and I was binding my chest as a teenager. It's important to me that young people won't feel alone or isolated.
Juliet: The central character in the novel Cobra by Severo Sarduy, published in 1972. It sticks in my mind as the whole book is this strange textual experiment and the point is this isn't a real character because I am much more interested in formal exploration than character. It completely dispenses any idea of believability or narrative consequentiality.
MJ: Anna Madrigal from Tales of the City as I read that at university. It was the first positive depiction of transness that I ever read, long before I realised I was trans. With Anna, you have this kind of older trans woman being presented as a central figure. I think Armistead Maupin has gone on to include much more gender diverse characters since then and always kept up with where things are and written about it in an interesting and honest way.
What's your advice to an aspiring writer who is gender diverse?
Shiv: When it comes to any sort of minority, there is this idea that if someone has done it, then that's the thing on the thing, whether it's race or gender or disability or sexuality. It's something you see in different areas, you get lots of older cis, straight white people saying 'there's enough books about this – why bother with another one?' It can be easy to get put off. All of the experiences are going to have similarities but all the stories are incredibly important. From a historical narrative, what you're writing about now needs to be written so that when people go to the archives and look at what was happening in the UK in the 2020s, they can see there was this incredible writer talking about things.
Juliet: Write! Make time to write. Retain confidence in yourself. It's not easy out there. The best bit of advice I've got on writing was from a friend at work who said 'you become a loser when you give up.' That was at a point things weren't going well for me. So keep going. It's never too late to start. Be true to yourself and you'll write things that are sincere and interesting.
MJ: With reading and writing it's also being aware of normativity and hierarchies. There are a lot of ideas about what we should be reading and should be writing, and how. It's so OK if people are into a certain genre or audio format [like] Audible. It's so important people find the forms of creativity that work for them, that take pressure off what's normal. Have permission to not write as well. It's fine to not write and then something might bubble up. I think it's easy to treat ourselves nonconsensually around writing and creativity and it's so important to do all the work we can to create a free space. Imagination still counts if you're telling stories in your head.
I do want to give a shoutout to Kit Heyam's book Before We Were Trans. It includes a lot of the stories that have been silenced or that haven't been written. I was thinking about who gets to write because of the way the gender binary has been enforced, a lot of voices haven't been heard. Kit Heyam's book does a really good job at telling some of the untold stories of gender diversity across time and place, that would be a good one for people to read for people looking for stories, not on the list.
Everyone thinking about gender is important. You can go away with the idea that queer and trans people are the ones needing to read these books and think about gender, but it's important that everyone needs to reflect on their gender. The way to get away from this idea that trans people and gender diverse people write about gender diversity is to get straight cis people to reflect on their gender, their transitions, and how the gender binary has hurt them. I want to see those writings as well so it's not just our job. Everyone should be in solidarity against these restrictive norms of gender.
To find out more about Audible and Out On the Page's Pride List of Queer Storytelling, click here.