Audible and Out on the Page unite 42 LGBTQ writers to create ultimate Pride reading list
Contributors include Val McDermid, Liv Little, Damien Barr, Travis Alabanza, Juliet Jacques, Okechukwu Nzelu and more!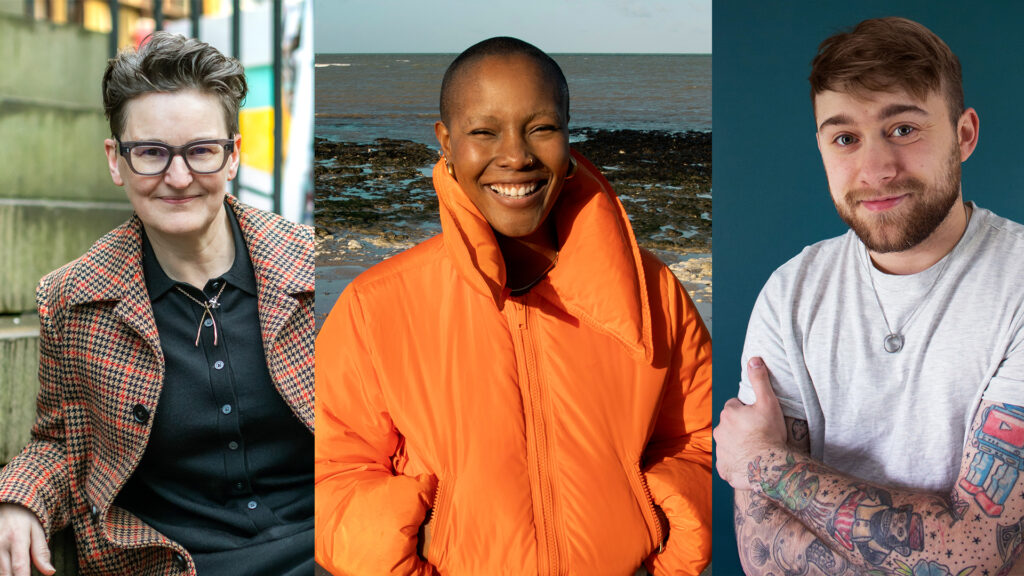 Spoken word entertainment providers Audible and non-profit literary LGBTQ organisation Out on the Page have collaborated with 42 LGBTQ writers to create the Pride List of Queer Storytelling – ultimate queer reading list for Pride.
Contributors includes Val McDermid, Liv Little, Damien Barr, Travis Alabanza, Juliet Jacques, and Okechukwu Nzelu have nominated an array of trailblazing works – sometimes penned by each other! – for the extensive list.
To read the list of novels, memoirs, collections of poetry and more in full, scroll down the page.
Accompanied by their compelling and insightful reasons for submitting each title, the project hopes to encourage people in the UK to engage with, discover and broaden their knowledge of LGBTQIA+ stories and authors.
The project has also explored the UK's attitude to and consumption of LGBTQIA+ literature and today releases new YouGov data, which reveals that, compared to 10 years ago, people in the UK feel they are seeing more LGBTQIA+ characters in literature (52%), more positive storylines for queer characters (52%) and broader representation of the LGBTQIA+ community (62%).
"A wonderful expression of queer joy"
Of the project, Paul Bradley, founder of Out on the Page, said: "We've always worked to champion the voice of LGBTQIA+ writers and writing, and this collaboration with Audible is one of our most exciting ventures to date. Many of the wonderful writers who have contributed have worked with us and others to support the development and breakthrough of the LGBTQ+ writers of tomorrow. That's why this project is so important, highlighting great LGBTQ+ writing wherever it appears, thinking about what these stories mean for LGBTQ+ representation in the wider world, bringing great queer storytelling to wider audiences, readers finding inspiration and stories that speak to them and their experience. To us, this project during Pride Month is a wonderful expression of queer joy."
To bring to life the project, and mark the end of Pride month, Audible and Out on the Page will also be hosting 'A Celebration of Queer Storytelling', a one-off celebratory panel event, on Tuesday 27 June at Barbican in London.
Confirmed panellists include author and lecturer Okechukwu Nzelu (Here Again Now, The Private Joys of Nnenna Maloney), award-winning Young Adult author Lisa Williamson (The Art of Being Normal, All About Mia), and poet, playwright and education facilitator Gayathiri Kamalakanthan, with more to be announced. Presenter and broadcaster Shivani Dave will be hosting the panel discussion.
Tickets for 'A Celebration of Queer Storytelling' can be purchased at Eventbrite from Thursday 8 June. Tickets cost £5 with all proceedings to be donated to Out on the Page's writer development programme.
For more information, visit the project's dedicated page at the Audible website.
SIMPLIFIED CONTRIBUTOR LIST & SUBMISSIONS
Please visit the Audible blog for contributor rationale
Adam Lowe (he/him mostly)

Reader, I Married Him & Other Queer Goings On (Dorothea Smartt)
Alaska (Cheryl Martin)

Alex Bertie

Icebreaker (A L Graziadei)
The Pride Omnibus (Joe Glass)

Andrew McMillan

Fourteen Poems (various)
Collected Poems (Thom Gunn)
Here Again Now (Okechukwu Nzelu)

Charlotte Mendelson

Fingersmith (Sarah Waters)
Oppenheim's Cup and Saucer (Carol Ann Duffy)
The Folding Star (Alan Hollinghurst)

Damian Barr

Wild Geese (Mary Oliver)
The Gender Games (Juno Dawson)
The Colour Purple (Alice Walker)

Dean Atta

What Belongs to You (Garth Greenwell)
Close to the Knives: A Memoir of Disintegration (David Wojnarowicz)

DJ Fat Tony

The Colour Purple (Alice Walker)
Orlando (Virginia Wolf)
Tales of the City (Armistead Maupin)

Elias Jahshan

The Angel of History (Rabih Alameddine)
On Earth we are Briefly Gorgeous (Ocean Vuong)
Losing Face (George Haddad)

Elizabeth Chakrabarty

The Night Watch (Sarah Waters)
Sita (Kate Millett)
My Beautiful Laundrette (Hanif Kureishi)

Emily Ajgan, Programme Assistant at Spread the Word

One Small Voice (Santanu Bhattacharya)
With Your Chest, Fourteen Poems (Remi Graves)
Shield (Jamie Hale)

Gayathiri Kamalakanthan

She of the Mountains (Vivek Shraya)
I Invite My Parents to a Dinner Party (Chen Chen)
Pet (Akwaeke Emezi)

Huw Lemmey

After Delores (Sarah Schulman)
Times Square Red, Times Square Blue (Samuel Delany)
100 Boyfriends (Brontez Purnell)

James McDermott

Jumpers for Goalposts (Tom Wells)
Soho (Richard Scott)
The History Boys (Alan Bennett)

Jamie Windust

None of the Above (Travis Alabanza)
London Triptych (Jonathan Kemp)
Diary of a Drag Queen (Crystal Rasmussen)

Jeremy Atherton Lin

A Poem about Intelligence for my Brothers and Sisters (June Jordan)
"June 30, 1974" (James Schuyler)
The Class of '92 (Eileen Myles)

Joelle Taylor

Stone Butch Blues (Leslie Feinberg)
Another Mother Tongue (Judy Grahn)
Driving into the Wreck (Adrienne Rich)

Jonathan Harvey

Detransition, Baby (Torrey Peters)
Sarah Daniels: Plays 1 (Sarah Daniels)
The Heart's Invisible Furies (John Boyne)

Juliet Jacques

LOTE (Shola von Reinhold)
Eva Perón (Copi)
Tell Me I'm Worthless (Alison Rumfitt)

Justin Myers

Just by Looking at Him (Ryan O'Connell)
The Black Flamingo (Dean Atta)
Tales of the City (Armistead Maupin)

Keith Jarrett

Our Caribbean: a gathering of lesbian and gay writing from the Antilles (Thomas Glave)
Venus as a Boy (Luke Sutherland)
Why Be Happy When You Could Be Normal? (Jeanette Winterson)
​​A Little Body are Many Parts / un cuerpecito son muchas partes (Legna Rodríguez-Iglesias)

Lauren John Joseph

LOTE (Shola von Reinhold)
Sterling Karat Gold (Isabel Waidner)

Lisa Williamson

Jamie (LD Lapinski)
Boy Like Me (Simon James Green)

Liv Little

None of The Above (Travis Alabanza)
Here Comes The Sun (Nicole Dennis Benn)
Letters to my Trans Sisters (Charlie Craggs)

Luke Turner

Go the Way Your Blood Beats (Michael Amherst)
They (Kay Dick)
The Cage (Dan Billany & David Dowie)

Mary Jean Chan

Swimming in the Dark (Tomasz Jędrowsk)
Things I Have Withheld (Kei Miller)
Biography of X (Catherine Lacey)

Mary Paulson-Ellis

A Boy's Own Story (Edmund White)
Fun Home: A Family Tragicomic and Are You My Mother: A Comic Drama (Alison Bechdel)
Free Love and Other Stories (Ali Smith)

Meg-John Barker

None of the Above (Travis Alabanza)
A Psalm for the Wild Built (Becky Chambers)
Freshwater (Akwaeke Emezi)

Mendez

Tell Me How Long the Train's Been Gone (James Baldwin)
The Line of Beauty (Alan Hollinghurst)
The Ministry of Guidance (Golnoosh Nour)

Natasha Carthew

Written on the Body (Jeanette Winterson)
The Adoption Papers (Jackie Kay)
Side By Side (Isabel Miller)

Neil Bartlett O.B.E

Here Now Again (Okechukwu Nzelu)
Man Enough To Be A Woman (Jayne County)
Smiling in Slow Motion (Derek Jarman)

Okechukwu Nzelu

Speak No Evil (Uzodinma Iweala)
Under the Udala Trees (Chinelo Okparanta)
The Lives of Great Men (Chike Frankie Edozien)

Ollie Charles

Guapa (Saleem Haddad)
The Hours (Michael Cunningham)
Don't Call Us Dead (Danez Smith)

Patrick Gale

Love and Other Thought Experiments (Sophie Ward)
Address Book (Neil Bartlett)
And Then He Sang a Lullaby (Ani Kayode Somtochukwu)

Paul Bradley, Founder of Out on the Page

Not A Virgin (Nuril Basri)
Paul Takes the Moral Form of a Girl (Andrea Lawlor)
Queer as Folk (Russell T Davies)

Paul Burston

Skin Lane (Neil Bartlett)
Modern Nature (Derek Jarman)
Tales of the City (Armistead Maupin)

Phil Stamper

The Honeys (Ryan La Sala)
The Best At It (Maulik Pancholy)
Here For It (R. Eric Thomas)

Rosie Garland

I see that Lilith hath been with thee again (Shivanee Ramlochan)
We Can Be Heroes (Paul Burston)

Ruby Rare

Rosewater (Liv Little)
Hera Lindsay Bird 2016 Poetry Collection (Hera Lindsay Bird)
My Sexual Memoir (Betty Dodson)

Scott Aaron Tait

Modern Nature (Derek Jarman)
Carrie Kills a Man (Carrie Marshall)
Since I Laid My Burden Down (Brontez Purnell)

Shivani Dave

A Short History of Queer Women (Kirsty Loehr)
Trans: A Memoir (Juliet Jacques)
Fun Home (Alison Bechdel)

Travis Alabanza

The Transgender Issue (Shon Faye)
Femme in Public (Alok Vaid Menon)
Giovanni's Room (James Baldwin)

Val McDermid

Venus Touch (Maureen Duffy)
Evensong (Maureen Duffy)
Oranges are not the Only Fruit (Jeanette Winterson)