Iran's national car given homoerotic makeover to make a stand against anti-gay persecution
Non-profit organisation PaykanArtCar is commissioning different artists to transform a historic 1974 Paykan Hillman Hunter to promote human rights.
By Will Stroude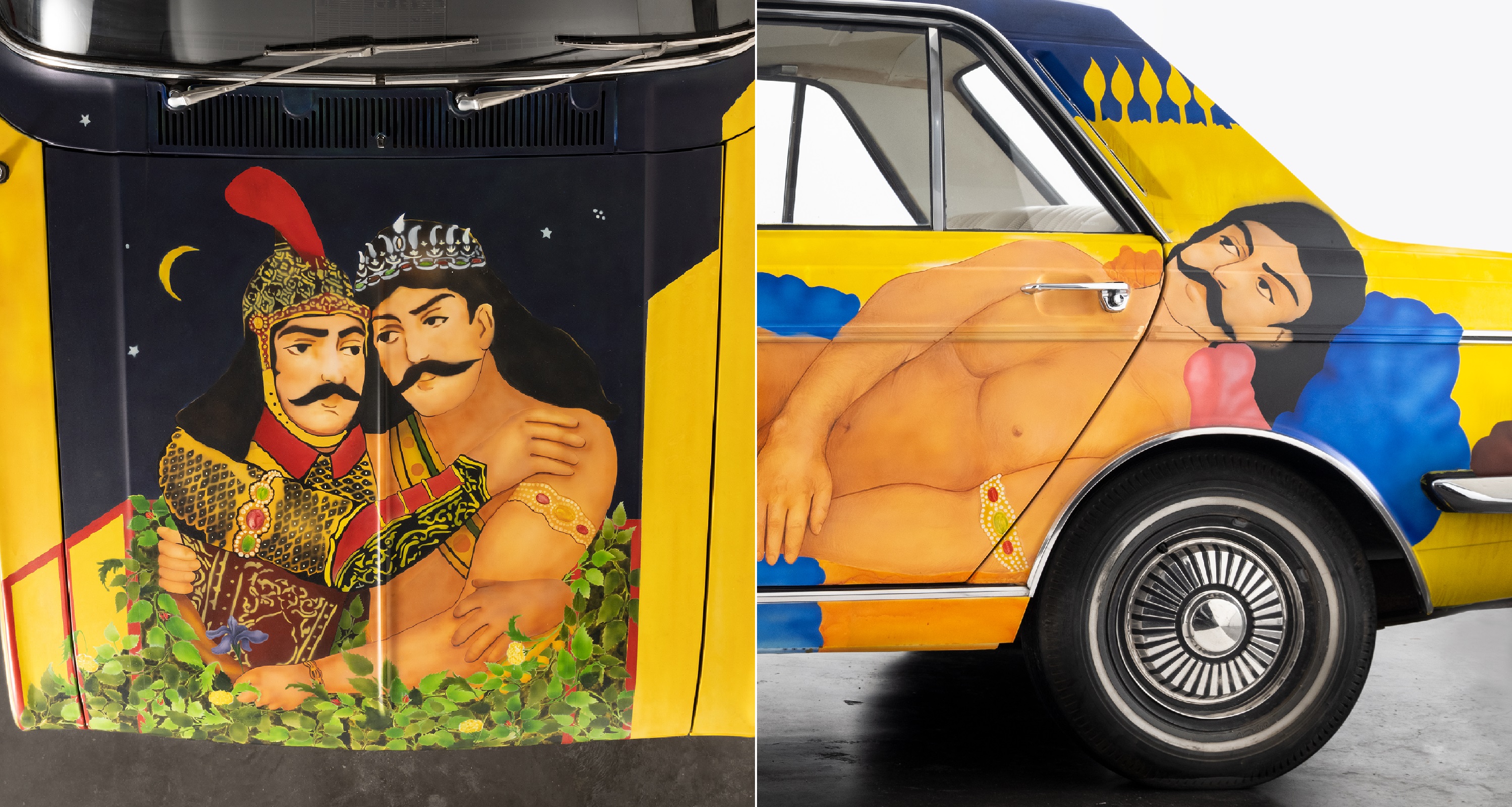 Words: Dr Hiva Feizi, executive director and co-founder of PaykanArtCar / Images: PaykanArtCar
1967 was a momentous year in the history of UK LGTBQ+ rights, with the Sexual Offences Act marking a significant step forward towards equal rights. That same year, thousands of kilometres away, the first ever car fully manufactured in Iran rolled off the factory line. The Paykan automobile, a licensed replication of the British Hilman Hunter, was heralded as a gleaming symbol of Iran's march towards modernity.
Today, these two disparate historical events have found an unlikely synergy.
The 1967 Sexual Offences Act legalised homosexual acts in private between two consenting adults over the age of 21. Although momentous, this legislation marked the beginning of the end of decriminalisation rather than its terminus. As activist Peter Tatchell writes, the reforms embodied in the Sexual Offences Act were limited in scope and other anti-gay laws remained a pretext for aggressive policing. As many as 20,000 men were convincted of gay acts after the law was passed. However, courageous activism spearheaded by the likes Sue Sanders, MP Maureen Colquhoun and Anthony Grey, meant that homophobia and discrimination was met with resistance.
Art was another critical medium of advancing the cause of LGBTQ+ rights in the UK.
The representation of gay experience in popular culture through art and activism also contributed to the arduous process of legal reform and greater social acceptance. Queer British artists like David Hockney responded to repression by joyfully, intimately, and unapologetically portraying gay life. In his 1972 work 'Portrait of an Artist (Pool with Two Figures)', Hockney colourfully reflected on his own life with his partner, from the perspective of an onlooker. Through works like these, queer life was made a visible and even celebrated aspect of British society, at least in some quarters.
While Britain continued its path towards greater equality, Iran's queer community was dealt a severe blow by the 1979 establishment of the Islamic Republic, the regime which still controls the country today.
Today, homosexuality continues to be met by violence, abuse, and repression. Between 4,000 to 6,000 gay men and lesbians have been executed by the regime due to their sexual orientation since 1979, according to a 2008 wire from the British embassy in Tehran leaked to The Telegraph. Considered deviance by the State, LGBTQ people are relentlessly persecuted, prosecuted on fabricated charges and denied fair trial. In 2019, when asked by a reporter why Iran executes homosexuals, Foreign Minister Mohammed Javad Zarif publicly defended the murder of gay people by invoking the so-called "moral principles" that guide the regime's rule of law.
In addition to state-sanctioned executions, Iran's queer community is further persecuted by the practice of honour killings, usually by family members. These acts of gruesome violence, committed or directed by male family members to punish someone for having brought dishonour and shame to the family and its reputation, are rarely punished by the judicial authorities. Seemingly indifferent, the Iranian government continues to refuse to outlaw the practice or even pass legislation to protect Iranians against domestic violence. As a result, LGBTQ+ people routinely face extreme physical violence, as demonstrated by extensive testimony published by Human Rights Watch. Last year, a 20-year-old man named Alireza Fazeli Monfared was kidnapped and beheaded by his brother and cousins due to his sexual orientation.
In response to these gratuitous acts of violence, inflicted both by family and the regime, a tradition of dissident artists in Iran have advocated for social justice and freedom.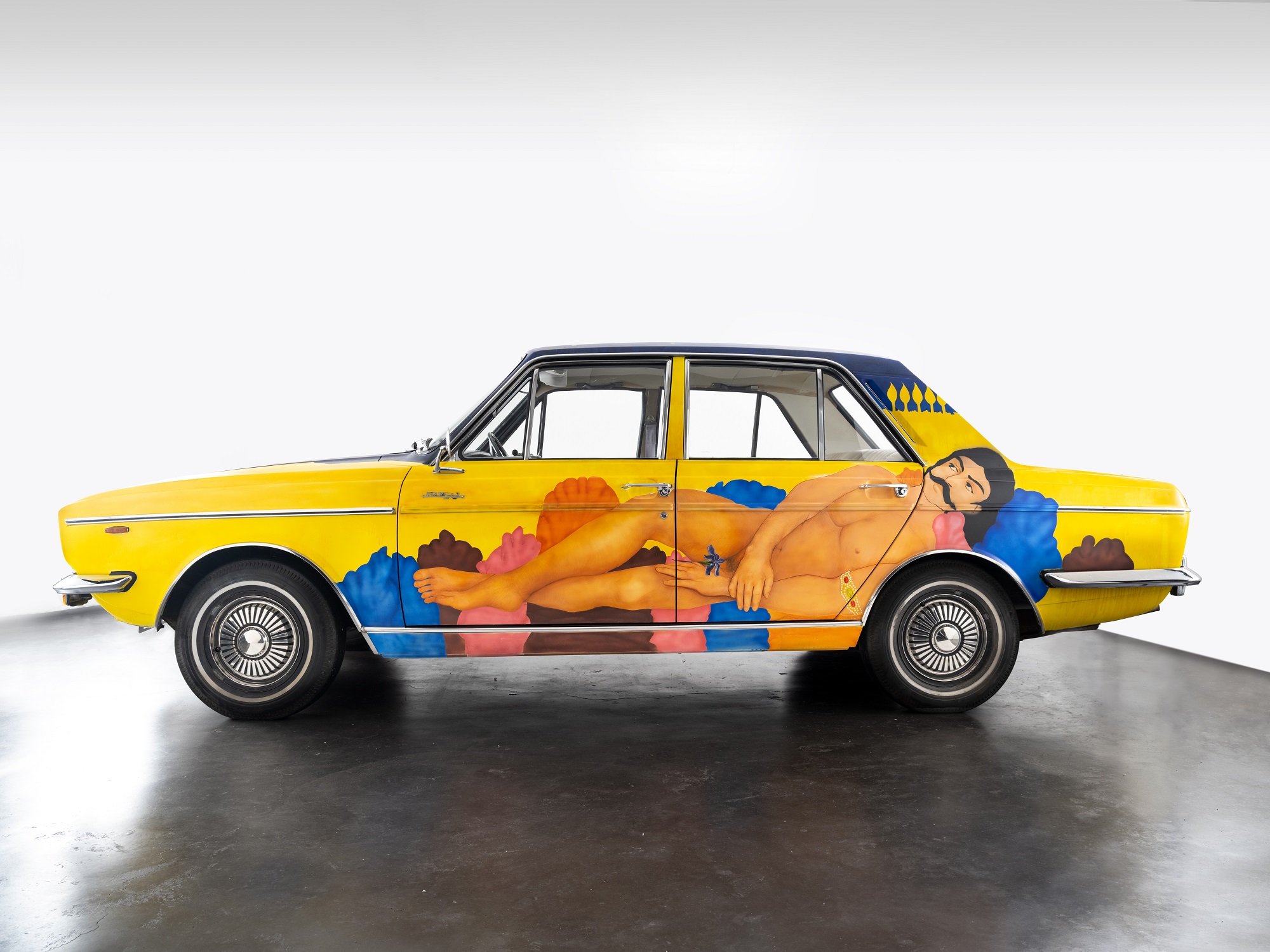 The 1974 Paykan Hillman Hunter has undergone an eye-catching transformation (Image: PaykanArtCar)
The non-profit organisation PaykanArtCar, launched less than a year ago, also works towards this goal. The organisation was founded after acquiring an historic 1974 Paykan Hillman Hunter, originally gifted by the Shah to the Romanian dictator Nicolae Ceausescu. As a one-time symbol of Iranian national pride and also the former property of two dictators, the 1974 Paykan Hillman Hunter is a powerful vehicle for promoting Iranian human rights.
PaykanArtCar's first collaboration is with Iranian LGBTQ+ artist, Alireza Shojaian, and seeks to shed light on the abuses faced by Iran's LGBTQ+ community and advocate for the restoration of human rights and dignity for all in Iran no matter their race, religion, gender, or sexual orientation.
Using the PaykanArtCar as a canvas, Alireza Shojaian compels viewers to confront gay experience in Iran through his reinterpretation of the ancient Persian literature to challenge the silencing of LGBTQ+ people. Inspired by Shahnameh folklore, or the 'Persian Book of Kings', the Paykan car has been transformed on one side to depict the characters of Sohrab and Shaban in a romantic moment under the starry night sky of Shiraz.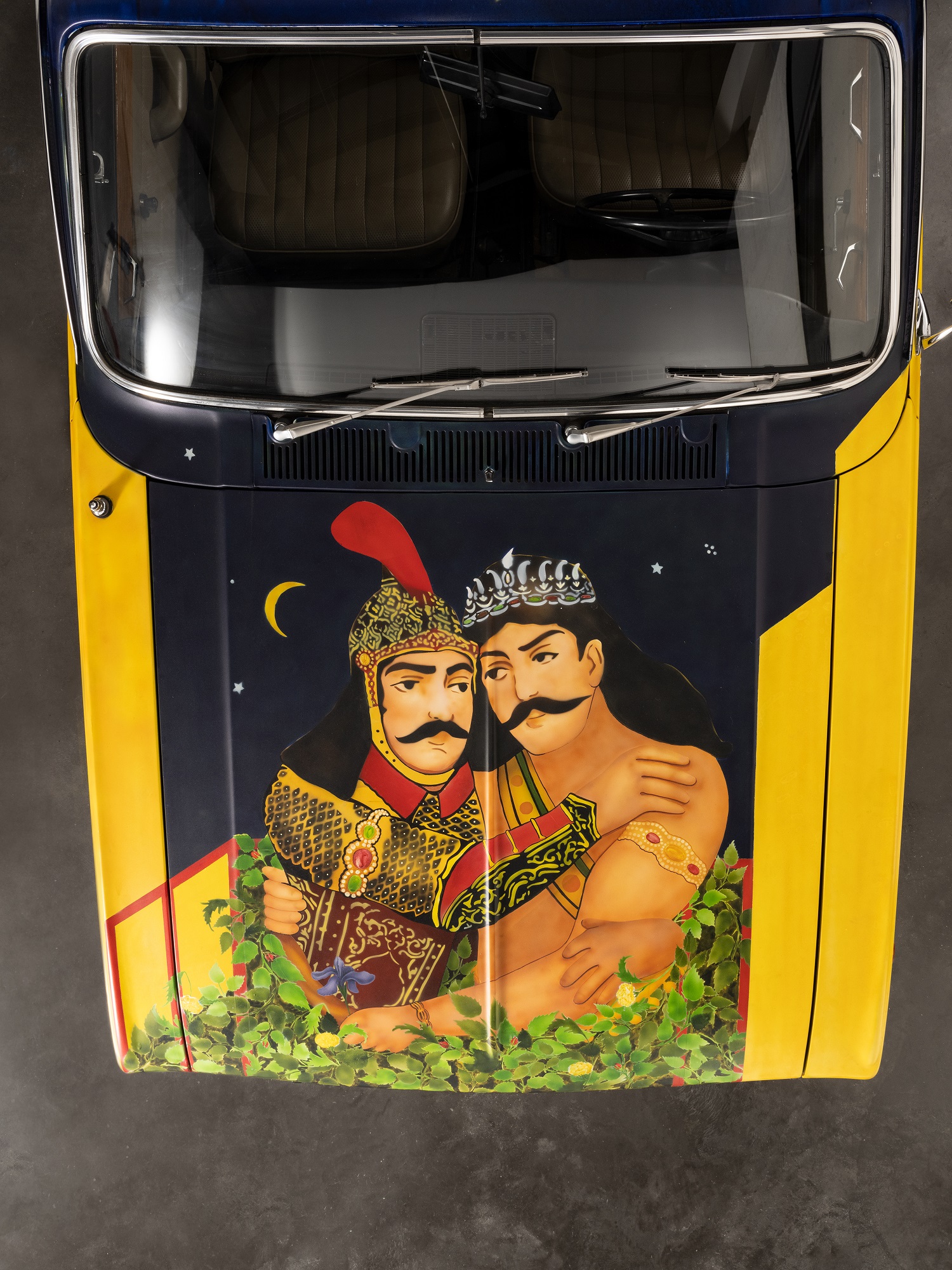 The car now depicts the Persian folklore characters of Sohrab and Shaban in a romantic moment under the starry night sky of Shiraz. (Image: PaykanArtCar)
On the other side of the car, the scene of their deaths is depicted symbolising their forbidden love. Shojaian's interpretation is based on Article 234 of the Islamic Penal Code of Iran, which makes sexual acts between men subject to the death penalty.
Art has been a crucial tool of resistance throughout history and has enabled oppressed minorities to express themselves and denounce the abuses they suffer. Since 1967, the UK's LGTBQ+ community has greatly advanced its cause through the medium of art. Iran's community has not made similar progress, indeed its cause has suffered many setbacks. PaykanArtCar and many other dissident artists have taken up the torch handed down by previous generations.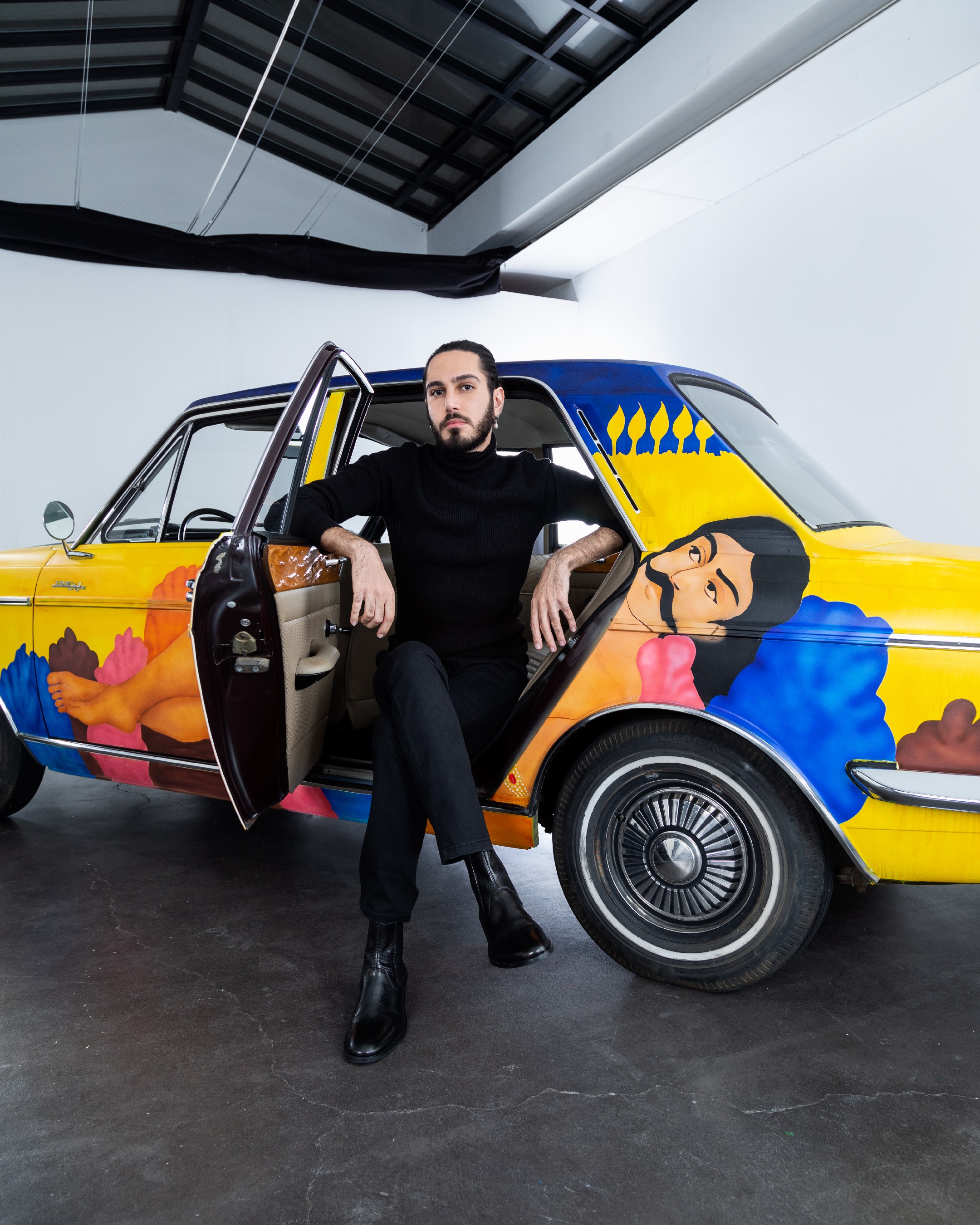 Iranian LGBTQ artist Alireza Shojaian with the 1974 Paykan Hillman Hunter (Image: PaykanArtCar)
Yet, art alone will not force the Islamic Republic to soften its position towards LGTBQ+ rights. The LGBTQ+ community should seek out and promote dissident Iranian voices, on social media and in real life, to give them a platform to be heard.
Those living in Western countries, including the UK, must apply pressure on their elected leaders not to forget the cause of LGBTQ+ rights in their foreign policy objectives so Iranian citizens are not made invisible.
Follow PaykanArtCar on Instagram here and artist Alireza Shojaian here.