Eurovision: A guide to Attitude's favourite ever LGBTQ+ performers
Douze points across the board!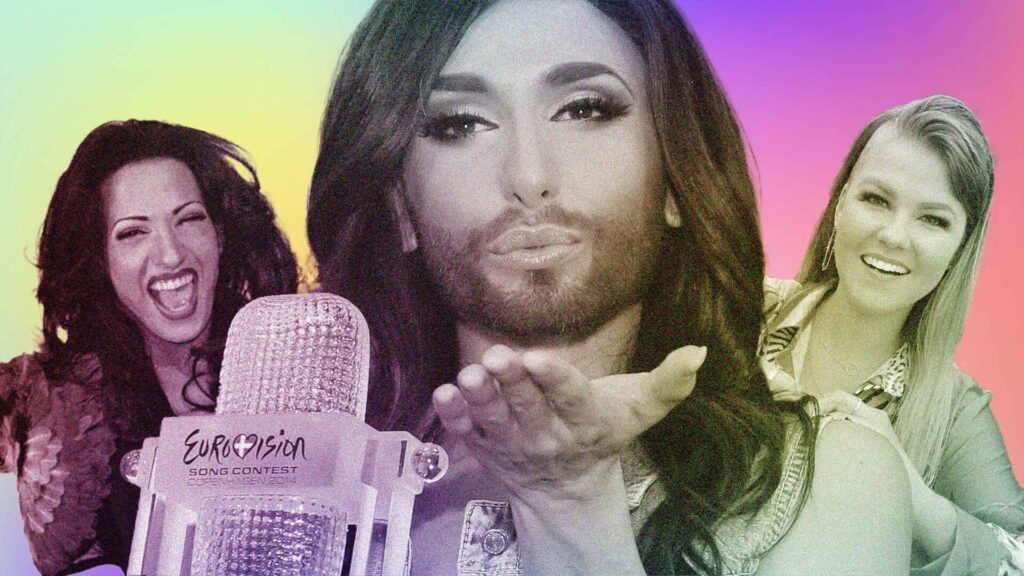 Eurovision makes its way to Liverpool next month, and we're counting down the days already.
To celebrate, Attitude is gathering together some of the most notable LGBTQ+ performers from years gone by.
The contest welcomed its first publicly gay contestant in 1997, and things have come a long way since, with so many incredible acts to celebrate.
Here are some of Attitude's favourite ever LGBTQ+ acts who've gone down in the contest's history.
"This night is dedicated to all those who believe in a future of peace and freedom" – Conchita Wurst
Saara Aalto
The singer tried not twice, but three times, to realise her dream of being selected for Eurovision.
She was finally voted to select Finland in 2018, finishing in 25th place with her song 'Monsters'.
While she represented Finland, the singer is actually pretty well known in the UK too, after appearing on The X Factor and Dancing On Ice.
Saara began a relationship with a female fan, Meri Sopanen, who worked as a personal trainer and life coach, and the pair married in 2020.
Conchita Wurst
Conchita's triumph in 2014 was the first for a drag queen, but also for an publicly gay man – Tom Neuwirth, the Austrian man behind the beard.
Her performance of song 'Rise Like A Phoenix' made her one of just a few acts to appear on-stage alone and yet gave Austria their first win since 1966.
She made a subtle political statement in her victory speech too, after petitions in Belarus and Russia prior to the contest called for her performance to be cut out.
The drag queen said: "This night is dedicated to all those who believe in a future of peace and freedom. You know who you are. We are united and we are unstoppable," before lifting the iconic trophy into the air.
Paul Oscar
In 1997, Icelandic pop singer Paul Oscar became Eurovision's first publicly gay contestant with the song Minn Hinsti Dans.
Although he didn't win, he garnered international attention and finished 20th with 18 points, with the majority coming from the newly-installed televote.
The performance was a very memorable one, featuring four women on a latex couch performing provocative acts behind him.
Loreen
The Swedish pop sensation is one of the contest's most successful ever acts and won with her 2012 hit 'Euphoria'.
Loreen, who identifies as bisexual, is back to defend her crown this year with the song 'Tattoo'.
We're sure she'll be up near the top of the leaderboard.
In June 2012, 'Euphoria' charted at number three on the UK Official Singles Chart. It was the highest chart position for a non-UK entry since Johnny Logan's 'Hold Me Now', in 1987.
Pretty impressive.
Dana International
Dana International was the first publicly trans contestant to take part in Eurovision in 1998.
She went on to win with her dancehall hit, celebrating women from history and mythology.
In a statement after her win, which she dubbed the "message of reconciliation," Dana said: "My victory proves God is on my side, I want to send my critics a message of forgiveness and say to them: try to accept me and the kind of life I lead.
"I am what I am and this does not mean I don't believe in God, and I am part of the Jewish nation."
Dana is quite familiar with the UK audience – the contest took place in Birmingham when she won with song 'Diva'.
Måneskin
Maneskin's show-stopping performance of Zitti e Buoni in 2021 gave the glam rock band global success.
But they're still hot on the tails of their victory two years later.
Their stint quickly gained the chart attention, with three UK Top 40 singles and opened for the Rolling Stones since their win last year
Band member Victoria De Angelis is publicly bisexual, with Måneskin's drummer Ethan Torchio defining himself as "sexually free."
Lead singer Damiano David and Thomas Raggi also kissed on stage after their performance in Poland in protest of rising levels of homophobia in the country
Systur
Band Systur, who are trans rights activists alongside their work in music, represented Iceland at Eurovision in 2022.
Member Elín is a genderfluid lesbian, and bandmate Sigga has a transgender son.
They finished 23rd with their entry Með hækkandi sól.
The group waved a transgender flag alongside the Icelandic flag in the green room during voting segments.
Blue
We can't not sneak at least one UK act in our favourite LGBTQ+ performers ever: Blue.
Members Duncan James and Lee Ryan are gay and bisexual, respectively.
The 2000s boyband took on the contest in 2011 with their entry 'I Can', and fans even got the very punny one-hour documentary, Eurovision: Your Country Needs Blue, in the run up.
They came a decent 11th with 100 points, but Blue claimed they were the victims of political voting.
They believed they would have finished higher if countries had voted for the performance rather than their neighbours…