Idina Menzel remembers 'the greatest shows' at Heaven and G-A-Y
Exclusive: The 'Dramatic' singer speaks to Attitude about being an Ally to the LGBTQ community ahead of her headline set at Pride in London.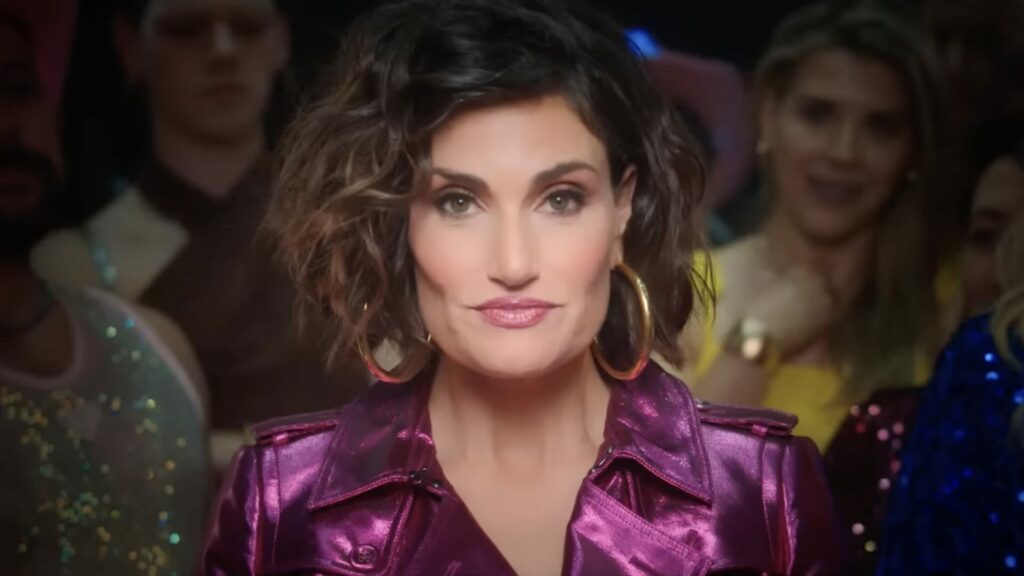 Idina Menzel looks like she's having the best summer showing off her upcoming album Drama Queen at Prides State-side.
And the performances are certainly 'Dramatic,' which neatly lends itself to one of the tracks from the new album.
Earlier this month Idina was announced to be heading Pride in London 2023 alongside Adam Lambert and Todrick Hall.
Naturally, Attitude sat down with the actress-singer extraordinaire to talk about the new album and performing at Pride. We also discussed what it means to be an ally in 2023.
I get the sense you've been having the best summer performing at Prides and showing off your new music. Is that the case?
It is very much the case. I've been having a blast.
How long have you been waiting to get back out on the road with the music?
That was the impetus for why I wanted to make this kind of music. I wanted to challenge my fans to rise up and dance, move, and misbehave a little bit more. So, I wanted to record music that would help everyone do that. I knew that the kind of music that would be a good foundation for a big voice, big melodies was disco-dance.
It also really sparked in me when I would be in London, specifically, and I would perform at Heaven and G-A-Y and surprise everyone in the middle of the night and have just the greatest shows with thousands of people pressed up against the stage singing with me, dancing, laughing, crying. And I just knew that this was the kind of show that I wanted to do in whatever capacity. And being in all these Pride festivals the amount of love that you feel in the venue is just inexplicable.
It feels like a really natural fit for this music at Pride.
Yes. We're jamming, we're dancing, laughing it's very celebratory, it's joyous. It's everything that inspires me about my friends and family in the LGBTQ+ community. That idea that there's all of this adversity and cruelty in the world these days and that my friends are able to meet all that head-on with joy and love and hope.
You mentioned having Heaven and G-A-Y in mind with this kind of music. Can we expect to see you there performing this weekend?
I don't know… Haha! Maybe…
Has this been music you've wanted to do for a while?
As theatre performers, we get put in a box that's often hard to break out of. Our versatility can be our curse at times. That's why I called the album Drama Queen because I have many sides to who I am, many emotions both personally and creatively. I didn't want to feel like I had to rein that in. I didn't want to worry about what formulas or rules I was supposed to follow or what would have been expected of me, I just wanted to do music that I loved and share it with an audience that I love.
Has it been fun to lean into the 'Dramatic' side of things?
Yeah. What an honour it is to play your new music for people and share it and have it received so well. It's a testament to the fans and my audience for all of these years, since RENT days that I've been able to put myself out there, take risks, and they've accepted me and supported my whole career. So, being at Pride is an opportunity to express my gratitude to everyone for embracing me. But also for teaching me really the kind of life that I want to lead and that I shouldn't settle for anything less than being true and honest and authentic and how I lead my life.
How does it feel to be one of the headliners for Pride in London this year?
I'm not supposed to pick cities but my heart is in London. When I brought Wicked to the West End I made friends for life. The Brits and some Aussies showed me all around the city, which is two different perspectives, but they joined at the hip a little bit. Every time I've returned I'm always reminded how much I love it there, how much I feel like myself there. To be invited to perform is just the cherry on top for me.
Have you been to Pride in London before? Do you know what to expect from the crowd?
I haven't so it's going to be a nice surprise, but I hear it's crazy fun and huge and gorgeous.
What can audiences expect from your performance at Pride?
I'm going to share some songs from the new album which have been going over really great here in the States. Then there'll be some songs that are more classic that people would be very angry with me if I didn't perform. So, it's a little of this, a little of that but I'm excited to share my new material. I think that a lot of the themes in the lyrics, while they come from my specific experience in life, resonats with the LGBTQ+ community as well.
The sort of Elsas and Elphabas of the world, all of us who contend with the force that we are, and how we're not quite sure how to unleash that force for fear of alienating people and ostracising ourselves. That moment when we decide that we are going to surrender and be who we really want to be.
Can you take me back to the first time you recognised that inspiration from the LGBTQ+ community was there?
Definitely in the beginning, in 1995, 1996, when I was in RENT. My whole performance and my characters since have been informed by my relationship with the queer community. What they taught me, the stories they told me, the letters they wrote, and the experiences of my other cast members. The intensity and response that we received from our audiences back then all played a huge role in how I see the world.
You've always been an ally to the community. Have you seen a change or evolution in your understanding of what it means to be an ally?
I think it's not enough to just say, "I want to be an ally." People are exhausted and demoralised. If there's going to be energy spent, it should be on how they, my friends, want to live their lives authentically, and how they want to be seen and heard in the world. That in itself is quite daunting, especially if you're not being supported at home or school, or in your community. So the ally's job is to really be there on the frontlines fighting, trying to make a difference so that our friends can just breathe and focus on being their pure true selves.
Drama Queen is available to stream and download from 18 August 2023.