Mark Foster and close friend Colin Jackson never discussed their sexuality with each other
By Will Stroude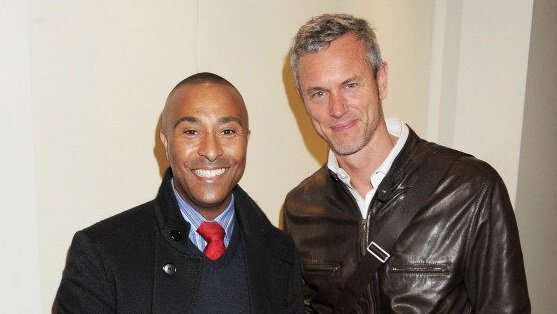 Mark Foster has revealed that he and close friend Colin Jackson never discussed their sexuality with each other during their sporting careers.
Former Olympic swimmer Foster, who came out publicly as gay on Monday (November 27), admitted he and Jackson weren't open with each other about their personal lives despite living together for two years during the early noughties.
Jackson, a two-time World Championship gold medallist n the 110m hurdles, spoke publicly about his sexuality for the first time earlier this year, saying he had chosen to speak about his experiences as a gay man after previously worrying about elements of the media who might want to "sensationalise" the story.
Foster, 47, and Jackson, 50, moved into a shared flat in Bath together in 2002, but during an appearance on BBC Breakfast on Thursday (November 30), Foster admitted the topic of their sexuality was never brought up.
"Colin moved in with me for about a two year period. he was travelling, training, racing, so we probably spent about two weeks together in that period at the same time – but we were very very close friends," Foster told presenter Naga Munchetty.
"For me, he knew my partner, came to the house and knew my personal relationship, but I never spoke about it, because I never wanted to dig into his personal life.
"And the same with me: I got used to not asking questions of other people because I didn't' want other people asking questions of me."
The BBC Sport commentator added: "We both got used to hiding away our personal lives."
Foster, who's set to discuss his rocky road to self-acceptance in a world exclusive interview in the Winter issue of Winq magazine, out next Thursday (December 7), went on to explain how the pair's high profile in the world of sport prevented both him and Jackson from living openly and honestly at the time.
"I think with sport, it's partly a question of masculinity," he said. " You think growing up that, for me, being gay was wrong. When I first fell in love with somebody, I learnt that love was wrong, because 'that's not right'. Because that's what I learned as a child.
"I think for both of us we never really shared our true selves because we were in fear of being vulnerable."
Read the full story behind Mark's emotional coming out story, where he talks in-depth about how he coped with spending his life in the closet, in the Winter issue of Winq magazine, out Thursday December 7.
"I got very very good at dancing around the truth".
Former British swimmer @MarkFosterSwim spoke to @BBCBreakfast for the first time, since he chose to talk publicly about his sexuality. pic.twitter.com/bUiJGmDmXO

— BBC Breakfast (@BBCBreakfast) November 30, 2017
More stories:The secret world of cottaging explored in new photography exhibitionPrince Harry and Meghan Markle to meet people living with HIV in first public engagement as a couple