Ian McKellen and Patrick Stewart take their bromance to the cover of ES magazine
By Will Stroude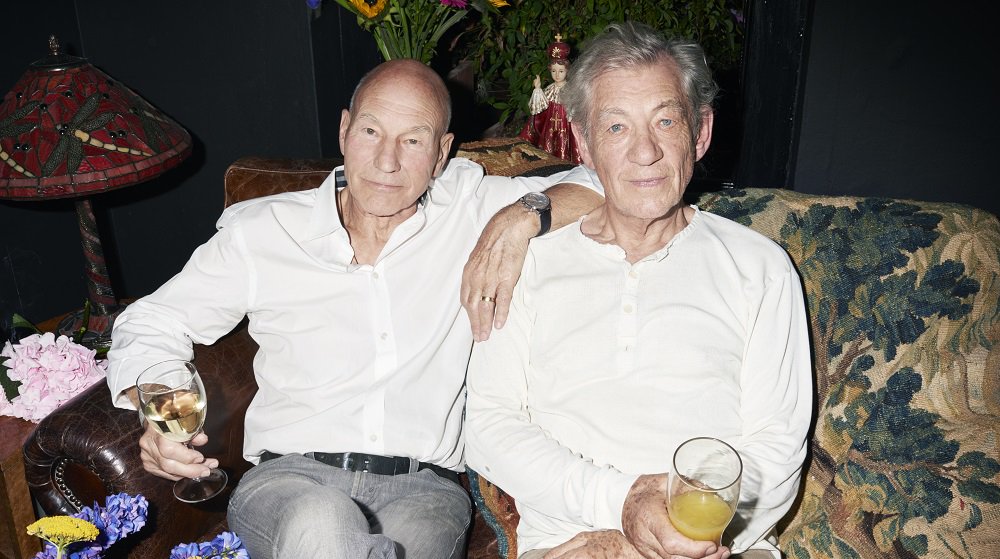 Acting legends and unofficial winners of Attitude's most adorable friendship of all time award, Sir Patrick Stewart and Sir Ian McKellen, have revealed their thoughts on Brexit, masculinity and each other in a new interview with ES Magazine ahead of their joint stint in a West End production of Harold Pinter's No Man's Land, which runs from September 7 to November 17.
The pair discuss their friendship, or, as Patrick describes it, a "love affair", which has seen them not just perform together, but do everything from travelling and sharing romantic dinners, to reciting Taylor Swift lyrics together.
Gay rights hero McKellen says of Stewart: "What I love about Patrick is that he's so predictably myself. I think we are the same person. If Patrick comes into a rehearsal room and says, 'Look, look…' I know what it's going to be about."
"So it's actually because you're a narcissist and who you're in love with is yourself."
The relationship has become the epitome of #FriendshipGoals, as the pair's numerous joint billings in films and plays has allowed them to bond over the years. Their most recognizable joint film roles are as Professor X and Magneto in the X-Men franchise.
While McKellen loved playing Magneto, he revealed that he has a lot of disdain for the warring characters he's played. Reflecting on the roles he played, he says: "Gandalf is a soldier, Magneto is a soldier, Richard III, Coriolanus, Macbeth. And I think the reason is because I want my revenge on them all.
"The people who start wars, perpetuate them and glory in them. 'God save our gracious Queen, send her victorious?' I'm sorry. What does that mean?… If that's what masculinity is then I don't want any part of it at all."
But what does Sir Ian McKellen think of when he thinks "masculinity"? Gay men, apparently. Throwing stereotypes to the wind, he says: "I think gay men are more masculine than straight men. Because, guess what? They love other men!
"So when bully boys say: 'Faggot!' you say, 'That's right, I'm with the boys'."
McKellen also had a stark warning for Britain's withdrawal from the European Union – something which he publicly opposed prior to June's referendum result.
"Everything that's good about being British is related to Europe. Our whole way of thinking, our careful literacy, the Renaissance concept of the individual – it's all a European idea." he says.
When asked if he thinks homophobia will increase in the wake of Brexit, he offered another warning – but this time for the homophobic: "Well, if so, those little people, they'd just better watch out."
Stewart also shared his skepticism over new Prime Minister Theresa May, saying: "Just because our new Prime Minister says that she is creating 'one society', doesn't mean that she will bring that about.
"Because one thing we can be sure of is that the Tory party is essentially and always has been a party of self-interest… I believe a meritocracy has a place in society – the clever, the smart, the distinctive should be given an opportunity to flourish, but everyone should have the same opportunity. We don't have it."
It's not just Europe that McKellen has a stake in. Currently living between Britain and Brooklyn, the acting legend shared his anxieties about the state of race relations in America: "There are fundamental things still to be done fore the equality of race in the United States. It is still essentially a racist country."
The full interview appears in this week's issue of ES Magazine, out now.