Gay Paralympian to make history as Team GB's Rio flagbearer
By Will Stroude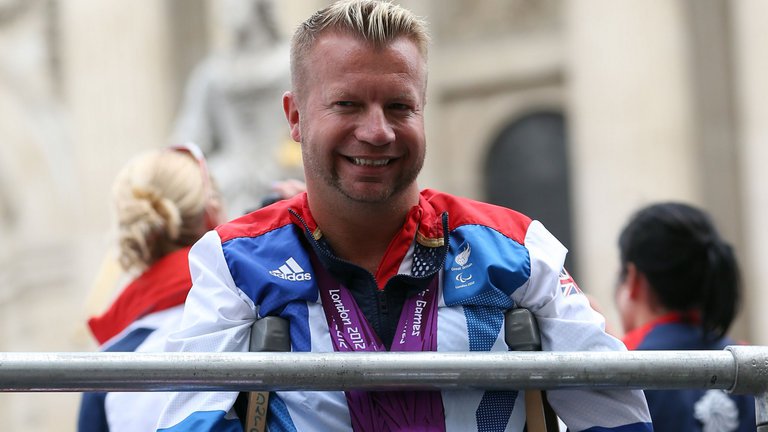 The Olympics may be done and dusted for another four years, but now it's time for the superhumans to take centre stage, as the 2016 Paralympics kick off in Rio tonight (September 7).
The Paralympics look set to make equal strides when it comes to representing LGBT people living with disability, and one openly gay athlete has the honour of carrying the Union Jack flag into the Olympic stadium during tonight's Paralympic opening ceremony.
Lee Pearson, who is competing in his fifth Paralympic Games this year, will serve as Team GB's flag-bearer. The equestrian rider has one 10 gold medals, and is the first openly gay person to carry the Union Jack at any Paralympic or Olympic games.
Pearson was voted to be Team GB's flagbearer by the rest of the Paralympic team for tonight's opening ceremony.
Speaking about his pride at being chosen, he told The Telegraph: "I think that's why I'm so proud of my fellow athletes. To vote a gay bloke to be in that position to lead them out through that tunnel and out into the Paralympic Games is an amazing honour.
"What an amazing nation we have – we've got so many diverse characters, different religions and races."
He continued: "Even if I died yesterday, to have done what I've done in my life is surreal. To be voted in this position, means we've moved on even further when people don't give it any thought.
"I don't want them to think 'oh, he's a gay bloke, let's give him a chance'. I want them to think 'he's a nice bloke, who has done what he's done for the country in previous Games'."
Meanwhile, you can find out more about the LGBT Paralympians set to compete at this year's Games here.