Sound of the Underground review: 'an arresting masterpiece'
Travis Alabanza's latest piece is playing at the Royal Court Theatre until 25 February.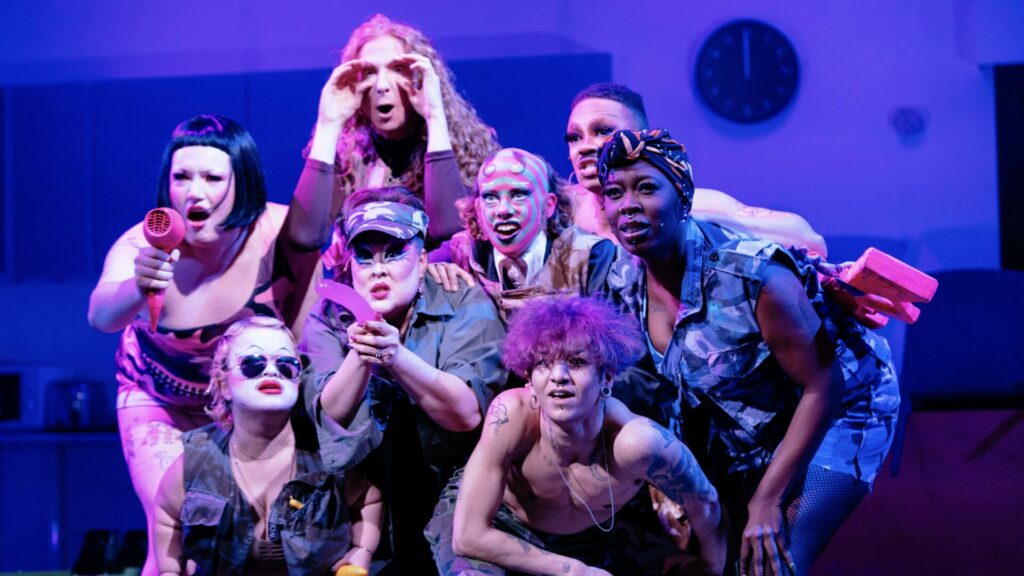 Travis Alabanza's Sound of the Underground is an arresting masterpiece of queer performance.
Co-created and directed by Debbie Hannan, and bringing together familiar faces from the depths of London's queer nightlife, Travis' work has once again asked the difficult questions that we as a community seem to shy away from asking ourselves.
For those acquainted with Travis Alabanza's work, the urgent tone of Sound Of The Underground will be familiar. A multi-disciplined poet, playwright, and performer whose work combines their own real-world experiences with a characteristically forceful tone, Travis has gone from strength to strength. Their one-person show, Burgerz, is a captivating insight into the usualised violence that people of their identity face from the general public, with a direct call to action on how it should be stopped by the people who bear witness to such acts, rather than the victims themselves. And their book, None of the Above, expands upon these themes with a dissection of some of the common sentences directed at them on their gender identity.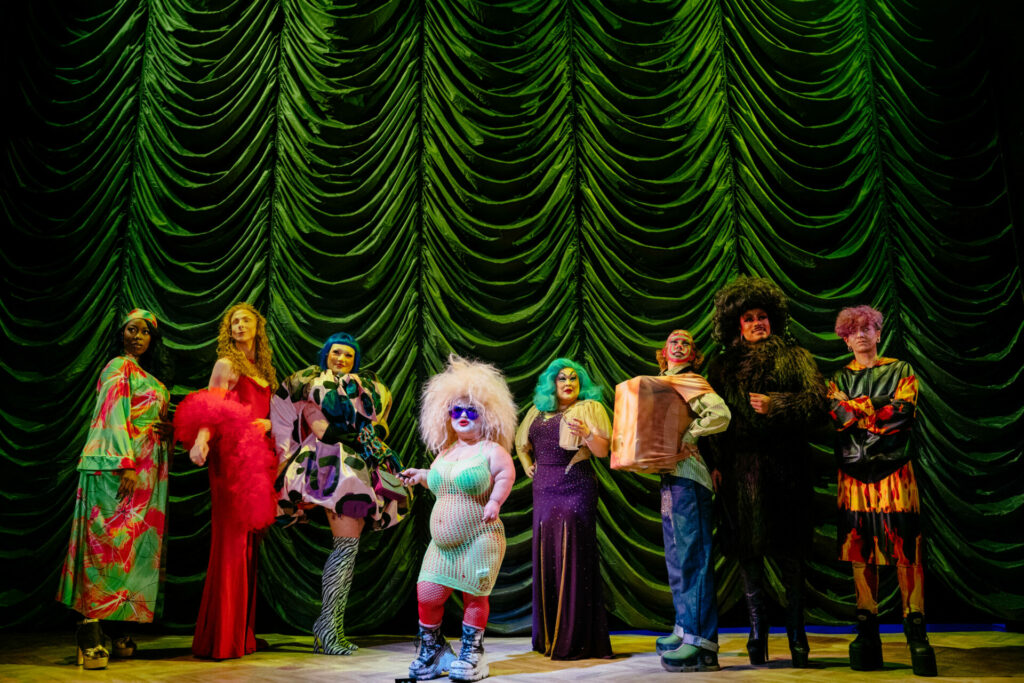 Sound of the Underground marks a new exploration for Travis: examining their origins in the London club scene. Travis has said: "Through the friendships made, the dressing room lessons, the stern words from elders by the bar, the London queer nightlife taught me so much about the art of theatre. Whether at The RVT, Her Upstairs, The Glory, Dalton Superstore, VFD, I was given an understanding of what community is. Messy. Entangled. Glorious. Connected. Fragile. Evolving. And forever with you even after you try to leave it."
These hard-earned lessons are evident throughout Sound of the Underground, which is comprised of two distinct acts. The first of which opens with a familiar setting for many queer people: an eclectic group of LGBTQs surrounding a table discussing their various experiences of navigating the big, angry, straight world. They are banded together by a ringleader with a singular mission: to kill a widely-popularised LGBTQ icon.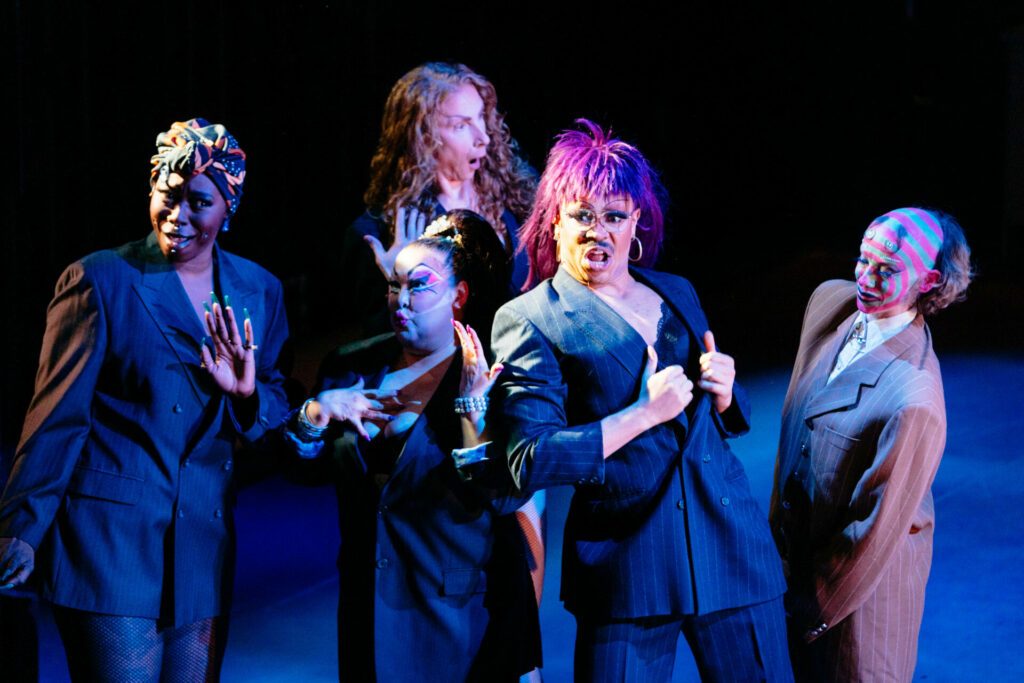 After a dramatic Les Mis-esque barricade number, the show really finds its stride at the conclusion of this act as the cast is joined by the crew on stage to clear up the clutter that their performance has made. As confetti is swept away and props are dismantled, the cast lip-sync to a track of their own, real words on the state of queer performance in the wake of homogenised drag. Miming their own words or another's, they share in the realities of their craft and even reveal their salaries for the show. Breaking the fourth wall in this way, Travis is once again asking the audience to reflect upon their engagement with the performance before them, and whether their applause will translate into more tangible manifestations of support outside the theatre in the real world.
Sound of the Underground demonstrates the anger of those who make a living through an art form that is under attack. Attack from companies, brands, and hen-dos – even though the final one is thanked for almost single-handedly keeping the industry of local drag afloat. It shouldn't come as a surprise that widely consumed, often over-produced reality television shows that present drag as a single, specific thing has made the lives of those whose art lies outside of these rigid parameters more difficult. Drag is and always has been fiercely political, radical and punk and therefore should exist out of the arms' reach of capitalist ideals and greed. This being said, as the performers remind us, they need to pay the bills which often means sacrificing their integrity in order to feed themselves or put a roof over their heads.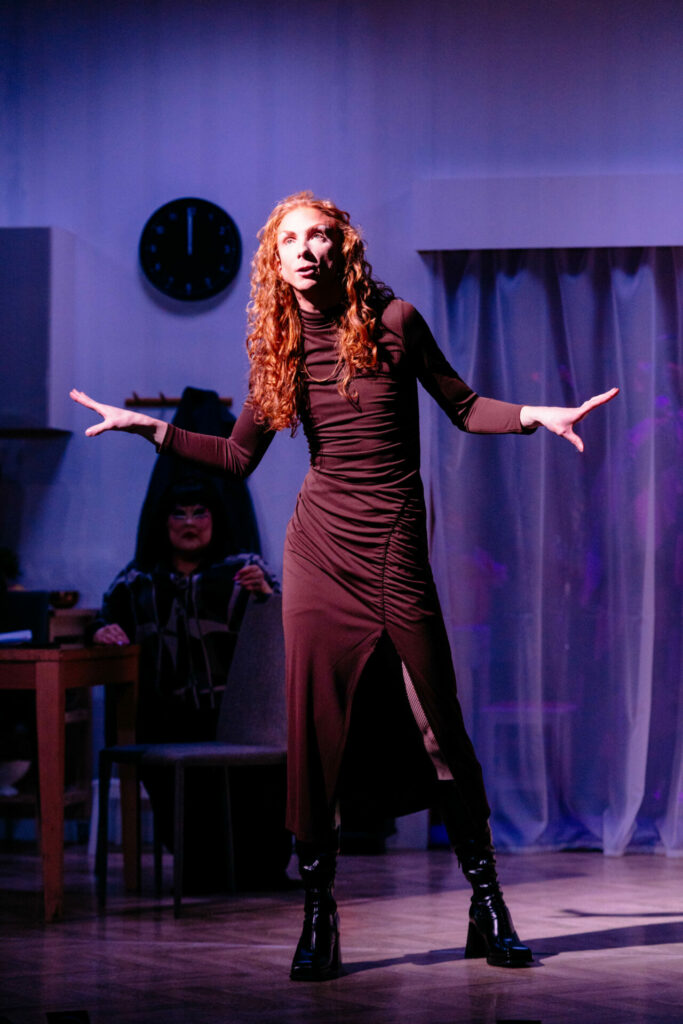 In the second act, we are treated to what the cast does best: perform. Performances are interspersed by compere Sue Gives A F*ck, who delivers an extended monologue dripping with both history and delicious innuendo. The set is completely transformed into a pink, silk-lined space with a single bed, playing upon the idea that queer bodies are often celebrated in the bedroom behind closed doors where they fulfill the fantasies and fetishes of those who experience the pleasure of their company without sacrifice.
The staging serves as the perfect canvas for each performer's title act. There's a burlesque show from Sadie Sinner that celebrates the Cocoa Butter Club and the freedom that it has brought her and countless others who wished for a club experience beyond the reaches of colonisation and racism; an erotic striptease from Lilly SnatchDragon that is infused with celebrations of her culture and counters the stereotypes of an Asian drag performer; Wet Mess' impactful and physical lip-sync to Dorian Electra's thumping 'Flamboyant'; Rhys's Pieces performs live vocals on a track that relates the club to a beast, at once full of near-religious levels of worship contrasted against hedonistic and sacrilegious acts of pleasure. Sharon LeGrand brings the house down with an operatic cover of a well-known camp classic; Midgitte Bardot sings a rock 'n' roll-infused dedication to Hot Piss while being hoisted high above the audience below.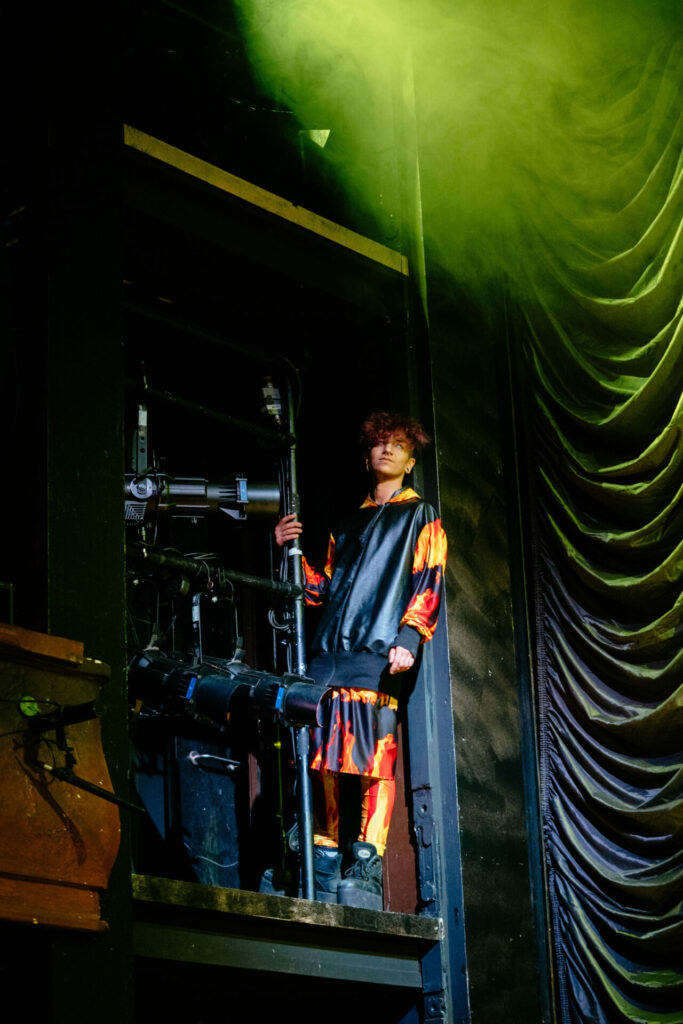 Prinx CHIYO wraps things up bringing his signature sexiness and eroticism to his number. Halfway through the track is abruptly cut as CHIYO continues to dance. It's intentionally uncomfortable and, as CHIYO's subsequent monologue rises in pitch, becomes affronting and deeply moving.
It is this beautiful and calculated dissonance that makes Travis' work so impactful. We as the audience are lifted high by the performers on stage, only to be quickly reminded of the strain upon them. We are also reminded that when we leave our seats and go home, they leave the theatre and run the very real risk of physical violence in contrast to how they're applauded and celebrated moments before.
This dichotomy of existence and the urgent tone in which it is portrayed presents a vital and lasting question to the audience: what are we doing to safeguard the art form that we've just enjoyed, but the people who have given it to us as well?
Rating: 5/5
Sound of the Underground plays at the Royal Court Theatre until 25 February.