Barbie: The queer-coded coming out story of Ken's 'buddy' Allan, explained
We investigate the queer legacy of Ken's BFF.
By Tom Chapman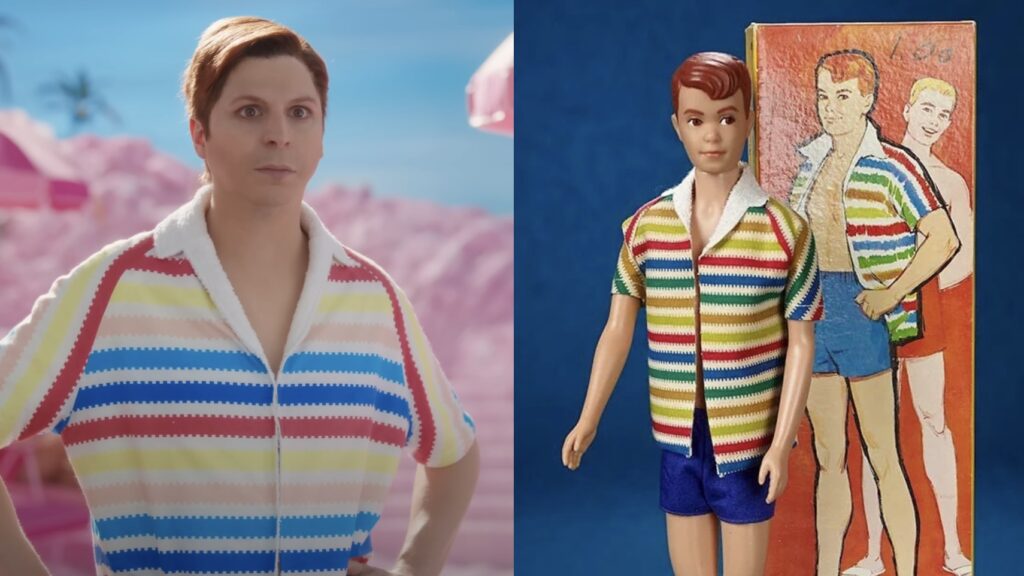 'Ken' you believe it? Greta Gerwig's Barbie movie is finally here, with Margot Robbie stepping into those plastic shoes as the titular doll. Although this is the 43rd Barbie movie since Barbie in the Nutcracker set the ball rolling in 2001, being the first live-action outing makes it something of a big deal.
Alongside Robbie, there's a who's who of A-listers jumping into this plastic and fantastic world as the various friends Barbie has met over her 64-year tenure. The big one is Ryan Gosling as love interest Ken, but he'll be joined by Issa Rae's President Barbie, Simu Liu's Ken #2, Emerald Fennell's Midge, and more.
One of the most intriguing characters is Michael Cera's Allan. Even though you might think he's just a cheap remodel of Ken, the story of this snappy-dressing doll is far more flamboyant. Like most Barbie additions, Allan is based on an actual toy from Mattel. Unfortunately, where Ken thrived, Allan was left to gather dust in the toy box. Here's the coming out story of Barbie's Allan and why he might be more than just Ken's best 'buddy.'
The tragic history of Allan
Introduced in 1964, Allan was listed as Ken's "buddy," but the fine print of the box reads, "All of Ken's clothes fit him!" This led to rumours that the pair have a homosexual relationship, and although Mattel has never commented on it, the OG Allan wasn't long for this world.
Allan was quickly discontinued in 1966 and later replaced by the equally forgotten Brad as Ken's new friend. He remained MIA until he reappeared (renamed Alan) to marry Midge in 1991. Midge came with her own controversy as a pregnant Barbie doll in 2002, although conspiracists think it was a move to finally canonise Allan as heterosexual.
Although it's never been specifically stated that Allan was gay, his mysterious banishment and return to marry Midge echoes the Batman comics. Detective Comics #328 introduced the spinster Aunt Harriet as a housekeeper at Wayne Manor – seeing it as 'unnatural' for three men to live together.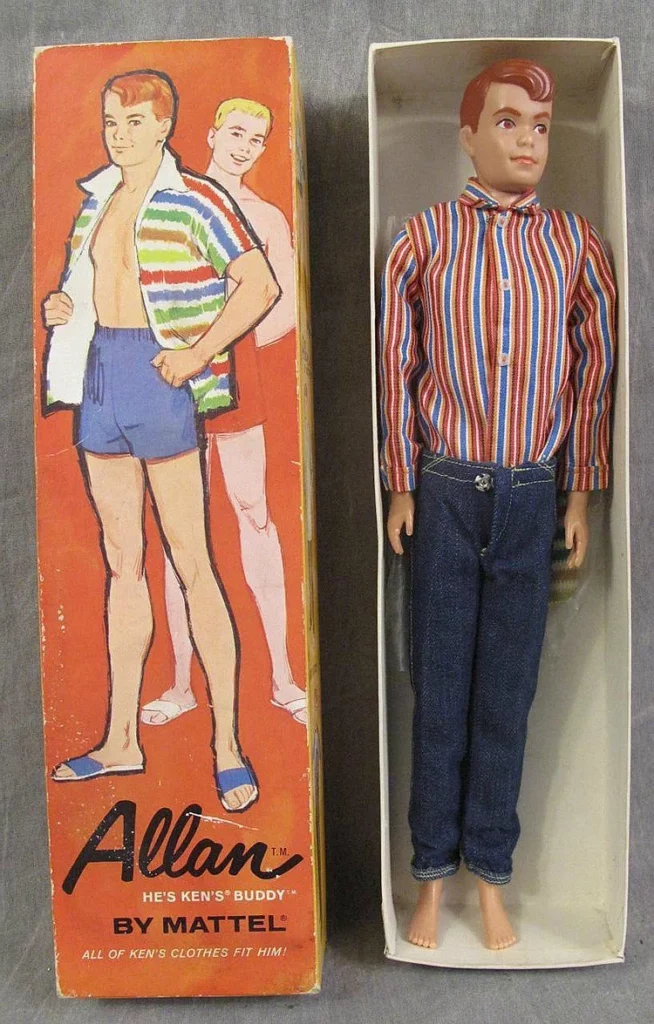 Your buddy until the end
A viral Reddit post from 2011 highlights how there could be more than just a bromance between Allan and Ken, with comments like, "How perfect would it have been if the packaging looked a bit more like a closet?" Another added, "Stop trying to confuse Ken, just because he's having a rough time with Barbie right now doesn't mean you should come over here dressed like that, Allan"
A third concluded, "All of Ken's clothes fit him!! In fact, they often spend hours chatting about clothes, and they raid each other's wardrobes all the time! Sometimes they just change in the same room to save time! What a couple of pals!" With Cera playing Allan in Barbie, the memes have started up again. From what we've seen of Cera's Allan, there's definitely a vibe for why Mattel put 'buddy' in parenthesis back in '64.
For anyone questioning whether Allan's rainbow-coloured past has made it into Barbie, look to the final scene of the movie's second trailer. Here, the various Kens talk about "beaching" each other off, as a bewildered Allan looks on. Another clip reiterates that, unlike the Kens, there's only one Allan. He's confused by this, but maybe that's not all he's confused about.
This wouldn't be the first time male Barbie dolls have been accused of being a little queer-coded. 1993 saw the introduction of the short-lived Earring Magic Ken. As well as a camp outfit of mesh and leather, Earring Magic Ken is remembered for sporting what looks like a c*ck ring around his neck. However, with claims Earring Magic Ken is the best-selling Ken doll ever, we could see a boom in Allan sales post-Barbie.
Justice for Allan
Away from the Barbenheimer trend, Gerwig's Barbie has reached gay icon status. The director herself championed the use of openly LGBTQ+ actors Hari Nef, Alexandra Shipp, and Scott Evans. Gerwig told Out Magazine, "There's no way we could have told this story without bringing in the LGBTQ+ community, and it was important for us to represent the diversity that Mattel has created with all of the different Barbies and Kens that exist today."
Thankfully, The Gays⟨™⟩ have picked up on Allan's live-action debut and taken him under their wing. When the first Barbie trailer debuted, Twitter was flooded with support for Allan. You only have to look to TikTok to see fans flying their rainbow flag while shipping Allan and Ken for a romance. There have been more than a few side-eye emojis about whether Ken's BFF might be hiding more than just some elaborate outfits in his closet.
"A celebration of queerness and its pureness and its spirit."
Despite Robbie also telling Attitude that the dolls "don't have actually have sexual orientations because they don't have any reproductive organs," even Cera's time with Allan has us questioning whether there's more to the character. The star told The Guardian how he bought a sad-looking vintage Allan doll with a broken sandal and took him to set with him. Describing Allan as a "marginalised figure," it's clear he doesn't fit in with the Ken dolls. As Simu Liu told us, Barbie is "a celebration of queerness and its pureness and its spirit." We'd be surprised if there weren't at least some openly LGBTQ+ characters.
If the writers were clever, they'd cash in on the pink pound and pay homage to the urban legend of Allan's sexuality. More than just making Allan the butt of the joke, Barbie could help redeem the character from his legacy as a potentially queer-coded outcast. Then again, he and Ken really could just be very close pals. Either way, let's hope that no matter what his place, Allan is here for more than just cheap shots about Ken's sexuality. Come on, Toy Story 3 did that back in 2010.
Barbie is in cinemas on 21 July.