Review | 'Crime & Punishment' at The Scoop amphitheatre in London
By Will Stroude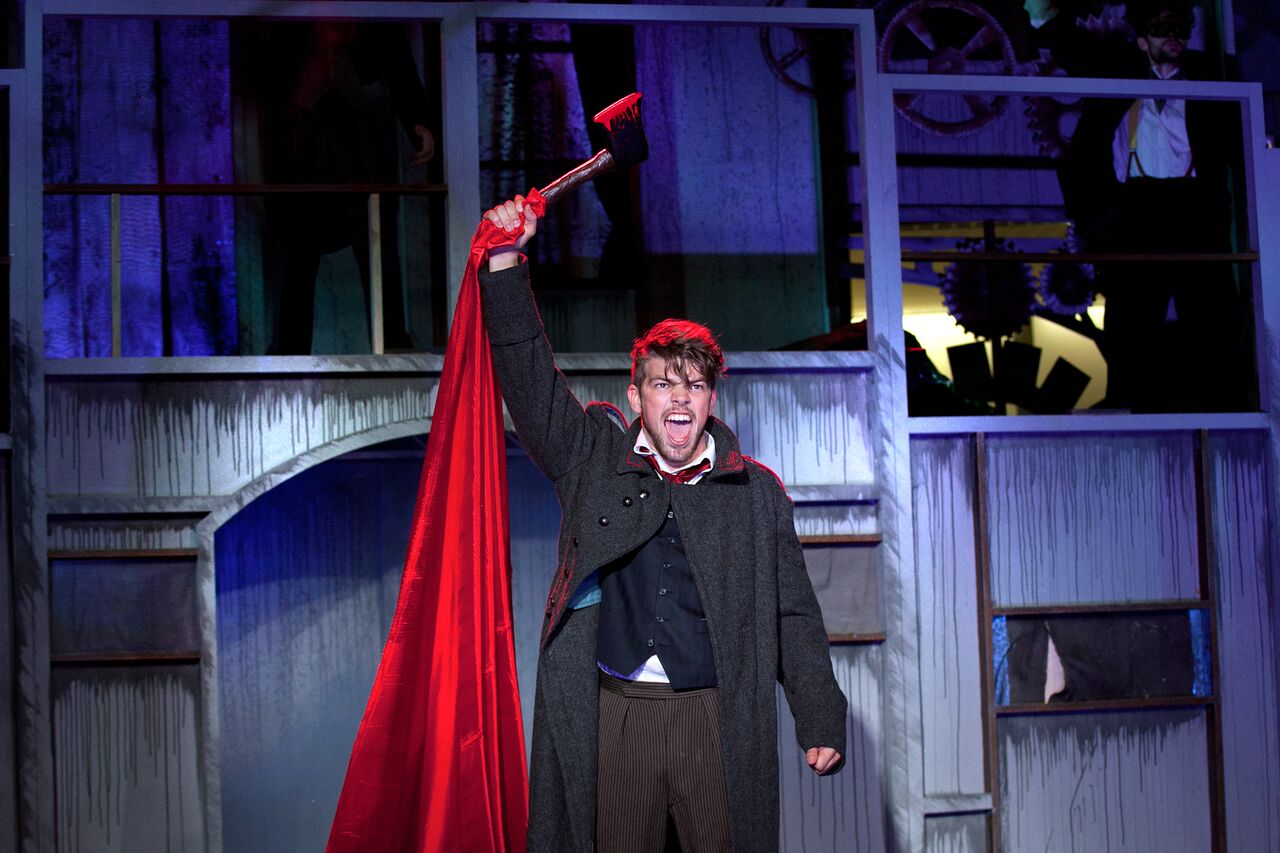 Setting a theatrical performance of Dostoyevsky's brooding novel Crime and Punishment in a world of steam punk is a brave choice; accompanying it with a soundtrack made up of Toyah Wicox's classic rock anthems is even braver. The production team at Gods and Monsters Theatre Company have not only attempted this, they've pulled it off with all the brazen authority of an axe-wielding Raskolnikov.
The classic Russian tale opens the new season at The Scoop in London, a 1,000-person sunken amphitheatre, and follows Raskolnikov as he justifies the brutal murder of a pawn broker with his belief that it was for the greater good of mankind, that by using the money he steals for good causes he has the right to go above and beyond the law. Directed by Phil Willmott, songs like 'Love Crazy' and 'Who Let the Beast Out' are intermingled with the tale, fitting surprisingly well with the heavy story and lifting it into a lighter tone that can be enjoyed more readily by all.
The cast is headed up by Alec Porter as Raskolnikov and Rachel Delooze as his love interest, Sonia. Alec Porter makes his debut to the London stage after recently graduating from The Royal Central School of Speech and Drama and his portrayal of Raskolnikov's fervor and passion is brilliant to watch. The performance is matched well with the light hearted character of his best friend Dimitri played by Zac Hamilton. It is Rachel Delooze's voice that steals the show however, with her solos in 'Lesser God' and 'Angel in You' ringing out through The Scoop's amphitheatre.
What carries the performance overall is the sheer enthusiasm of the young cast. Supporting members like Lizzie Frain and Steve Grainey are clearly delighted to be involved in the production and their enjoyment is infectious. This is matched with the Gravity of Phil Wilmott's own role as the Police Inspector Porfiroy which brings a sense of gravity to the piece that it would have lacked without him.
While some moments of the show appear to be very highly stylised – look out for Marmeladov's run in with the Horses – the overall atmosphere created by the cast and the music leaves behind the original novel and makes something quite unique and very entertaining. With the weather turning it may be wise to bring blankets and an umbrella but overall this a thoroughly enjoyable evening that will make for a great night out in the city.
Rating: 4/5
Words by Will Bulteel
Crime & Punishment runs at The Scoop (London Bridge City, SE1 2DB). Wednesday – Sundays until 25th September. For more information visit godsandmonsterstheatre.com.
For the best deals on tickets and shows, visit tickets.attitude.co.uk.
More stories:
Pokémon Go gets its own X-rated gay porn parody
Straight guys kiss another man for the first time – WATCH