Alan Carr and Amanda Holden don cheeky Barbie looks as they introduce Attitude Awards
"You're not Ken, you're Allan - the HS2 of the Barbie world" jokes Amanda to Alan at the Virgin Atlantic Attitude Awards, powered by Jaguar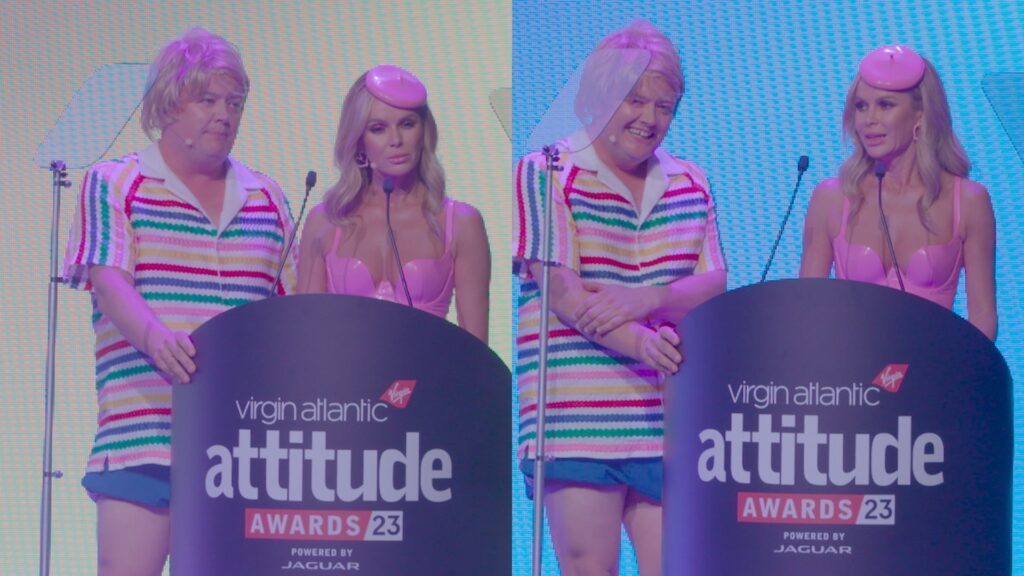 Attitude Awards hosts Alan Carr and Amanda Holden had a lot of fun recreating some looks from the summer's smash-hit film, Barbie.
The pair stepped out on stage at the 2023 Virgin Atlantic Attitude Awards, powered byJaguar, instantly injecting some cheekiness.
Instead of Barbie and Ken, the Chatty Man himself mixed things up by stepping out as his namesake, Allan.
Amanda wore a classic Barbie look – kind of like something she'd ordinarily wear, in a good way! – while Alan kept it simple in a classic Allan-style shirt and shorts.
"You're not Ken, you're Allan – the HS2 of the Barbie world" – Amanda to Alan
On seeing Alan, the Britain's Got Talent host Amanda joked: "Hang on, you're not Ken, you're Allan… The one they discontinued… The HS2 of the Barbie world."
Burn.
The voice of the shining light that is Helen Mirren, quickly reminded guests: "There are no multitudes of Allan. He's just Allan."
The hosts enjoyed bouncing off innuendos towards each other, before they got on with hosting the glitzy night at London's Roundhouse.
During the Awards, a charity prize draw will also take place to raise money for the Attitude Magazine Foundation which benefits LGBTQ causes.
The 2022 Attitude Awards featured a sensational set of award winners. Among them were Melanie C, Josh Cavallo, and Heartstopper as recipients of the TV award.