'I bought the ring on my way to Rio!' – Team GB's Tom Bosworth opens up about his Olympic engagement
By Will Stroude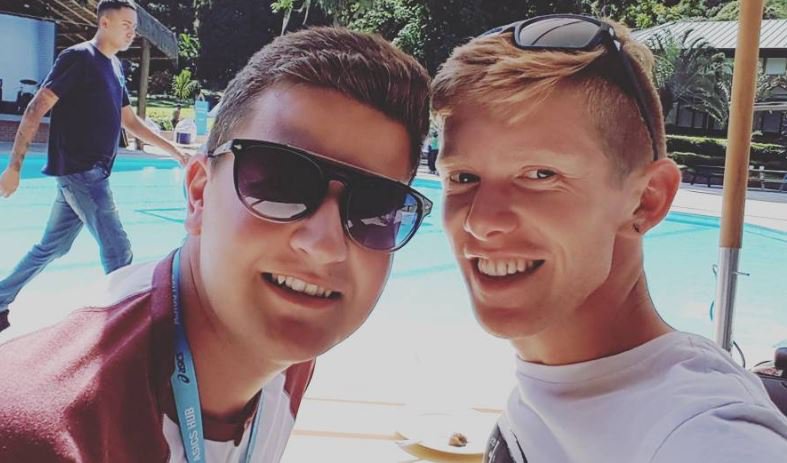 26-year-old Tom Bosworth became the first male British track and field athlete to publicly come out as gay last year, and the Team GB race walker has just got another impressive milestone under his belt after proposing to his boyfriend of five years, Harry Dineley, on the sands of Rio's Copacabana beach.
Tom, who is one of 50 LGBT Olympic athletes competing in Brazil, decided to pop the question just 72 hours after finishing sixth in the 20km race walking event, where he put in another stellar showing for Team GB's LGBT sportsmen. Attitude's Bryan Bernal caught up with the Kent-born athlete to get the goss on the engagement, marriage and career plans, and what he's made of the Daily Beast's controversy-courting Olympic Grindr story…
Well congratulations on your engagement!
Thank you! It's been a crazy 24 hours.
We can imagine! So, question: How did you and Harry first mee?
How did I meet Harry? Goodness, it was five years ago now. He was on a stag do actually, he was the best man on a night out in York. I was just with a few friends. Then we decided to meet a few times afterwards and things just started. I never ever dreamt we'd end up getting engaged!
Had you always planned to pop the question at the Olympics or was it a spur-of-the-moment decision?
No, it was well and truly planned. Well, I was planning on purchasing a ring anyway for couple of years – and it had to be Tiffany, so I did my research! Pretty much since the end of 2014 I've been doing my research, then I bought the ring at Heathrow airport on the way to Rio!
How did the react to the engagement – Tiffany ring and all…
Pure shock. We kind of discussed it and I think he was expecting it. It's something we had planned, that we want to move our lives on together. But I left it until his last day out here – he's going home today! We went up Christ the Redeemer a few days ago and I think he was expecting it then, so when I didn't do it. I think it threw him off a little bit! So when we went for a walk at the beach, I asked a friend to take a photo of us with the mansions and the sea at the background and as he went to take the photo I went down on one knee and proposed.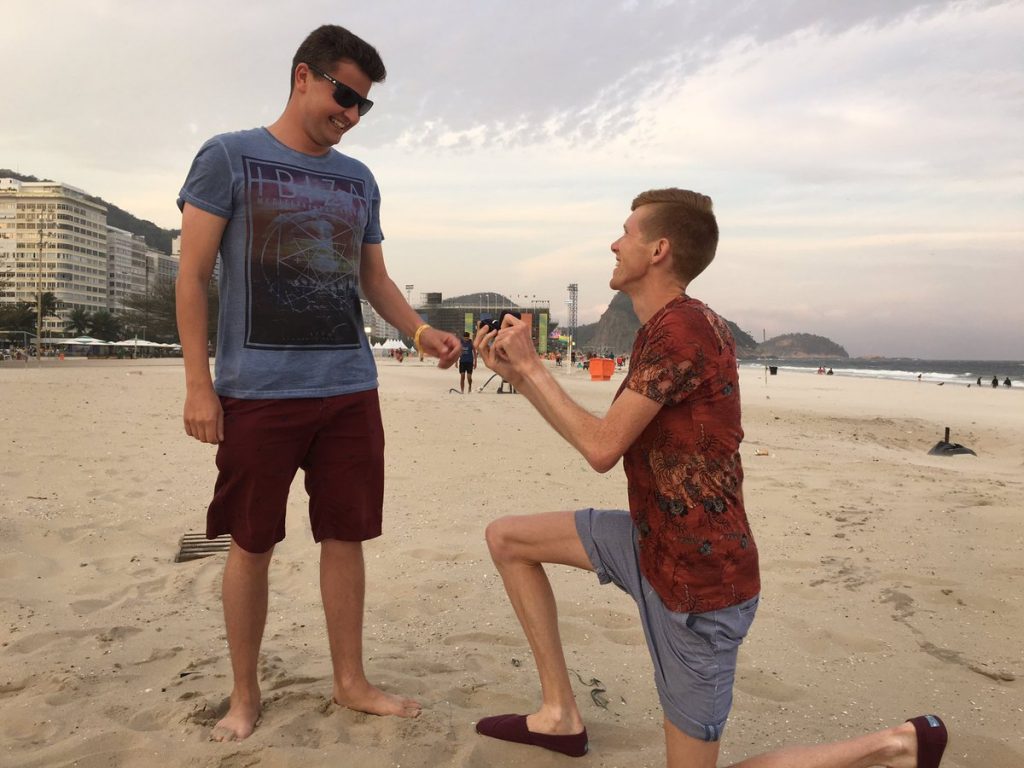 Obviously same-sex marriage was only legalised in England and Wales a couple of years ago – was marriage on your mind way before that?
Yeah of course. I'm very lucky to live in the UK where marriage equality is exactly that and to have that opportunity like everybody else. That had a big say on things. I mean, I'd always wanted to get married before marriage equality. I always kind of thought it's definitely an important thing and – I'm restraining my emotions – I'm very thankful for that.
How does it feel to receive such a positive response to the engagement from the public and media?
I can barely speak. I didn't expect it. I'm completely overwhelmed. It's been non-stop, social media has been absolutely non-stop. But my friends and my family; their messages have just been so lovely and so touching and how many people care about you that are there in the background – the last few days have just been just crazy.
We can only imagine. Do you think, with the publicity that you're getting now, you're making strides for the LGBT community and LGBT athletes?
Yeah. I've always said it, by living openly, you know, if I can help one person then that would be really important for me, it means a lot. Originally I had never realised how a big deal this was. And how people look at it and now I really realise that over the last year, the kind of responsibility on my shoulders now and I'm happy to have that and I want to honour that.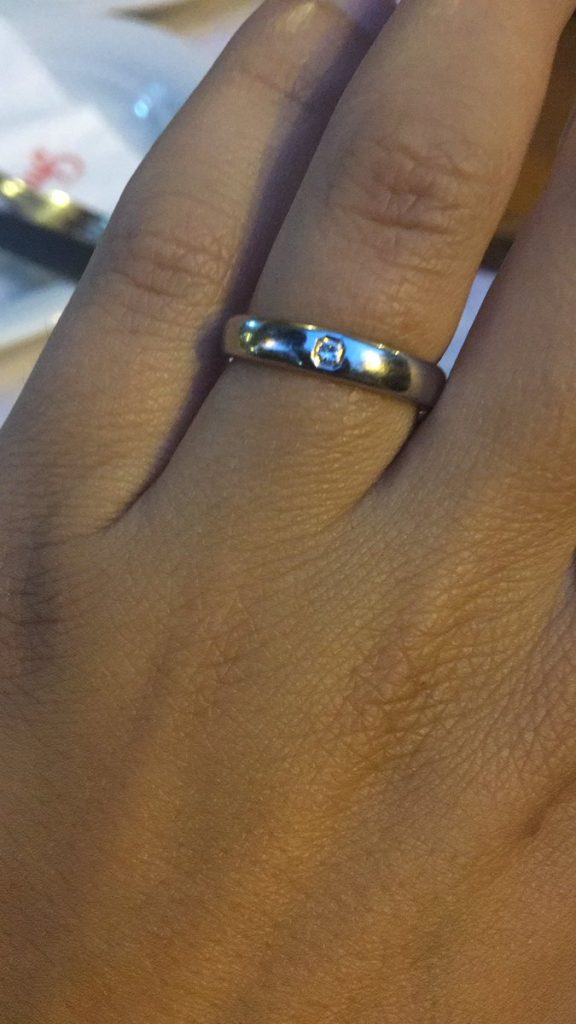 What did you make of the Daily Beast's now-withdrawn Olympic Grindr article, which potentially outed closeted athletes competing at the Games?
I did read about that [but] I don't know the details there. It's awful. A few people have spoken about that, and everybody agrees it was just completely wrong. They shouldn't be outed for their beliefs, their sexuality, their religion, whatever it is. People are entitled to a private life. I couldn't even think about the family, the friends of that people, let alone distracting them from the Olympic Games that they've trained their lives for.
It's been reported that some athletes have been subject to some homophobic slurs from crowds during the Games.Have you had any experience of that, or was it something you were ever worried about?
No, I think I'm lucky that I haven't been subject to any of that. But we live in a very diverse world. Everybody in Brazil, anyway, has been incredibly supportive on social media and are all very welcoming. All the messages have been really supportive so I'm lucky I haven't been subject to any of that. But I would hate to think that that goes on in sport through the fans, and at the Olympics, which is essentially is a celebration to sport and different cultures.
So let's talk the 20km race walk – how did it feel to accomplish such a feat?
Earlier in the year, when I first got the 20km record, that was kind of a relief. But surpassing it at the Olympic Games – I mean I was losing, you know, I think I was ranked 37th going into the race, I knew I was very sick – I was just sticking to the plan. I was going at just over six minute-miling, I didn't realise that would take me to first place for so long! To finish in the top eight – I'm screaming. I didn't know what time I was on for because I was in so much pain trying to get around.
Obviously we want to know – will we be seeing you back for Tokyo 2020?
I certainly hope so, I hope you'll be seeing me on the podium. Next year I'm entering in to my peak, my peak age, so all the way to early 30s. Next year is the London World Athletic Championships, which should be exciting and again I want to be up there to compete.
Interview: Bryan Bernal
More stories:
Exclusive | Check out the trailer for new gay-themed film 'Theo and Hugo' (NSFW)
Happy birthday Madonna! 58 reasons we love the Queen of Pop