Get the look for less: Recreate the best celebrity looks from London Fashion Week
By Will Stroude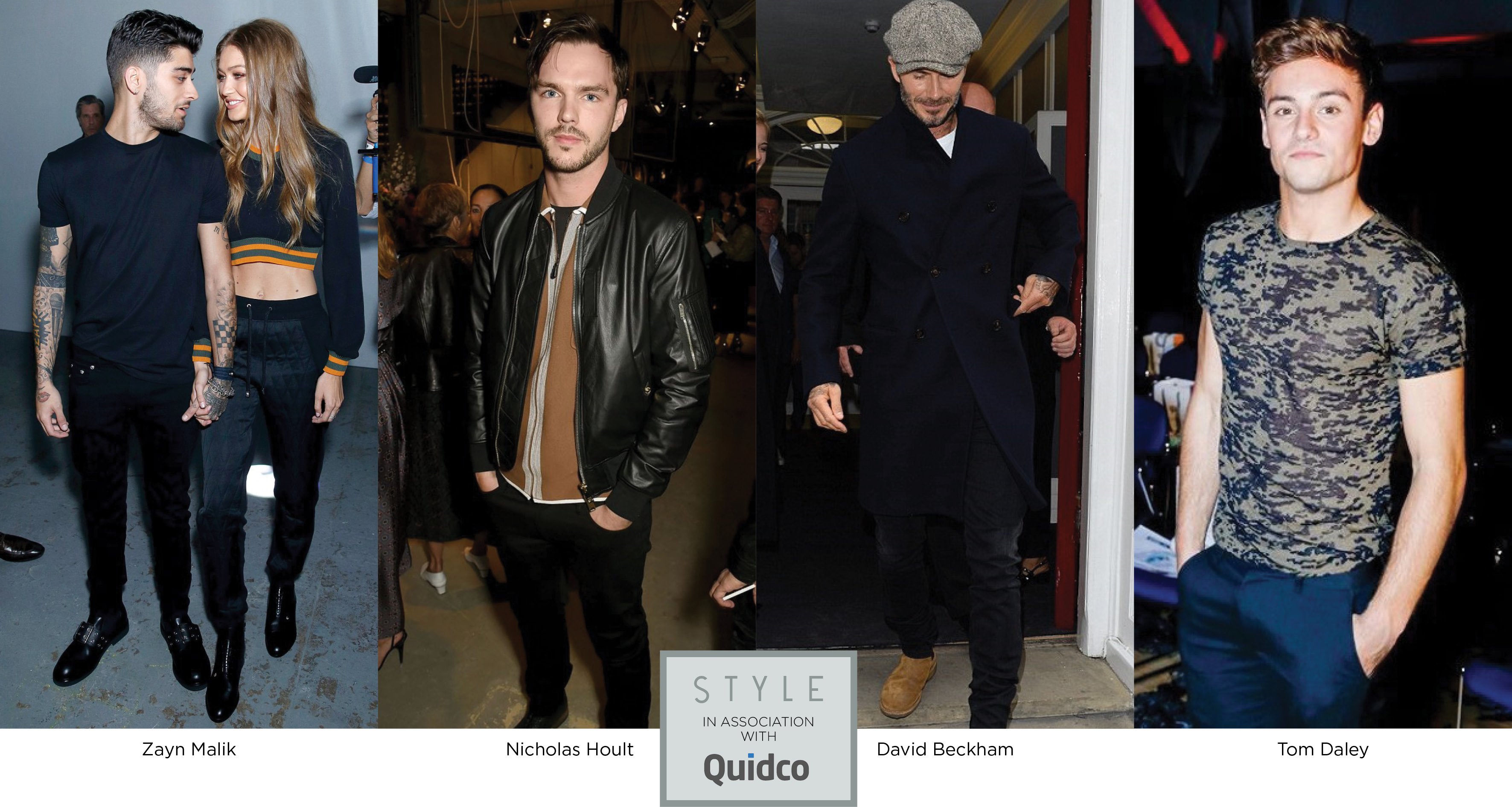 The last few years have seen London Fashion Week include more and more menswear, breaking tradition with the usual practice of debuting collections for boys at LC:M in June.
We saw this again this week, with Burberry having their first ever co-ed fashion LFW show, taking reference from Virginia Woolf's gender-blurring novel Orlando, and putting menswear firmly on the September schedule.
This of course brought plenty of male stars to the front rows and all the glamorous parties. London Fashion Week is as much a catwalk for the guests as it is for the models, and some of our most fashion-conscious favourites, including David Beckham, Nicholas Hoult, Zayn Malik and Tom Daley were all in attendance decked out in some envy-inducing threads.
While these guys all got their looks rights, you don't need to be a former member of 1D to afford runway-ready style. We're showing you how to get the look for less with Quidco.com, who also offer cashback in the form of credit on your purchases, meaning you have more to shop with!
Here are some of or top tips for recreating a celebrity look on a high street budget:
Mix and match some statement pieces – like a key jacket – from the current catwalk to keep on trend, but when it comes to where to invest money, don't skimp on classic staples like white shirts that last beyond the season
Models make the clothes look good because of how they're fitted – while you might not have the budget for Saville Row, you will be able to afford to have some alterations done at a local tailor. Read your reviews, do your research and get ready to look sharp AF for a fraction of the price of bespoke
Cashback is the clever way to get the latest looks for less. With up to 10% back on all the brands above (as well as 4300 more in everything from fashion to finance) just by signing up and clicking through to where you want to shop via www.quidco.com.
To demonstrate, we've picked out some of out favourite high street alternatives from the site – which you can sign up to here – below: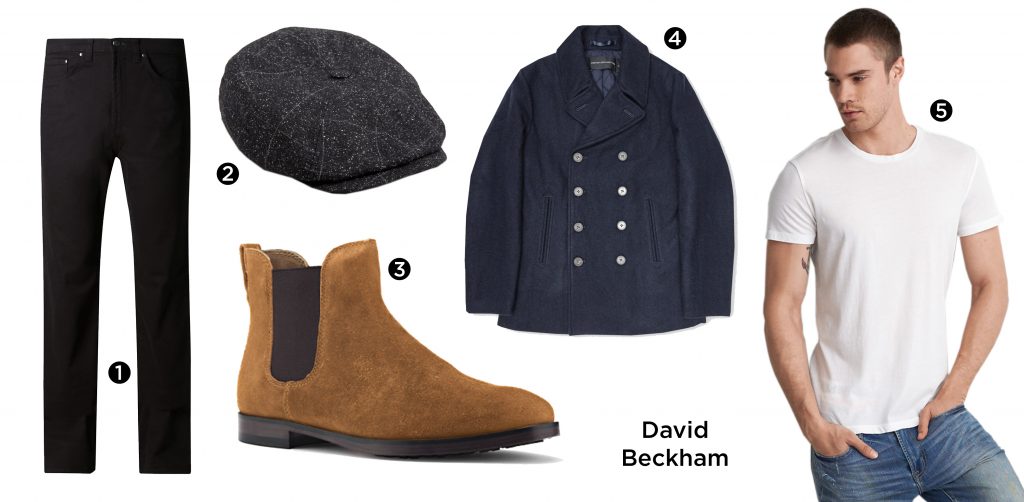 As always, David Beckham was doing the rounds during LFW; first spotted out and about with wife Victoria, and then seen launching the new men's collection for Kent and Curwen.
David's long been known as a style icon in the fashion world, but recently his fashion aesthetic has begun to evolve and mature. Above he is seen in a navy double breasted coat over a plain white t-shirt and dark jeans, he pairs with a brown Chelsea boot and a grey flat cap.
You can emulate David's look from a number of different high street brands; we love this navy double breasted coat from French Connection (4). A statement coat will smarten up any outfit, large button details and collar on this one keep this one looking on trend.
Team your outerwear with Marks and Spencer jeans (1) which come in a number of different styles and washes, a staple plain t-shirt from American Eagle (5) and to finish off the look we have a grey flat cap from ASOS (2) and this smart-casual pair of Chelsea boots from Ralph Laure (3).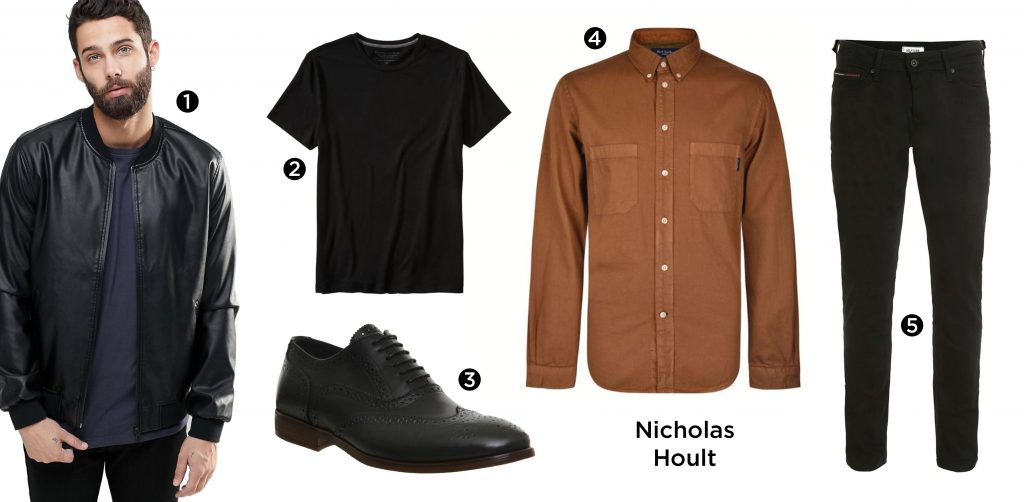 We spied X Men's Nicholas Hoult on Monday night at Burberry's inaugural buy-it-now show, featuring both menswear and womenswear collections. Nick was fittingly decked out in Burberry, sitting front row with models including Jourdan Dunn, Lilly James and Cara Delevingne. His outfit was understated and relaxed; pairing a black leather bomber jacket over a brown lightweight shirt and black jeans – a vision of chic simplicity.
This black bomber jacket from Only & Sons at ASOS (1) replicates the one worn by Nicholas at a fraction of the price. Selvedge denim jeans from Tommy Hilfiger at Topman (5) offer that more rugged edge to your outfit, and another plain t-shirt, like this one from American label Banana Republic (2), gives you a solid base to build your look from.
Layer it up with a two-pocket oxford shirt from Paul Smith at Flannels (4) – on sale now – as the shade of brown is perfect for the Autumn months, and a classic Brooklyn brogue in black leather, av available for a steal from Offic (3).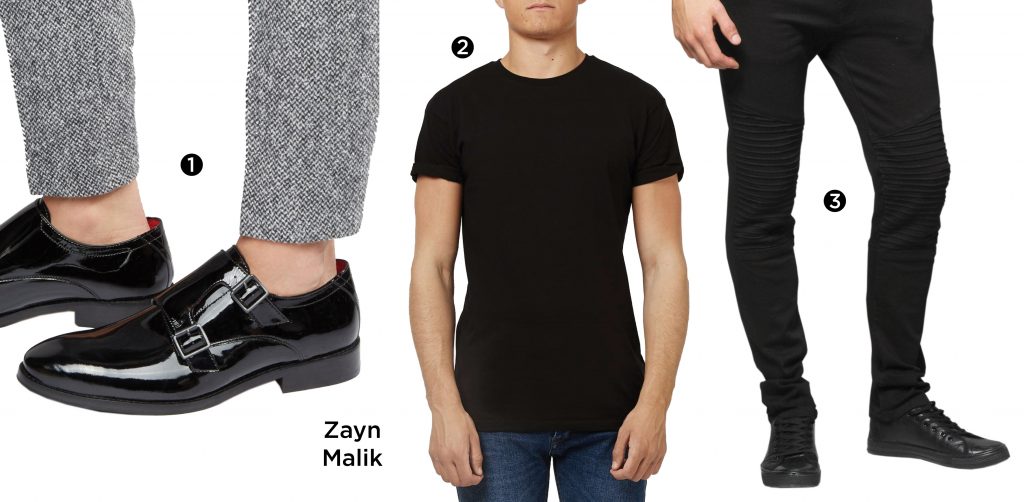 Zayn Malik was seen front row at the Versus Versace show, looking every bit the part as he sat arm in arm with supermodel girlfriend Gigi Hadid dressed in head-to-toe Versus. Sticking to his signature style, Zayn kept things unfussy and slick; opting for monochrome with a simple black t-shirt matched with black jeans. He elevated the look with a patent, buckle detailed shoe.
One of the reasons Zayn remains one of our favourite style icons is that his is a look that's easy look to recreate, whatever your budget. A plain t-shirt is a staple on the high street with pretty much every retailer having their own versions. We picked this pre-rolled sleeve one from Topman (2) for that extra little touch and teamed it with these black biker-inspired jeans from Boohoo MAN (3) which have been seen all over the runways this season, most notably at Balmain.
If you're keeping your look simple, you need a statement shoe to bring the whole outfit to life: Our top pick is this leather monk strap from Base London at ASOS (1).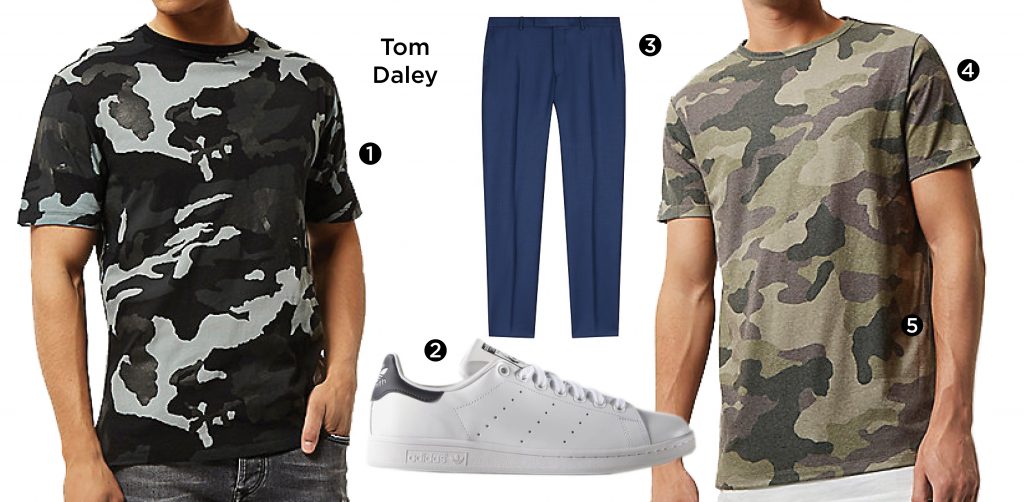 Fresh from his podium finish in Rio, Tom Daley turned his attention to fashion, attending a presentation from Aspinal of London. The 22-year-old looked as stylish as ever in a camouflage t-shirt and smart blue trousers and white trainers. Camo print has been making a comeback on the catwalks over the past few seasons, so the time is now if you want to try it for yourself. Meanwhile Tom's sensibly gone for a more formal trouser, to balance the look and stop it falling too far toward the shabby side of chic.
River Island has the camo trend covered this season, with their current collection letting you mix it up on it on jackets, bottoms and t-shirts. Our pick is this long-line t-shirt (4) which comes in khaki colours or even a black and white version for those wanting to play it slightly safer. Let it stand out by pairing it with a complimentary coloured bottom like this French navy trouser by Jaeger (3) and an all-white trainer – our pick is the goes-with-absolutey-everything Stan Smiths by Adidas (2).
So there you have it – your favourite celebrity styles at a fraction of the price The premise is easy: Simply sign up to quidco.com where there are thousands of products (over 4300+ brands) to pick from, including hundreds of other trend-driven clothes from high street brands.
When you shop that jacket (or any other item) on Quidco, the commission they receive from the brand goes directly back to you in the form of cashback, giving you even more money to finish the look.
Signing up through Attitude means you get £10 credit for spending just £5. It's almost like you're being paid to shop – which is basically every fashionista's dream, no?
More stories:
Nyle DiMarco discusses sexuality and changing deaf lives in Attitude's October issue
Katy Perry breaks down as she meets Pulse survivor, makes him a life-changing offer