Orlando survivors feature in emotional new video for tribute single 'Hands' – WATCH
By Will Stroude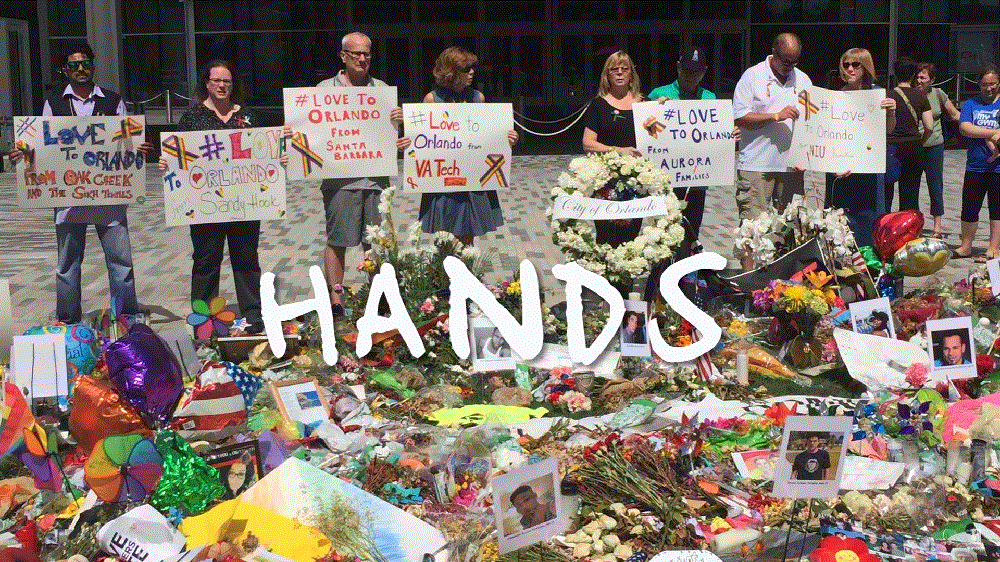 Last week saw 24 of the world's biggest artists come together to release 'Hands', a moving new tribute single for the victims of June's tragic shooting at Pulse club in Orlando, Florida.
Written by Justin Tranter and Bloodlines, co-produced by Mark Ronson, and featuring everyone from Britney Spears and RuPaul to Jennifer Lopez and MNEK, 'Hands' will raise money for victims' families, survivors, and Florida's LGBT community.
Now the song has a moving new video to accompany it, featuring internet personalities including Rebecca Black, Conor Franta and twin brothers Aaron and Austin Rhodes displaying the lyrics to the song on their palms.
Interspersed with images of the some of the heartbreaking tributes outside Pulse in the wake of the atrocity, which left 49 people dead, the video also features three survivors of the shooting – Patience Carter, Tiara Parker and Angel Anthony Santiago; the latter of whom is broadcast from his hospital bed.
The full list of artists featured in the song includes: Britney Spears, Troye Sivan, Mary J Blige, MNEK, Gwen Stefani, Alex Newell, P!nk, Jennifer Lopez, Adam Lambert, Selena Gomez, Halsey, Jason Derulo Tyler Glenn, Ty Herndon, Imagine Dragons, Juanes, Mary Lambert, the Trans Chorus of Los Angeles, Kacey Musgraves, P!nk, Nate Ruess, RuPaul, Jussie Smollett and Meghan Trainor.
'Hands' is available to download now in both the US and UK, with proceeds donated to the Equality Florida Pulse Victims Fund, the GLBT Community Center of Central Florida and GLAAD.
More stories:
Orlando gay club shooting: The victims
Crowds protects Orlando victim's funeral from Westboro Baptist Church protest