Donald Trump speaks at event held by anti-LGBT hate group
By Umar Sarwar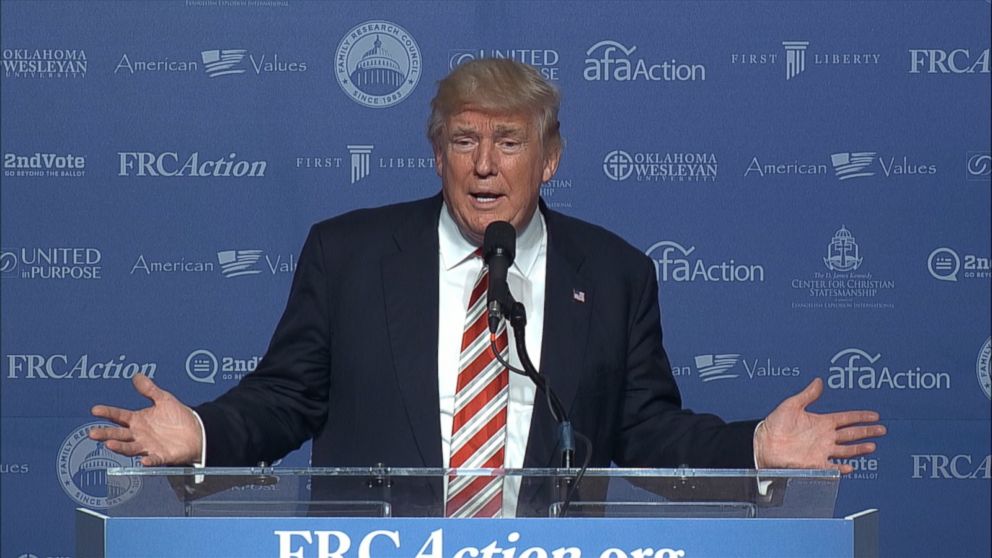 This weekend, Donald Trump attended an event held by the "Family Research Council" – a listed anti-LGBT hate group.
The rally, called "Values Voter Summit" reportedly brought together Christian conservatives, who used the event to explain why they are voting for Trump. According to the Huffington Post, former Republican congresswoman Michele Bachmann explained Trumps nomination to crowds by insisting that "God had a hand in the political process."
The Family Research Council were classed as a hate group in 201o by the Southern Poverty Law Center. According to LGBT rights group GLAAD, the group's leader, Tony Perkins, has previously claimed that paedophilia is a "gay problem", and compared being gay to using drugs.
Trump has previously been criticised for his links to the hate preacher. Last month, it emerged that a $100,000 donation made by the Republican presidential candidate to help flood victims in Louisiana had been sent directly to Perkins' church.
Speaking at the last week's event, Trump, who has previously said that he would protect LGBT Americans from "hateful foreign ideology", said: "I wanted to thank our host, Tony Perkins, for his years of leadership… Thank you. Amazing, amazing group.
"So let me say this right up front: A Trump administration; our Christian heritage will be cherished, protected, defended, like you've never seen before.
"Believe me. I beliAll Postseve it. And you believe it. And you know it. You know it. And that includes religious liberty."
Trump also promised to appoint right-wing Justices to the Supreme Court if elected, using the recently deceased, anti-equality Justice Antonin Scalia, who once argued that "a governing majority's belief that certain sexual behaviour is 'immoral and unacceptable' constitutes a rational basis for regulation."
Trump said: "Earlier this year, we lost the great justice, Antonin Scalia. The next president will not only have to fill this seat, but as many as four others… and you pick the wrong people, you have a country that is no longer your country. It will be a disaster.
"We are going to put truly great people. Maybe we use Judge Scalia of the ultimate example of what we're looking for, OK?
"I have pledged to appoint judges who uphold the Constitution, to protect your religious liberty, and apply the law as written."
His attendance at this summit comes after a string of incidents that undermine his initial pledge to protect LGBT people, including a $100,000 donation to an anti-LGBT church run by Tony Perkins.
More stories:
RuPaul wins his first ever Emmy – WATCH
Nyle DiMarco discusses sexuality and changing deaf lives in Attitude's October issue