Cher discovers trans-exclusionary radical feminism, and she's not happy about it
By Will Stroude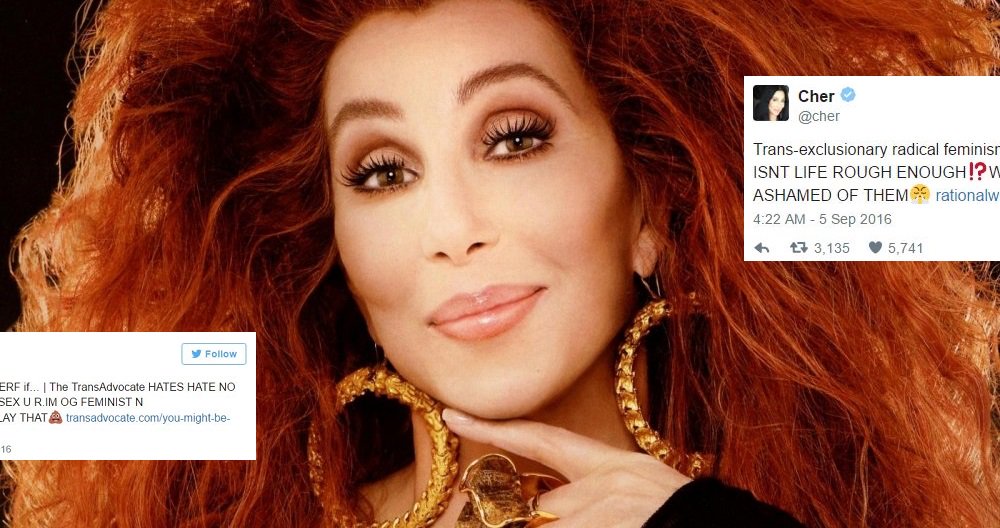 Cher is a long-standing ally of the LGBT community. Just last month, the legendary singer attended a Hilary Clinton rally to warn supporters that Republican presidential candidate Donald Trump will "turn back every clock" on LGBT rights.
Her commitment to the community isn't just about her legions of LGBT fans, however. Cher's son Chaz Bono is transgender, making the fight for equality a personal one. So naturally, the first thing she did when she discovered trans-exclusionary radical feminists (TERFs) – feminists who are virulently anti-trans – was take them to task.
Trans-exclusionary radical feminism – RationalWiki
ISNT LIFE ROUGH ENOUGH⁉️WTF ARE THESE WOMEN⁉️IM ASHAMED OF THEM😤 https://t.co/OXE5tBfxwS

— Cher (@cher) September 5, 2016
"WTF are these women?" she wrote, adding "I'm at a loss 4 words… abhorrent?"
TERF – Geek Feminism Wiki – Wikia Well,Well,there's a hate Group I Never imagined😳 I'm at loss 4 Words..Abhorrent⁉️ https://t.co/BgBB4Y1SOr

— Cher (@cher) September 5, 2016
You might be a TERF if… | The TransAdvocate HATES HATE NO MATTER WHAT SEX U R.IM OG FEMINIST N
HOMIE DONT PLAY THAT💩 https://t.co/usPr2zJXso

— Cher (@cher) September 6, 2016
Cher is a being of pure joy and love, only directing her anger at those who try to infringe on the freedoms of others. We should all try to be a little more like Cher.
INSANE THING TERF& CHRISTIAN CONSERVATIVE WOMEN R JOINING FORCES 2TERRORIZE TRANS WOMEN‼️I CANT IMAGINE AMOUNT OF HATE IN A🚽ADMINISTRATION🙏🏻

— Cher (@cher) September 5, 2016
Long live queen Cher!
More stories:
Straight guys kiss another man for the first time – WATCH
Sia's new single 'The Greatest' is a haunting tribute to the victims of Orlando