Angela Eagle accuses Jeremy Corbyn of failing to challenge homophobic supporters
By Will Stroude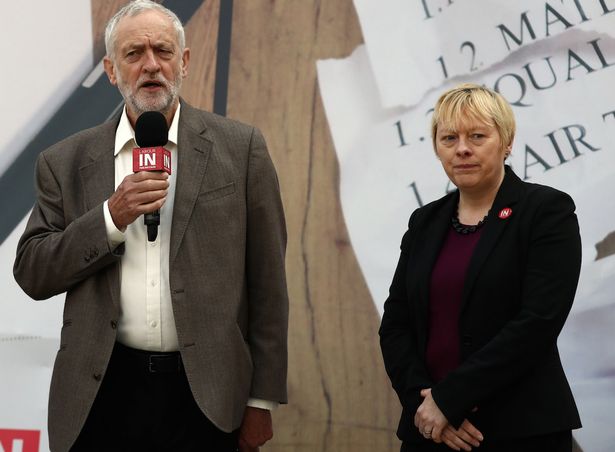 Angela Eagle's short-lived bid to replace Jeremy Corbyn as leader of the Labour party was dogged with abuse, including a brick being thrown through her constituency office's window and reams of sexist and homophobic abuse online.
In a new interview with Buzzfeed, the MP for Wallasey has accused Corbyn of not doing enough to challenge the homophobia that she claims has come from his supporters.
Angela Eagle MP's constituency office in Manor Road, Liscard, where a brick was thrown at the windows this morning pic.twitter.com/a5taRehMz3

— Lorna Hughes (@lorna_hughes) July 12, 2016
"Jeremy keeps telling us that he is standing for a kinder, gentler politics, but that is rendered meaningless when he fails to protect people who have witnessed or been subjected to bigotry and intimidation from having their anonymous testimony challenged in public prior to an internal investigation taking place", the former Shadow Secretary of State for Business, Innovation and Skills said.
"The truth is that [Corbyn] doesn't want to discourage his most ardent fans."
Eagle, who came out publicly in 1997, implied that Corbyn, who has consistently voted in favour of LGBT equality (excluding a vote to repeal Section 28, which he was absent for), wasn't serious about LGBT rights saying that "no one who really cared about LGBT rights would sit back and allow this behaviour to continue without condemning it".
She also criticised Corbyn's failure to intervene publicly when allegations emerged that she was referred to as "Angie the dyke" in a local Labour party AGM, which she reported had made her feel "very intimidated".
"I am astonished at the lack of condemnation of this behaviour coming from the leader's office," she said.
Eagle then went on to voice her support for Labour leadership contender Owen Smith, saying that she didn't think "such [homophobic] bigotry would flourish under him".
More stories:
Team GB's LGBT Olympians: When and where to watch them
Who wants to see Colton Haynes shake his booty on Snapchat?