Casa Cook in Mykonos review: 'Luxury village vibes in the gay capital of Greece'
Expect all-white cubic architecture - as if assembled using building blocks by Gucci! - at this stunning four star stopover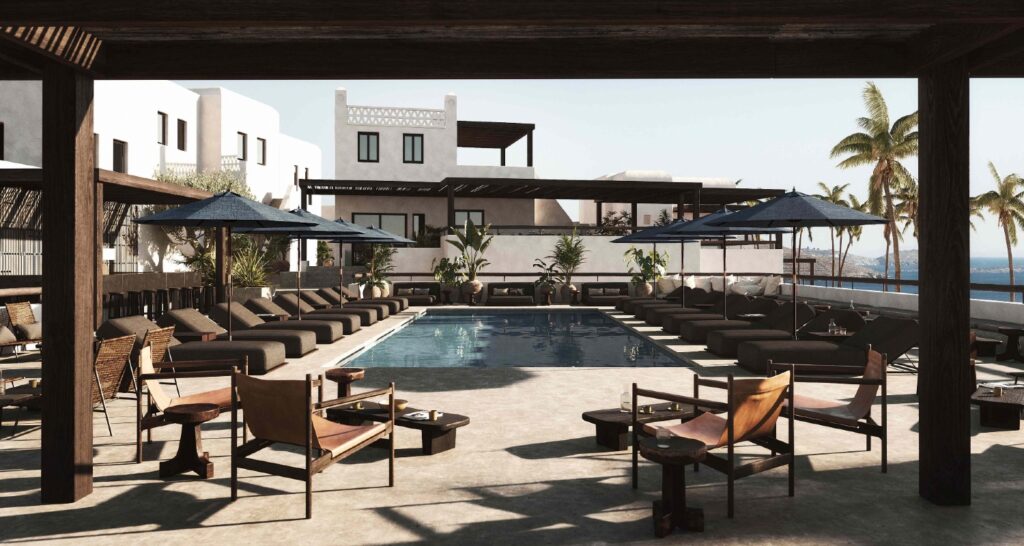 'Relatable' is not a word that often springs to mind when scrolling through the wondrously zany content of Canadian drag queen Jimbo.
But the Drag Race UK vs The World star's recent Mykonos video diary – depicting a jet set party girl drunk on golden rays and good vibes; blonde hair/white dress billowing in the wind; giant cleavage proudly on display and confusing the armies of monied gays arriving here on a never-ending loop – is exactly that. Relatable. (As well as the funniest thing you'll see this year.)

It precisely captures the slightly silly charm of this stunning Cyclades island.
The landscape alone is surreal: dramatic, arid hills dotted with all-white cubic buildings that, from a distance, are beautifully neat, but up close, are adorably off-kilter. They appear as if assembled by a child of astonishing good taste using building blocks by Gucci. This exactly describes the aesthetic of luxury hotel complex Casa Cook, located near the southwesterly tip of the island, which we'll return to in a moment.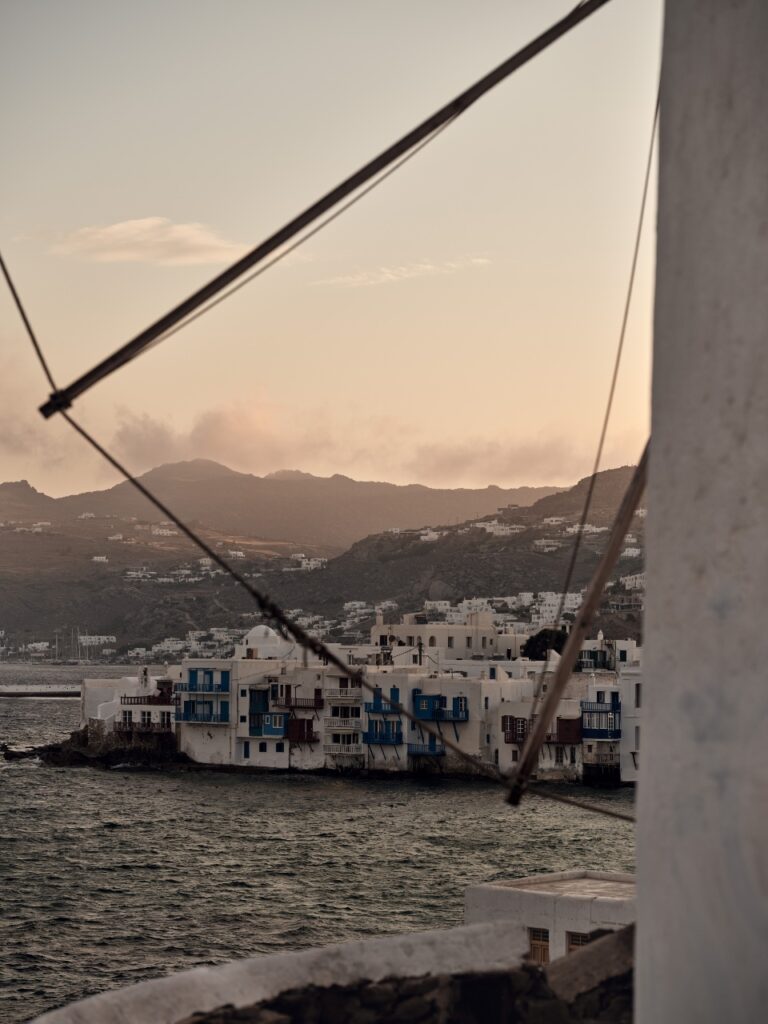 One popular tour operator calls Mykonos the 'designer island' of Greece. Certainly, Mykonos Town – with its overpriced boutiques and statement restaurants – is strangely like poseur's paradise Dubai, but smaller. (The UAE city is home to 3.3 million; Mykonos' permanent population is just 10,000!) Oh, and gayer. Because here, the joys of homosexuality are not punishable by death, but rather, part of the destination's very soul. It's a true queer capital. (As is, anecdotally, the isle of Lesbos, which gave rise to the term 'lesbian'.) Such are the jewels in the crown of a country that legalised homosexuality in 1951, over 16 years before the UK.

But back to the ambiance. Every cute little corner in Mykonos, every soul-soothing sea view and glorious sunset invites you, like Jimbo before you, to embrace your inner influencer. For a laugh, for the hell of it. It's just too pretty not to post. And Casa Cook greatly accommodates this notion.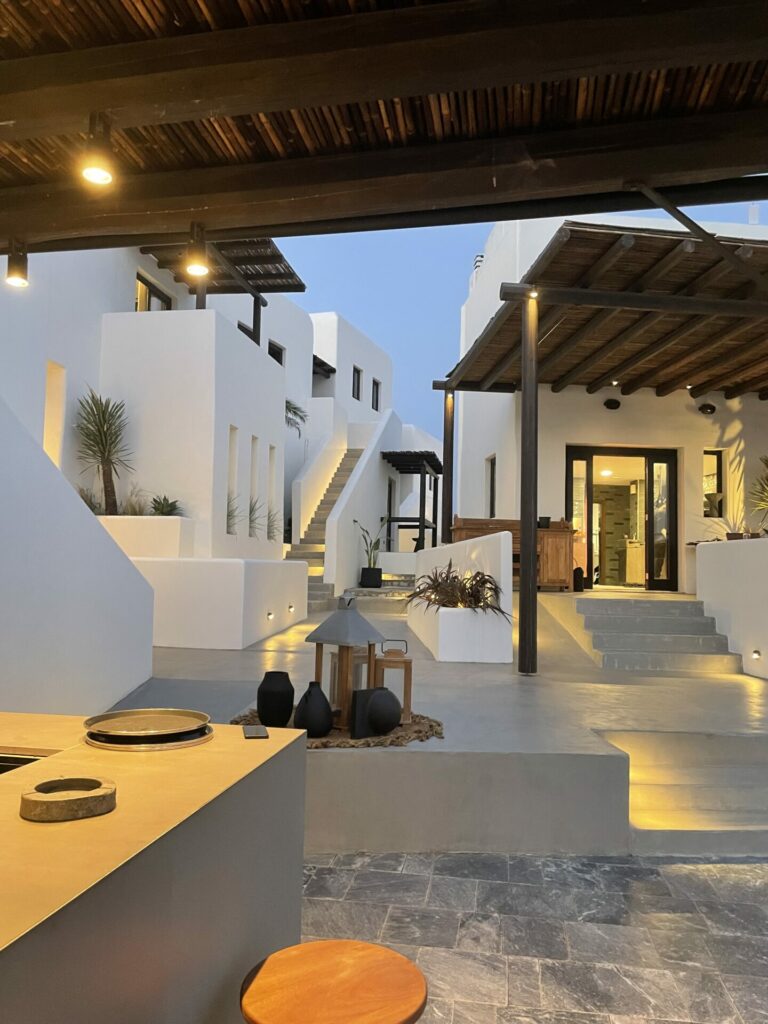 It's next-level picturesque. The minimalist design is suave, flawless, and reverse-engineered to look photogenic from every angle. And there are angles everywhere. It's almost like a work of art by Dutch artist M. C. Escher, but serene rather than anxiety-inducing.
The rooms are pure luxury, but deceptively simple, with natural materials creating an earthy, elemental atmosphere. The smooth stone floors beg for bare feet, the timber fixtures call for the touch of your hand, and the thigh-length linen bathrobes demand absolutely nothing underneath. (I'm telling you, sensuality hangs in the air on this island!)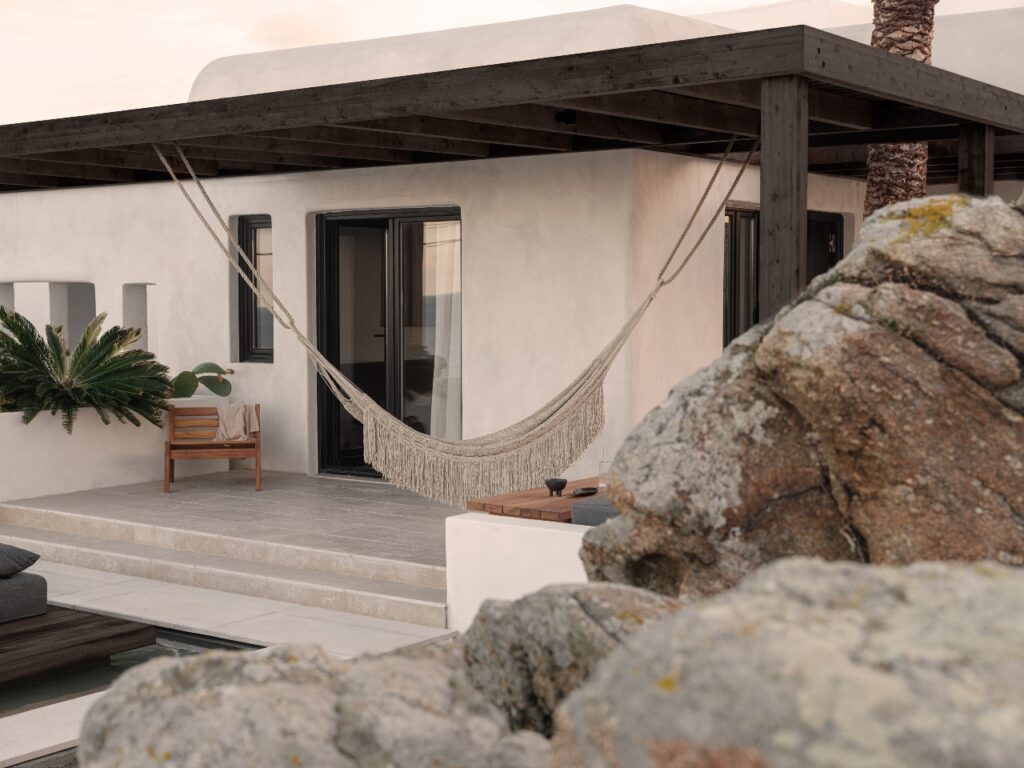 The effect is pure relaxation, elevated by Casa's modest size – only 26 rooms and suites. There's also the welcome absence of wailing mini-humans, who might otherwise take over the glamorous pool area. Indeed, Casa Cook is adults (16+) only, and while it resembles a small village, it never feels overrun. The workforce, too, is small enough that you get to know everyone pretty quickly. They were lovely across the board.
The knowledgeable mixologists, for example, are funny and chilled; the kind of people you actually want to hang out with over a drink, as you work through the monumentally long cocktail list. The receptionists and wait staff are all warm and accessible. One told me how the whole team pulled together to get the place ready ahead of its June 2022 opening. Their manner was a welcome departure from the robotically polite service at other luxury properties.
Even head chef Andres Ntougias was happy to chat. It was interesting to put a name and a face to what is, one assumes, an uncompromising and deeply personal menu. Perhaps all establishments take a 'sky's the limit' approach to food initially, but one hopes Casa Cook continues to give Ntougias free reign, because this was some of the most impressive food I've ever eaten. Every dish bursts with creativity and countless local ingredients.

My favourite dish was the 'Ragu Pappardelle': a perfect balance of salted pork from The Mani Peninsula, Naxos Graver cheese and summer truffles. The pasta was simply perfect, the likes of which I've only tasted a few times in my life – and never in Italy! Another standout was the absurdly indulgent 'Lobster Giouvetsi' with crab bisque, red lobster eggs and Mediterranean herbs. (But it is insubstantial, so order a side dish.)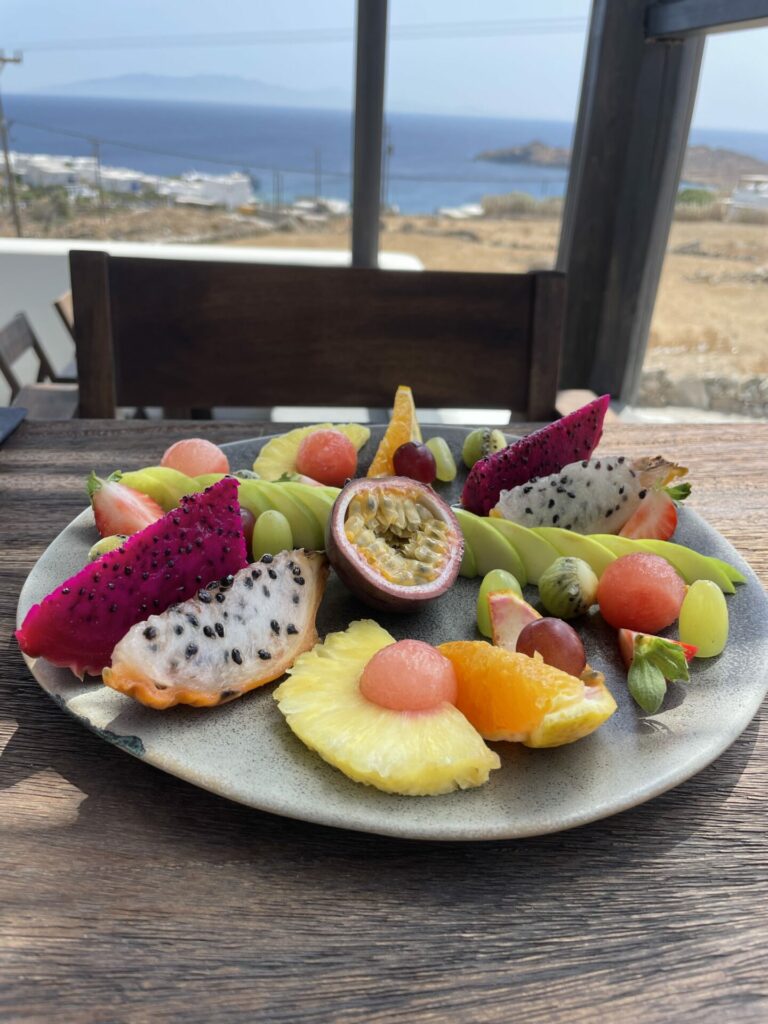 From beef burgers to the bao buns, the meat on offer is almost too succulent: both dishes are so juicy, you can't eat them without making a mess. The (giant) shrimp and mango salad, meanwhile, was a divine wake-up dish after my flight. And the gorgeously presented fruit plate, featuring purple dragon fruit, was the perfect start to the next day.

The breakfast menu is the most crammed with Grecian delights. Cheese flutes from Folegandros; small potatoes from Naxos; trahanas from Ithaka. Not to mention the most indulgent yogurt and honey imaginable.
One last compliment before my tiny list of quibbles. Spa manager Leonidas Zervas carried out the kind of transcendent, sensational full body massage that implied a sixth sense in his understanding the body. It was revelatory; an education. Did you know that a one-hour massage is equal to seven hours of sleep in its effect on the body? The vigour with which he approaches his profession made me look at massage a different way.
Regarding criticisms: during one lazy afternoon by the pool, the choice of music was exactly that – a choice. A playlist of reggae-tinged covers – Adele's 'Fire to the Rain', Lana Del Rey's 'Blue Jeans' – was pleasant at first. But it eventually repeated itself; a real bugbear of mine. Second, the only sunscreen available for purchase was unreasonably expensive for what I consider an easily-forgotten necessity, like toothpaste.
Otherwise, it's hard to find fault. The location? On the one hand, as the slickly-designed Casa Cook website puts it, the complex is 'perched on pristine coastline, [looking] out over the island of Delos. A UNESCO World Heritage Site and the mythological birthplace of Apollo and Artemis.' On the other, you need to book notoriously expensive taxis to go literally anywhere. But that's the case no matter where you are on the island. It's the nature of the difficult-to-traverse beast. I'd planned to explore the narrow, winding roads of Mykonos on foot, only to discover doing so is almost comically dangerous, because of heat and traffic.
A shuttle bus to the nearby Mykonos Town would be welcome, although perhaps hard to justify given the small number of guests likely to be staying at any one time. Perhaps Casa could team up with other hotels in the area to offer one? That said, I was provided a chauffeur to Mykonos International Airport, only 3.5km away. It was painless and over in the blink of an eye. Even Jimbo would have been impressed.