London's Queer Comedy Club review: A permanent LGBTQ space over tokenistic inclusions on hetero line-ups
James Hodge giggles along to the UK's first permanent LGBTQ+ comedy club on its opening night in London
By James Hodge
If there's one thing us LGBTQ+s need right now, it's a laugh. Fortunately, the opening of The Queer Comedy Club, a new performance space in north London, promises many a mirth-filled moment. On launch night, we head to the basement of LGBTQ+ bar, Siorai, whose bright rainbow sign brings some much-needed cheer to the grey street in Archway.
David Ian, one of the club's three co-founders, is hosting. He begins by welcoming the predominantly LGBTQ+ audience, before warning the handful of heterosexual allies present that there are many elements of the set they won't understand: "Jokes about PrEP, Grindr, cottaging… and kindness."
Ian makes an important point here — this is the sort of material you rarely hear on the UK comedy circuit. This is why it's so important to co-founder Kate Dale that our community is given a permanent space rather than being tokenistic inclusions on heterosexual line-ups or restricted to one-off queer comedy nights. "I've had other comics tell me to do less of the gay stuff," she tells me. "But these are stories that many of us want to tell — moreover, that many of us want to hear. We want to create a space where we don't have to explain ourselves or apologise, where we aren't just tolerated, but celebrated."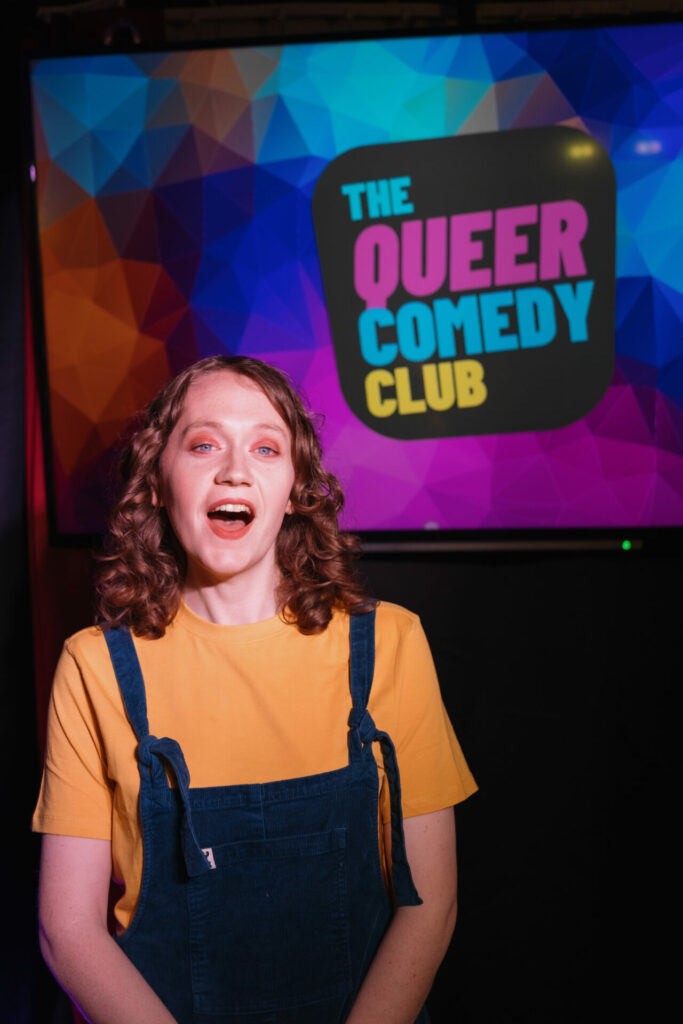 As Ian's set draws to a close — a series of outrageously funny anecdotes told with a manic intensity balanced with heartfelt honesty, vulnerability and self-deprecation — he says it's "nice to be laughed with for a change, and not laughed at".
You can't attend a queer comedy night without thinking of historic LGBTQ+ icons Lily Savage, Kenny Everett, David Hoyle, Suzy Eddie Izzard. What is remarkable tonight is the sheer diversity, with representation across the spectrum. "Where else would you see gay males, a trans woman, a lesbian and a non-binary person on the same line-up?" asks Jeremy Topp, the third co-founder.
And what a line-up it is tonight! Dee Allum is first on, an anecdotal comedian who announces that she became trans after being bitten by a radioactive spider. "It's gifted me with the power of listening," she grins. Allum delivers thoroughly personal insights in a deadpan manner. As the trans moral panic rages on, she does not respond with aggressive politics, but a calm matter-of-factness. Allum is not the butt of the joke; instead, the ridiculous transphobic reactions become the punchline. She reveals answers to 'Frequently Asked Questions', listing the mundane and tedious responses she regularly has to give with increased apathy and boredom. "She/her. Trans. No, that's a slur. That's another slur." The skit highlights the power of performing to a queer audience, whose eyes roll alongside Allum's, equally bemused by the exhaustion of being insensitively othered.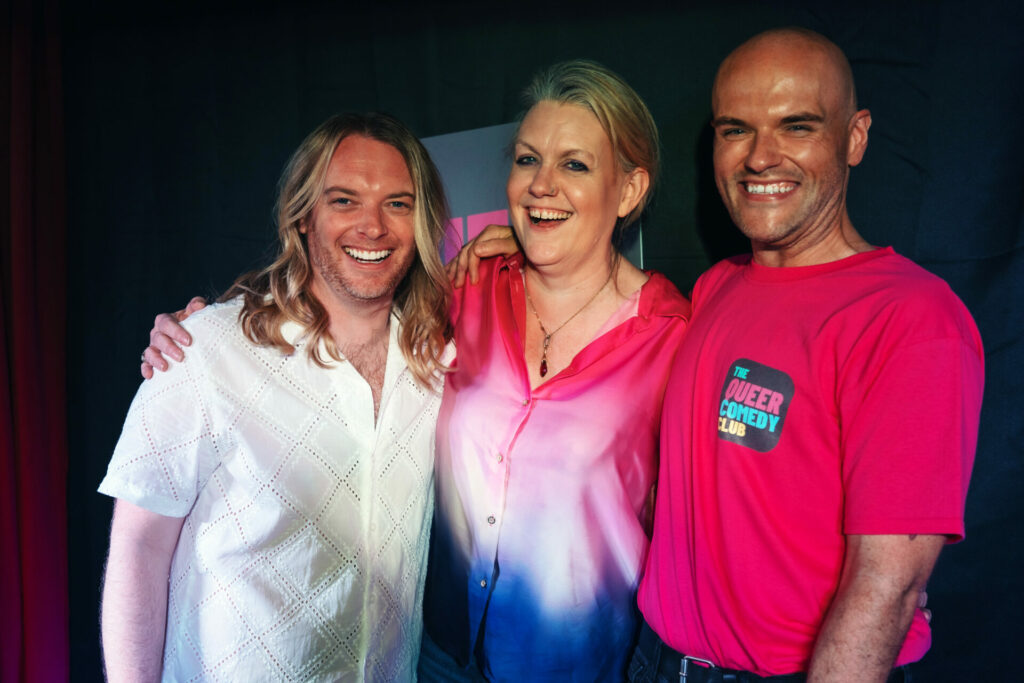 The next act, Ben Pollard, offers "a set geared up for sinister homosexuals", before bursting into a series of darkly funny songs riffing on queer life. Highlights include 'Give It to Me Daddy', a number questioning the rise in the popularity of incest porn, and break-up ballad, 'I Told Your Friends You Have an Ugly Penis'. Although undoubtedly controversial and boundary-pushing, Pollard shares his material in such a light and playful manner that soon even the audience is joining in. "Normally, people don't sing along!" he giggles. "This is why we need queer-inclusive spaces! We're allowed to be weirdos!"
In contrast, Kathy Maniura offers up perhaps the strangest set of the evening — a series of increasingly bizarre roleplays in which she embodies everyday inanimate objects, imbuing them with hysterical personalities. An old-fashioned sofa, angry at being left on the street, announces it's been cancelled. A nerdy electric scooter reveals that it is always a colleague and never a friend — even to its mother. A sexy AirPod flirts coquettishly with the audience: "I'm so tinyyyyyyyyy!"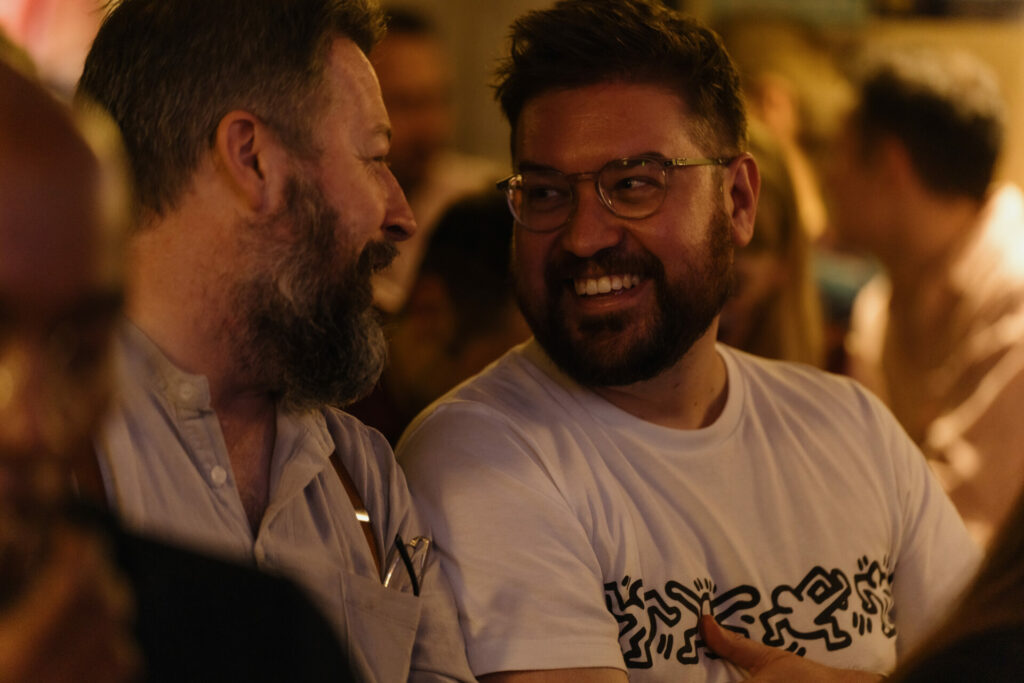 Maniura later tells me what fires her comedy: "There's a playfulness in queerness. We can be absurd. The audience is always up for it."
The night culminates with circuit staple Sarah Keyworth, whose headlining performance is the cherry on the comedic cake. Employing their gently mocking tone, lamenting everything from turning 30 to Tough Mudder, Keyworth's talent is their ability to highlight the ridiculousness of the heterosexual life that we accept as normal. To fit in is boring. After a hilarious gag about group sex — "a lesbian foursome is like a bag of coat hangers" — they grin at the audience response. "I tried that joke in a heterosexual venue last night and let me tell you, it didn't go down the same way. Arms folded, anoraks on!"
The team have big plans for The Queer Comedy Club: new-act nights, improv courses, and a TV deal with OUTtv, who will film a series of stand-up shows at the venue. After many years being on the backburner, it's inspiring to see that The Queer Comedy Club and its audiences are having the last laugh.
The Queer Comedy Club
Downstairs, 114 Junction Rd,
Archway, London N19 5LB