Stephen Fry on the heartbreaking queer history of Willem & Frieda: Defying the Nazis
Stephen Fry discusses the documentary which tells the story of two forgotten queer heroes of the Dutch Resistance during World War Two.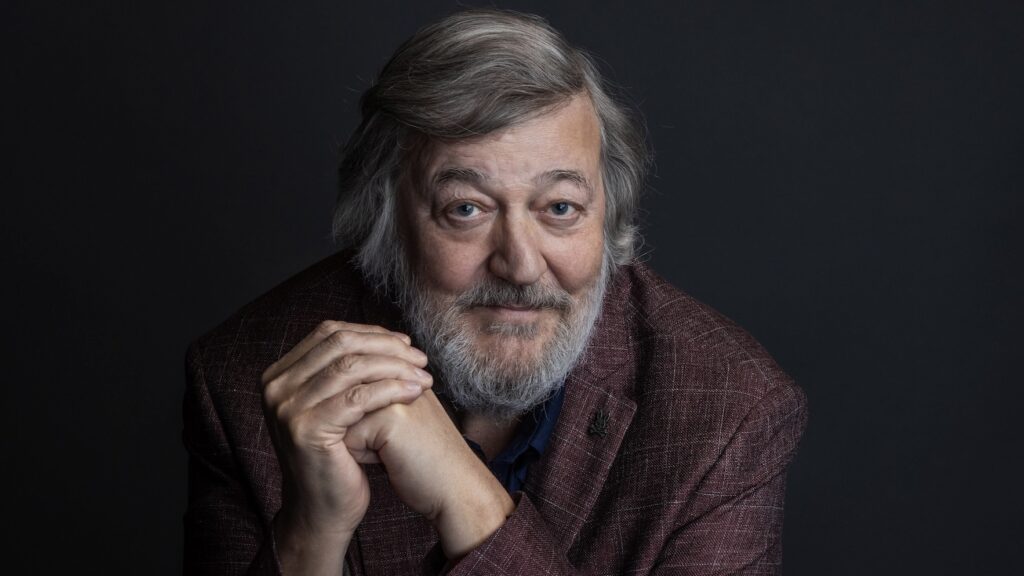 Just like Wet Wet Wet's concept of love, Stephen Fry is all around. Look! There he is right now fronting a series on dinosaurs for Channel 5. "I was thrilled to be able to do that," Fry exclaims. "One of the amazing things about dinosaurs is how many hundreds of millions of years ago they lived and yet we are still discovering so many new things about them." We could talk a lot more about dinosaurs, but we're not here for that.
"Here" is actually cyberspace, a Zoom call. When I email my colleague Huxley to report that I've been Zooming with Stephen Fry, Huxley responds, "I'm assuming he came off as polite, gracious, effortless, erudite, and likeable?" Five out of five.
Our conversation gets off to a particularly good start. "Got to admire your storage system behind you, David. That's really impressive," says Fry. "Thank you, Stephen. But I'm a Virgo and I can't help myself."
"Moi aussi." Two analytical perfectionists meet on Valentine's Day. This is obviously meant to be.
Polite, gracious, etc., Stephen Fry moves one step closer to national treasure status with his inspiring, informative, and very moving documentary Willem & Frieda – Defying the Nazis, which tells the virtually untold story of the queer artists that formed a secret alliance in the Netherlands after the Nazi invasion in 1940. Tragically many of them, including painter Willem Arondeus, paid with their lives. Cellist Frieda Belinfante survived by disguising herself as a man. Why this story hasn't been snapped up by Hollywood is a mystery. It would surely sweep the board on Oscar night.
Stephen claims that, when filmmakers Rik Carmichael and John Hay sent it to him, the script reduced him to tears. It made him re-think his concepts of homosexuality and bravery. "Those of us who grew up queer, particularly a long time ago, as I did, are so used to the automatic idea that gay people are not heroes really," he explains before qualifying, "I mean there's a bit of courage in coming out and there was certainly courage in standing up for oneself in the 70s with Gay Liberation and so on."
But in the story of Willem and Frieda, there's irrefutable proof that in Amsterdam during World War II gay men and lesbians were prepared to risk their lives to fight Nazi tyranny and help its victims, particularly Jews. Stephen, not only gay but also Jewish on his mother's side, tried to imagine what he would have done if he'd been in an occupied country in 1940: "There you are in a country that's been overrun by Nazis. The Nazis of your own country have become policemen, and the whole place is in the grip of this new terrifying ideology and tyranny. Surely I would just keep my head down?" Probably that's what most of us would have done. But it's not what Willem and Frieda did.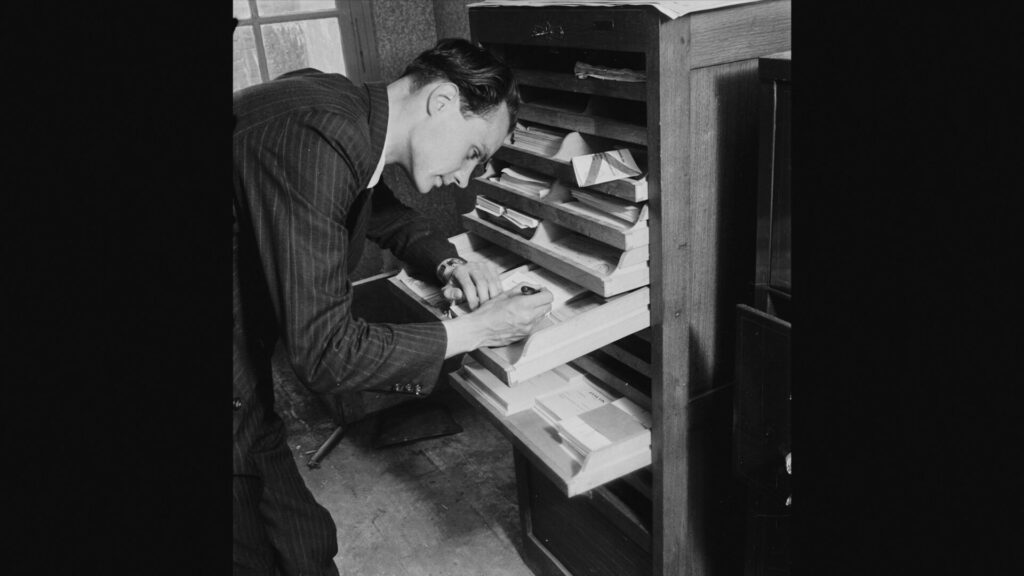 Born in 1894, Willem Arondeus first showed his mettle as a teenager. He was 17 when he came out as gay. Homosexuality had been legal in the Netherlands since 1811, but in 1911 the Dutch tolerance we hold in such esteem was – as we see in the film – several decades in the future. Willem's parents threw him out of the house and it's possible they never spoke again.
Willem's surrogate family was an artistic community that included Frieda Belinfante, born in 1904. A gifted musician, she made her debut at Amsterdam's Concertgebouw aged 17. In 1937 she became the first female orchestral conductor in Europe. Like Willem, Frieda was gay. She was also Jewish. Fate intervened as early as the 1920s when she was involved in arranging false papers for a Russian lover. When Willem and Frieda's resistance group of artists formed to cause the Nazi administration as much inconvenience as possible, it was decided there was one obvious area in which they could excel: forgery.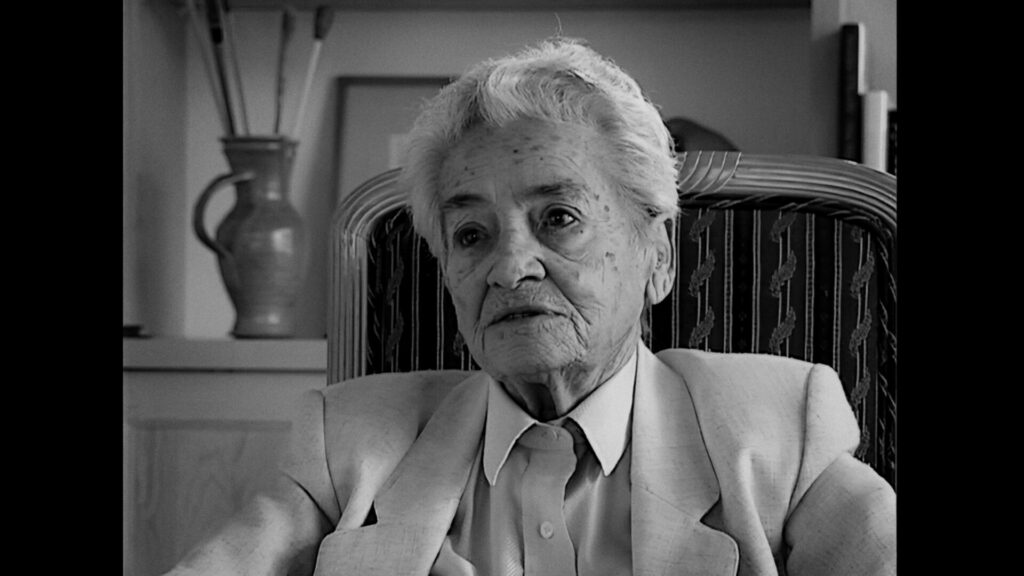 "It's a kind of cliché," Stephen concedes, "but we have to remind ourselves that Nazism was run on a brilliant, terrifying form of bureaucracy – even when it came to the death camps. They used IBM punch card computers. Everybody in Holland had identity papers, they were the best in Europe and very hard to forge. If you were Jewish, they had a big 'J' on them." (75% of the Jewish community in the Netherlands died in the death camps. After the War, Reich Commissar Arthur Seyss-Inquart was executed for war crimes).
Willem and Frieda helped their Jewish friends by providing them with forged identity papers without the tell-tale 'J'. But the freedom fighters didn't stop there. In 1943 Willem and others plotted a far more dangerous scheme: to deal with the Population Registry, where duplicate records were stored…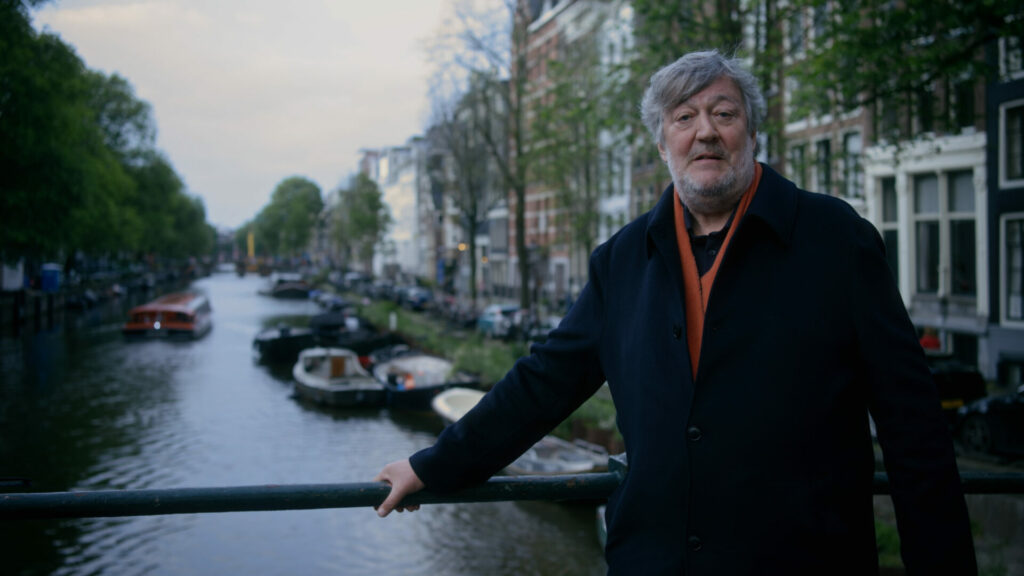 "War," proclaims Stephen, "is one of the few fields of human activity where there is such a thing as glory, where you really can say that life was lived and ended gloriously and Willem's was. And it wouldn't have been – necessarily – had there been no war. Not only did he do all he did without fear for his own safety, but he was also determined not to hurt others. A lot of resistance people, in France for example, put bombs in cafés in which innocent people died. The British supplied the dynamite, and there was a kind of moral ambiguity. But [Willem and Frieda's] major act towards the end of the film, which I won't give away, was aborted twice because there was a possibility they would hurt other people. As Frieda said. 'We are not like them.'"
Willem may be unknown today but, having seen the film, I'm convinced that there will come a time when we speak of Willem Arondeus in the same breath as Anne Frank. Stephen agrees. Why then don't we know his name in 2023? He didn't have a Wikipedia page until 2019 and even Stephen, who knows everything, had never heard of him before he became involved in the film.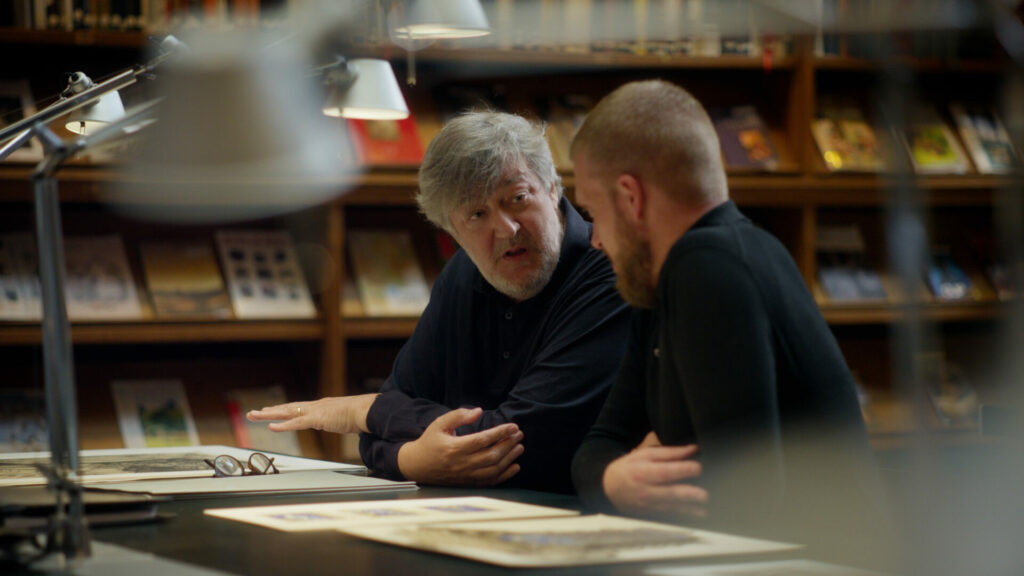 "The Dutch themselves didn't know much about him," Stephen reveals. "Most gay activists in Holland believe it simply was his sexuality, that he and Frieda as queer people were pretty much airbrushed out of the story. There was Gerrit van der Veen, who was an [heterosexual] artist, also big in the artists' resistance, but less instrumental in the extraordinary activities of that resistance than Frieda and Willem. He has schools named after him and statues and all the rest of it. But at the very beginning of the 70s, when gay liberation was beginning, activists tried to force the Dutch government to remember the gay heroes and they were ruthlessly squashed."
This is also dealt with in the film. There is an alarming newsreel from 1970 in which men try to lay a gay wreath at the National War Memorial in Dam Square. They are led away by police and we're told that the wreath was destroyed. Was Stephen as shocked as I that this could have happened in Amsterdam of all cities?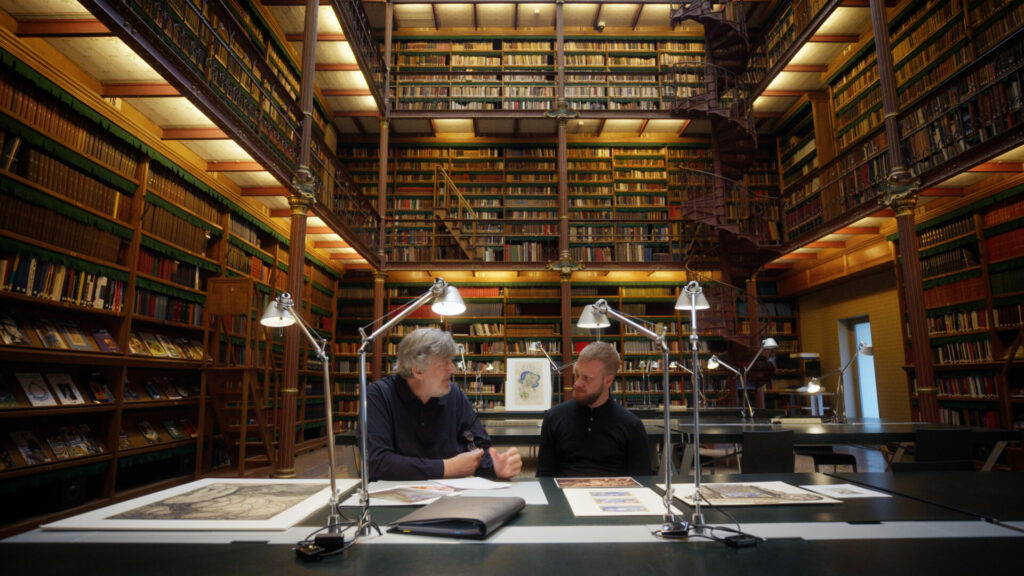 Stephen is pragmatic. "We think of Holland as this place of tolerance and diversity and openness, pioneering in all the things we've fought for. But, as Dutch friends of mine like to say, 'Yes, it's true that same-sex marriage started in Holland. Yes, it's true we legalised cannabis to some extent. Sex workers are proper citizens, who pay taxes and get health services. But don't forget the word 'apartheid' is Dutch.' The Dutch in South Africa didn't turn out to be that tolerant. So one must remind oneself that, just as it's wicked to say all Germans are Nazis, so it's absurd to say that all Dutch people are liberal and charming. Humans are humans and that's the most important lesson any of us can learn."
It's also curious that we know so little about the Dutch Resistance movement itself. How can this be when the adventures of the French Resistance are so familiar they inspired a TV sitcom? Stephen has a theory about this too. "The insight I got was from the pandemic and the lockdown," he tells me.
"When one of the most extraordinary things that ever happened in our lives was over, we didn't want to talk about it. It's a human thing. You want the waters to cover over a trauma. My grandparents who fought in the war, or lost relatives as my Jewish family did, they didn't want to talk about it. The Dutch have their memorials and national days of remembrance, more perhaps than even the French, but there were too many dark stories, too much collaboration, not active but more 'passing by on the other side.'"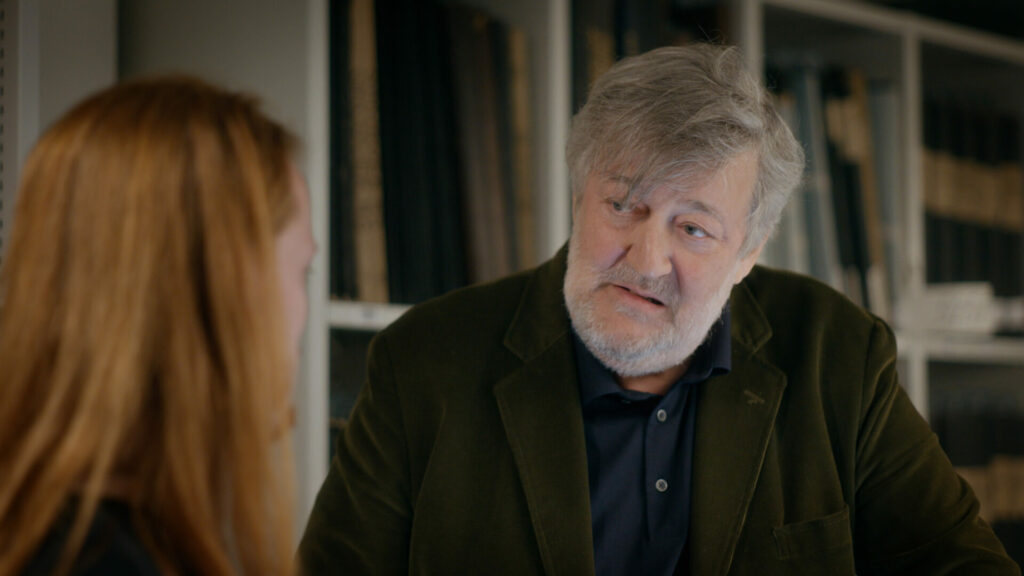 Billed as a "very personal" project for Stephen Fry, Willem & Frieda sometimes became almost unbearably personal for its presenter. At one point he visits a collector who displays some of the forged identity cards. But then he brings out one of the yellow stars Jews were forced to wear in Nazi-occupied territories.
"It was like an electric shock," Stephen recalls. "I didn't know he was going to give it to me and I still shudder when I remember touching it and not wanting to. It's such a simple thing, the star of David. It's there on the Israeli flag. But that yellow one made of fabric is such a kick to the gut. I can't tell you. It's like the opposite of a holy relic. It's pure evil."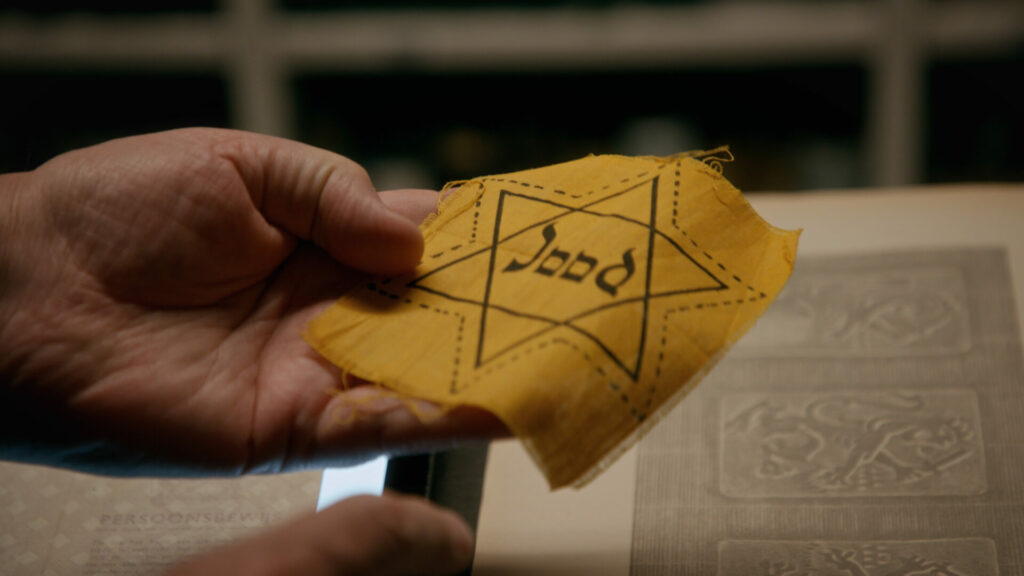 Stephen also visited Amsterdam's famous Homomonument, the first in the world to pay tribute to the gay men and lesbians murdered by the Nazis. "I rewarded myself with a bit of a sob when I stood there," Stephen admits, "because I thought of Willem and Frieda and I tried to imagine what they would think, how astonished they would be. Yes, it's taken a long time, it always takes too long, but nonetheless, it's really only a lifetime, in which [the Dutch] have gone from not allowing wreaths to celebrating. That's really important. Very often movements towards progress are like extracting teeth, but they do arrive and, when they do, it's better not to complain how long they took. Better to celebrate. You carry people with you that way."
Stephen Fry's film is also a celebration, essentially a celebration of man's love for his fellow man. How appropriate that we are discussing this on Valentine's Day. "Stephen Fry," I declare, "Will you be my Valentine?"
"Always and forever," Stephen replies, then reminds me of the presence of his husband in the next room.
Willem & Frieda: Defying the Nazis is on Channel 4 at 9pm on 2 March.
The theatrical version of Willem & Frieda is screened at BFI Flare: London LGBTQIA+ Film Festival on 24 and 25 March at BFI Southbank.