How Bimini Bon Boulash pulled themself out of 'dark places' and became a shining light for the queer community
The non-binary icon makes a rallying cry for LGBTQ unity in the Attitude Tea Time digital special, in association with TAIMI.
By Will Stroude
Words: Will Stroude
Bimini Bon Boulash may claim to hate using the word 'journey', but there's simply no way to avoid that old cliché when describing the 27-year-old east London queen's time on RuPaul's Drag Race UK series two.
When, in week one, Bim found themselves in the bottom two with seasoned Brighton cabaret star Joe Black (and with nothing but a pair of eight-inch platform heels and Norwich FC singlet for, ahem, support), viewers came perilously close to saying Bimini Bon ByeBye to a queen who would go on to become a series-defining star — and one who might just symbolise a new era of drag itself.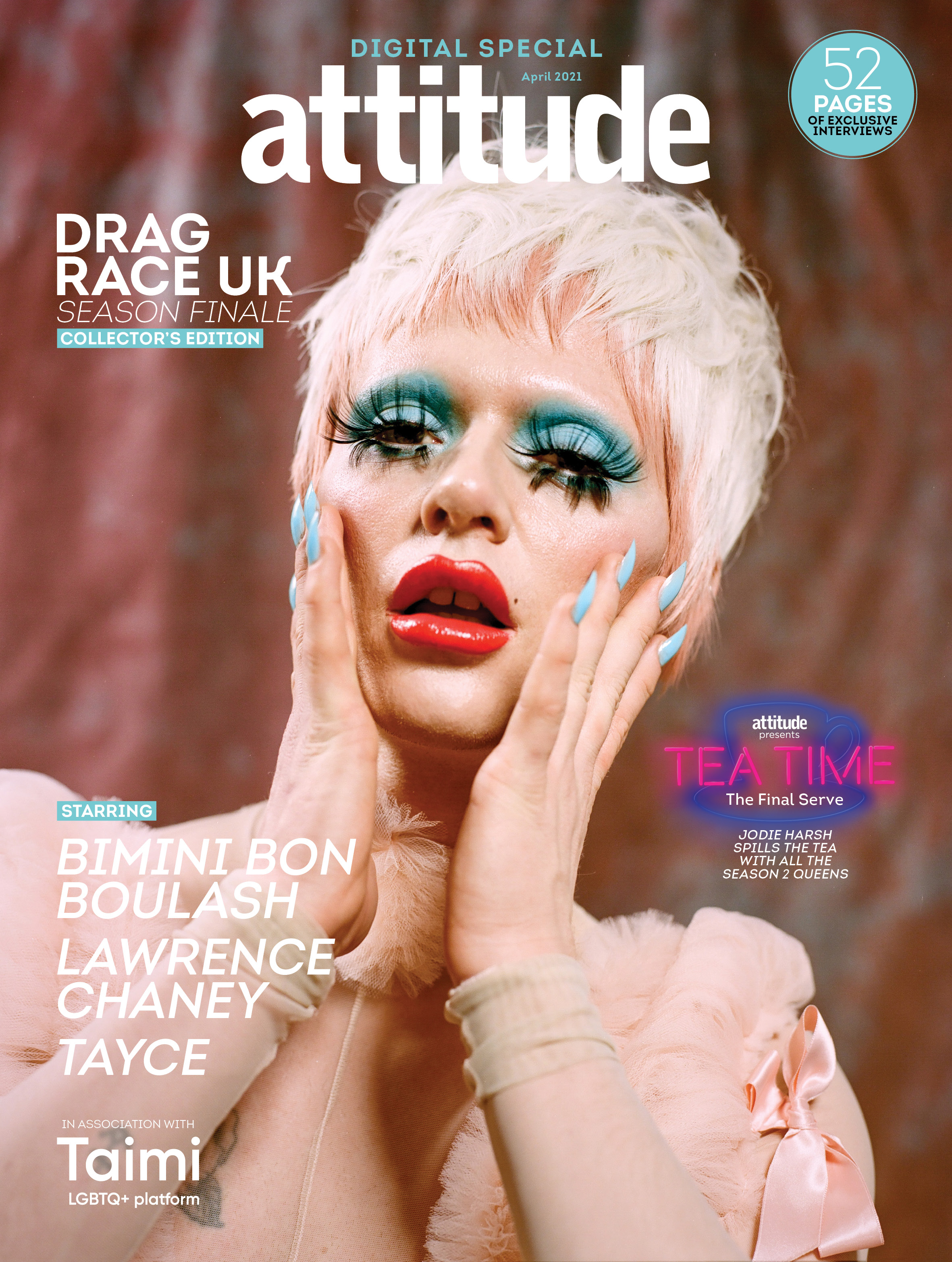 Bimini Bon Boulash wears full look by Pam Hogg (Styling by Joseph Kocharian; photography by Denelle + Tom Ellis)
The most heartening element of Bimini's popularity and ensuing success is just how organic it all feels: after growing up gay in the sleepy seaside town of Great Yarmouth, foregoing a career in journalism to pursue their passion for performing and going to "dark
places" after briefly losing their way among the hedonism of London's queer nightlife scene, Bimini's fiercely punk, positive, politically outspoken attitude has captured the zeitgeist and they have also been blessed with that rarest of abilities: the ability to inspire.
"I'll always say what I think. I've got my beliefs and I'm not saying you have to believe in them, but this is what I'm saying and if that changes certain people's minds or perceptions, I think that's only a positive", declares Bimini as they take to the cover of the Attitude Tea Time digital special in association with TAIMI – free to download when you subscribe to the Attitude mobile and tablet edition (30% off for a limited time only), and available to download individually for £1.99 here.
"We're in such a weird time politically: there's no room for honest conversation, it's either debates that end up angry or there is no authentic experience being discussed."
Bimini's candour about their non-binary identity during their time on Drag Race won them legions of fans, but it remains a sad fact that hostility towards trans and non-binary people can still come from within other parts of the LGBTQ community itself.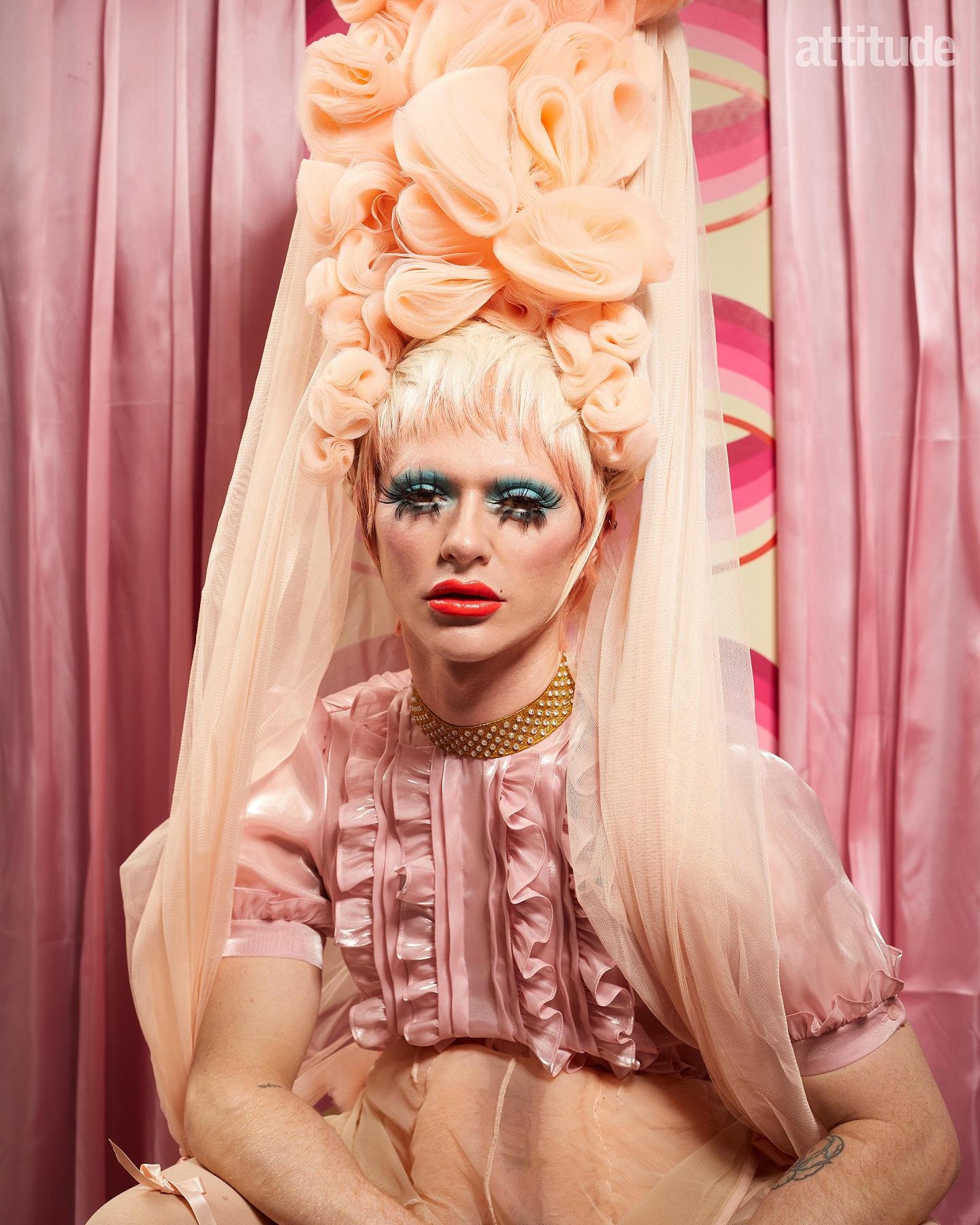 Bimini wears top by Miu Miu; headdress by Pam Hogg (Styling by Joseph Kocharian; photography by Denelle + Tom Ellis)
Bimini, who says they've "absolutely" been on the receiving end of ignorance and prejudice from gay men over the years, says queer people have reached a pivotal moment where unity and collective strength are required more than ever.
"I think as queer people we've been subjected to so much hostility that I think people — without maybe even realising — get down on others", they reflect. "I think it's very much that mentality where people ignore other people's life experiences.
"For gay men, it's not necessarily that they've had it easier, but it's been easier than it has for a lot of other minorities within the same community.
"What's important is that we should be uplifting everyone's voices and not segregating – when that's happened, it's created more issues. When straight people see that gay men don't accept trans people or don't accept femme or non-binary [people], then it just gives them more ammunition to not accept it."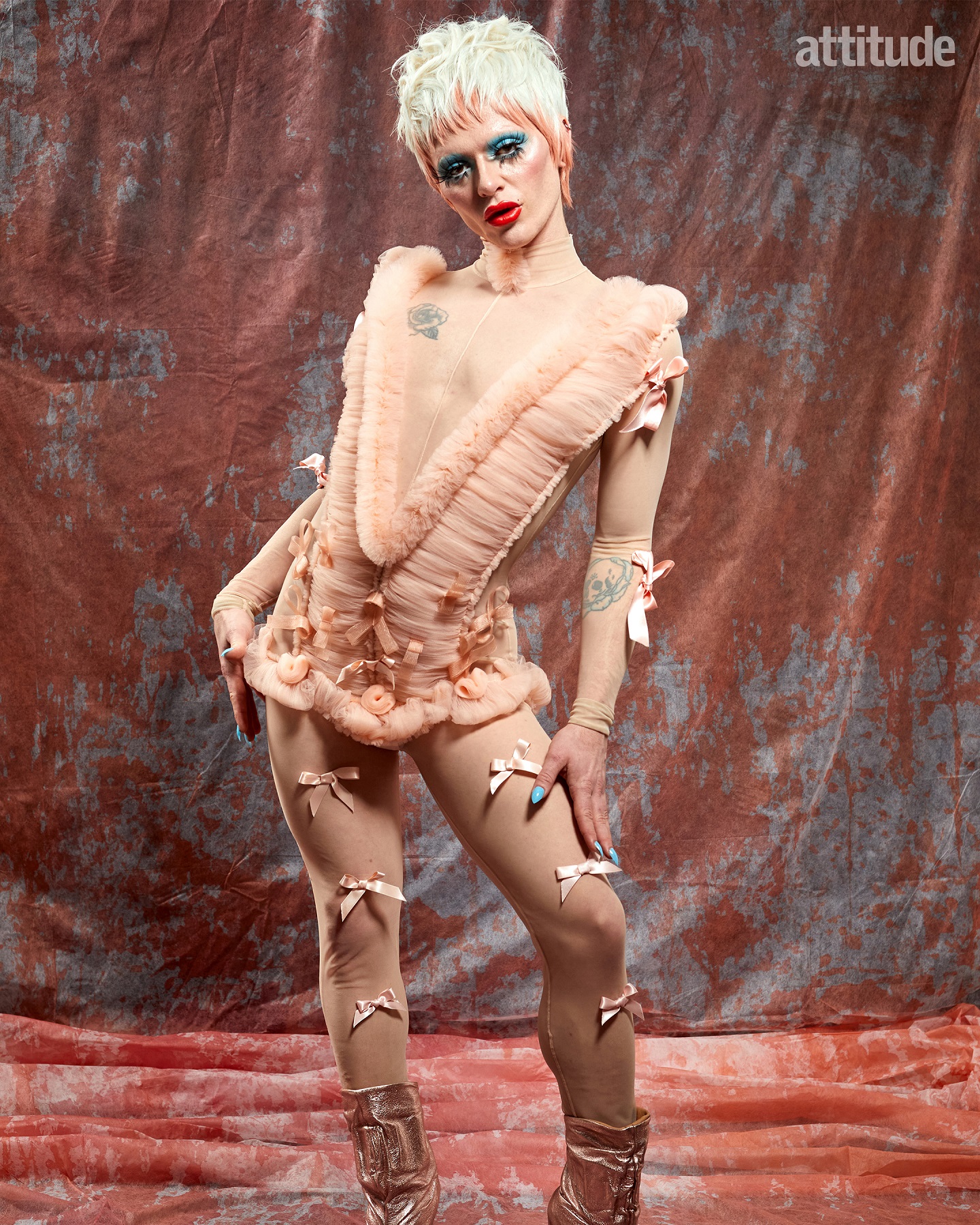 Bimini Bon Boulash wears full look by Pam Hogg (Styling by Joseph Kocharian; photography by Denelle + Tom Ellis)
Norfolk-born Bimini adds: "To me, we have so much more to fight [against], and that kind of discrimination within the community is just disgusting."
Despite their sunny demeanour earning them a permanent place in the hearts of Drag Racer UK viewers, Bimini has overcome their fair share of stormy life waters, including drug use that began to dim their light both personally and professionally before they decided to take charge of their destiny and pull themself back from the brink.
"I was a smalltown kid moving to the big city, going out partying, seeing things that I'd never seen before, and I just got caught up in it", recalls Bimini. "For me, I always feel like I'm all or nothing. There was a moment where I just felt, I can't do this anymore, and I just completely stopped.
"It was great – I went travelling, came back to London and that's when I pursued drag."
Casting light on the darker side of the LGBTQ experience, Bimini muses: "The queer scene is great – it really, really is – but a lot of queer people have been through stuff. It's not often you speak to someone who hasn't been subjected to things during their life.
"I always say that it's like you're chipping away at your soul for any bad experience, any name you were called, anything that's made you feel like you were an outsider, and sometimes you just need to let go.
"I think a lot of the time we find people within our community and we party and we drink and we dance and we have fun, but you can get caught up in it very easily."
They continue: "Look, I went to dark places I didn't think I was going to get out of, but I managed to. It takes work, it's not easy, and sometimes taking a pill might be easier. But I think it's all about finding that balance and finding out what you want and who you are – and knowing that there are better avenues for you if you are getting caught up in that."
They add: "Every life experience I've had has got me to this point and I'm just grateful to be here. I'm very lucky I'm here to continue to do what I want to do."
The Attitude Tea Time digital special in association with TAIMI is out now.

Download it now for just £1.99.