Timothée Chalamet transforms into Troye Sivan for very silly SNL sketch
Boygenius also got involved…
Timothée Chalamet has channelled his inner Australian (with an American accent) pop star by dressing up as Troye Sivan for a sketch on Saturday Night Live.
The Dune actor was on-hand to host Saturday's (11 November) instalment, and it's his very cheeky skit which takes most memorable moment.
Alongside Bowen Yang and Sarah Sherman, Chalamet takes the role of a sleep paralysis demon, who is being seen by Sherman's character.
Yang desperately asks Sherman to describe the dance she sees from the mystery figure, as he quickly scribbles down some notes.
"He's gay-famous, it's different!"
"I'm an Australian YouTube twink turned indie-pop star and model turned HBO actor Troye Sivan, being played by an American actor who can't do an Australian accent," Chalamet confirms
He's dressed in a white tank top, blue striped baggy trousers, and blonde wig – and later reveals his red underwear.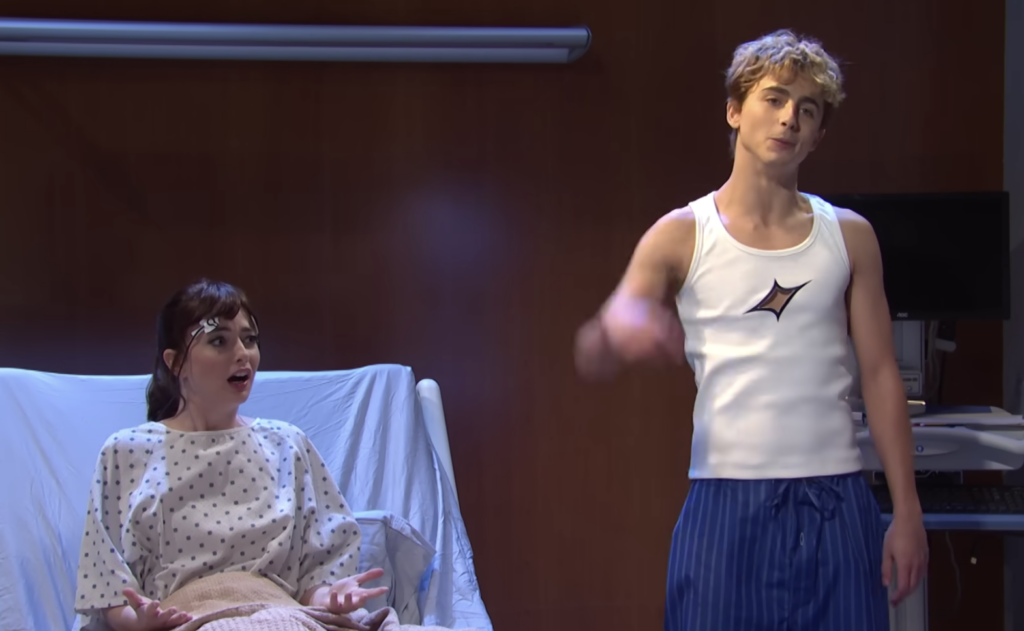 The actor then proceeds to launch into the choreography for latest hit 'Get Me Started', as the patient continues to try to explain what's happening.
When he realises it's Sivan who the woman can see, there's quite a bit of panic from the doctor.
"But isn't he kind of famous?" Sherman asks, which Lang snaps: "He's gay-famous, it's different!"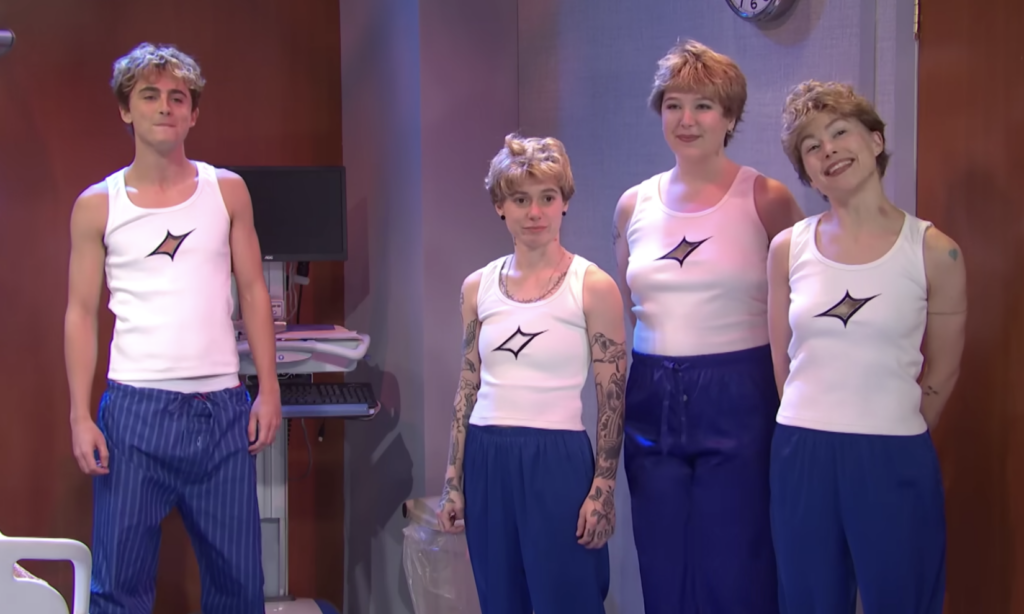 To everyone's delight, Boygenius later end up getting involved, dressed in identical outfits to Chalamet.
"Come on Troyes, get your tiny t-shirts and big pants, let's get into this women's subconscious," Chalamet says.
The trio, made up of Phoebe Bridgers, Lucy Dacus and Julien Baker, then emerge out of thin air.
"Let's give this straight woman what she wants," says Dacus, with Baker adding: "Our tiny little red undies."
All cast members then proceed to dance to the track once more. They then flash their underwear to the camera as the skit comes to an end.
Sivan has since reacted to the segment on TikTok, sharing: "The only way that I can describe this is, it's like a weird f***ing dream.
"I'm like, okay, Timothée Chalamet was in my dream, but he was me and he was wearing my clothes…"