Right, first things first…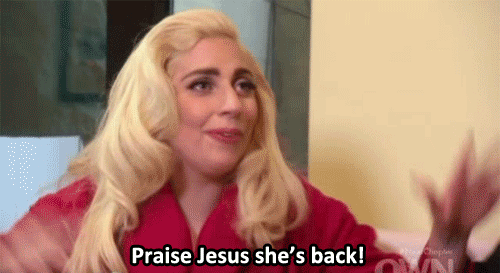 Lady Gaga unveiled the video for her long-awaited pop comeback single 'Perfect Illusion' last night, and it's rather different from the outlandish conceptual work we're used to from Mother Monster.
With iconic looks, madcap plots and occasional dollops of controversy, Gaga's music videos have cemented her stratus as the biggest pop culture icon of the last decade – and to celebrate a new addition into the family (or to mourn the departure of the Gaga of yore, depending on your viewpoint), we're ranking Stefani Joanne Angelina Germanotta's greatest visual achievements, along with a few facts you may not already know…
10) 'Applause' (2013)
Total Vevo views: 264 million+
Mother Monster shows her teeth (and pretty much everything else) in another epic reinvention of herself in the video for the lead single of fourth album ARTPOP.
Channelling her inner Aphrodite, she poses and writhes announcing the birth of a new, bursting-with-colour era (it's hard to not look like a victim of a paintbrush massacre at times, but we think it works). She becomes a goose, a circus ring leader and a supermodel all in the space of four minutes.
Did you know? In a series of tweets upon release of the single, Gaga described Applause as a reminder that her fans are at the core of her work. "I live for the Applause," she wrote, "to know I've spread that. I live to hear you cheer, to just be a part of that."
9) 'Marry the Night' (2011)
Total Vevo views: 73 million+
The opening song on Gaga's second studio album Born This Way is the singer's longest and perhaps most autobiographical music video to date.
At almost 14-minutes long the film nods to her pre-fame days as she struggles with rejection and decides she has to succeed as a star because she "has nothing else to lose".
Giving an insight into directoral choices she's made in terms of fashion, an injured Gaga is seen recovering in a hospital before we're given a dance scene in a New York Studio that could easily rival Madonna's 'Hung Up'.
Did you know? Gaga describes the inspiration of the video as a real life story, following the events of being dropped from record label Def Jam before being signed to Interscope. We can only imagine how much embarrassed the person who dropped her feels; although by now, they've probably perfected their Poker Face.
8) 'Yoü and I' (2011)
Total Vevo Views: 102 million+
The concept of the video being Gaga's journey to find her loved one, it's this video where it's rumoured that she and Taylor (Kinney, her ex-fiancé) first met, and subsequently fell in love (awww).
However, this now may be our only chance to see him put a ring on her finger due to their recent break-up.
Heart-eyes inducing scenes of him splashing mermaid Gaga with water in a bathtub (before throwing it over himself), along with a pre-'Timber' barn dance and the video-debut of alter-ego Jo Calderone place this firmly at number eight. How does it get better, you ask?!
Did you know? 'You And I' marks the video debut of GaGa's alter-ego 'Jo Calderone', who made his first live appearance at the 2011 MTV VMA's. Begun as an experiment to push the boundaries of fame and celebrity, Jo has since appeared on Vogue Hommes Japan and in art exhibitions, however has been remaining low-key for quite some time now. Could we see him make an appearance during the Joanne campaign?
7) 'Just Dance' (2008)
Total Vevo views: 204 million+
Why it deserves to be in our Top 10: It's not as 'out-there' or lengthy as many of her music videos (and yes, it features a cameo from Akon) but 'Just Dance' still marks the beginning of an era that revolutionised what it meant to be a pop star, and represents so much more than simply a US 8x Platinum-selling single.
Now getting on for a decade old (has it really been that long?), the video treats us to Gaga finding her way through a dark house whilst managing to dance on the sofa and pour champagne on the floor, grind on an inflatable whale outside and all-in-all reinvent the house party.
Did you know? This is the night that inspired Kesha's hit debut single 'Tik Tok'. Probably, we're not too sure on that, but it sounds about right… right?
6) 'Born This Way (2011)
Total Vevo views: 187 million+
The 'Manifesto of Mother Monster' shows not one but TWO Gagas (squeal!); one pure and benevolent and one bad to the bone.
Already an outspoken LGBT ally, Gaga channelled her inner gay for a video of pink triangles, unicorns and almost-naked perfection as she performs an LGBT anthem which has given us such iconic lyrics as "Don't be a drag, just be a queen" and "rejoice and love yourself today, 'cause baby you were born this way".
Prosthetic shoulders and cheekbones, watching Gaga give birth to heads, and an AK-47, what else could we want from a music video?
Did you know? The video features 'Zombie Boy' Rick Genest who famously has most of his body covered in corpse-like tattoos, which Gaga mirrors in the video while donning a bubblegum pink ponytail wig.
Since appearing in the video Genest has gone on to have a doll made of him by the San Diego Comic Con, become the first ever male spokesperson for L'Oreal and starred alongside Keanu Reeves in Samurai-flick 'Ronin 47'.
Looks like he's getting that Money, Honey.
5) 'G.U.Y. – An ARTPOP Film' (2014)
Total Vevo views (including 'G.U.Y.'-only version): 124 million+
This 12-minute long video epic The video followed the mysterious loss of the controversial, Terry Richardson-directed video for ARTPOP's second single 'Do What U Want' featuring R Kelly, – which despite various parts 'leaking' has to this day never officially surfaced – and consists of not one, but FOUR songs from ARTPOP.
One of the most eagerly-anticipated of her career, it sees cameos from the Real Housewives of Beverly Hills playing string instruments while lip-syncing 'Venus' to a Greek-style reincarnation of Gaga beaten by the corporations to reveal a slicked, simpler and fiercer-than-ever goddess.
That, couple with synchronised swimming, a Michael Jackson cameo (almost), and Gaga wearing nothing but jeans and a platinum blond wig tussling with a topless dancer before taking her revenge on the businessmen, all worked to make 'G.U.Y.' a total ride from start to finish – and you can listen to 'MANiCURE' while the credits roll.
Did you know? The title stands for Girl Underneath You, while the track was co-produced by Gaga herself with Zedd.
4) 'Alejandro' (2010)
Total Vevo views: 277+ million
In the video for the second single from what is oft-considered Gaga's best album to date, The Fame Monster – which catapulted her into the world's most influential superstars among the likes of Beyonce and Rihanna – a gun-bra is far from the most interesting part of this feature.
Featuring frolicking on beds with men who wear nothing but rope, tight black undies and six-inch heels, swallowing roseary beads (at least, we're hope they're for praying!) while a red-PVC Nun and hosting a funeral for a deceased Aex-lover while her tomboy British policeman watches anxiously from the bed, 'Alejandro' came at a point when buzz surrounding Gaga was at fever pitch, and inspired multiple re-watches as fans pored over her latest output.
As Joanna the Scammer would yell at Alicia Keys: Iconic.
Did you know? Every song on The Fame Monster represents the fear of "some monster". 'Alejandro' was influenced by and gives nods to the 'sex monster', and has been described by Gaga as a "celebration and admiration of gay love", and the "envy and courage of the bravery [gay people] require to be together".
3) 'Paparazzi' (2009)
Total Vevo views: 166 million+
Featuring True Blood's Alexander Skarsgård way before his coma-inducing, give-us-a-paper-bag role as Tarzan earlier this year, Gaga's 'Paparazzi' video was the first video fully immersed in Gaga's madcap creative energy, and marked the first instalment of the yet to be completed 'Telerazzi' trilogy (which Gaga recently discussed again during a chat about her plans for 'Joanne').
A dark exploration of the pleasure, pressure and pain of fame, 'Paparazzi' tackles Gaga's often contradictory attitude to fame and celebrtiy, envisioning a world with 'United States of Gaga' money (yes please!) and satirising celebrity culture with a string of victims, including a maid who has seemed to choke on molten gold.
With the initial quirks of 'Just Dance' and 'Poker Face' amplified by 1000x, Gaga as we now know her was born.
Did you know: Gaga's performance of the song at the 2009 MTV VMA Awards, in which she infamously appeared to hang her own blood-covered corpse on stage, featured the original set that had bee used in the video.
2) 'Telephone' (2010)
Total Vevo views: 259 million+
Beyoncé. Oh, we need to give you more reasons? Err, okay.
As well as being a 9-minute-long double-barrelled epic set in prison (three years before Orange Is The New Black made jail 'trendy' guys), the second part of the 'Telerazzi' trilogy – once again directed by Jonas Akerlund – references Kill Bill, Thelma and Louise and features cameos from Gagas own sister as a rather familiar-looking fellow jailbird.
Surrounded by victims, Gaga and Beyoncé's diner dance routine scene quickly become one of the most iconic video images of the 21st century, and along with some yellow Caution tape and cinematic asides – "Trust is like a mirror. You can fix it if it's broken, but you can still see the crack in the motherf***er's reflection" – a music video classic was born.
Did you know: The security footage in 'Telephone' reads 'February 11th 2010' which is the date the late designer, Gaga's good friend and Attitude award-winner Alexander McQueen's body was discovered at his home in London. McQueen and Gaga famously teamed up to create looks for another of Gaga's most iconic videos…
1) 'Bad Romance' (2009)
Total Vevo views: 730 million+
Here it is. Of course, is the deliciously sinful and sultry 'Bad Romance', the song that saw Lady Gaga officially drive a stake through the heart of her former bubblegum-pop self and usher in The Fame Monster, an album that would go on to score too many global number ones to count and place her on the throne of pop royalty forever.
Paying homage to the late Michael Jackson with her 'Thriller'-esque 'paws-up' dance routine, Gaga collaborated with friend and designer Alexander McQueen for the video, making 'Bad Romance' one of the legendary gay creative's last major projects before his untimely death the following year.
Dresses, crowns and those Armadillo heels illuminate the pair's friendship and creative vision in another magnetic comment on fame, with Gaga flaunting a Britney's 'Toxic'-inspired diamond-studded skimpy outfit in front of sinister men bidding on her before setting fire to the leader in his bed, (of course).
Did you know: Produced and written with long-time collaborate RedOne, Bad Romance serves as the 'love monster' exploration of The Fame Monster album. The song was featured in TIME Magazine's Top 100 songs since the magazine was first published in 1923, and was released just in time for Halloween 2009 – but you already know exactly where you were when you first heard it, don't you?
Check out the brand new video for Lady Gaga's 'Perfect Illusion' below:
More stories:
9 reasons RuPaul's Drag Race wouldn't be the same without Michelle Visage
Man leaves TripAdvisor review complaining about the amount of gay couples in Gran Canaria