Foundation star Dino Fetscher: 'We need to raise queer actors up'
Exclusive: "It's really important for young queer kids to see a queer character and then to find out that actor is queer in real life"
By Gary Grimes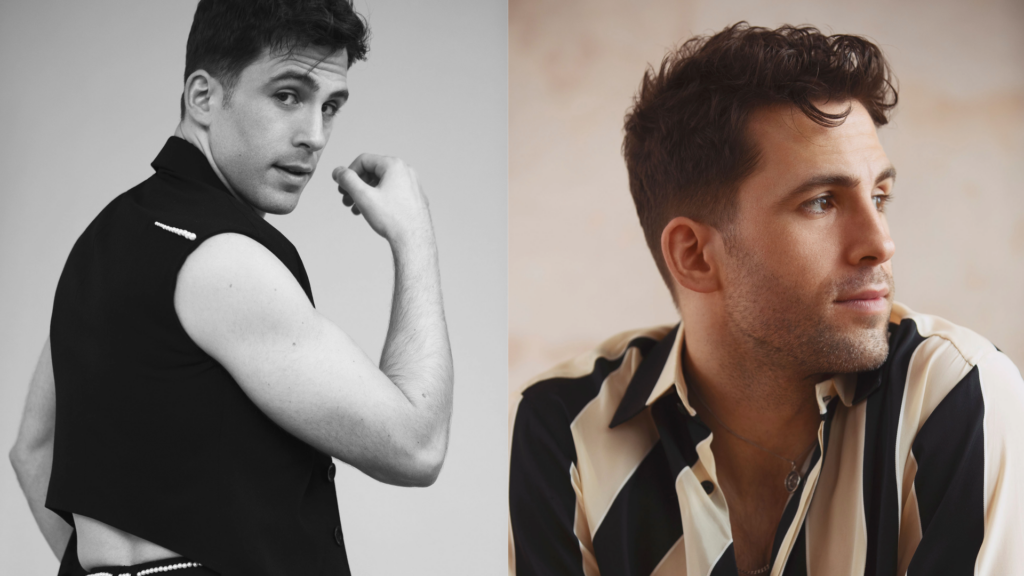 When Dino Fetscher was crowned Mr Gay UK in the Ritz Manchester in 2008, he was just a 19-year-old student with ambitions to become an actor. Fast-forward 15 years and he is preparing for the release of the second season of Foundation, Apple TV+'s epic, intergalactic sci-fi drama, loosely based on the books by Isaac Asimov.
The actor joins the series in its sophomore season as Glawen Kerr, husband of General Bel Riose, played by Ben Daniels (who Fetscher also shared the stage with in the 2021 National Theatre production of Larry Kramer's The Normal Heart). When we are first introduced to them, the couple have been separated for years, with Bel believing Glawen to be dead, and their emotional reunion serves as a cornerstone moment in the high-octane series.
Although the characters face a multitude of challenges in the Foundation universe, their queerness and love for each other is not one of them. "It was so refreshing that our characters' sexualities were just incidental," says Fetscher, speaking from his south London home. He is relaxed and chatty as he discusses his high-profile role in one of Apple TV+'s buzziest shows and arguably the most lauded sci-fi series of recent years. "It wasn't the event; the event was everything we had to accomplish, the conflicts around empire, our reuniting, and the trauma of everything that happened."
Contrast to The Normal Heart
In this way, the project is a stark contrast to Fetscher's role in The Normal Heart, a seminal queer play set in 80s New York at the height of the AIDS epidemic. "So much of everything that happened in that play was because of the social acceptance of homosexuality in the States at the time," he explains. "And about having to be closeted and what that meant in the context of being a journalist for the New York Times, for being in a relationship, the stigma attached to the AIDS pandemic and to being gay."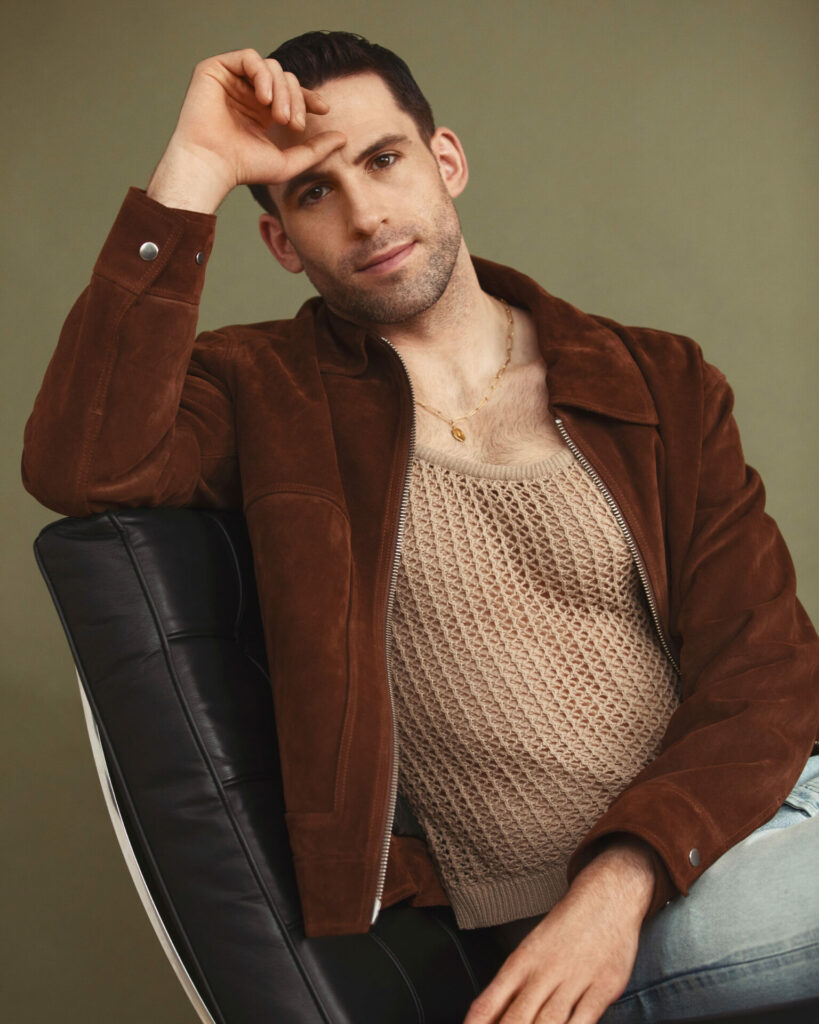 Returning to his part in Foundation, he says, "I've played a lot of queer roles so, when approaching Glawen, it was really curious for that not to be something I had to dig into. In this world, sexuality is very different. It's just the same as you have blue eyes and I have brown eyes. In lots of ways, it's really inspiring because it's not so far in the future. That's where I hope we get to," he elaborates excitedly. "There's a whole plethora of other shit going on in this world, but at least they got that right!" says Fetscher.
Upcoming Netflix crime thriller
And it would seem the actor has plenty more to be excited about. In addition to Foundation, Fetscher will feature in a Netflix crime thriller entitled Fool Me Once, based on the 2016 novel of the same name, opposite Joanna Lumley and Michelle Keegan. When we speak, he has just returned from filming it in Manchester. He'll also be seen in Good Boy, an upcoming short film with Ben Whishaw and Marion Bailey.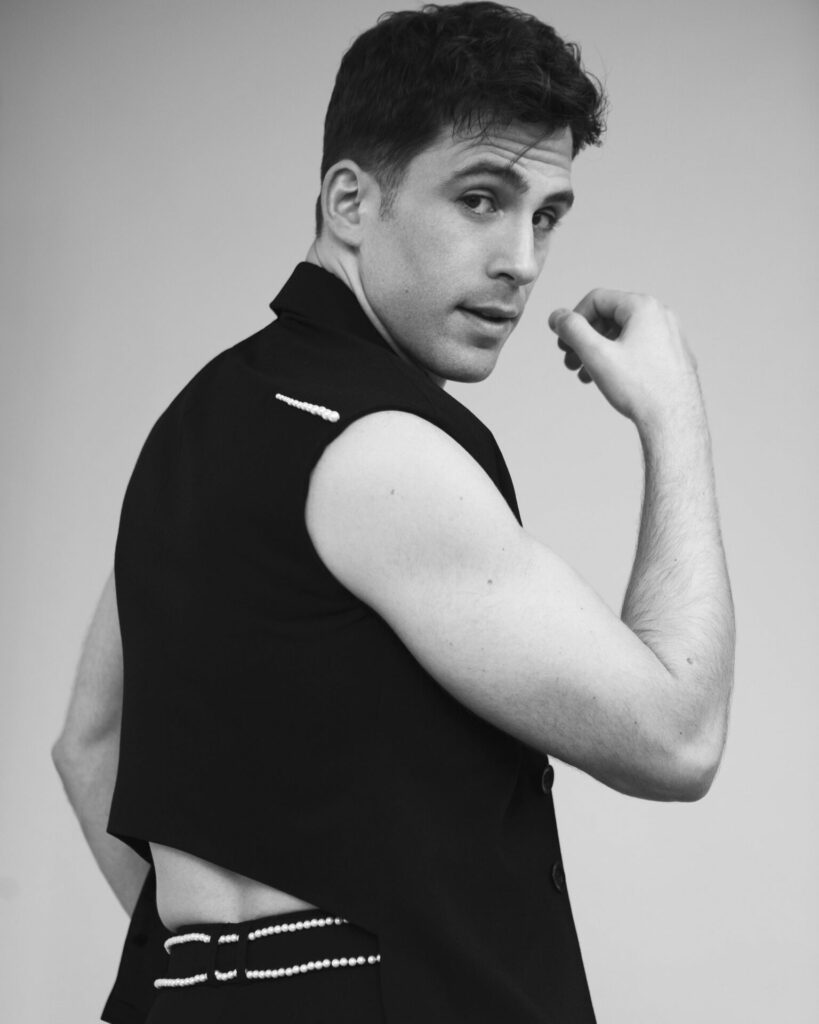 It's no surprise he's in demand. Fetscher has accumulated an impressive CV of credits in some of the most critically acclaimed queer television of the past decade, including turns in Years & Years as Russell Tovey's scorned husband, and in Sally Wainwright's Gentleman Jack. Many television fans will have been first introduced to him in Russell T Davies' 2013 anthology series Banana, where he played fresh-faced fuckboy Aiden in an episode which tackled the toxicity of the gay dating scene and the 'no fats, no femmes' culture of Grindr. The role was Fetscher's television debut, and it is a project he recalls with great fondness.
"Russell's script was just so colourful"
"It was such a great job. Russell's script was just so colourful, so nuanced, and so well-observed," says the actor. "I really love work that makes you think and reflect, and I think our episode really does that because it's kind of horrible in lots of ways, but I think there's a lot of truth in there as well. Sometimes we can shy away or want to sugar-coat things, but it's definitely an aspect of the gay scene, that kind of transactional-ness, how a lot of it's based on looks. It was really interesting for me to delve into that and figure out my perspective on it because it's something I've certainly experienced in my life."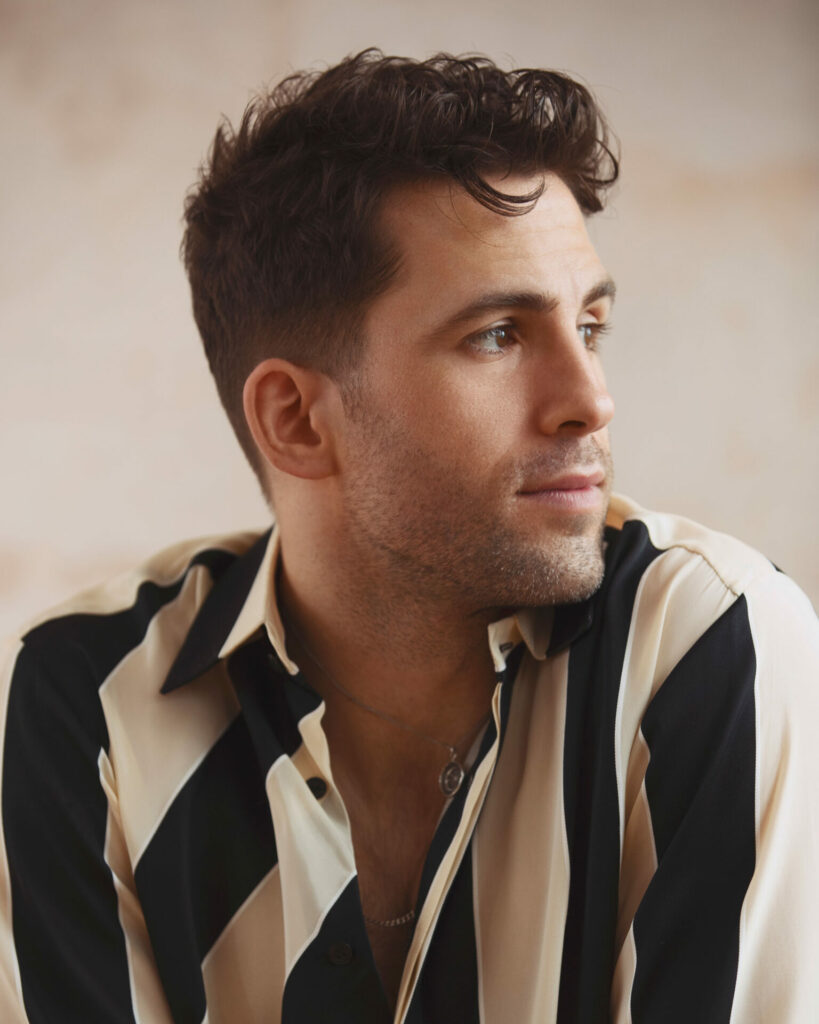 After appearing on Banana, Fetscher forged a friendship with Davies, who is returning to Doctor Who this year to take the helm once again, having last served as showrunner in 2010. The upcoming series is particularly highly anticipated thanks in part to Davies' casting of Ncuti Gatwa as the titular Time Lord. The decision has attracted an enormous amount of attention as Gatwa will be the first Doctor of colour, a prospect which hugely excites Fetscher. "I think it's brilliant," he posits. "I think Ncuti's going to be brilliant, and I love how Russell writes and tells stories. He's become a good friend of mine and I know how much he loves Doctor Who, so I just know he's going to put his entire heart and soul into it. I'm really excited to see it."
"When I read what happened to Kit, I just really felt for him"
In addition to naysayers who disagree with the Doctor Who casting decision, Gatwa has also recently attracted criticism following an interview in the Pride issue of British Vogue in which he explained the reasoning behind his refusal to publicly state his sexual preferences. The interview came in the wake of last year's "queerbaiting" incident where fans reacting to Heartstopper's Kit Connor's ambiguity about his sexuality resulted in the teen actor revealing on Twitter that he was bisexual.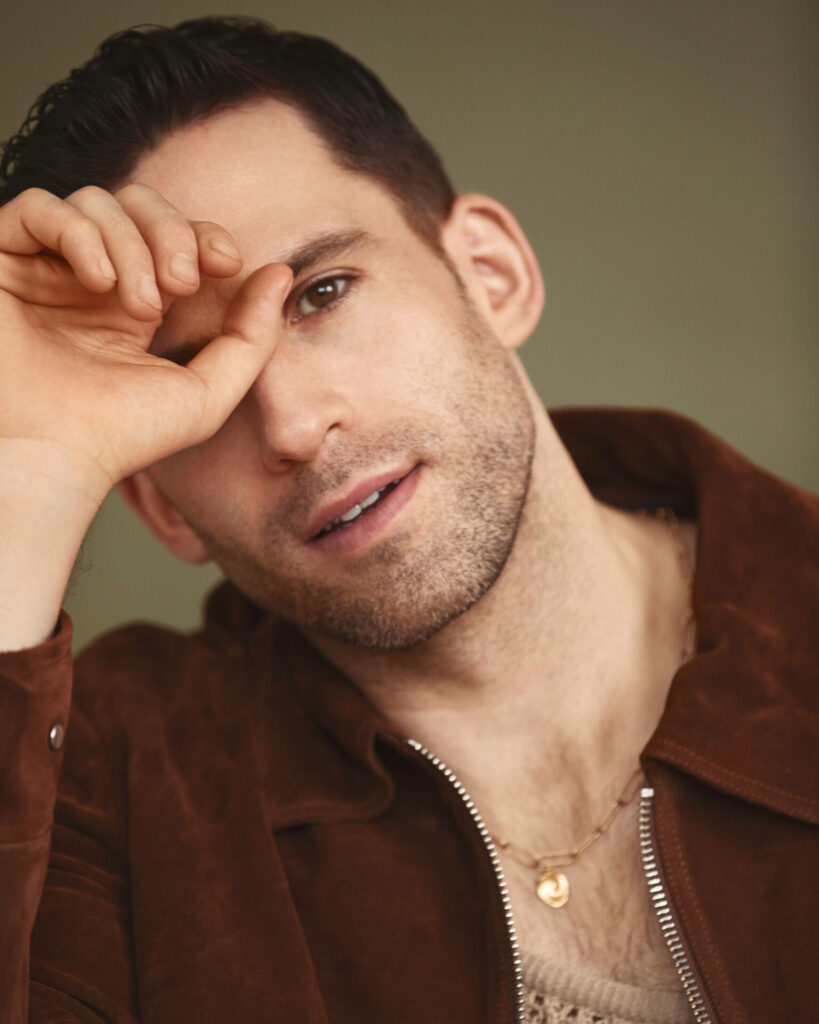 Fetscher, who has been publicly gay since the beginning of his career, had great empathy for Connor throughout the ordeal. "When I read what happened to Kit, I just really felt for him because I remember when I was coming out and how traumatic it is," he says. "I understand where it comes from, in terms of our community, because we've had so many years of having to be hidden or not being able to have that authentic representation in TV and film, but I think it's gone too far the other way, in these occasions where someone is outed before they're ready. It's a really traumatic act and it's really unhealthy."
LGBTQ+ representation on screen
On the topic of LGBTQ+ representation on screen, Fetscher believes that casting directors ought to make a concerted effort to cast queer actors in queer roles wherever possible. "It's really important for young queer kids to see a queer character and then to find out that actor is queer in real life. It's really empowering. Or for a trans kid to see a trans actor playing a trans role, and then they might be able to look up to them; those things are really powerful."
However, he also acknowledged that inevitably there will be instances in which a non-queer actor is the most logical person for the role and spoke about how they might best approach taking such a gig. "I think for the actors who aren't queer playing queer roles, there's certainly a respect that needs to be had there, and an understanding and a sensitivity around it.
"It's not possible all the time. It's really not," says Fetscher. "I did Gentleman Jack with Suranne Jones who so brilliantly played Anne Lister. She treated it with such respect and reverence. But there were lots of queer actors within that cast. So, I think there's also a matter of balancing it out."
"We need to raise queer actors up"
Fetscher adds that the so-called need to have an established star attached to the project is not sufficient justification for casting a straight person in a queer role. "The argument of, 'Yeah, but we need a big name for this,' it's like 'Well, help the queer actors become the big names,'" he says. "We need to raise queer actors up, so they have a profile and the platform to be able to do those things."
But overall, Fetscher feels optimistic about the state of play for queer actors in the industry. "We've just spent how many decades having to live closeted, exhausted lives of keeping secrets, and now we're able to be out," he laments. "We're in a place where there are roles for us that are nuanced, finally. Roles that aren't just stereotypical or rehashing the same storylines, they're becoming much more detailed and exciting."
The second season of Foundation is available to stream now on Apple TV+, with new episodes dropping every Friday
This interview was carried out before the SAG-AFTRA strike began