Alexander Skarsgård gets steamy with Jonathan Ross and talks tucking – WATCH
By Will Stroude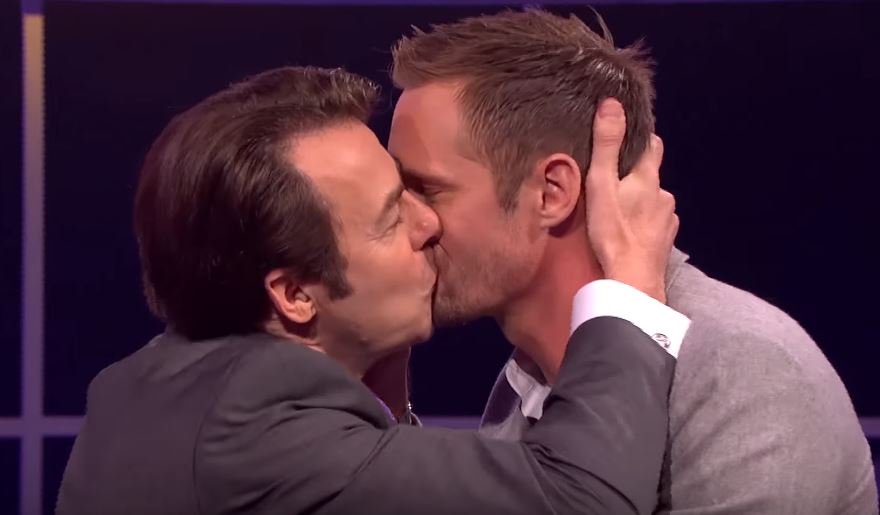 Jonathan Ross might be married with children, but that hasn't stopped the chat show king developing a small penchant for kissing guys over the years. Now, he's added Alexander Skarsgård to his illustrious list of male makeup buddies – other notable alumni of Ross' mouth include Ewan McGregor and John Barrowman.
Skarsgård's best known for swinging from jungle vines in as little clothing as a PG-13 rating will allow in The Legend Of Tarzan (check out the very shirtless trailer here). But during his appearance on the show, he chatted about a very different role: his drag persona, Lady Libido, who he appeared as for the 2015 premiere of Diary Of A Teenage Girl.
He revealed that it was "torture" to get dragged up for the event. He also revealed that he did indeed tuck – what a trooper – but his manhood isn't "very big so it's easy."
Prior to Skarsgård's interview, Britney Spears and Ross played a game of "Spears Pong," which saw the pair competing to give each other dares. Ms. Spears was lucky enough to kiss Skarsgård.
During a game of 'Spears Pong', where Jonathan and guest Britney Spears competed to give each other pre-determined forfeits, the pop star had to kiss Alexander – which we're sure you'll agree isn't much of a 'forfeit' at all.
But determined to not miss out on the action, Ross went in for the kill during his interview with The Legend of Tarzan star. And you can watch the moment below:
More stories:
Watch the trailer for stunning new coming-of-age film 'Moonlight'
These two newly-married grooms are serious first dance goals – WATCH