Britney Spears pranks Jimmy Kimmel with group of semi-naked dancers – WATCH
By Will Stroude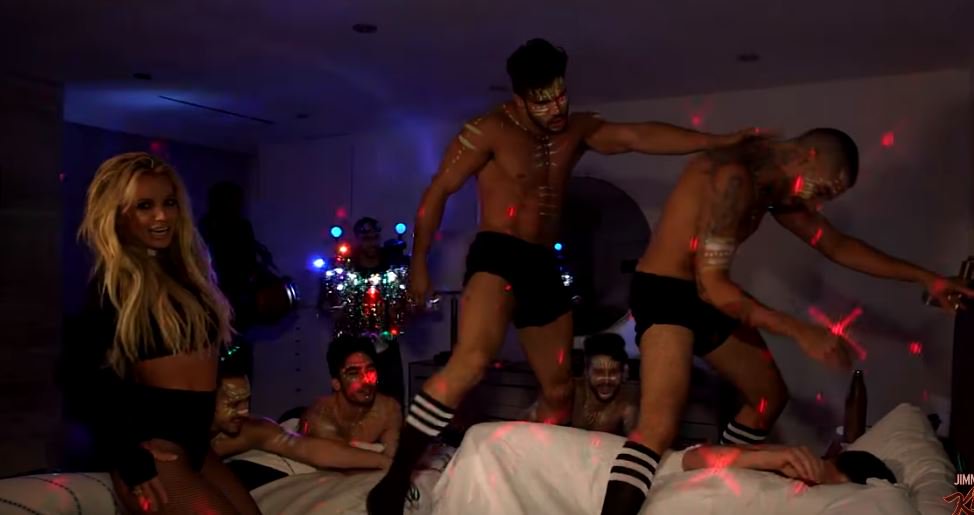 Jimmy Kimmel is now the envy of every gay man's ultimate dream: Britney. Sexy, half-naked male dancers. Neon-filled bedroom rave.
Ahead of the release of recently-announced ninth studio album Glory later this month Britney has taken a new, fabulous way of promoting her musical comeback.
Following in Rihanna's footsteps (quite literally), Britney sneaks up the stairs to Kimmel's bedroom with an entourage of sleek, muscled dancing boys in short-shorts and a guy bedecked in tinsel and disco lights to complete the bedroom rave experience.
Kimmel looks dumbfounded as he wakes up to find the princess of pop lying next to him and a room lit-up with slut-dropping dancers, two of which begin gyrating in his face.
The whole affair is done all in good fun, with Kimmel's wife in on the act.
If this is only the promo, we can't wait for what the album holds in store for us.
Watch the video here:
Words: Mark Richards
More stories:
Meet the out and proud gay men representing their country at the Rio Olympic Games
Carly Rae Jepsen talks new music, Brighton Pride, and why she's become the queen of f**king everything