DEAF IDENTITY's Luke Christian is forging his own path
The fashion brand founder has been honoured at the Attitude Pride Awards 2023, in association with Magnum.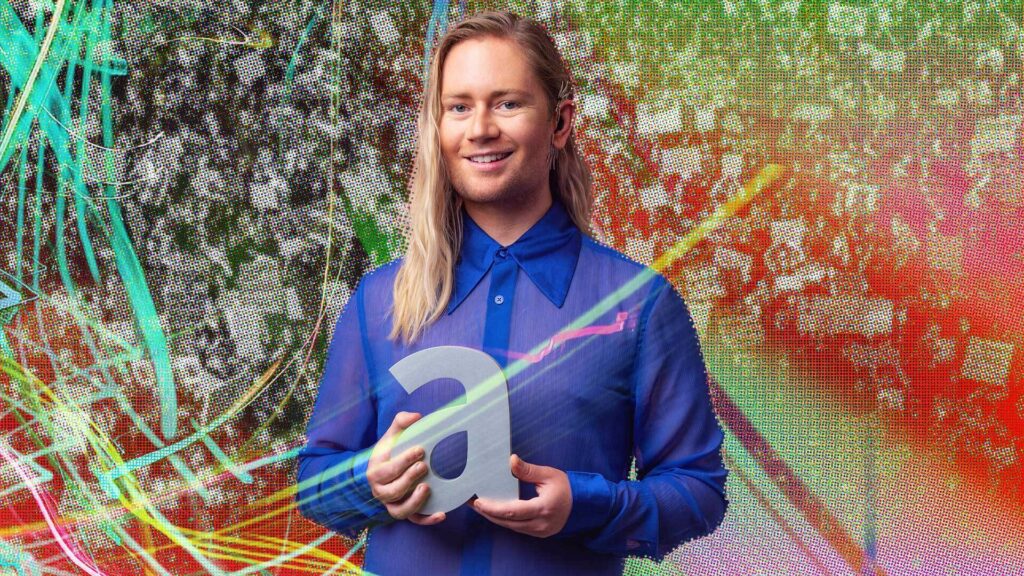 "You don't sound deaf." "How can you be deaf if you can't even sign?" "Turn your hearing aids up! I can't be bothered to repeat myself again." "Never mind – it doesn't matter."
These are just some of the microaggressions fashion-brand founder Luke Christian had to deal with growing up, causing him to struggle with his deafness. "But as I've got older, I've realised it's not about trying to fit in," he reflects. "It's about paving my own path, embracing who I am. Showing other deaf people there's no right or wrong way of being deaf."
That said, he continues to experience discrimination at the age of 29, including, shockingly, from other LGBTQ+s, on the dating scene.
"Dating as a deaf, gay man has certainly not been easy," he explains. "I've been blocked straight away on apps when they have found out I'm deaf; told they're not looking to date someone with 'special needs; had people turn away from me in gay bars and clubs when l've approached them because they've noticed my hearing aids.
"I've been blocked straight away on apps when they have found out I'm deaf"
"Some have seen me being deaf as a 'fetish' and have a weird kink with it… Others have told me they feel the need to 'take care of me' because I'm deaf, to 'wrap me up and protect me. Which always made me feel as though they see me as less than them. I tell myself, 'It's their loss!'"
That said, Luke's journey to self-acceptance as queer was straightforward. "I feel I've always been 'out'," he explains. "My friends knew before I did. But I 'officially* came out when I was 15 to my friends and sister: I was 16 when I told my parents. My family were at first surprised – I mean, my idol was Britney, so I can't imagine why – but a few months after I came out, they told me that they were more surprised by the fact that they didn't know the biggest thing about me. They felt they should've been in on this 'secret' of mine."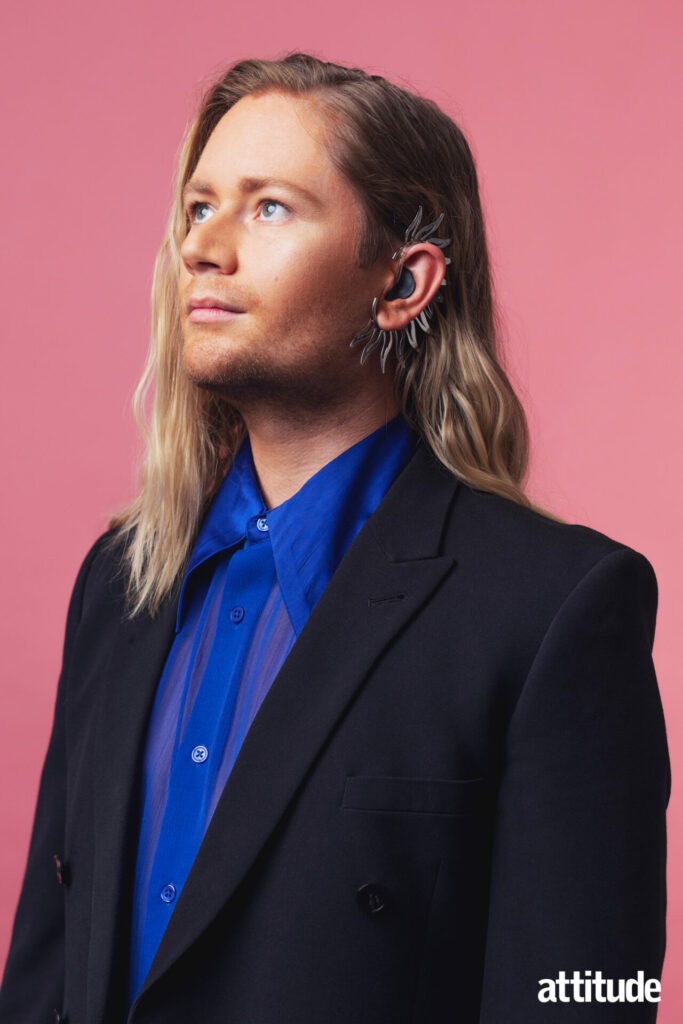 At school, although he received "the odd comment" related to being gay, it was actually Luke's deaf identity that led to cruelty from peers. It was a problem not automatically rectified by switching to a deaf boarding school. "I went to hearing schools from reception to Year 9 but always felt isolated – made to feel 'odd' because I was deaf," he explains. "Halfway through Year 9, I went to a deaf boarding school, hoping I'd feel more included within the deaf world. But again, I was made to feel isolated because I didn't know any British Sign Language [BSL] at the time, because I never grew up with it. I was always made to feel like an imposter."
"Too deaf for the hearing world, too hearing for the deaf world"
Being told he was "too deaf for the hearing world, too hearing for the deaf world" led to feelings of confusion. At 13, he found solace in fashion. "I stumbled across an image of Kate Moss in a campaign. I was transfixed on the clothing: the way she appeared, everything. Ever since, my eyes were open to fashion. My passion grew."
In 2019, he founded DEAF IDENTITY, an online fashion brand aiming to empower deaf people and break down barriers and stigmas surrounding the deaf community. "I wanted to create a brand that felt fresh, modern and fun!" he explains. "Growing up, people joked and said: 'My grandad wears hearing aids. Or: 'I thought deaf people were OAPs?' I felt passionate in trying to get rid of that stigma, to show deafness affects people of all ages."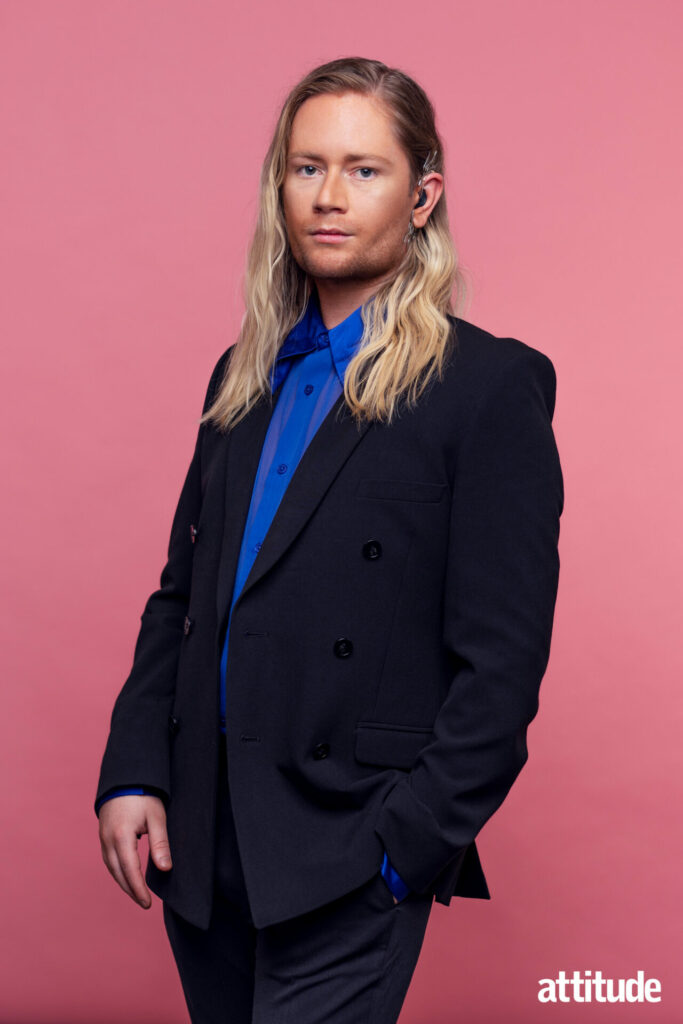 Luke's designs, featuring illustrations of sign language on garments in muted, relaxing colours, have been worn by Billie Piper, Roman Kemp, Oti Mabuse, and more. "It was a pinch-me moment seeing Pixie Lott in my Comic Relief design," he enthuses, although he's just as excited when members of the public wear his clothes. "It feels surreal seeing tagged photos of people out and about wearing something I've created," he says. "And the messages I receive on a weekly basis, of how the brands helped them with their own deaf identities… That's what it's all about."
"Just never forget you're not alone."
His success has led to collaborations with an array of deaf organisations and charities, such as the LGBTQ+-focused Deaf Rainbow UK, plus household names like John Lewis. "I made history as their first deaf-owned business to have a pop-up during Deaf Awareness Week back in May 2021," Luke says. Then there's the music group KIDZ BOP: "I designed T-shirts for the kids to wear during Sign Language Week 2023 in their music videos, which was interpreted into BSL by a young deaf girl."
Luke's advice to LGBTQ+s struggling with deafness is ample proof of how deserving he is of this award at the 2023 Attitude Pride Awards, in association with Magnum. "Embrace who you are. Utilise the power of social media. Speaking from experience, it's allowed me to connect with many others worldwide who are deaf and have had similar experiences." He advises others to investigate "online resources and local deaf groups. Find out what LGBTQ+ deaf events are taking place; take advantage of the many videos out there, where you can learn British Sign Language for free. But always check to make sure they're deaf or qualified to teach! Just never forget you're not alone."
The Attitude July/August issue is available to download and order in print now.