Channel 5's The Wright stuff describes PrEP as 'free HIV drug for gays who won't use condoms'
By Will Stroude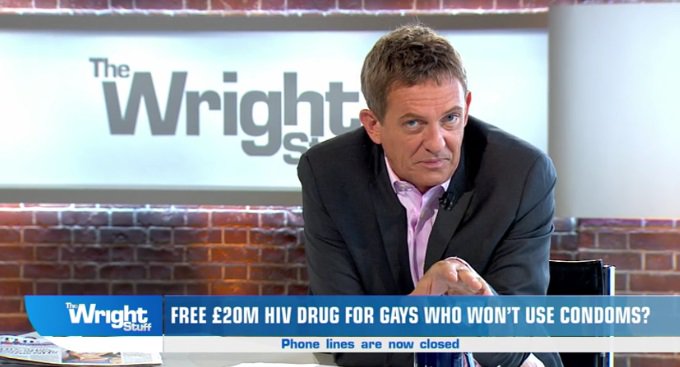 This week's decision by the High Court that NHS England should provide PrEP to at-risk groups, which is set to be appealed by the body, has caused a wave of homophobia, with papers such as the Daily Mail making ignorant comments about the need for the tablet – which reduces the risk of HIV transmission by up to 99% – within the gay community.
And yesterday (August 3), Channel 5 chat show The Wright Stuff added to the divisive reporting over PrEP, by describing it as a "free £20 million drug for gays who won't use condoms".
Shame on you @5WrightStuff for this bigoted summation on #PrEP Like something from Thatchers Section 28 #wrightstuff pic.twitter.com/m3OOzItAV2

— Wandsworth LGBTQ+ (@LGBTQWandsworth) August 3, 2016
The post asked if the NHS should "blow" money on the life-saving preventative drug, and claimed that men could just use condoms, despite the fact relying on condom use alone has been ineffective, with HIV rates rising in the UK in recent years.
While the post has since been deleted, the same description was used on the show itself during a discussion on the topic, during which host Matthew Wright argued that commissioning PrEP would condemn cancer sufferers to an early death.
When a panellist pointed out that using PrEP to prevent HIV transmission would save money spent on treating HIV in the long-run, host Matthew Wright replied: "But, in order to have this prevention, you are condemning cancer sufferers, through no fault of their own, to have an early death, because there isn't enough money to go round."
One viewer was quick to point out on the post that PrEP is about more than replacing condoms, saying: "Let me remind The Wright Stuff that there is NO same-sex education in schools.
"We send our young out into adulthood very vulnerable and not aware of the risks. PrEP could end HIV in a generation. It's more than 'won't use condoms'".
The drug, which has for the most part been used in conjunction with condoms in countries where it's widely available (such as France, where over 75% of PrEP users have continued to use condoms at the same rate), has been hailed as a landmark in the fight against HIV, which currently affects around 103,700 people in UK.
More stories:
Orlando Bloom full-frontal photos leak, send internet into meltdown
Meet the out and proud gay men representing their country at the Rio Olympic Games