Australian newspaper cartoon depicts LGBT people as Nazis ahead of equal marriage vote
By Will Stroude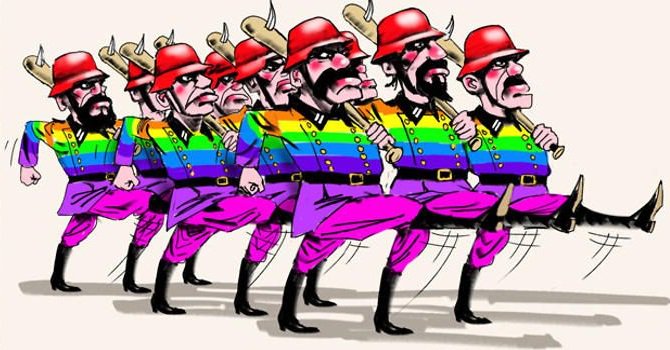 An Australian newspaper has come under fire after publishing a cartoon depicting LGBT people as Nazi soldiers ahead of a planned public vote on equal marriage.
Remember when Nazis rounded up the gays and put them in death camps? Anyway, here's a respectful Bill Leak cartoon. pic.twitter.com/xmEhmwZQma

— Alice Clarke (@Alicedkc) September 21, 2016
The cartoon, drawn by political cartoonist Bill Leak and published in Rupert Murdoch's News Corp-owned newspaper The Australian, shows soldiers wearing recognisable Nazi 'Stahlhelm' helmets while wearing rainbow military uniforms and marching with nail bats.
The image is captioned "Waffen-SSM"; a combination of the acronym for same-sex marriage and Waffen-SS – the name of Nazi volunteers and conscripts during the Second World War.
During Nazi rule in Germany and European occupation between 1933-45 an estimated 100,000 people were arrested for being homosexual, while 50,000 were officially sentenced.
An estimated 15,000 were interned at concentration camps, where they forced to wear pink triangles as an act of humiliation. Thousands perished in the camps, while scores of others were subjected to some of the Nazis most horrifying human experiments.
According to Australian news site SBS, Leaks created the cartoon because he believes that supporters of same-sex marriage are "forcing" their beliefs on the wider population. Apparently consenting adults campaigning for the right to marry who the person love is comparable with a murderous ideology that prides itself on genocide and white supremacy.
The plebiscite on equal marriage promised by Australia's Liberal Prime Minister Malcolm Turnbull has already proved controversial.
Polls have consistently shown that a majority of Australians support marriage equality, and there are fears the non-binding public vote will give rise to homophobic vitriol in the media – vitriol which, as Bill Leaks' cartoon suggests, is already starting to build…
.@australian
1. Sack your cartoonist
2. Sack your editor
3. Read up on the persecution of LGBTIQ people by the Nazis.
3. Apologise. pic.twitter.com/D7N2t3AyZz

— James Raynes (@jimmyraynes) September 21, 2016
As a queer Jewish person, it's deeply disturbing to see Bill Leak and The Australian comparing LGBTI people seeking equality to Nazism

— Margot Fink (@margot_fink) September 21, 2016
Still want that #plebiscite @TurnbullMalcolm? @australian should apologise to gays killed by Nazis. #auspolhttps://t.co/zmnEySV0jJ

— John Wren (@JohnWren1950) September 21, 2016
More stories:
Lady Gaga's top 10 greatest music videos
Chris Mears and Jack Laugher identify each other's bums and bulges – WATCH