Rise in trans hate crimes linked to "political and media narratives" Home Office report suggests
Politicans "are filling the public domain with toxic language that dehumanises LGBTQ+ people and legitimises violence" Stonewall says
By Dale Fox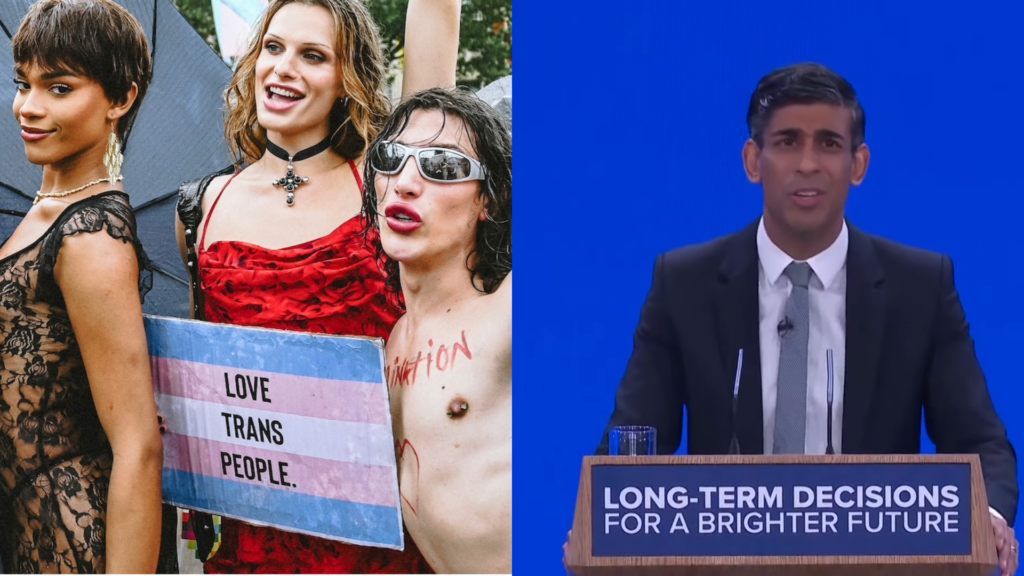 A sharp increase in hate crimes against transgender people coincides with anti-trans government policies and negative media coverage, a Home Office report suggests.
In the last year alone, hate crimes against trans individuals in England and Wale rose by 11%, according to figures published by the Office for National Statistics. Over five years, such offenses have skyrocketed by a staggering 186% – far outpacing increases for other marginalised groups.
The Home Office report suggests recent political debates and media coverage focused on trans issues may have stoked more hate crimes.
This comes just after Prime Minister Rishi Sunak launched an attack on the trans community during the 2023 Conservative Party held yesterday (4 Oct) in Manchester. He told the applauding audience: "We shouldn't get bullied into believing people can be any sex they want to be. They can't."
"We need strong, committed leadership that moves away from divisive distractions and instead addresses the real problems people face," said Stonewall's Robbie de Santos. "We shouldn't be treated like second-class citizens."
Hate crimes against trans people seen biggest long-term surge
Despite an overall dip this year, hate crimes based on sexual orientation have still doubled over the last five years. But transgender people saw the largest single-year jump, as well as the most dramatic long-term surge.
Stonewall has suggested the true figures could be much higher, as most victims don't report such incidents to police. The government estimates fewer than 1 in 10 LGBTQ+ people come forward after being subjected to hate crimes.
The organisation called out the government's failure to implement any unified strategy against rising hate since the previous plan expired in 2020. It pressed leaders to adopt recommendations from a Law Commission report to update protections.
"The sad reality of LGBTQ+ people in the UK today is that they have more reasons to be worried and scared to simply go on about their daily lives," Stonewall said.
According to the LGBTQ+ rights charity, only around one-third of LGBTQ+ victims report physical assaults to police. The government's own surveys found trust in law enforcement falling faster among LGBTQ+ people than any other group in recent years.
"As a survivor of a violent attack myself, I know the awful reality behind these rising numbers," de Santos added.
"What concerns me even more is that political leaders haven't acted seriously or quickly enough. Instead, many of them are filling the public domain with toxic language that dehumanises LGBTQ+ people and legitimises violence."
The full report is available to view on the UK government website.