Review | Jesus Christ Superstar at Regent's Park Open Air Theatre
By Will Stroude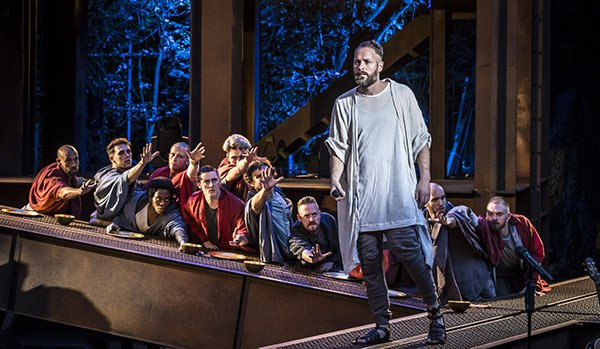 Of all the Jesus Christ Superstar revivals since Andrew Lloyd Webber and Tim Rice's rock opera debuted in the 1970s (first as a concept album, then as a stage show) this year's production at Regent's Park Open Air Theatre is surely the most thrilling.
Produced as more of a rock concert than a fully-fledged musical, it has lots of back lighting, spears that double as microphone stands, choreography involving poles that could have come directly from Madonna's Rebel Heart tour, and powerhouse vocals that would raise the roof – if the theatre had one.
Rice's lyrics are still clever after all these years ("Prove to me that you're no fool, walk across my swimming pool") and Lloyd Webber's music just as stirring, while Director Timothy Sheader, designer Tom Scutt and choreographer Drew McOnie interpret the book and score brilliantly. The use of glitter and gold is especially effective, as is the set, consisting of stark iron girders and a horizontal cross that doubles as a catwalk.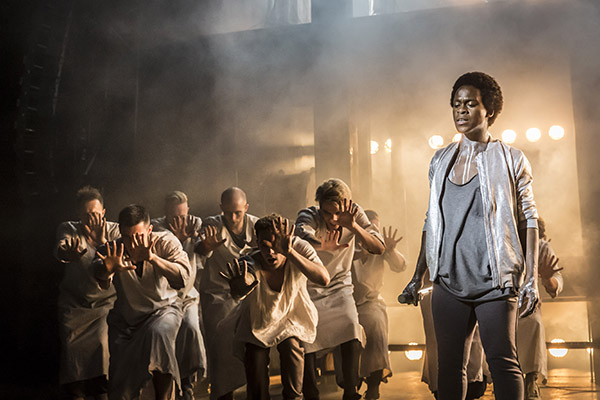 Some reviewers have griped about Declan Bennett's inscrutability in the lead role, but that's how the part is written. This is not the happy-clappy Jesus of Godspell; he's a reluctant messiah, questioning of his fate, sometimes petulant and mostly in a bad mood. Bennett, who was Charlie Cotton on EastEnders and the original lead in the West End production of Once, plays Jesus like a rock star who has grown tired of his bandmates – like John Lennon when he began to tire of the Beatles, which is interesting given that Lennon was in talks to play the part in London but scuppered the deal when he insisted on having Yoko Ono as his Mary Magdalene.
Strapping on a guitar, wielding a microphone like a weapon and pushing the mic stand to the floor in a rock-and-roll temper tantrum, Bennett is electrifying – singing the heart and soul out of Gethsemane and (SPOILER ALERT!) dying on the cross in a blood-soaked agony that's really hard to watch and impossible not to be moved by.
Anoushka Lucas is a lovely mix of Helen Reddy and Norah Jones as Mary, David Thaxton a great goth Pilate with a touch of the Adam Lamberts, Peter Caulfield a drugged-up drag queen Herod. Then there are the high priests: Cavin Cornwall a deep-throated Caiaphas and Sean Kingsley a high-pitched Annas, the latter very funny as he channels his inner Elvis.
Tyrone Huntley, though, is the real star of the show. His Judas is a ball of confusion, baffled by Jesus' mistakes, agonised by the part he's doomed to play, and Huntley's singing voice as he tears into Heaven On Their Minds is astonishing. Like the show, he leaves you shaken and stirred.
Rating: 5/5
Jesus Christ Superstar is at the Regent's Park Open Air Theatre until August 27th. For tickets call 0844 826 4242 or visit openairtheatre.com.
For the best deals on tickets and shows, visit tickets.attitude.co.uk.
Words by Simon Button.
More stories:
Homophobes are freaking out over this ad featuring a happy gay couple in bed
'Meeting Lance was a real turning point' – Tom Daley talks sexuality and sport with Attitude