Bretman Rock is writing all of this down
Attitude is granted an audience with the larger-than-life beauty influencer and social media sensation as he discusses his soul-baring first memoir and his plans to maximise every opportunity that comes his way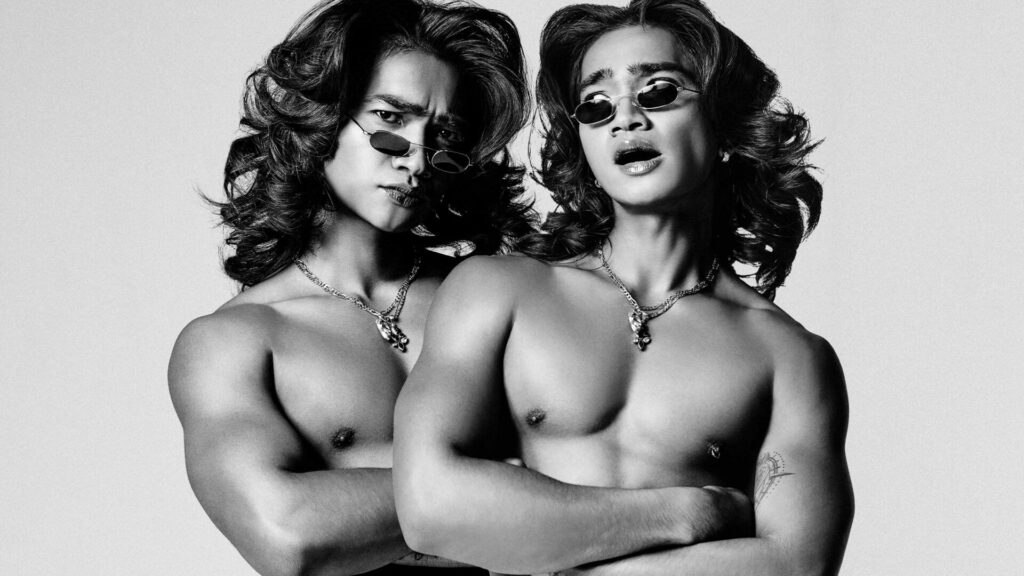 Bretman Rock is a proud multihyphenate. So much so, he can barely keep track. Author is the latest addition to his ever-growing list of titles that includes digital superstar, entrepreneur, model, Gen Z trailblazer, gamer, actor, activist, YouTuber, and, most importantly, that bitch.
If you have been on the internet at all in the past decade, I can almost guarantee you will recognise Bretman 'Da Baddest' Rock. If not the name, you will know the face. Rock shot into the halls of internet fame in 2016 when a video of him swatting his sister for interrupting his choreography to Beyoncé's '7/11' ("Are you fucking serious?") proved prime meme material. Rock saw the opportunity and glided into the social media space like a duck to water. His golden essence of comedic timing, loud personality and untouchable spirit has sustained a steadily growing audience ever since.
With 18.5 million followers on Instagram, 14.9 million on TikTok, and 8.8 million on YouTube, Rock is a natural-born entertainer with a penchant for melodrama. His larger-than-life persona is not just limited to the screen: Rock made history in 2019 as Playboy's first gay male cover star, he's been the face of global collaborations with Calvin Klein, Stella McCartney and Nike, and even has a makeup line with Morphe. This, he declares, is because the universe has been listening "too fucking much" to his affirmations. Although he is quick to attribute his achievements to manifestation, Rock's talents shouldn't be brushed over. A child of the internet, he's managed to traverse algorithms with innate skill while remaining at the frontier of online influencers with untouchable brazenness. That foundation, of being a free spirit with audacious comedic timing, is at the heart of Rock's internet presence.
With all this in mind, when I sit down to interview him, I'm expecting the shameless, cuss-spouting influencer to appear on our video call. Instead, I'm greeted with self-described "ordinary Bretman", a 24-year-old, queer, Filipino-American who's only slightly miffed that he didn't have time for an ice bath before today's meetings. Although Rock isn't entirely a far cry from his online self – the energetic Leo still displays proud flamboyance and quick wit – the exuberant bravado is certainly dialled down.
"I'm giving Y2K fantasy," Bretman proclaims, his soft, dark curls slicked back into neat space buns. A grey plunging vest top, acid-wash jeans and layered necklaces carrying pale crystals complete the look. He's calling from an alien-themed bedroom in his gorgeous Honolulu home situated at the base of O'ahu's stunning Ko'olau mountain range (Architectural Digest did, in fact, eat their heart out). It's mid-morning for Rock but he's already been busy promoting a Super Bowl commercial shoot with Paris Hilton. They make a fabulous pairing, with Rock embodying the raunchy flair of Y2K reality stars: full of life, bubbly but personable.
Like so many faces of Gen Z, Rock has had his rise to success immortalised in video form, but his latest project pivots in a new direction. You're That Bitch & Other Cute Lessons About Being Unapologetically Yourself, Rock's debut memoir, straddles uncensored reflection and anecdotal self-help. It's a riotous read, diaristic but curated in its sincerity. For someone who's grown accustomed to posting about their life, the book offers an alternative form of self-documentation for Rock while also acting as a love letter to his first 24 years on the planet.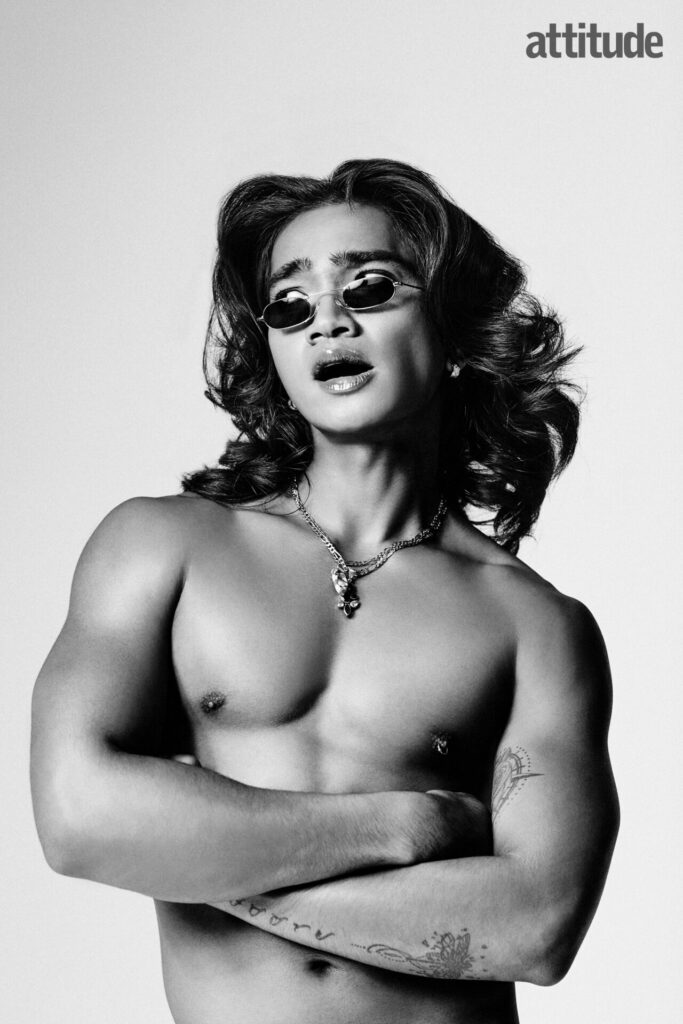 The book begins with a sentiment characteristic of Rock's trademark online disposition. You're That Bitch is dedicated to "Bretman Pebble", Rock's younger self. He notes that there is an emotional undertone to the acknowledgement. "It's just two sentences but saying thank you to Bretman Pebble made me so emotional," Rock shares. "I did think about what he would have felt like if he had read this book. I'm not gonna say he'd read the book because Bretman Pebble was a little bit illiterate, but he would have melted. Honestly, not that he needed to see it because he was such a ball of confidence."
Bretman Rock Sacayanan was born in 1998 in Cagayan Valley in the Philippines. His father named him after Bret 'The Hitman' Hart and The Rock, two of his WWF (now WWE) wrestler idols. At age seven, Rock joined his mother and siblings in immigrating to Hawaii while his father stayed in their home country. The physical separation reflected an emotional distance forged between the pair that Rock admits was never truly reconciled before his father's passing in 2019.
Reflecting on his dad's death was the initial launch pad for You're That Bitch. "Every time I spoke about my dad passing, regardless [of] if it was in my stories or I'm telling my sister or my cousins, I would always find a way to find the comedy and laugh about it," Rock notes. It took brainstorming the book, digging through dog-eared pages of his journal, to finally speak about their fraught relationship and his father's passing in a non-comedic way. "It's hard to talk about traumatising things and not joke about it," Rock admits. "That's something I'm working on. I promise to not joke about my traumas."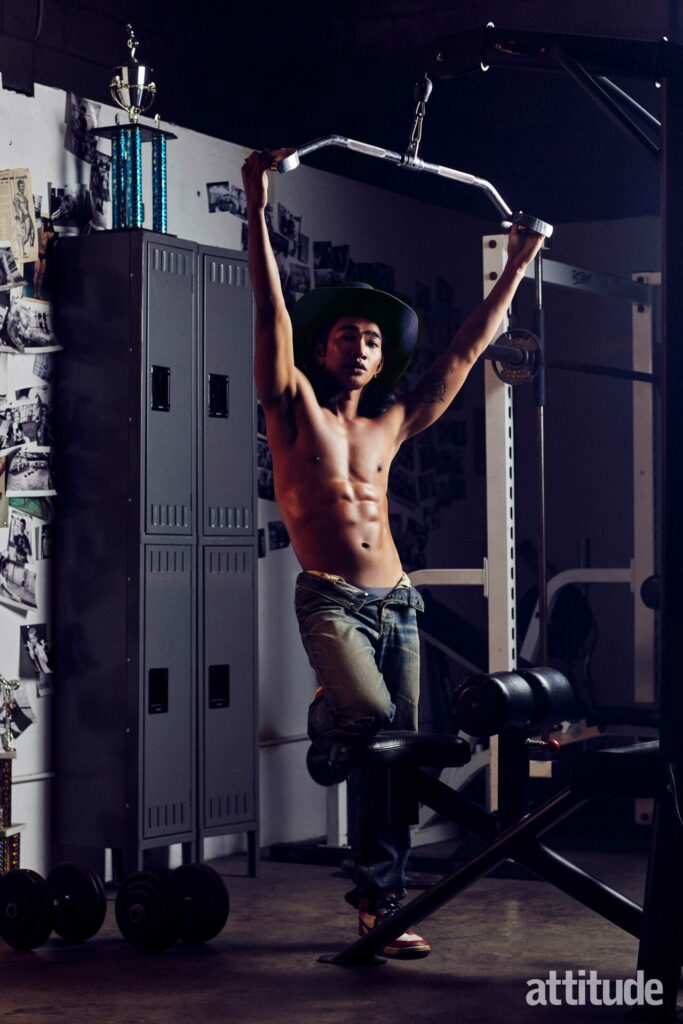 The ability to take something deeply distressing and twist it for consumption proves both a blessing and a curse. Although such comedic chops are a foundation of humour on the internet, this prevented Rock from truly coming to terms with the loss. That internal struggle is the subject of the book's penultimate chapter ('This One's for You, Dad'), an untangling of dichotomous emotions and an excavating of bittersweet memories, dedicated to his father. Rock shares that the creation of this chapter was ultimately a healing experience, although it was not without difficulty. "It was so cringy," Rock laughs, recalling a writing session where he was hysterically crying over FaceTime to his co-writer, Dibs Baer, on only their third meeting. "It was the first time I ever sat down, and I let my emotions just run."
Embedded within You're That Bitch's rumination on Rock's life is the opportunity to bring forward an unforeseen vulnerability that has otherwise been shielded from view. "You probably know Bretman Rock, the comedian and extrovert who pole-dances and calls everybody 'bitch', but you don't really know Bretman Sacayanan," the memoir opens. "These Bretmans are two different people, but they are both 1,000 per cent me." Cementing such sentiment, throughout our chat he repeatedly refers to Bretman Rock in the third person. The recognition is refreshing. Rock holds his online self as a symbiotic entity tethered to him by image; it's not for lack of authenticity, but instead a method that so many influencers attempt to deny with filters and exasperating optimism. "It's a tool to know that I am not Bretman Rock outside of the internet," he adds.
"I hope something that our generation figures out one day is that we all want attention, but what do you do when you have it?"
"We grew up with an icon, Miss Miley Ray Cyrus and Hannah Montana. I think because of that, we all think we're Hannah Montana online and we're Miley Cyrus IRL," Rock says, chuckling at his own analogy. "I love that our generation is very aware of that." Rock has been broadcasting himself online, in one way or another, for what is approaching a decade. In that time, he's learnt that maintaining a healthy division is paramount for his sanity. "In therapy, I realised that not only should I see a therapist for Bretman, but I should also see a different therapist for Bretman Rock because they have different problems." Dividing the online and offline isn't clear-cut. Despite being in the influencer space longer than most, he confesses to not having all the answers. "I hope something that our generation figures out one day is that we all want attention, but what do you do when you have it?"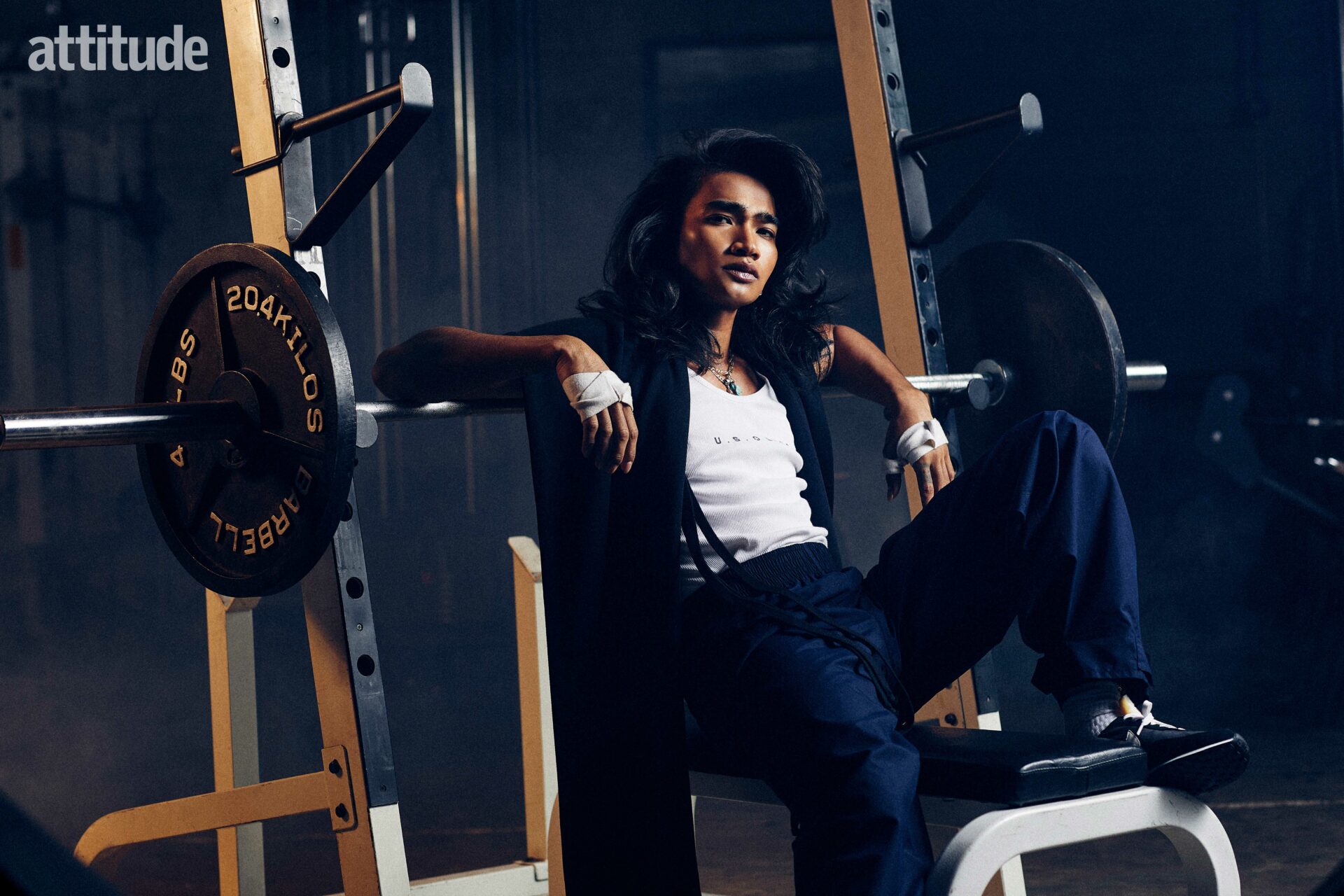 The bifurcation of self between online and real life is a chasm Rock, as well as the entire influencer economy, is continuously navigating. It's a murky area that You're That Bitch doesn't entirely attempt to bridge; Rock still strives to ensure certain private relationships and aspects of his dating life are kept strictly private. Despite these boundaries, Rock's no-holds-barred approach is explicitly obvious with the agony-aunt, self-help-style advice notes that conclude every chapter. Rock writes on topics like 'Dealing with Insecurity', 'Tips on Caring for Your Own Hot Bod', and 'Douching Your Ass Like a Bad Bitch' with unabashed candour.
Although he's one of the most recognisable faces in the beauty influencer world, Rock's introduction to vanity had humble beginnings. His late father, he declares with a glimmer of wistfulness, has always been his muse. "It's usually 'My mom's such a beauty queen.' No, my dad had the whole Korean 16-step skincare before it was even a thing." Growing up, Rock never associated beauty and vanity with having a gender: "I found beauty where I saw it." Growing up in a household full of women, he was allowed to be fervently expressive through makeup and clothing. "Honestly, if anybody outed me, it would be my grandma," Rock laughs, recalling she was the first person to vocalise to him that being gay was OK. "She was telling everybody I was gay before I even knew what gay meant." He recounts childhood memories in the Philippines with a clear fondness, reflecting on that time of his life as essential to the person he is today. He confesses: "I never knew how magical that was until I grew up and I was writing about it."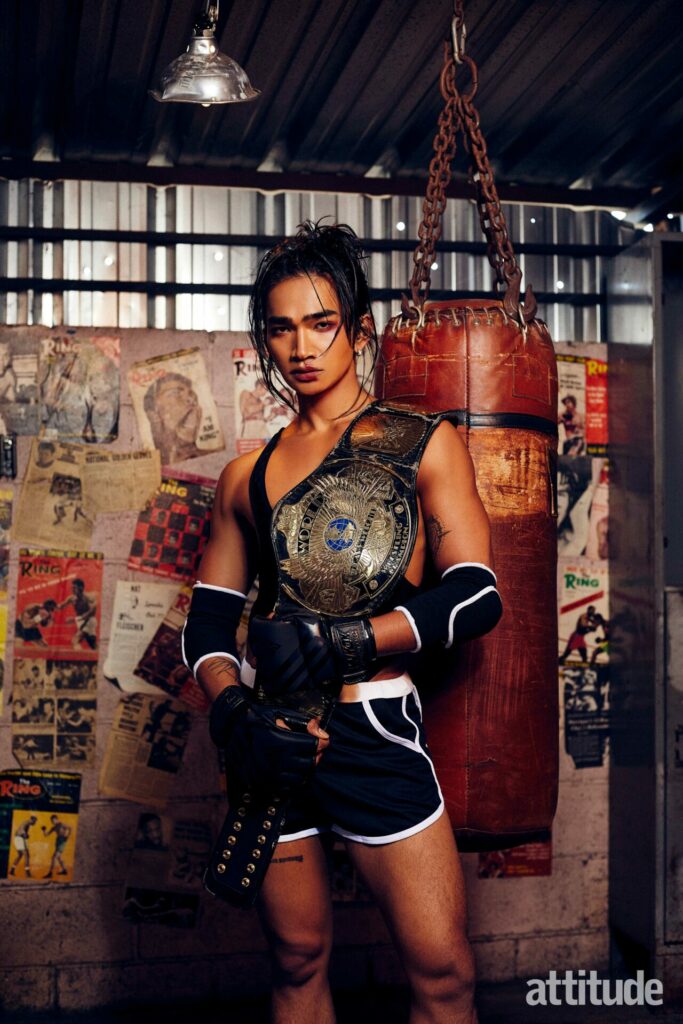 Growing up in such a liberated environment, it was upon moving to America that the realisation gender was "a big deal" dawned. He recalls boys at school attempting to bully him for his gender expression and sexuality, but Rock, who was still learning the language, didn't comprehend their insinuation that his queerness was something to be condemned. "It wasn't sad, it was more confusing," he remembers. "I was told one thing at home and a different thing at school by these kids." Suddenly, he faced binary divisions he'd never been exposed to before, like being separated into boys' and girls' teams for sports.
"I wish I had joined social media around this time… I feel like the gays are everywhere."
In Rock's social media infancy, the trolls weren't much better. After growing up in the spotlight and facing judgement from every angle, in a 2021 MTV Awards acceptance speech for 'Breakthrough Social Star', Rock described coming of age on the internet as "probably the most traumatising thing I've done in my whole entire life". Now, he observes, there's been a shift in the online environment: "I wish I had joined social media around this time… I feel like the gays are everywhere. I'm not resenting it at all. I mean we're sitting here saying 'Oh my God, I wish this was happening sooner,' but I'm glad it happened, period." Rock has never really had a coming-out moment online; he likens such a thing to sitting down to come out to his mother – at just the thought of it he bursts into laughter. Undeniably, figures like Rock have carved spaces for queer folks to exist online in ways that don't isolate or corner their queerness as their sole defining characteristic.
You're That Bitch also touches on Rock's relationship to beauty and gender fluidity as he's grown into adulthood as an influencer. What does that relationship look like today? "What a profound question…" Rock takes a moment to collect his thoughts before sharing that the very idea of gender is something he's still exploring. "In my culture, and in my language, we don't really have a 'he' or 'she'. We refer to everybody as 'siyá'," he explains. Detaching gender from beauty has made it a playground. The sentiment may sound clichéd – Rock rolls his eyes as he says "my canvas is my whole body when getting into the fantasy of Bretman Rock" – nevertheless, the act of applying makeup and getting dressed is sacred for him. "Every time I'm putting on my blush, I think about my grandmother," Rock emphasises. "When I'm picking out my hairstyle, I'm thinking about my dad; when I'm picking out a lip liner, I'm thinking about my mom's double-coloured lip."
Paving the way for beauty influencers, Rock's online fame has led to widely celebrated recognition. His name has appeared on endless lists – from Forbes' '30 Under 30 Asia – Media, Marketing, & Advertising' in 2018 to Variety's 'Power of Young Hollywood' in 2020 – so does that pack pressure onto his well-toned shoulders? "To be honest with you, I never feel pressure being beautiful," Rock tuts, flicking non-existent hair from his shoulders before growing serious again. With hundreds of thousands clamouring for the throne Rock sits on, one would assume intimidation naturally arises, but he seems genuinely unaffected by the pedestal. "I try my best not to add unnecessary pressure," Bretman adds about representing both the Asian American and Pacific Islander and queer community as a role model. "I'm not saying representation is unnecessary, but if you're a brown kid, you're just a brown kid. You don't need to feel pressure to be brown. I don't feel the pressure to represent gay people, because that's just who I am."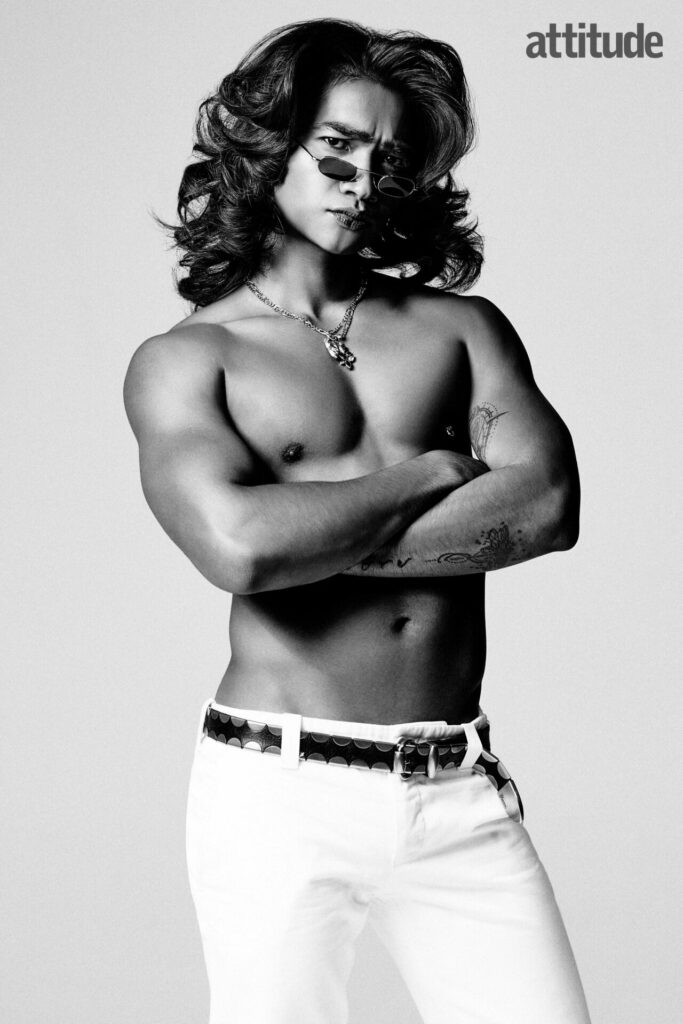 That rooted sense of self is something Rock clearly uses to inform his business moves as much as his personal life. Publishing a memoir at 24 is one thing but turning down the opportunity at 18, not knowing for sure the chance will arise again, is just one example of his savvy self-awareness. 2016 marked an era of influencer books – they were pumped out like Shein fast-fashion garments – and Rock had an opportunity then to take the cheque. However, one question plagued him: "Girl, what the fuck am I going to write about?" He contemplated a coffee-table book of "tasteful nudes" á la Kim Kardashian's Selfish but ultimately put the idea on the back burner and bided his time to experience more life before putting pen to paper.
It seems to have been the right move, Rock's fanbase remains as strong as ever and his online presence hasn't waned in the slightest. Rock, trusting his intuition, is keen to further expand his horizons. "Honestly, my ass is getting too big to be on a phone," he exclaims. "I belong on a bigger screen!" With self-assured confidence, Rock lists the potential he holds as a writer, for stand-up comedy and TV – You're That Bitch is undoubtedly a showcase of comedy writing and a step towards alternative avenues beyond short-form content. "I just would love to obsess myself with something else that's not makeup," Rock continues, of the chance to add another hyphenate to that already expansive list. "Really, at the end of it, I just want to explore everything that the entertainment industry has to offer for Bretman Rock," he says with a gleaming smile. "Whether it's in front or behind the camera, I want to do it all."
Bretman Rock's debut memoir – You're That Bitch & Other Cute Lessons About Being Unapologetically Yourself – is out in the UK on 16 February
---
Photography & Videography: Leigh Keily
Producer: Jack Pengelly
Styling: Brian Meller
Hair: Angel Gonzalez
Make up: Daphne Chantell
With thanks to Jade Wiselogle and the team from Persona PR